D-Link COVR X-1870 Series (AX1800) will cover your whole house with solid, wireless connectivity. No matter how large your house is, you can always grab an extra unit and extend your wireless network instantly in the future.
You can use these new Mesh units to eliminate Wi-Fi blackspots, extending your Wi-Fi to certain areas of the house, or to connect wired devices like smart hubs, old printers, or even your PCs.
After using the new COVR X-1873 (which comes in 3 pack) for a week or so, I come to the conclusion that this is definitely D-Link's best Mesh Systems, and even surpasses their most recent Wi-Fi 6 wireless routers in terms of network stability.
Packaging & Unboxing
Setup & Installation
Installation can be done via the D-Link Wi-Fi app on your phone or a web browser on your PC (I chose the later). The setup and installation to hook the first unit is very simple. There is no "COVR A" Point (or the Master unit) like the previous COVR-2202 (which apparently has just been discontinued after the release of these Wi-Fi 6 ones). You can use any of the units and hook one up to your nbn/internet port (similar to their more recent COVR-1102).
Now, unfortunately the included manual/quick guide isn't really clear in letting you know how to install the rest of the points. Upon reading, it seems as if you need to either connect a network cable to that first COVR point, or using WPS. Apparently, I could just hook the power cable on the other units around the house, turned them on, and somehow, they would just work – i.e the other COVR units know that I have set the first point up and then connect to it automatically.
Setting these up is definitely seamless and super easy that anyone can do this.
Design & Features
There is a lot to like design wise. Each COVR-X1870 unit is this compact and slim tube, that doesn't take up space at all. They do feel plastic-y and hollow, but each comes with FOUR (yes, FOUR) Gigabit Ethernet LAN Ports! It is a surprise, considering the other D-Link Mesh Router system only come with two ports and I had to buy a separate network switch for my needs.
With the COVR-X1873, this means you can practically hook 12 devices wired and spread them around the house.
Performance wise, the COVR-X1873 series offer speeds up to 1.8 Gbps (574 Mbps + 1,200 Mbps) with those awesome Wi-Fi 6 features like OFDMA and MU-MIMO technology, along with BSS Colouring, TWT (Target Wake Time), and WPA3 encryption to get that best, wireless connection and performance possible no matter where your devices are around the house. Feel free to search what Wi-Fi 6 has to offer, or read this article from The Verge if you want to find out more.
If you are living alone in an apartment with just a few devices, you may not notice much difference going Wi-Fi 6. But if you are living in a house with some family members (or housemates) along with many smart home gadgets like myself, all these new Wi-Fi 6 technologies add up.
The COVR-X1873 will create a single wireless network name (SSID) and handles the channel connection (2.4GHz or 5GHz) behind the scene. This means you don't see two different wireless network for different channels to connect to, and you don't even need to know or understand what that means.
I currently have over 36 devices connected at home and with each device tries to seek attention and hunger for data, the COVR-X1873 manages the network really well. My wife can watch her favourite Netflix show in 4K downstairs while I'm playing an online, competitive game on my PC upstairs. All these happen while my smart home devices (like smart lights, wireless security cameras, and Alexa speakers & display) want a piece of the action every now and then.
Some of the connected smart devices at my home are:
So far, the network has been solid and stable with the COVR-X1873 and there weren't any issues encountered for the past week. My house is connected with Superloop's FTTP.
What about wireless signal strength? Using Netspot and my Huawei MateBook X Pro 2020, I've made some measurements around our double-storey house. The signal strengths are really good and with a 3-pack option, there's room to play around with the units' placements to cover all edges around the house.
D-Link COVR-X1873 Review Conclusion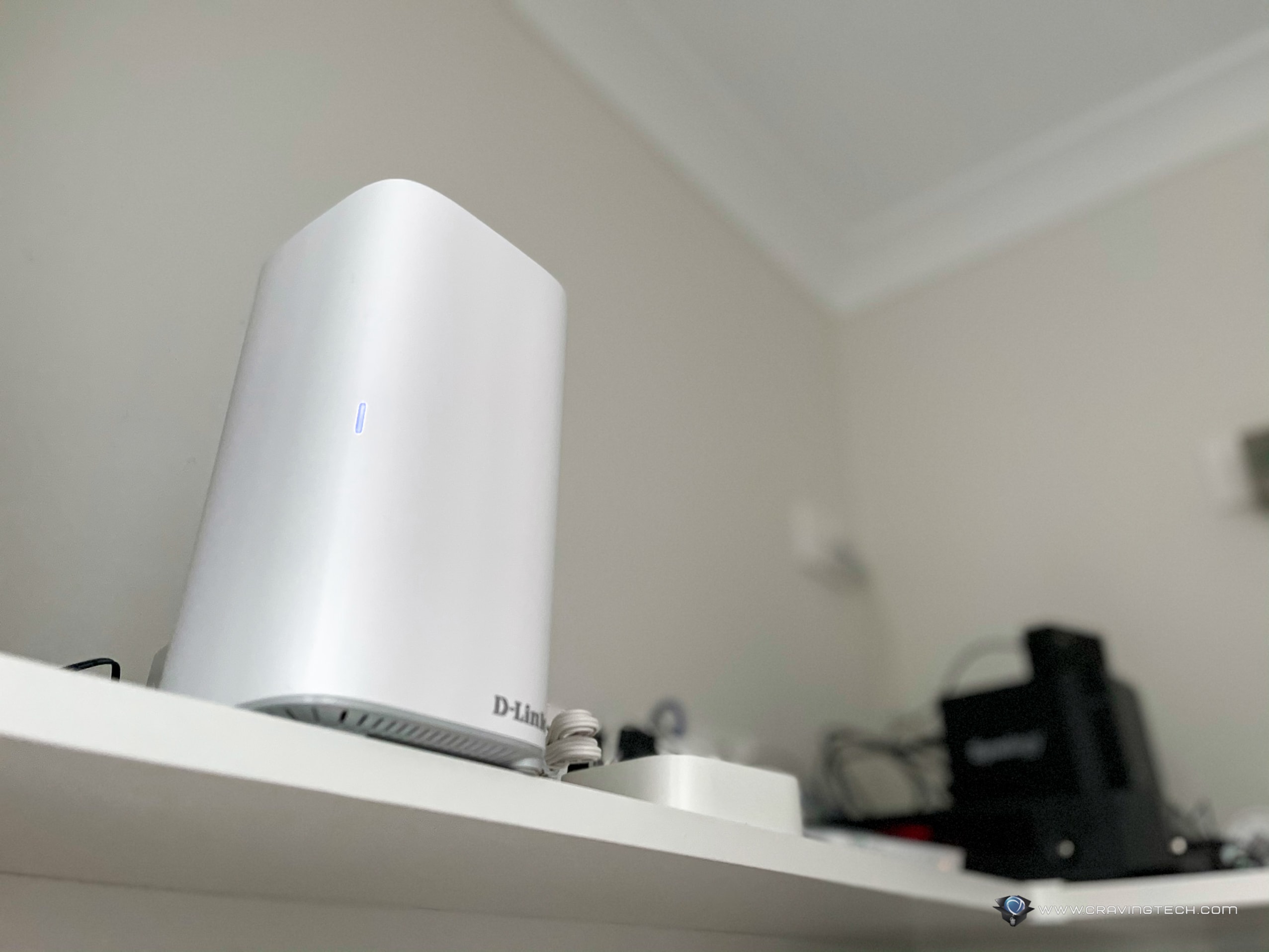 D-Link COVR-X1873 contains 3 units of D-Link's latest Wi-Fi 6 Mesh Router System, the X-1870 series. It's really easy to set up and should you need to expand your wireless network in the future, you can just grab an extra unit and just plug it to power (you'll have to pay A$250 per unit though). It will automatically pair up with what you have and extend your wireless network instantly.
There are other advanced options if you want to explore, including traffic prioritisation (QoS), Port Forwarding, Parental Control, Firewall, etc. But if you don't need any of that, you don't have to tinker with anything.
It's definitely D-Link's most stable and powerful Mesh Wi-Fi 6 System to date, with easy setup and great performance throughout the house. 4K Streaming? Online Gaming? Having over 40 wireless devices? No worries!
D-Link COVR-X1873 (3 packs) retails for A$549.95 and you can further extend it by purchasing a single unit, COVR-X1870 for A$249.95.
Disclosure: D-Link COVR-X1873 review sample was supplied for reviewing
D-Link COVR-X1873 Review
Summary
D-Link's best Mesh System to date comes with stability, generous four Ethernet ports, and Wi-Fi 6 goodies
Pros
Simple, compact design
Easy to setup
Very stable
Wi-Fi 6
4 Gigabit Ethernet ports
Can easily be extended in the future
Works with an existing router or gateway (haven't tested this)
Supports Google Assistant and Alexa
Cons
User Guide can be made clearer about installing the other units
Expanding is quite costly (A$250 per unit)
Not tri-band (i.e no dedicated 5GHz Smart Backhaul like the COVR-2202)