Hue Impress Outdoor Pedestal Light Review – Philips released a whole range of new outdoor smart lights for your home, ranging from lightstrips, wall lights, flood lights, and pedestal lights. While there are plenty of great lights to choose from, there is a particular light that gives me the better, first impression – the Impress Outdoor Pedestal Light.
Design to impress (hence, the name), Hue Impress Outdoor Pedestal Light is available to those who really care about the aesthetics of their home. Or to be exact, the outskirts of their home as this pedestal light is meant to be installed outside.
So whether you place it to increase the aesthetic of your porch, backyard, balcony, or the outskirts, the pedestal light does not just look good but it will also work with your current smart devices at home.
Packaging & Unboxing
Note that the Outdoor Extension cable (the smaller box on the left) is not included with the purchase of Hue Impress Outdoor Pedestal Light.
Design & Features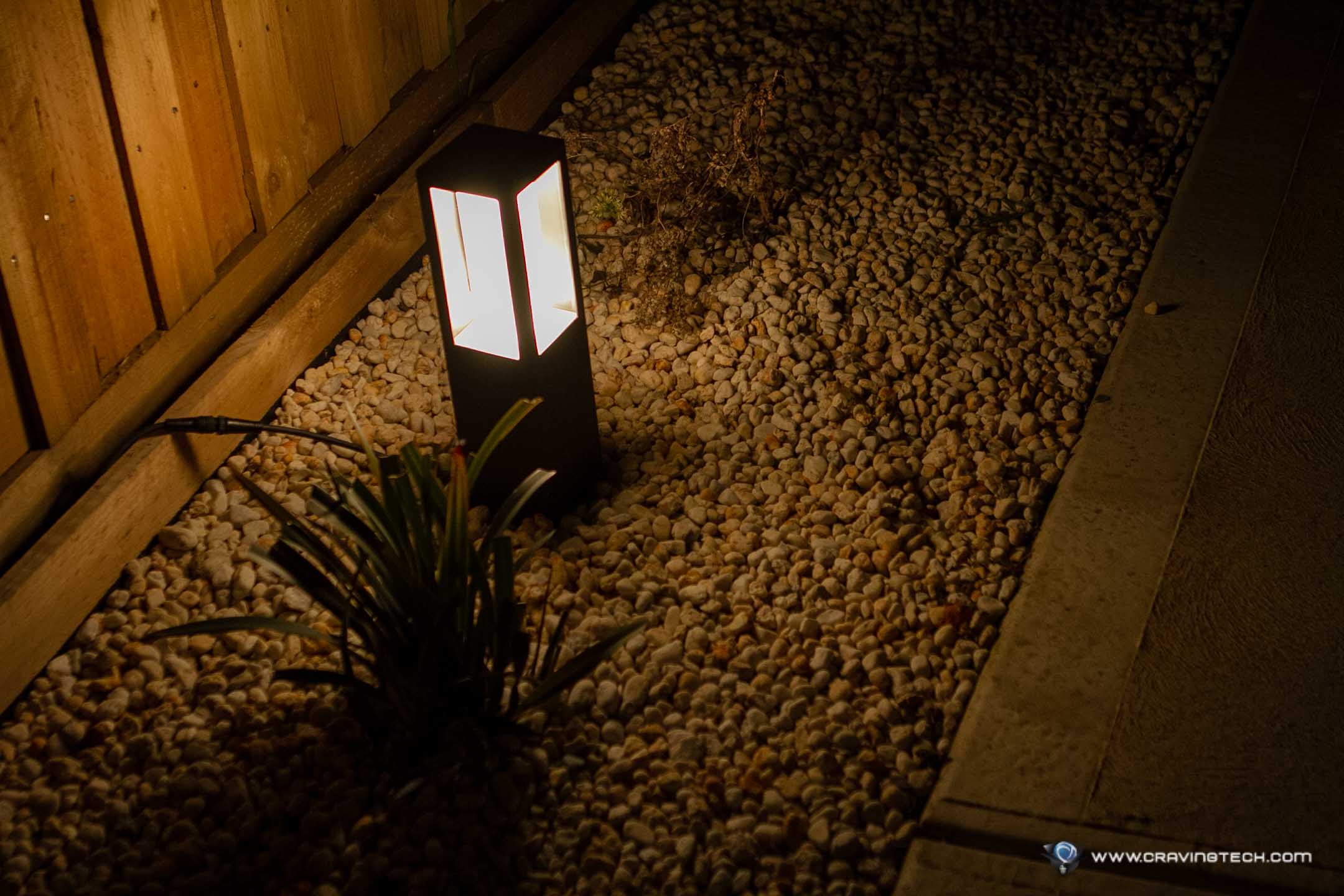 It just takes one look to see how good this pedestal light looks. It screams modern, classic, and elegance in one. While some might want a smart light to look techie and futuristic, I much prefer the Hue Impress Outdoor Pedestal Light approach for a modern home.
Made with aluminium and tempered glass, the pedestal light is set to last even during harsh conditions outdoor. My review sample actually survived heavy rain and a hailstorm here in Melbourne some time ago. I definitely haven't noticed any cracks on the glass as well.
If you want to place the pedestal light on a soil, you can use the included aluminium stake to place it firmly on the ground. I place mine on a concrete so I don't actually use the included stake. It's flexible to be installed on a variety of different grounds.
Depending on how far you want to place the light from your power point, you may need to purchase an extra extension cable like this 5m Hue Outdoor cable extension. Installing the light and extension is fairly simple and you should be able to cable manage and hide the cables from view.
Please note that a Hue Bridge is required to make this unit work. I have one, along with a ton of other Hue smart lights around the house. Installation is very simple through the Hue app which only took me seconds to connect the Hue Impress Outdoor Pedestal Light.
Thanks to Philips Hue technology and sets of features, there are practically 16 million colours to choose from and you can also use voice to control the lights via Amazon Alexa, Google Assistant, and even Apple HomeKit (Siri). These integrations have definitely made my life easier as I can simply say "Good night" on my iPhone which triggers some lights to go off (Hue Play, LIFX Lighstrips, and Nanoleaf Canvas on my Study, and Hue Lily Outdoor Spotlights) and on (Hue Go lamps dimly in our bedroom and house entrance downstairs, plus the LIFX GU10 bulbs on my pillar lights).
I set up the Hue Impress Outdoor Pedestal Light near our side gate so if I ever need to take the bins out, I can just say to Siri "Turn my Side Gate lights on" (or simpler, "Turn Side Gate On").
You can also schedule it to go on and off at certain times, which is perfect if you set it up on your backyard or porch so you can just set it and forget it. With a variety of colours and brightness to choose from, you'll have a versatile light that matches the current season or event (like a Halloween event).
Hue Impress Outdoor Pedestal Light Review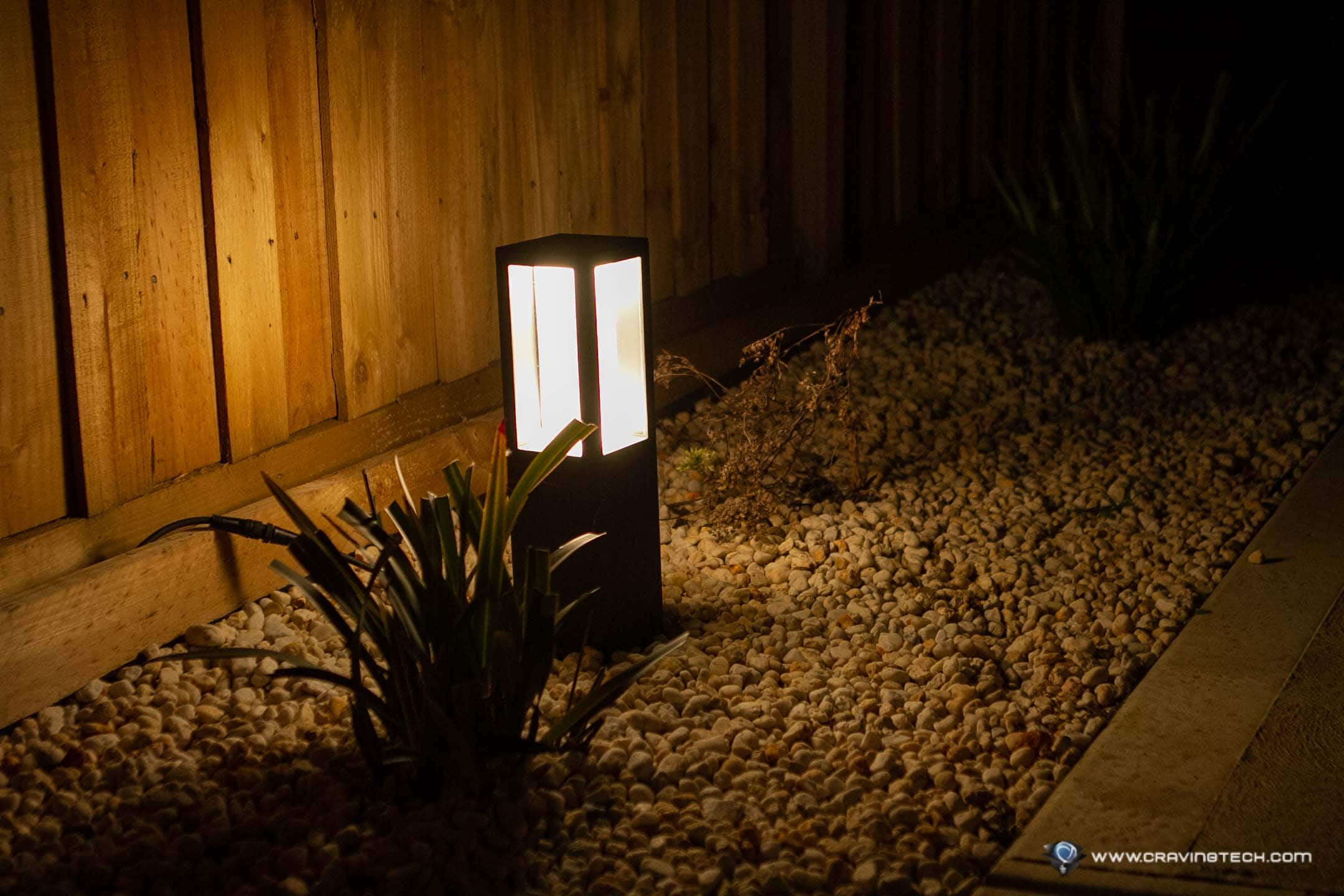 Philips Hue Impress Outdoor Pedestal Light is easy to install, easy to setup once you have the Hue Bridge up & running, and has a really simple, classic aesthetic.
It works well with the Hue app and smart home integration with Apple HomeKit, Amazon Alexa, and Google Assistant which guarantees usefulness with whatever device you may have. If you have an Android phone like the OPPO Reno2 Z, you can use Google Assistant. If you have an iPhone, you can use Siri. Or either way, if you have an Alexa device like the Amazon Echo Show 8 or Amazon Echo Studio speaker, you can take advantage of that too.
If you are looking to add some spice to your modern home and not just some ordinary, standard outdoor lights, the Impress Outdoor Pedestal Light from Hue should give you a long lasting impression. Hue Impress Outdoor Pedestal Light retails for AU$349 and available at retailers around Australia like JB Hi-Fi or Harvey Norman.
Disclosure: Hue Impress Outdoor Pedestal Light review sample was supplied for reviewing but all opinions are mine and not paid
Hue Impress Outdoor Pedestal Light Review
Summary
Easy to set up, install, and use. Elegant design to complement a modern home and works with all supported smart home integrations
Pros
Beautiful design & durable materials for outdoor
IP44 rating
Bright (up to 1200 lumens)
16 million colours
Works with everything – Apple HomeKit, Amazon Alexa, and Google Assistant
Cons
Pricey
Requires a Hue Bridge