Amazon Echo Studio Review – For a while now, fans of Amazon speaker products (like the Echo Dot or Echo) were longing for something more, something that sounds better. Not that the Amazon Echo sounds bad, but it's just that the competition is high.
With premium speakers offering voice assistants like Apple HomePod with Siri and Sonos with Google Assistant, Alexa had none yet.
But it looks like the days of waiting are over because the Amazon Echo Studio is now here and comes with the best sounding in the Echo family. It even has Dolby Atmos, which is probably one of the most exciting features on the Echo Studio.
Packaging and Unboxing
Design and Features
Amazon Echo Studio is supposedly built as a high-fidelity speaker. Inside the unit is five (yes, five) speakers positioned to fill the room and excels in all audio channels. They consist of a 1″ tweeter, three 2″ mid-range speakers, and 5.25″ downward-firing woofer to add depth to the music you are currently playing. Its amplifier has a peak output of 330W, 24-bit DAC, and 100 kHz bandwidth.
Similar to all other speakers in the Echo family, the controls are located on the top for easy access. You can change the volume controls easily here, as well as triggering Alexa without talking and mute the speaker's microphone for privacy.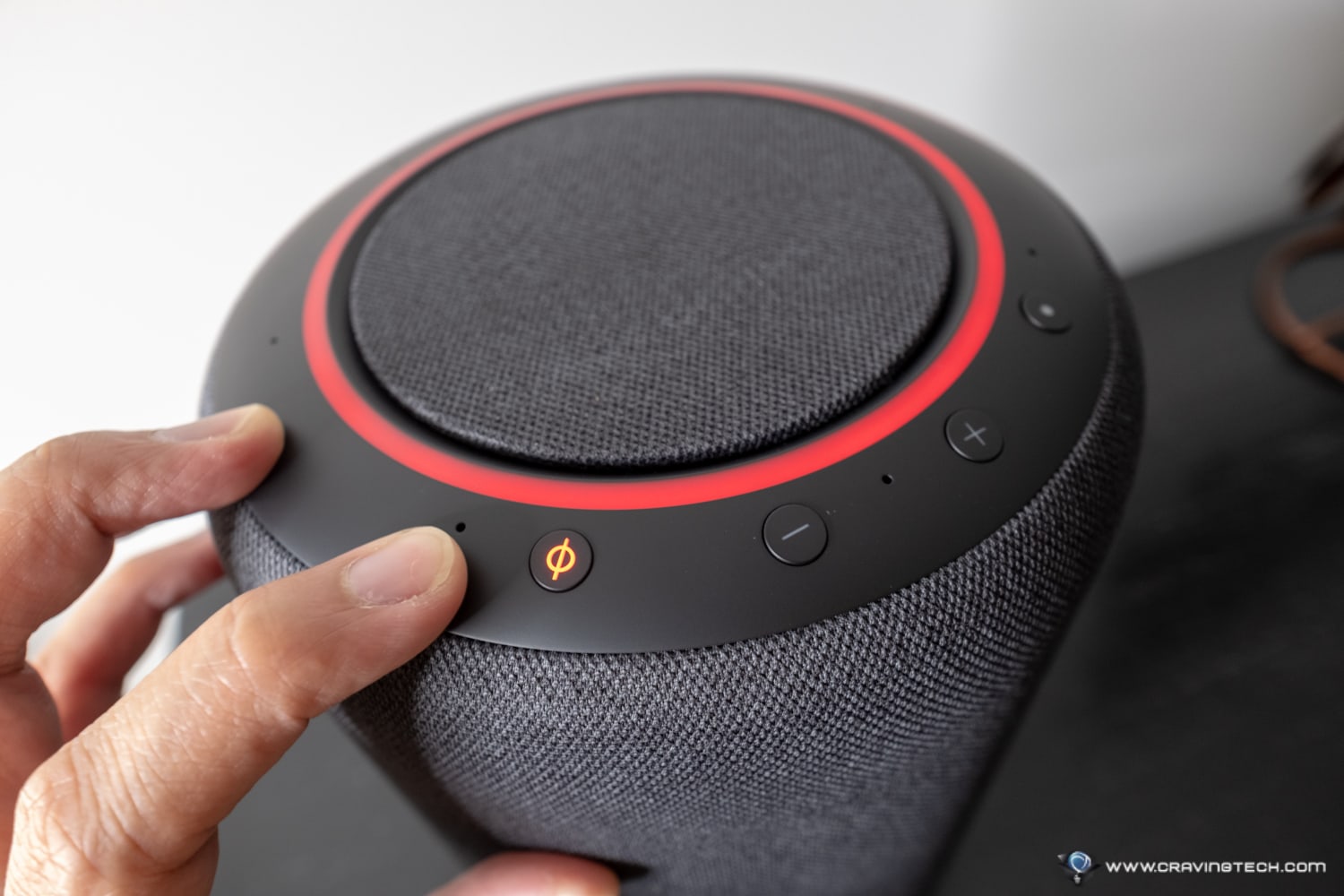 At the back of the unit, you can hook it into another speaker via the 3.5mm and also through a mini-optical Toslink so you can set this up as a Dolby Atmos speaker for your TV. But I don't really recommend using a speaker of this size for the TV unless you have a small TV in a small room.
Like Sonos, Amazon Echo Studio can analyse the acoustics of the room it's placed on and fine-tune itself to make sure you get the best sounding speaker possible in any kinds of rooms. There is no awkward mechanism using your phone and swinging it across the room while walking like in Sonos' setup.
Among the other Echo family I've used and reviewed, the Echo Studio by far definitely sounds the best among them. Everything sounds crisper and I also like its bass, though it still cannot beat a dedicated subwoofer like the Amazon Echo Sub. It's thumpy but not something that you'd want to show off to friends.
It's rare to hear smart speakers coming with Dolby Atmos but here it is. Amazon Echo Studio comes with Dolby Atmos technology which enables a multidimensional experience – 3D Audio. Yes, there is actually music mastered in 3D – if you actually care to listen to them. These are available on "HD Music" subscription plan on Amazon Music (24-bit, 192 kHz) at an extra cost per month.
But what is 3D Audio and how does it feel? I was first introduced to this concept when I was reviewing the Mobius Audeze audiophile gaming headset with 3D Audio. But 3D Audio on a speaker of this size?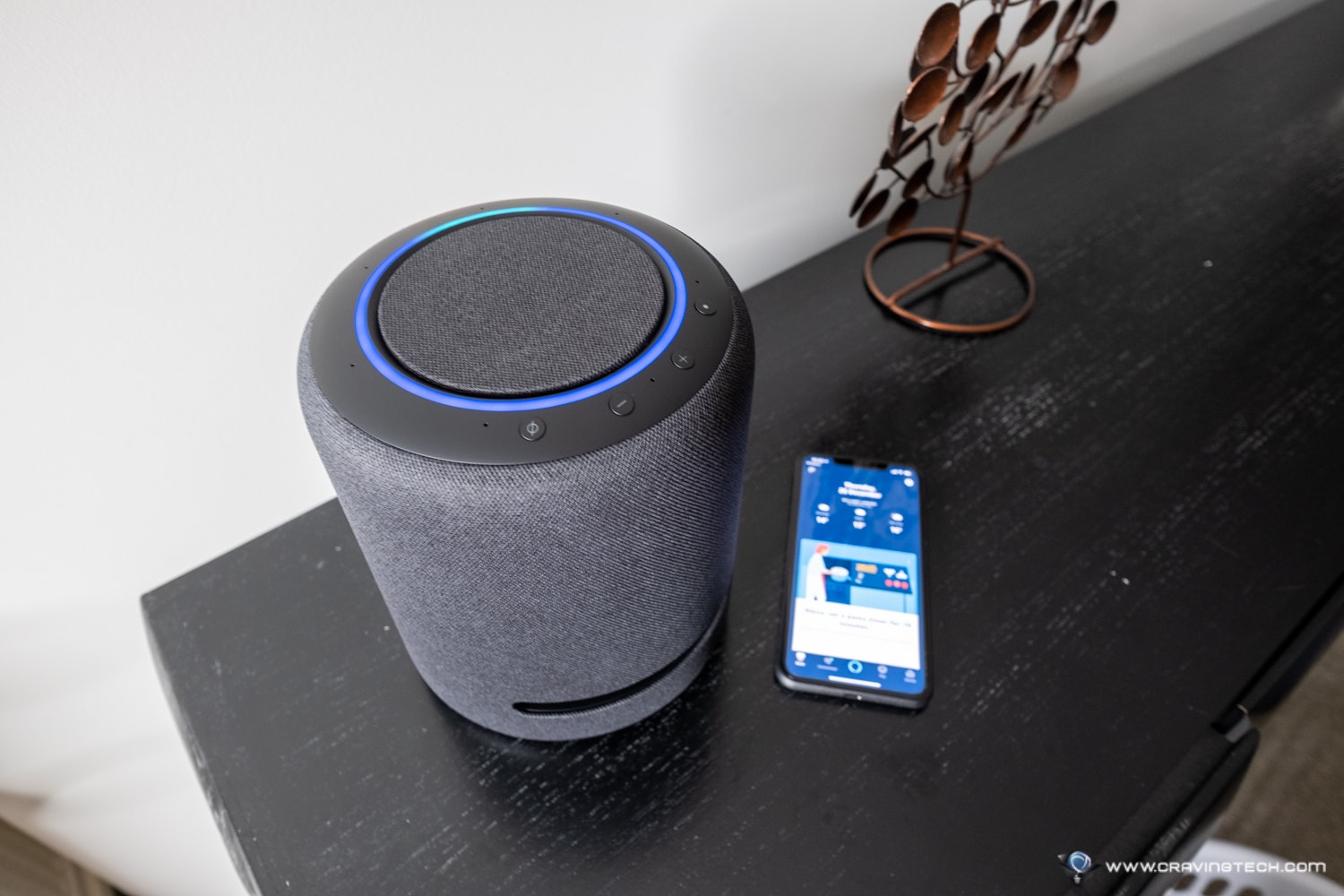 Thanks to the five-speakers setup firing at different directions that will bounce off walls and ceilings of your house, 3D audio can somewhat be perceived by your ears. Now, they wouldn't sound perfect of course, considering that the sounds are coming from a single unit in front of you, but it still is an impressive technology.
The only problem is of course, 3D music is pretty limited as they are quite new and at the moment only available at Amazon Music (plus the extra subscription cost to get HD music). Most friends I know are either on Apple Music or Spotify, so it'll be interesting to see how Amazon Music can crush the competition.
To make matters worse, Amazon Music HD (which includes 3D music, Dolby Atmos) is not yet offered in Australia so if you don't have a U.S Amazon account, they won't be available to you just yet.
Thanks to the built-in Alexa, you have access to more than just high fidelity music, but Alexa and all her skills. You can ask questions directly to the speaker with just your voice commands and also control many of the supported devices like Philips Hue, Ring security cameras, and more.
Conclusion
Amazon Echo Studio is definitely the best sounding smart speaker that Amazon can offer to date. It's also aesthetically pleasing and modern which will suit any modern house and rooms.
It comes with a 24-bit DAC and power amplifier for high-res lossless music playback, also supporting Dolby Atmos. But these require Amazon Music HD subscription so if you don't want to invest in Amazon Music, you will not be able to unlock all the potentials.
If you are looking for the best Alexa speaker in terms of design and sound, this is definitely it. Amazon Echo Studio retails for AU$329 and available at both Amazon AU and US.
Disclosure: Amazon Echo Studio review sample was supplied for reviewing but all opinions are mine and not paid
Amazon Echo Studio
Summary
Amazon finally releases a high fidelity speaker on the Echo family to challenge Sonos
Pros
High audio fidelity
Calibrate audio based on its placement & room
24-bit DAC and power amplifier
3D Audio support, Dolby Atmos
Alexa built-in
Cons
Must have Amazon Music HD subscription to fully utilise it