Amazon Echo Sub Review – The title says it all. The Amazon Echo Sub is basically a bass upgrade to your Amazon Echo speakers set up and it's a worthy investment for serious music listeners.
While we can hear a bit of bass from these Echo speakers, it doesn't do justice. If you really want to enjoy your music while sitting on a couch or partying away, then an extra thumping bass is required.
So, here comes the Amazon Echo Sub into play.
Amazon Echo Sub Review – Packaging
Amazon includes a soft bag to carry the subwoofer, in case you want to move it around. Considering that you'll be using it with the portable Echo speakers family, then of course, you'd want to be able to carry the Echo Sub along.
Amazon Echo Sub Review – Design & Features
The most amazing thing about Echo Sub is the design. I like minimalist design and the Echo Sub ticks all my boxes. There are no buttons and LEDs to be seen from the front. It's very compact and looks gorgeous in whichever room you are going to place it on. The Echo Sub doesn't require plenty of space so you can be more creative with the placement.
It only has a power cable connection, making it a very clean unit. I really wish it has a wired, Subwoofer input though – because at the moment, the Echo Sub cannot be used with anything else, except through Wi-Fi connection. And that means you can only use it to listen to music, using the Alexa app on your phone (or Echo devices). You can hook the Echo Sub to your current speakers system with the Amazon Echo Link or Link Amp, but you won't be able to use it for watching movies on the TV. No Bluetooth, 3.5mm AUX in or TV/video connections. Sad, really. But this is the only complaint I have with the Amazon Echo Sub.
Setting the Echo Sub is similar to setting up an Echo speaker like the Echo Dot through the Alexa app. You can then pair the Sub with a current Echo speaker setup. I have an option to either use my AudioEngine A5+ setup through the Amazon Echo Link, or pair the sub with my Echo Dot.
Spec wise, the Amazon Echo Sub is a 6″ downward-firing woofer with 100W of power. It has a Low Frequency Response of 30Hz and Crossover Frequency of 50Hz to 200Hz. And boy can this thing rock for the size. Depending on the type of songs, I find that the bass can either be overwhelming or just awesome (subtle, but punchy). You can adjust the Equaliser from Alexa app or use voice commands.
I love listening to Jazz songs sang by Norah Jones and Stacey Kent with the Echo Sub. The bass is deep and satisfying, completing the whole package. Other pop songs like Imagine Dragons produce punchier bass and can somewhat rock the room too, though not as much as bigger subwoofer units.
Amazon Echo Sub Sound Demo:
Amazon Echo Sub Review – Conclusion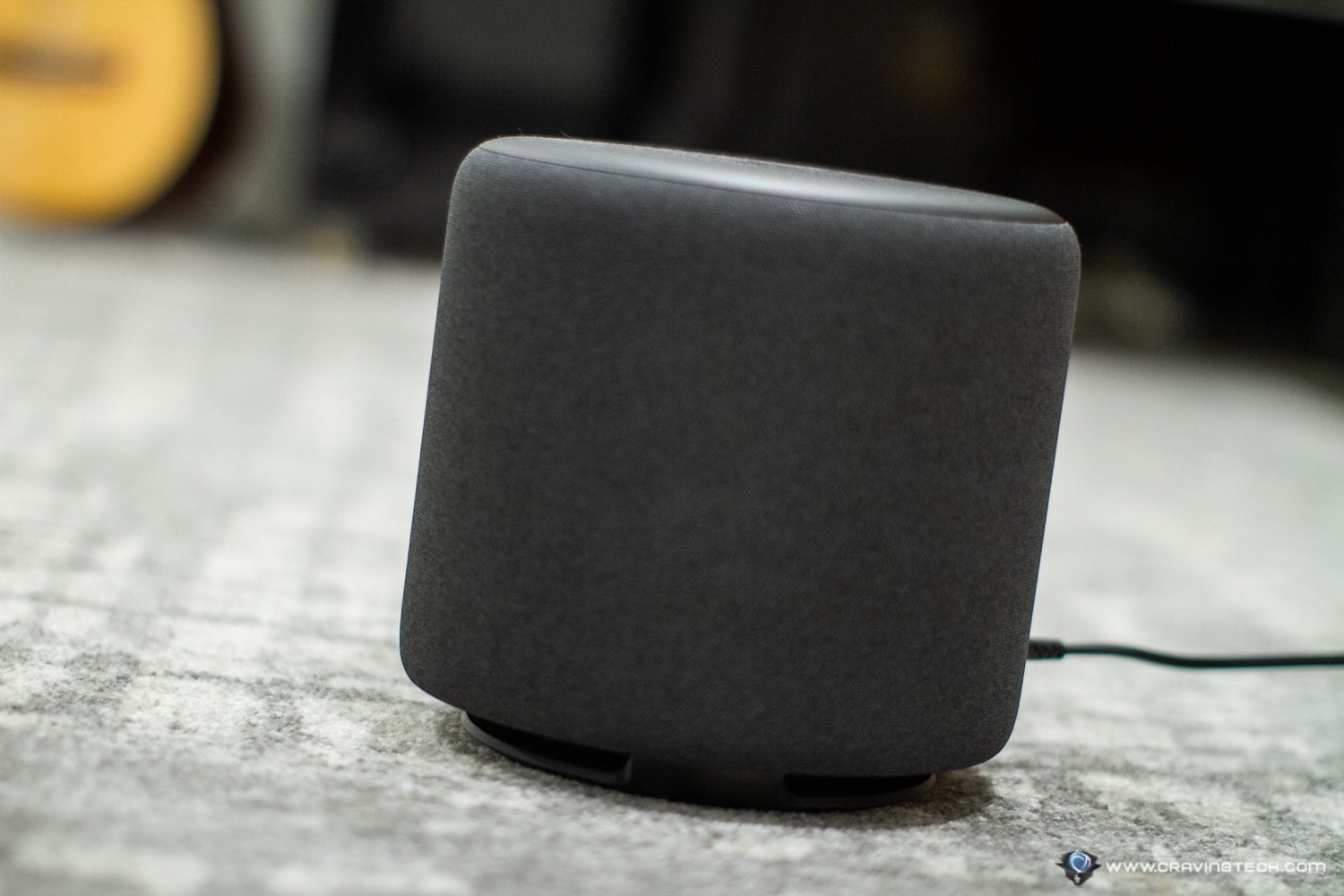 If you already have the Amazon Echo speakers and want to upgrade your music listening experience, you definitely want to grab the Amazon Echo Sub. Echo speakers' bass are tinny and don't give you satisfaction that you deserve if you love listening to music. With the Echo Sub, your experience will be complete and you'll wish you'd get it sooner.
And with the prize, it still is a good deal to be able to get a dedicated subwoofer and Bluetooth speakers combined together (i.e, a 2.1 sound system). I'm not sure if it's worth getting the Echo Sub if you only have an Echo Dot, and not the Echo Plus speakers. I have an Echo Dot but I hook the Echo Sub to my Audio Engine A5+ speakers with the Echo Link. While the A5+ speakers already have a good bass response, adding the Echo Sub takes it further.
But if you have either the Echo Dot or Echo Plus, it will be a massive difference for sure if you get an Echo Sub. Your call.
The Amazon Echo Sub unfortunately can't be used outside of the Amazon Echo ecosystem. There is no Bluetooth and AUX/3.5mm connection, which is a pity.
For the price of just AU$199, you'll get an amazing
Disclosure: Amazon Echo Sub review sample was supplied for reviewing but all opinions are mine and not paid