Craving Tech is an Australian, technology blog focusing on tech news around Australia (and beyond), plus reviewing the latest gadgest that the industry has to offer.
We are mostly covering consumer electronics that can be varied from gaming peripherals, to household products like vacuum cleaners, and pet gadgets. If there's a tech in it, we'll cover it!
Facebook | Twitter | Instagram| Subscribe to Weekly updates | Privacy Policy
Site Statistics (last update on 17th of July 2022)
920,308 pageviews in a year
818 Newsletter Subscribers
4,934 Twitter followers (@michaelaulia)
6,900 Facebook Likes, 6,600 Follows (CravingTech)
Top 5 visitors demographics (in order): United States, Australia, Canada , United Kingdom, India.
There are ways to advertise at Craving Tech – the best is to contact me to find out what the options are.
Collaboration with Brands
Craving Tech covers the latest updates in the technology industry and hands-on reviews on upcoming or current consumer products in the market.
Over the years, Craving Tech has reviewed hundreds of products (excluding software and games) from well-known brands such as Dyson, Logitech, Microsoft, Belkin, Adobe, Creative, Razer, SteelSeries, ROCCAT, Samsung, CoolerMaster, Thermaltake, CORSAIR, Bose, Plantronics, Jabra, Philips, Braun, Logitech, HP, ASUS, Kingston, Breville, SanDisk, Navman, Western Digital, D-Link, NETGEAR, Sennheiser, Tineco, Nespresso, DeLonghi, eufy, and many more (check the Gadget Reviews section).
Craving Tech has received great recommendations and trust to review their products from time to time up until today. If you have a product that you want to market and receive feedback on, do not hesitate to contact me.
Craving Tech has also been invited to cover many major events such as the first Microsoft Office 2010 launch in Sydney, Australian Open behind-the-scene powered by IBM technology in Melbourne, Ford's Driving Green Technology in Detroit, The Commonwealth Bank's flagship branch launch in Brisbane, Nintendo Switch Australia launch, Huawei P30 launch in Paris, and many other major events.
Achievements
Nominated as the Best Independent Coverage 2020, 2021, and 2022 at Australia IT Journalism Awards (The Lizzies)
A finalist to the Best Geek Blog in Asia Pacific 2009 (Nuffnang Blog Awards 2009) which was mentioned on the local newspaper, The Age (when this blog was known as "Michael Aulia's blog").
Ranked #20 on the Top 100 Australian Blogs back in 2009
Reviews published on the vendors' official product page such as Creative, PowerTraveller, SteelSeries, Thermaltake Tt eSPORTS, Navman, SONOS, D-Link, and more. One of the reviews (Robomaid vacuum cleaner bot) was also quoted in Australian

Men's

Health

magazine

in 2013.
Chosen as a Premium blog by SocialSpark.
Rewarded Sitelinks by Google, given only to trustworthy websites.
Recommendations
Salem from technoHEADS:
"Formerly MichaelAulia.com, CravingTech is Michael's technology blog. Ever since winning Nuffnang's "Best Geek Blog in the Asia Pacific Region," he's been doing a lot of hardware reviews, which are incredible. He really pulls apart the little details of the product. Before I buy anything, I'll search his site quickly to see if he's done a review of the product I want to buy, because frankly, I couldn't ask for better reviews."
Justin Germino from Dragon Blogger:
"Whether it's hardware information, gadget articles, software reviews and even articles showcasing free software licenses you can find enough tech articles on this site to keep you busy for hours as I do on a weekly basis.
When I want to take a break from writing tech articles and just want to read something, Craving Tech is a site I frequent.  I really also enjoy the layout of the site which is very clean and easy to navigate for readers."
About the Owner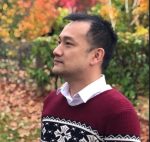 Craving Tech is a technology blog, owned and maintained by me, Michael R Aulia. I'm currently working full time at Hopewiser Ltd in Melbourne, Australia.
I started blogging back in 2007 and this other side of life has somehow made me into a reputable technology blogger and reviewer here at Craving Tech. I'm also actively involved in Emmanuel Baptist Church, a Christian, Indonesian community here in Melbourne.
Ways to connect with me: Twitter | LinkedIn
Achievements
Invited to Huawei P30 smartphone launch in Paris.
Selected as a member of Intel Insider Program.
Invited to Formula One by Microsoft, Lotus F1 Team, Epson Australia & Kaspersky.
Selected as one of Telstra's Social VIPs to cover the Samsung GALAXY S4 launch in Sydney and as a member in Telstra Influential Program.
Invited to the Australian Open by IBM Australia & Fitbit.
Invited to write for Yahoo! Australia's Technology section.
Invited to speak at Nuffnang Blogopolis Conference (300 Aussie bloggers attended the event, including Darren Rowse from problogger.net and other popular Aussie bloggers).
Selected to be in Samsung's Street Squad, a small team of 35 people worldwide selected by Samsung to review their latest products (Samsung Galaxy SII, Samsung Galaxy Note, and Samsung Galaxy Nexus).
Selected to be in IBM Business Insight 10, a selected group of 10 people outside IBM who are active in the technology community.
Selected as one of 5 Australian bloggers to represent Logitech's "My Laptop Gets Spoilt" campaign.
Recommendations
Jason Tan, Senior Internet Marketing Specialist, from Creative Technology Ltd:
"I have work with Mike for the past 2 years. He's one of the top notch bloggers that creative technogy australia choose to work with. He is impartial in his writing and he has never ever disappointed us with his superb details on a review of a product. Kudos to you Mike!"
Renato Catalan from GAP Marketing & Management Pty Ltd:
"I have know Michael for nearly 3 years now and enjoy working with him when it comes to our clients. We always value his in depth reviews about the latest gadgets and found him very easy to communicate with. More often than not I learn a few things from his website and blogs as well!"
Shannon Ropelato from TechMediaNetwork:
"Through working with Michael, I have become a fond reader of CravingTech.com.  Michael has a great personality and a love for his blog.  You can see his passion for technology in his writing.  For anyone who has had the privilege of even speaking a few simple words to Michael you come to understand why he has such a successful and enjoyable blog.  His dedication to listening and communicating with each individual reader make this blog more than just 'a geek's ramblings' but a network of great people with a passion for technology."
Vysia Duffield from Unruly Media:
"Michael is a pleasure to work with and I have a great deal of respect for him as he takes a lot of pride in his work. He always has his readers at the heart of every project he takes on, even to the point of sometimes turning down opportunities if he thinks it wouldn't be of great benefit his readers.  Definitely one of the bloggers that make my job really enjoyable, it's great working with him and we've had a lot of fun exchanging banter whilst brainstorming creative ideas and collaborating on projects. Awesome guy, too!"
Brian Belfitt from Blog Engage:
"It's been a  pleasure knowing Michael but most importantly I should be thanking him. It's members like Michael that have kept blog engage alive, interesting and active. He continued submitting his article even when times were slow. For your support and dedication I say thank you Michael.
If you pay close attention to Michael's blog you will soon realize the gem he offers all his readers and visitors free. Over Michael's blogging career he has compiled a structured list of detail suggestions that every blogger can benefit from. It's his own private collection of lessons learned as a pro blogger."
—