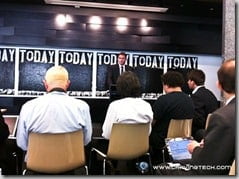 I was invited by The Commonwealth Bank to Brisbane today (along with the other technology publications like LifeHacker, IT News, etc) to have a tour to see their brand new flagship branch in Brisbane CBD and was introduced to the future of offline and online banking with The Commonwealth Bank. There were only about 20-ish of us so it was an honor to be selected for the event. Many thanks for the great guys from One Green Bean to organise this event, too.
Ross McEwan, Commonwealth Bank Group Executive (Retail Banking Services), Adam Benett, Chief Information Office (Retail & Business Banking), and a few others took us around and briefed us with the services and the new technology approach for a few hours during the day.
COMMONWEALTH BANK NEW FLAGSHIP BRANCH IN BRISBANE CBD

The brand new Commonwealth Bank flagship branch is located at 240 Queens Street, Brisbane CBD and from the moment I went off the bus, I was already amazed at the warm, modern, luxury, and techie feeling of the branch's atmosphere. It's a multi-million dollar redevelopment over 7 months (not just for the new equipment, but for the renovation and also the training for the staffs).
A concierge (or more, when needed during busy hours) greeted the customers, ready to answer questions and directing customers to the right sections.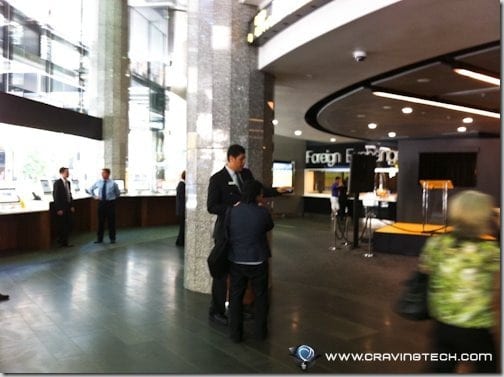 If you say "What? Almost every bank already has someone who greets and asks you whenever you need any help. What makes this flagship branch so special?", how about:
Being able to check your account balance and do your online banking yourself throughout the terminals inside the branch?

Have a complimentary coffee while you talk to a financial advisor?
Being able to play around with an iPhone 4, an iPad, or an iMac inside the branch? You won't be able to play Angry Birds obviously but you can save time (and having fun) by doing your banking through these (no more queues). This also introduces The Commonwealth Bank apps and teaches customers to use them properly.Hm.. should have asked whether they are going to put some iPad 2s at some point!
Have access to easy-to-use touch screen terminals where you can check the current foreign currency rates (without having to go to a teller to deposit your international cheque only to be disappointed by today's currency exchange rate).

There are also a few other things you can do in this terminal such as checking the bank's current products and services, and also to book for upcoming Commonwealth Bank seminars or appointments with specialists.This terminal also has access directly to a printer so you can print the information and bring it home.

Being able to deposit your cheque automatically using a machine (ATM alike) inside the branch (not like those envelopes' deposit boxes). One of the occasions when I need to physically come to a bank is when I need to deposit my cheque to my account. If only every bank (in every branch) has this magic machine, I wouldn't need to waste my lunch time queueing to see a teller. The machine also prints a receipt, along with a screenshot of your cheque.

Using the same deposit machine, you can also deposit cash and it will even receive cash in stacks, so you don't have to separate the notes one by one. The machine will even smartly print the number of notes correctly on the screen (ex: 10 x $50 dollar notes, 4 x $20 notes, and so on).
The deposits are being done manually by the staffs at some point later, but we were told they are planning to do it automatically in the future (and why they wouldn't? Of course, it will not be easy so it may take some time for the technology to mature)
A do-it-yourself change/coin counting machine (I was going to take a photo of it but a customer was there so I was trying to respect his privacy :()
Being up to date with Brisbane's first full ASX ticker
Now, most of us are probably comfortable doing online banking in our computers at home but you need to be aware that not everyone is. Some still wait for their monthly statement in their mailbox to check their account balance. Some even come to the bank, queue to see a teller, and ask about their current account balance. Having a sophisticated branch like the one we went to today can really eliminate the frustration from both sides (customers from having to queue and the staffs from having to answer "silly" questions or serve tasks that can be done electronically.
COMMONWEALTH BANK – UPCOMING IPAD APP & NETBANK LABS
Before the tour, we were actually being briefed and been given a first look into the Commonwealth bank applications on the iPhone and the iPad (which is going to be deployed in May 2011) and also a new exclusive testing centre that allows selective customers to opt in, use, and rate new tools before they are launched called "NetBank Labs". The iPad app itself looks really sleek and aimed for easiness of use. Users will be greeted with consolidated information on the same screen and also easier-to-use main menu such as "make a payment".
With the NetBank Labs, you can see a visual representation (graph) of your balance for the past months (time to take a serious step if you see a declining graph). There is also a simulation feature to find out how much money you can save on your home loan by making certain repayments.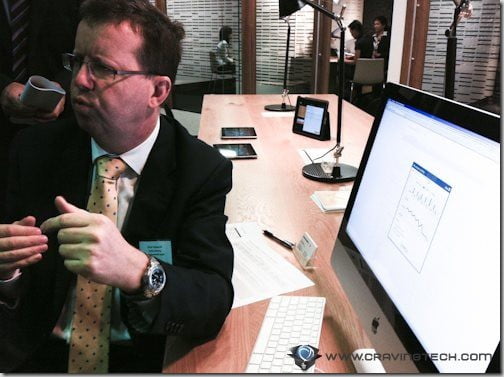 COMMONWEALTH BANK – IPHONE APP & THE NEXT UPDATE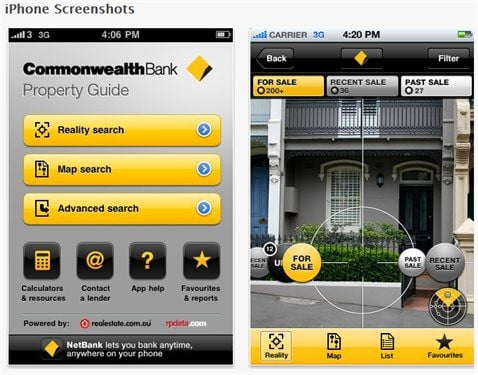 The Commbank property guide app on the iPhone has been around for some time. You can download it for free to your iPhone and play around with its augmented reality search (displaying a property's value live with the camera – price, sales history for the last 30 years, property value estimation based on several factors), borrowing capacity calculator, information on the local agents, etc. Upcoming updates in May/June 2011 include a foreign exchange calculator, live currency converter, currency alerts (notifies you when your selected currency reaches your pre-set rate), travel money card, or even sending money overseas.
Most of the applications I mentioned have a feedback mechanism built into them. People can submit suggestions, feedback, and even tell which features that they find useful or not useful. The team at Commonwealth Bank will then use this information to further invest in making the apps bigger and better.
Overall, I'm very pleased and amazed especially with The Commonwealth Bank flagship branch in Brisbane (officially opened this evening – unfortunately I couldn't attend it and had to fly back to Melbourne). With a spacious area, over 50+ staff, two storey floors with separate sections, automated deposit machines, its own cafe, trained staff to teach customers in using the touch screen terminals, iPod, iPad, and the iMac, I'm very positive that there will be positive responses from the customers.
I don't bank with The Commonwealth Bank though but it'd be great to see the same system being rolled over here in Melbourne. It's obvious that they are investing big to make both online and offline banking far easier and more interesting to their customers. Banking can practically be run 24/7 and the customers can look after themselves. At the end of the day, if you are still more comfortable speaking to a teller for your day to day banking, by all means, please do. No one there is trying to force you to use the machines if you want to be more "social".
Special thanks for The Commonwealth Bank and One Green Bean for the great and packed event today. Too bad that I missed the official launch of the flagship branch!