Musicians and singers, if you have read my post about the Capo application (Capo for iPhone or Capo for Mac), then there is another good news for you. If you don't want to spend any dollar to buy Capo, then you should take a look at AnyTune, a free Capo alternative.
Yup, AnyTune is free although it doesn't have as much as power as Capo. So, why should musicians and singers have a look at AnyTune?
AnyTune allows you to adjust the tempo and also the pitch of a music. This way, you can practice easier because you can do it very slowly and also do it on a particular pitch, tune to your instrument or your voice.
Upon opening AnyTune, it will load all the songs in your iPhone/iPod's library where you can then pick on a particular song you want to play on AnyTune. Importing is quick but it takes some time to properly analyze the whole song.
Thankfully, you can start using the app and also play the song even when it's still in the process of analyzing the song.
AnyTune lists the song's beat per minute (BPM) and also have the basic playback controls such as the rewind, pause/play, and fast forward button.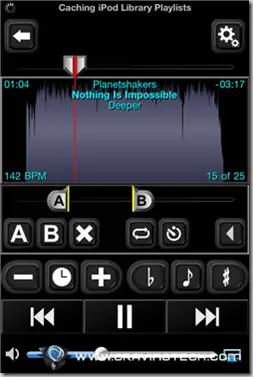 The background color/skin can be changed in the Settings although I'd suggest to use the default Black because personally I think the other colors/skin make the app look horrible.
You can use the looping feature by placing the start and end tag (Tag A and B). This way, you can easily repeat a particular part of the song that you want to listen over and over (which I do all the time when I'm practicing).
Tempo and Pitch can easily be changed by iterating through the buttons. There is also a quick "default" button which will reset any alterations that you've done on the pitch or the tempo.
Overall, AnyTune is a great app and a great free alternative to Capo. It may not look as beautiful or as powerful as Capo, but to most musicians and singers, AnyTune is enough to fulfill their needs. AnyTune is a great app to have around if you like to play music or want to sing along on the go.
Anytune Pro+ – Music Practice Perfected. – Anystone Technologies, Inc.
AnyTune Pros
+ Free alternative to Capo
+ Free (with ads – but they are not annoying)
+ Can alter a tempo of a song
+ Can alter a pitch of a song
+ Can loop a certain part of the song
+ Easy and simple to use
AnyTune Cons
– Interface is not the focus of the app
– Needs a better theme/skinning option