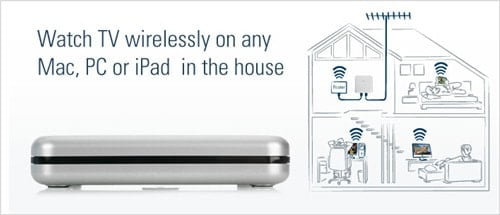 EyeTV Netstream DTT is a dual TV Tuner that streams digital television to the computers on your network – so you can watch TV on your Mac and PC at the same time. If you like to watch TV inside your bedroom but do not want to spend another dime to buy another TV, you should consider getting the EyeTV Netstream DTT. If you own an iPad/iPod/iPhone, the EyeTV App can also be used to stream digital television to your mobile devices.
There is a possibility of getting a review unit to my hands, but more on this later. Check the press release below.
Elgato Updates Network Tuner and Offers Aggressive New Pricing
Sydney, 21st March 2011 – Streaming live over-the-air TV to an iPad, Mac or PC on your home network is now more affordable than ever. Video specialist Elgato has reduced the price for EyeTV Netstream DTT to just A$329.99. In addition, Elgato unveiled new software for the network tuner that enhances performance and stability, speeds up channel changes and features an improved web interface for easy maintenance.
Stream over-the-air HD over your home network
EyeTV Netstream DTT is a dual TV tuner that streams digital television to the computers on your network. It is compatible with both Mac and PC, and can be used to receive digital TV on two different computers at the same time. If you have a Wi-Fi network you can watch TV wirelessly on a portable computer, free from cables and in HD where broadcast.
Live over-the-air TV on the iPad
The recently announced version 1.2 of the EyeTV App enables EyeTV Netstream DTT to stream SD channels over the local Wi-Fi network directly to iOS 4 devices (requires iOS 4.2 or newer). HDTV channels can be streamed via Wi-Fi or 3G/UMTS Internet connection provided a Mac with Elgato's EyeTV 3 TV software is running as a local streaming server.
Easy to set-up and use
EyeTV Netstream DTT integrates well with your existing network. You can stream live TV, surf the web, and send email all at the same time. An intelligent device, EyeTV Netstream DTT offers centralised configuration via web browser and auto-discovery via UPnP and Bonjour.
Works great on Macs and PCs
Included is EyeTV 3, Elgato's award-winning TV software for the Mac. Watch, record, edit and enjoy live television on your Mac. Search two weeks of Program Guide listings, and export recordings automatically to iTunes to sync with Apple devices. EyeTV Netstream DTT works with Windows 7 Media Center and also includes THC software for Windows, which offers many of the same features as EyeTV 3.
Pricing & Availability
EyeTV Netstream DTT ships at a suggested retail price of A$329.99 including VAT. You can buy direct from Elgato at www.elgato.com or most Mac retailers. The EyeTV app version 1.2 is available at the App Store for A$5.99. The app update is free of charge