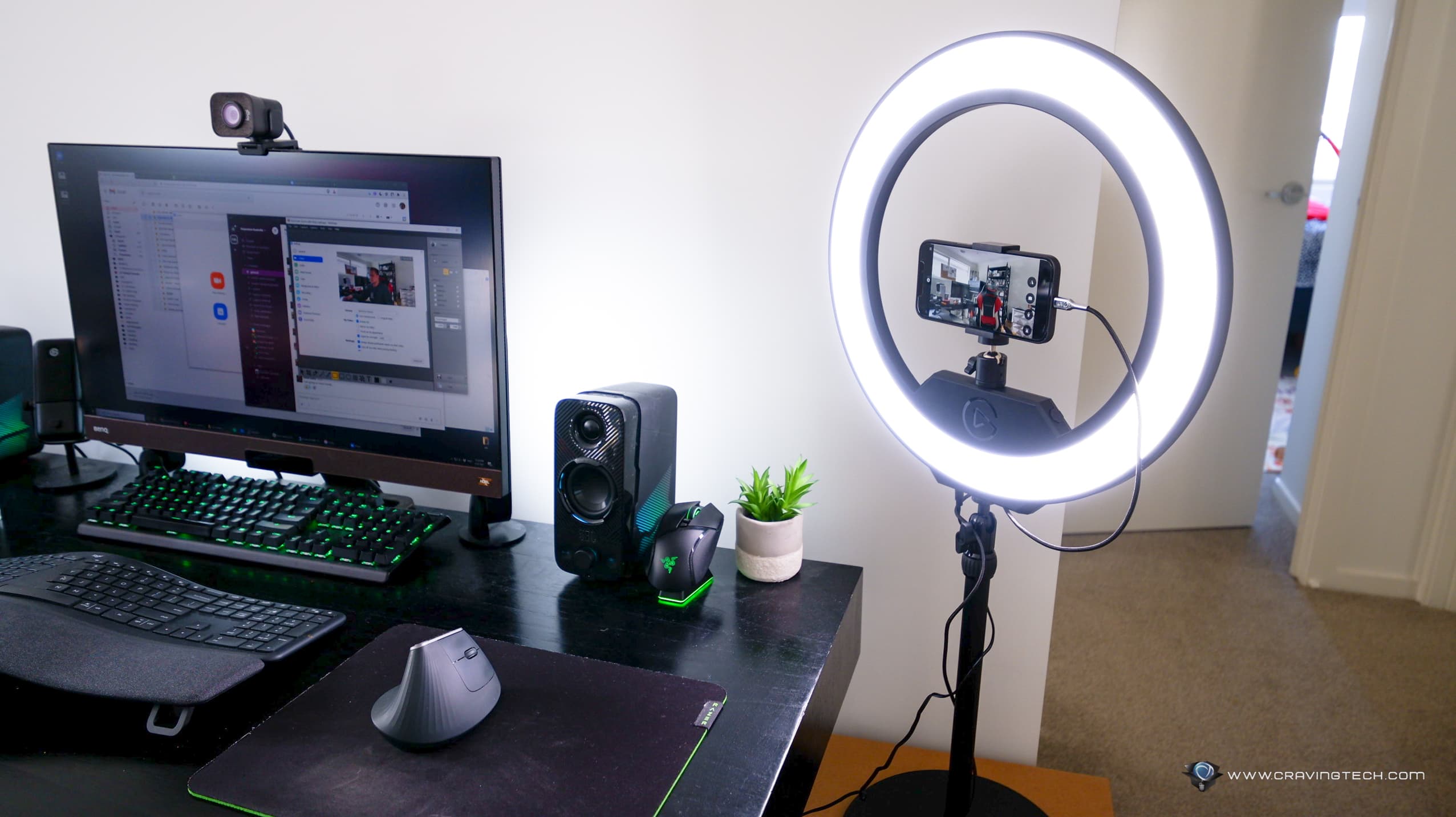 EpocCam Review – With many of us still stuck working at home, you've probably had invested in a good webcam. But if you haven't, as they might be running out of stock (happened here in Australia last year when the pandemic hit hard), you can always use your phone as a webcam to be used for video conferencing, streaming, and other things.
This is done by installing the EpocCam app on your phone and the driver on your Mac or PC. After you have both of these installed and running, your smartphone will appear as a webcam device in apps like Zoom, Microsoft Teams, OBS Studio, and more.
Connection (from the phone to the PC or Mac) is done through either Wi-Fi (wireless) or USB cable (wired). When using an iPhone, iTunes needs to be installed if you are doing it wired. I tested the EpocCam Pro with my iPhone 12 Pro Max running on USB cable, sitting on the Elgato Ring Light with a Phone Grip accessory. Combining the Ring Light with your phone at the centre this way will ensure you to get a bright and clear picture even in a low lit room.
If you can get the wireless connection working on your machine (it can get tricky if you have third party firewalls installed or have custom settings on your wireless router), you can pretty much walk around or move your phone around to get that better, close-up angle during the conference or stream. For example, you might be streaming to paid subscribers and this way, you are not restricted by movement or tied to the computer.
The EpocCam Pro is the premium version that gives you higher video resolution (1080p HD), HDR, Manual Focus, Green Screen support, ability to use your phone as a wireless mic, and more. It also removes watermark on your broadcast, so you might want to spend bit of money if you are planning to produce professional contents with your phone.
With smartphone camera quality these days, you can definitely produce high quality contents or look great in the camera. We are using OBS to live stream our Sunday Service at church and with EpocCam (which supports OBS as well), we can use an extra phone as a second camera with a different angle setup if we want.
EpocCam is simple to setup and doesn't require much tinkering to get it working. In just minutes if not seconds, your phone will appear as "EpocCam Camera" on the app settings like Zoom, ready for you to broadcast.
The EpocCam is a free app so you can test it first to see if it works and suits your needs before you make that once-off purchase for the Pro version. Even if you already have a great webcam like the Logitech StreamCam, having your phone as a second camera is definitely very handy.