Logitech StreamCam Review – We haven't seen much new webcams being designed and launched for the past months, only a handful few. With the COVID-19 situation where almost everyone needs a webcam for video conferencing with colleagues and clients, webcams are becoming rare commodities and quite out of stock anywhere. And there are also streamers, who really want to make sure they stream in high quality.
If you are in this category (i.e a content producer in Twitch, YouTube, or other streaming platform), then you should check Logitech's new StreamCam. All of its design decisions are based to offer you the best streaming content possible, and can fit into your current stream setup.
Logitech StreamCam has a compact design with versatile mounting options. To those who stream with their desktop or laptop, you can use its flexible Monitor Mount straight away. It holds the cam steadily on top of the monitor or a laptop with good support.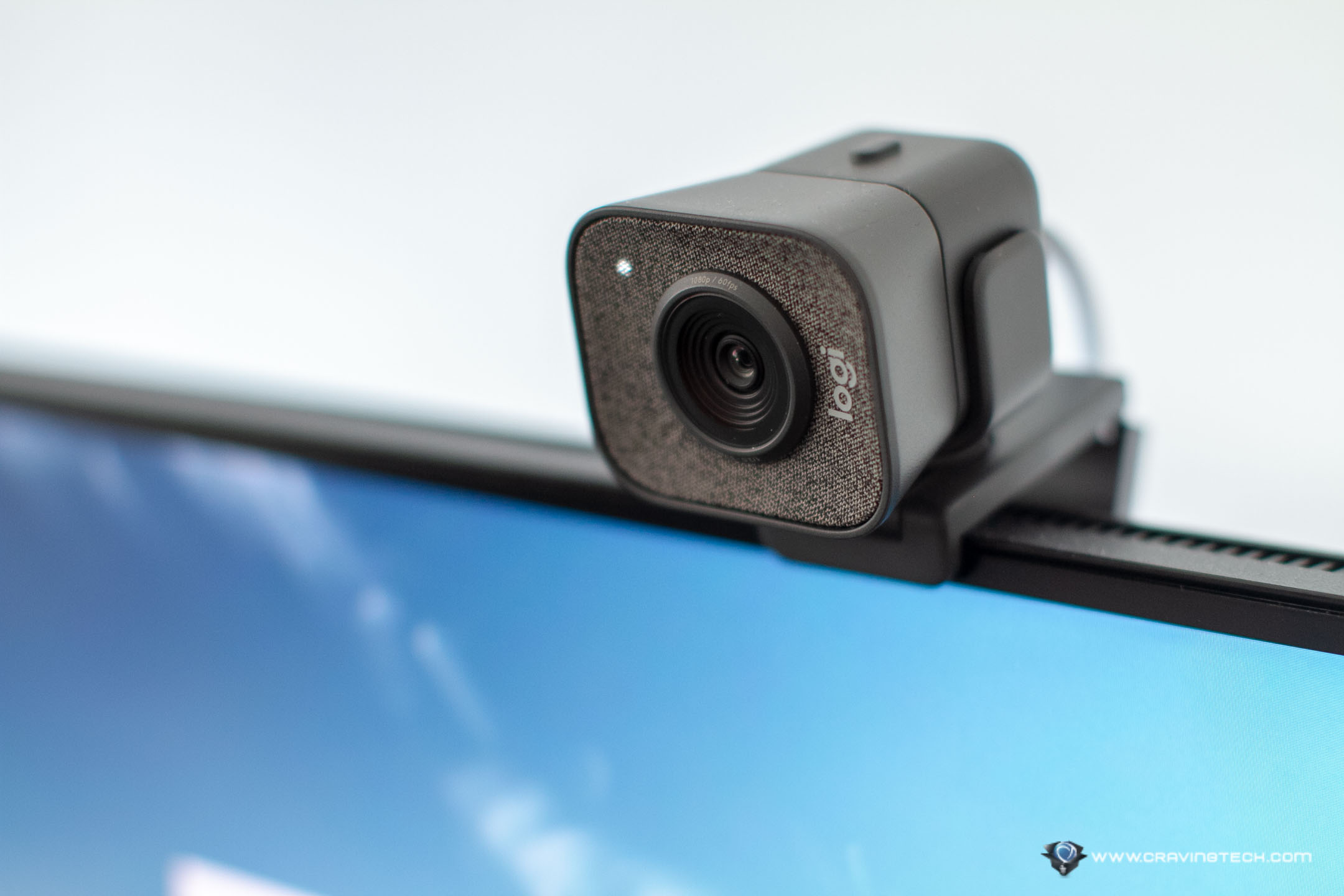 However, you can also take the camera unit out of the Monitor Mount and mount it on a tripod.
Surprisingly, only USB Type-C is supported so if you are on a desktop, you may not have a USB Type-C slot handy. On most recent laptops, however, you should have no issue plugging the StreamCam to an available USB Type-C port. I did try using an adapter from USB Type-C to Type-A (the good old USB ports), and the camera works fine. It however limits the frame rate from 60 to 30, which you may or may not mind. For being used in conferencing or video calls, it is more than fine for sure. I do short daily meetings with friends and a two-hour weekly using Discord and StreamCam works great there as well.
Speaking of 60fps, Logitech StreamCam is capable of delivering 1080p HD video at 60fps. If you want 4K though, you may have to grab the Logitech BRIO instead, which costs AU$70 more. On my ASUS ROG GL502VT gaming laptop's USB Type-C, the StreamCam works great.
To help with your streaming while you focus on delivering content, Logitech StreamCam is equipped with smart auto-focus and exposure so you will always look great even in different lighting conditions. I was quite surprised how good the camera was even when my study area was poorly lit in the evening.
You can also turn the Backlight Correction feature on and off:
And oh, there is one more thing. The camera can also be turned from Landscape to Portrait orientation, which is quite an interesting feature. This orientation makes it perfect to stream content on Instagram or Facebook (i.e mobile device orientation).
For streamers who want to grow their social media channels, it's a nifty feature.
The camera is also equipped with dual omnidirectional microphone with noise reduction filter, which is a good start for new streamers. If you are serious in streaming however, you should get a proper setup like a Yeti microphone from Blue or the new Elgato Wave microphone.
If you use Open Broadcaster Software (OBS) for streaming like what we do at our church, XSplit, or Streamlabs, Logitech StreamCam is also optimised for those. But new streamers should be happy to know that the Logitech Capture software can add a watermark logo, text overlay and other things to enhance your streaming quality easily without having to learn all these advanced streaming software.
Logitech StreamCam Review Conclusion
Logitech StreamCam is a great webcam for streaming, thanks to the awesome image quality with 1080p at 60fps, mounting versatility, and a unique design that allows you to stream in either Portrait or Landscape orientation. Streaming on your YouTube or Twitch channel? Go Landscape. Having a Q & A session on Instagram? Go Portrait.
The cam can also somehow pick up good, clear image despite of the lack of good lighting in a scene. For game streamers who love keeping their room dark and just having some RGB lights on, Logitech StreamCam works great. You might want to add a lighting equipment like the ELGATO Key Light Air to boost your streaming scene quality though.
StreamCam, however, only supports USB Type-C so you may have to grab a USB Type-C to Type-A adapter on a desktop, but at the expense of letting that 60fps go. The cam also doesn't have 4K but you can get the Brio Ultra HD pro webcam for that (at AU$70 more).
Logitech StreamCam retails for AU$279.95 and available at retailers around Australia. Also available at Amazon.com
Disclosure: Logitech StreamCam review sample was supplied for reviewing, but all opinions are mine and not paid
Logitech StreamCam Review
Summary
Great cam for streaming with a smart Portrait and Landscape orientation option, and can stream up to 1080p 60fps with USB-Type C connection
Pros
1080p 60fps 
Great image quality
Can be switched to Portrait or Landscape easily
Can be mounted on a monitor, laptop, or tripod
Has decent built-in microphone
Cons
No privacy cover when unused
Cable cannot be detached, which is a pain for travelling
No USB Type-C to Type-A adapter/cable included