ASUS ROG GL502VT Gaming Laptop Review – Gaming laptops are usually bulky, heavy.
They are not really meant to be carried around too often – at least compared to an Ultrabook (but let's leave the discussions on my recent Gaming Laptop vs Ultrabook post).
The ASUS ROG GL502VT (Republic of Gamers) is thankfully, pretty compact for a gaming laptop.
It weighs around 2.2kg and though it's not the lightest laptop in the market, it's actually quite compact for a gaming laptop that has all the features you ever want for your gaming and non-gaming needs.
Its specifications are varied but here is the one I've got from ASUS Australia:
Intel® Core™ i7 6700HQ Processor (running at 2.6GHz)
8GB of DDR4 RAM
15″ 4K display: 15.6″ (16:9) LED backlit UHD (3840×2160) Anti-Glare Panel with 72% NTSC and IPS technology
256GB PCIE Gen3X4 SSD (NVMe Samsung MZVPV256)
NVIDIA GeForce GTX 970M with 3GB GDDR5 VRAM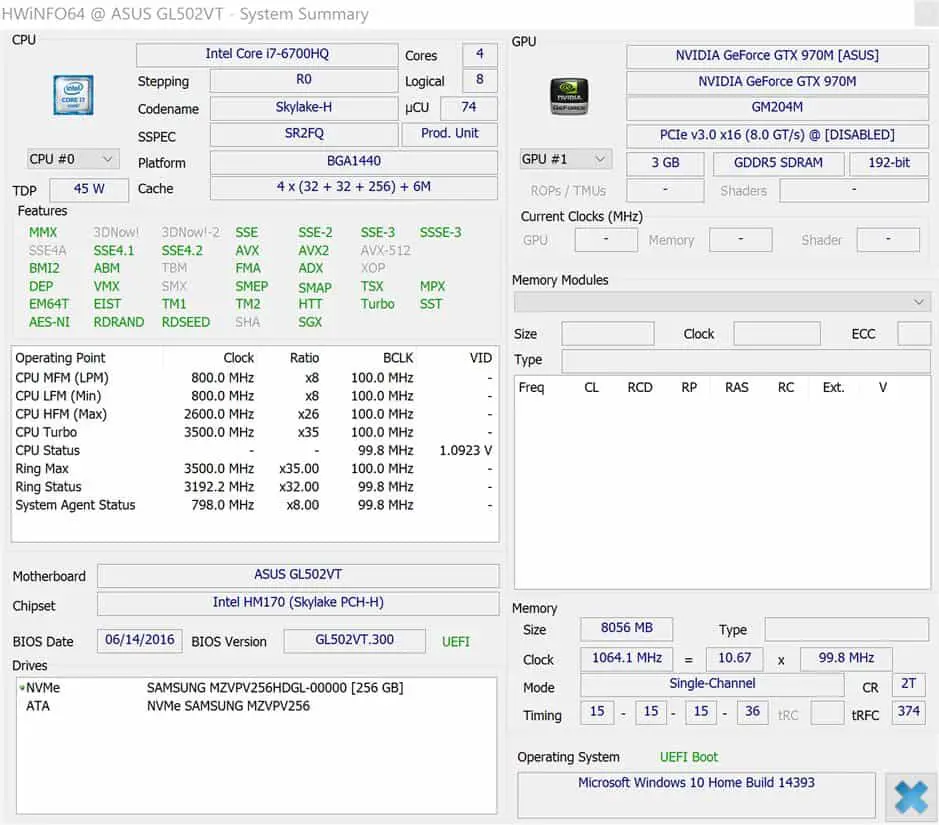 Spec-wise, this thing is really a beast on its own, especially compared to my now-declared-ancient-Samsung NP900x3c Ultrabook.
The ASUS GL502VT is filled with pre-load software such as Foxit PhantomPDF, McAfee, TeamViewer, TripAdvisor, WPS Office, and also ASUS software such as the ASUS Giftbox, ASUS ROG Gaming Mouse (even if you don't own one), and many more. Thankfully, they can easily be uninstalled to give you a really clean state of Windows 10.
ASUS ROG GL502VT Review – Excellent Display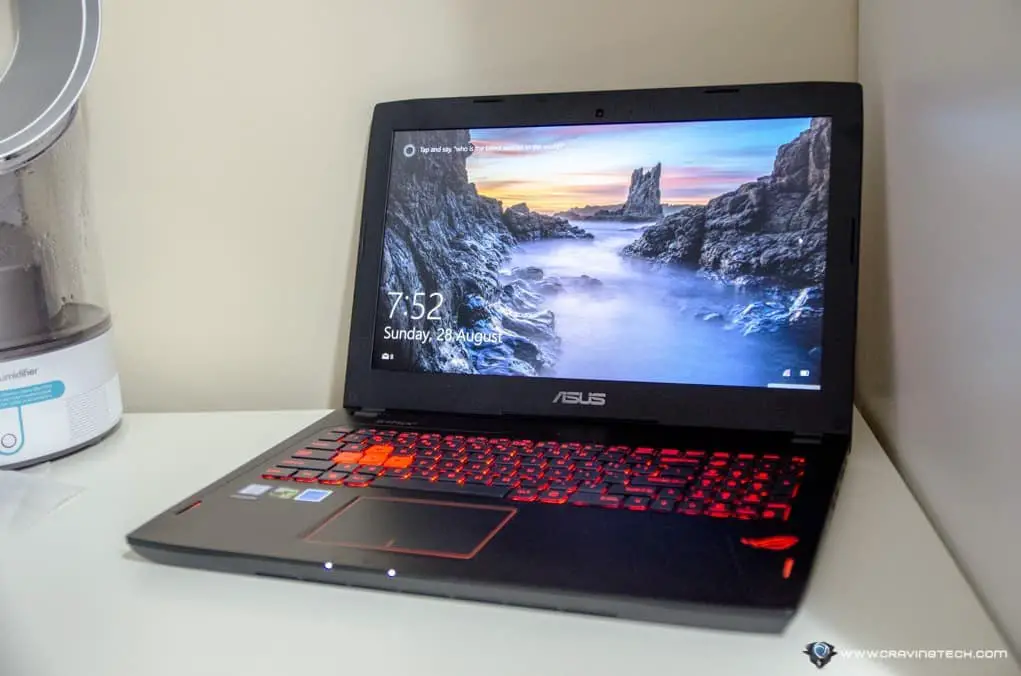 The screen is simply breathtaking. It supports IPS technology and gives you a really good 178-degree viewing angle. No matter how and where you look at it, you will still get a clear view of everything. With such a wide viewing angle, it becomes a perfect laptop to watch movies and also if you are sharing your screen to a few people in a meeting.
My ASUS ROG GL502VT comes with an amazing 4K UHD (3840 x 2160 resolution) and the screen looks very clear. Fonts are sharp, colours pop, and it feels as if you are seeing a canvas than a blurry, fuzzy screen. This is my first 4K screen and I'm loving it. Not every application supports such a high resolution however, sometimes button captions and texts are squashed. Sometimes, Windows Explorer also resized itself to a very tiny window. Thankfully, these are rare to happen and don't happen to most commonly used Windows applications.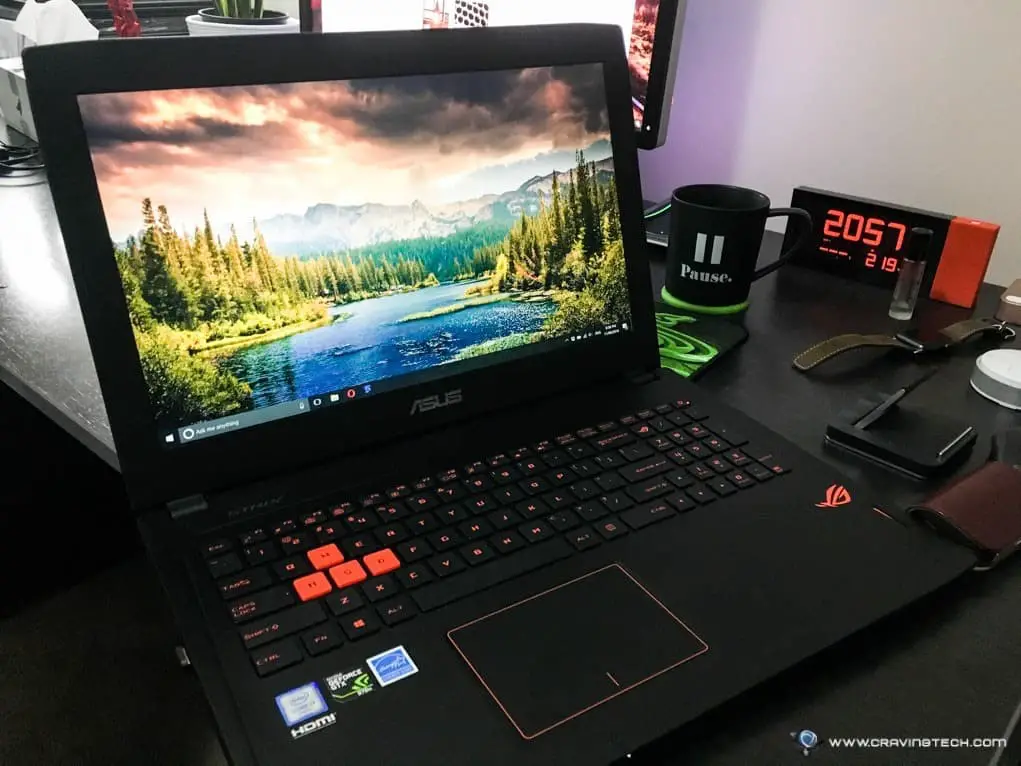 ASUS ROG GL502VT Review – A Powerhouse
This is definitely the most powerful gaming laptop I've ever had and touched (though ASUS has also just released newer models with a GTX 1070 inside). Thanks to its more than sufficient RAM and the NVIDIA GTX970, it can practically play any games you can throw at it. Even more recent games like Overwatch can be played in Epic settings at 60-70fps (though at 1920 x 1080 resolution – I could only get around 30-ish on 3840 x 2160). Fallout 4 and The Witcher 3 are fine too, but you have to tweak some settings to squeeze more fps.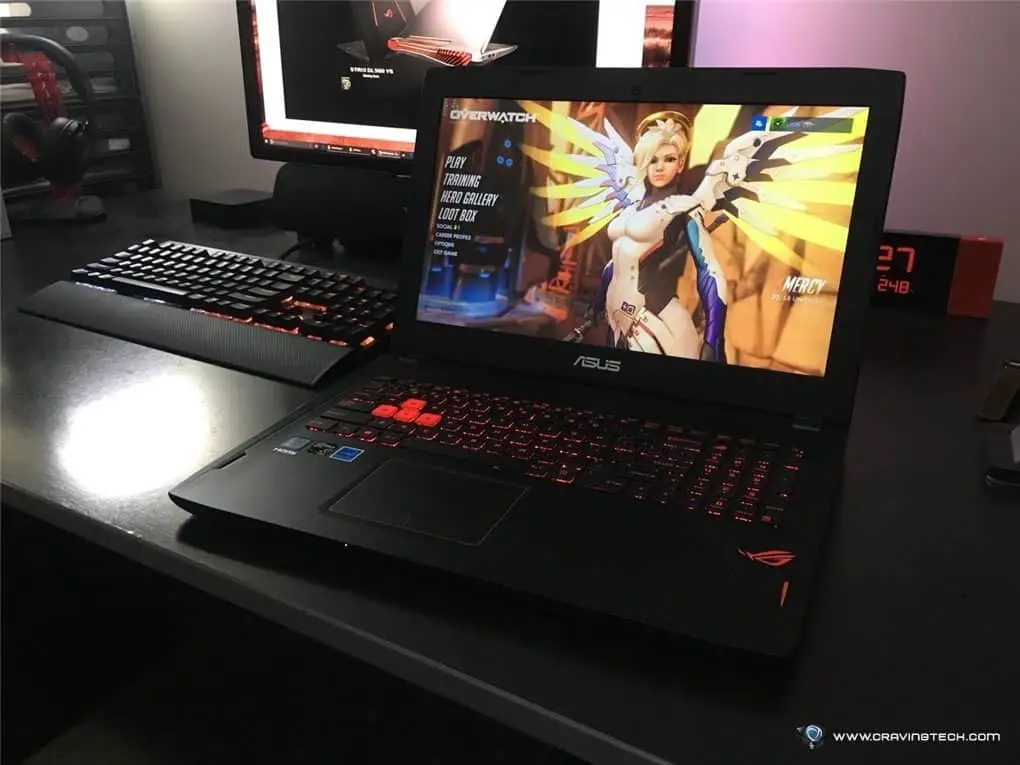 However, with such high spec and power comes heat. The ASUS GL502VT gets hot really fast once you run graphic-intensive games within minutes. The heat can be felt on the areas above the keyboard (where the CPU and GPU are) and around the rear exhaust. The fans get quite loud to cool things down so you may not want to use it for gaming while you are in a class (or in a library). The Hyper Cool Duo-Copper cooling system proves to be quite effective in making sure the laptop does not overheat, even after I played for a few hours.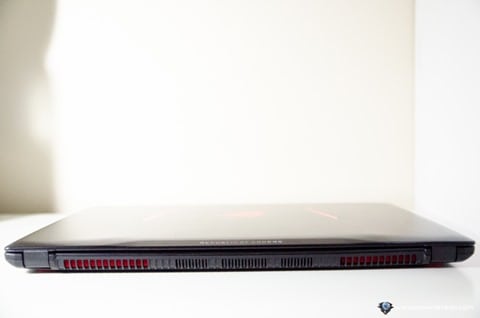 When I tested the laptop to play Overwatch, the CPU and GPU temperature went up to 80-degree Celsius. The laptop never got overheated – a problem that occurs frequently on most gaming laptops in the market such as Alienware's.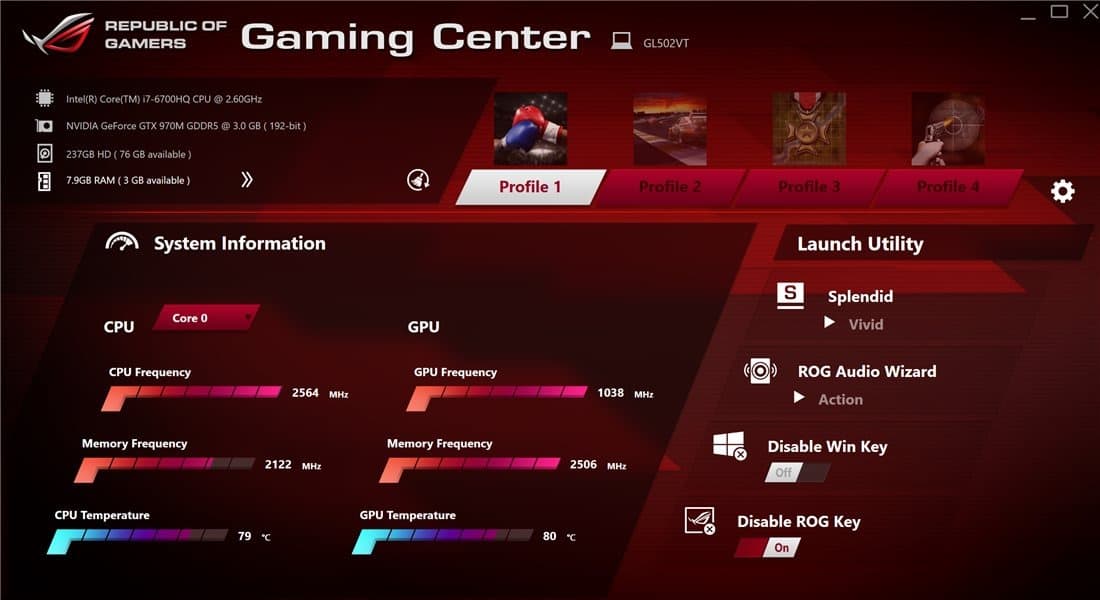 Once I stopped playing, the heat went down by 10-20 degrees in minutes, and fans automatically spin down as temperature gets cooler.
Battery life varies between 1-6 hours (at least according to what Windows is telling me based on what I'm doing with the machine). ASUS specifies around 4 hours of battery life for browsing but Windows told me 6-7 hours, which I'm quite happy about. Obviously, this is not really a proper test of the battery life but the laptop gives you a decent battery life when you are not gaming.
Playing graphic intensive games will only give you around 60 minutes of battery and playing lesser-graphic intensive games such as Telltale's adventure game series would give me around 90 minutes of battery life. It takes around 2 hours to fully charge the ASUS ROG GL502VT.
The included NVMe PCIe SSD (which is faster than a standard 6Gb/s SATA SSD) is blazing fast. The machine boots to Windows in around 4-6 seconds and everything just flies while using the ROG GL502VT. It cuts away the loading screen and faster boot-up means you can shut the whole machine down if you are not using it to save more battery (compared to closing the lid which makes Windows go to sleep and eats the battery away slowly).
Want to know how fast the NVMe PCIe SSD is? Check out this CrystalDisk Benchmark:
For your reference, here are some of the SSDs benchmarks that I've reviewed in the past (SATA 6Gb/s SSDs) such as the Kingston SSDNow V+200 and SanDisk Extreme PRO: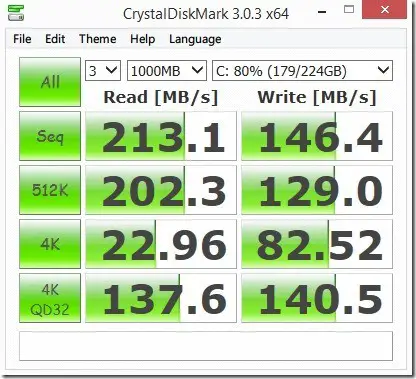 Insane speed, right?
ASUS ROG GL502VT Review – Connections, Ports, Other things worth mentioning
The keyboard is great for typing and has a nice tactile feedback. Best of all, they look great in orange with backlighting. The trackpad also works well and supports action gestures.
As for ports and connections:
1 x Microphone-in/Headphone-out jack
3 x USB 3.0 port(s)
1 x USB-C (USB 3.1) Gen 1 (up to 5 Gbps)
1 x RJ45 LAN Jack (to plug an RJ45 network cable in); Up to 1Gbps
1 x HDMI
1 x mini Display Port
1 x SD card reader
1 x Kensington Lock security slot (Lock not included)
Wireless (Integrated 802.11b/g/n, Integrated 802.11 AC (WIDI Support))
Bluetooth 4.0
In short, it has everything you can think of, really. You get 3 USB.30 ports so you can use 1 for your mouse and still has 2 more for the other peripherals. When Wi-Fi is not an option (or when you don't have a solid signal), you can still plug the good, old RJ45 network cable in. Photographers can plug an SD card and edit the photos straight with Adobe Lightroom or Photoshop. Bluetooth 4.0 is the most advanced Bluetooth at the moment and I'm happy that it works with my Bose QuietComfort 35 noise-cancelling headphones.
An HD Web Cam and stereo speakers are also included.
ASUS ROG GL502VT Gaming Laptop Review Conclusion
ASUS ROG GL502VT is an excellent gaming laptop worthy of the "Republic of Gamers" tag. It excels in all things such as design (I don't know how many times people told me how cool the backlighting on the keyboard and on the back of the lid was), display, power, battery life, cooling system, keyboard, ports, and connections.
Though all that comes with a price, they are worth paying for. I now no longer have to be bored while I'm away overseas, because I know all my games can go with me and I can play them where ever I am, without having to pull my hair out trying to tinker around with Graphics settings or picking which games I can and cannot play on my laptop.
I actually took the ASUS ROG GL502VT on my trip overseas for the past 2 weeks (fit into my STM Haven backpack) and I really want to thank ASUS for creating such a masterpiece.
Availability & Pricing 
The ROG Strix GL502 is available in FHD for $2599 and UHD 4K for $2699 from selected ASUS Partner & ASUS E-Shop.
ASUS ROG GL502VT Pros
+ Awesome 4K IPS display
+ A power house – can play all 2016 games without too much trouble
+ Generous ports and connections (RJ45 for LAN cable, 3 USB 3.0 ports, HDMI, USB-C, SD Card readers, Front camera, and more)
+ Cool looking Black and Orange design theme
+ Great typing feel on the keyboard
+ Backlighting with different intensity options
+ Function keys, including an option to turn the display off to save battery while you are away
ASUS ROG GL502VT Cons
– Not the lightest laptop, bulkier than an Ultrabook
– Looks plastic-y
– Lid is a finger-print magnet
– Rather thick screen bezel
Disclosure: ASUS ROG GL502VT was sponsored for reviewing by ASUS Australia but all opinions are mine and not paid