STM Haven Review – As a student or a professional, we swear not to be separated with our portable laptop, Ultrabook, or MacBook. Carrying one inside a laptop bag is good enough, but does not leave much room for anything else. Considering how many gadgets we carry these days, a traditional laptop bag just won't cut it. A backpack is great, but you have to be careful with how you store all your items within. A good backpack needs to be able to protect all your luxurious gadgets within, yet be comfortable enough to carry on your shoulders at the same time.
If you are the type who commute a lot, you'll thank STM for the STM Haven 15″ laptop backpack – a handy backpack that gives you comfort and also protection to your gadgets inside.
STM Haven is designed mainly for commuters and laptop owners who need the extra space to carry all their gadgets in a handy bag, without the extra baggage. The bag has a considerably slim design as a laptop backpack (at least, compared to what I have) and easy to carry with into a public transport like trams, trains, or buses. It can also slip nicely underneath an aeroplane seat.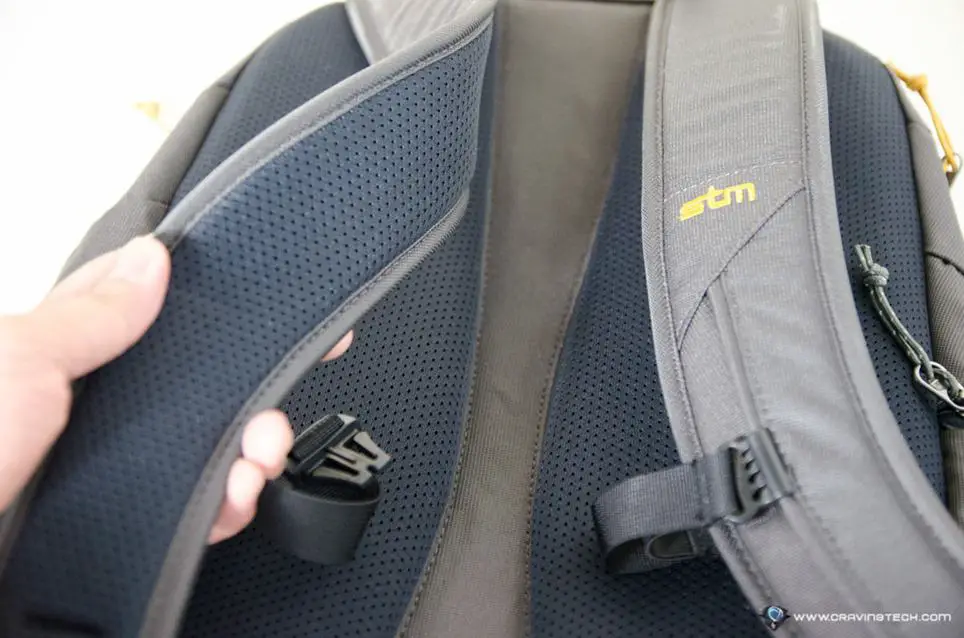 The soft mesh materials give you comfort and better air ventilation while you carry the bag with you on your back, which you'll thank for during the hot days. Water resistant coating materials can also be found should you encounter mishaps or just some rain within your journey. The bag itself looks like a regular backpack, but don't let the looks fool you because the bag has plenty of padding and protection. The paddings are located at the right places, specially when you have to place the STM Haven on the floor, either horizontally or vertically.
What makes STM Haven a great backpack to have is the tons of pockets it has. And I mean it. There are tons of them. You can use these extra pockets and compartments for pens, passports, cables, headphones, sunglasses, smartphones, etc. Even after all that, I bet that you'll still have some empty pockets left to fill.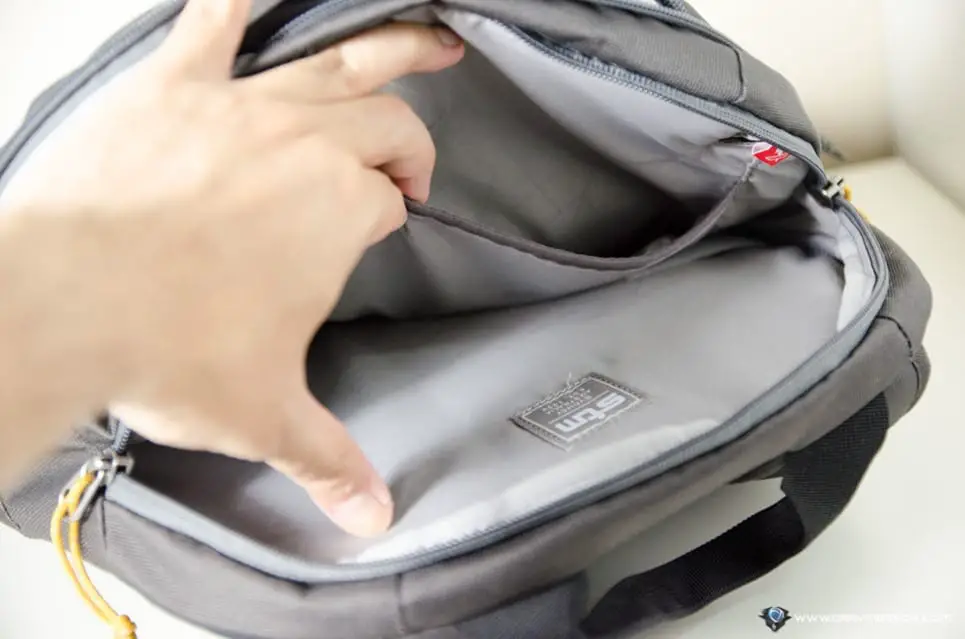 According to STM, here are some of them:
Internal fleece lined sunglasses pocket
Internal document sleeve
Stretch bottle pocket
Front overflow pocket for quick storage
External zippered pocket with cable pass-through for easy charge and access to your phone
Elastic power pocket for stowing your laptop's charging brick and cards
To be honest, I was having difficulties trying to decide where my items should go inside the STM Haven (although the laptop compartment is the obvious one). But with plenty of options available, you can just decide what works best for you.
The cable pass-through design is an interesting one, where you can place your smartphone in a different compartment with your portable charger, yet being able to plug the cable in neatly:
Not too sure what good does it do though, because I can just place my portable charger next to my phone. Anyway, the design is there should you ever need it.
I'm really happy to be able to carry all my essential gadgets inside the STM Haven and still leave me with plenty of space to fill:
Overall, if you are looking for a non-bulky backpack to carry a laptop with all your gadgets safely and comfortably, look no further than the STM Haven. Your shoulders and your gadgets will thank you. STM Haven has now become my primary backpack whenever I need to travel with my laptop and my gadgets.
Disclosure: Review sample was supplied by STM for reviewing but all opinions are mine and not paid.
[AMAZONPRODUCTS asin="B01C8PI4HA"]