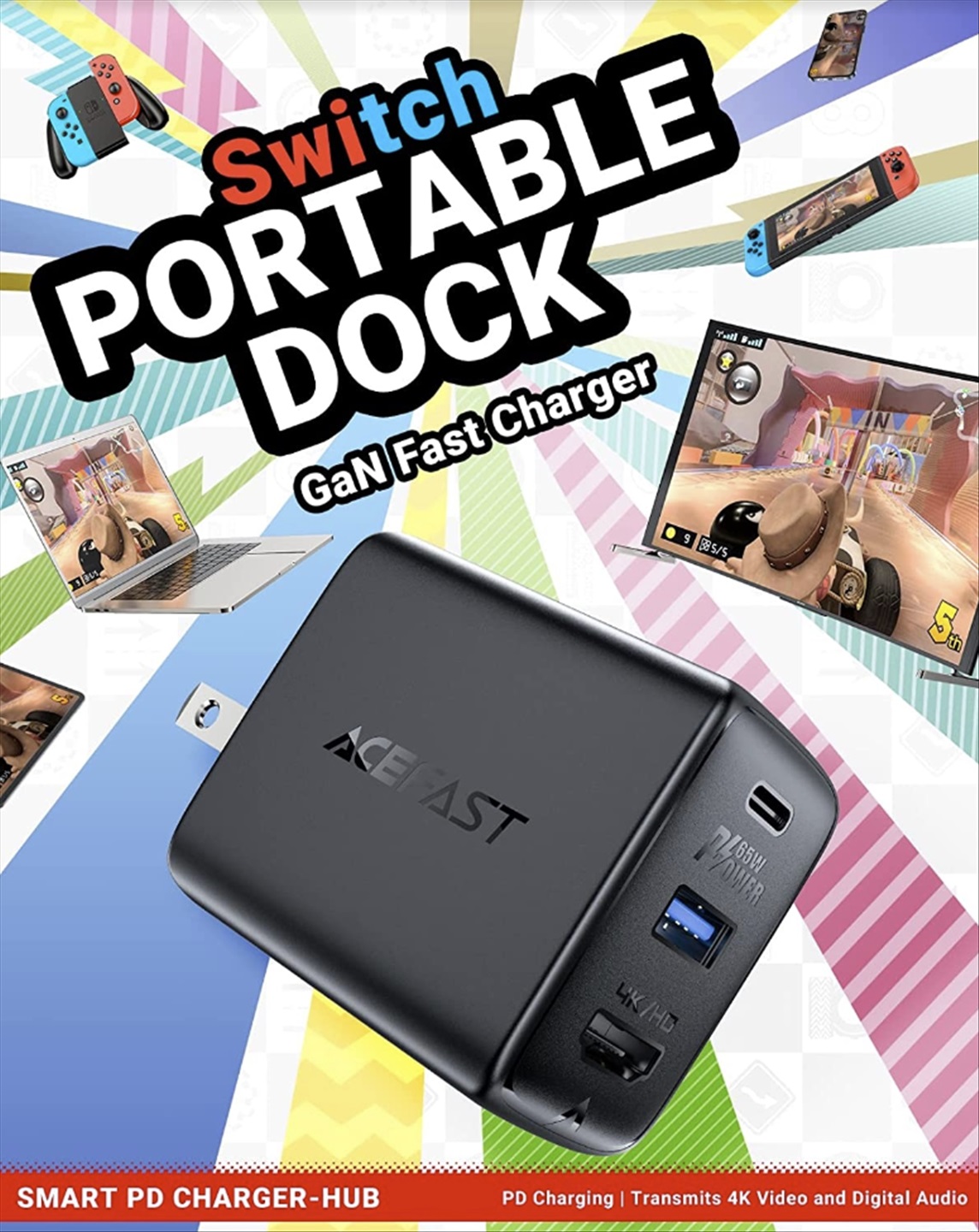 ACEFAST is owned by Shenzhen Houshuxia Technology Co Ltd that was established in 2020. Its focus is on high-quality digital products such as chargers, cables, etc. Today we're reviewing ACEFAST GaN 65W PD Fast Chargers with 3 ports. It's selling on Amazon for USD 49.99. And we're going to find out if it's any good. 
What's in the box?
1 x ACEFAST GaN 65W PD Fast Charger
1 x USB-C to USB-C 1.8m Aluminum alloy Braid Data Charging Cable
What does it do?
Its primary purpose is to charge your devices from smartphones, tablets, laptops and many more. OK, you might say, what's so special about this charger? Well, this ACEFAST charger has a trick up its sleeves, which is screen mirroring via the HDMI port. It can screen-mirror and charge your laptop, phone or Nintendo Switch at the same time.
There are three ports: USB-C, USB-A and HDMI. 
The USB-C does PD 60W Max.
The USB-A supports USB2.0 data transmission, plus you can use Bluetooth to accept and read U disk.
The HDMI supports 4K with 60Hz.
Firstly, I tested this ACEFAST charger with my Nintendo Switch and it worked like a charm. It's plug-and-play. Honestly, I never realised that a charger like this exists. Not only does it charge your Nintendo Switch, but it also transmits to my TV via HDMI cable (sold separately). I cannot tell any difference between the Nintendo docking station and this ACEFAST charger in terms of graphic quality. So kudos to this ACEFAST charger!
Secondly, I tested it with my Samsung Galaxy S20 phone and S8 tablet, and both also worked. I can already think of a use case for this nifty ACEFAST charger. I have to remember to take it whenever I travel. It's because I've always wanted to watch Netflix, Disney, Prime or Youtube in the hotel room using my device. Now I can just bring this ACEFAST charger for that specific need and I can use it for my Nintendo Switch too.  
Please note that the charger that I have is not the Australian plug one. Instead, it is Type A which is for North and Central America. It would have been nice if it was using an Australian plug but fortunately, it wasn't a problem since I have an adapter lying around in my storage. 
What are the specs?
Total output: 65W Max
Input: AC100-240V ~ 1.5A
Output USB-C: PD 60W Max (Support for PPS, QC3.0, AFC, FCP)
Output USB-A: 5V / 1A
HDMI: 4K / 3840×2160 / 60Hz 
Weight: 135 grams
Dimension: 96.8 x 31.7 x 51.9 mm
Should you get one?
Yes, you should get this ACEFAST GaN 65W PD Fast Charger if you're looking for a fast charger with screen-mirroring capability. So it's not just a great alternative to Nintendo Switch dock but also a great way to screen mirror your tablets or laptops to TV. 
It is available on Amazon US for USD 49.99 (price is correct at the time of writing) but if you use our coupon code A19ACEFAST, you'll get an extra 10% OFF until 19 Oct 2022 PDT.
Disclosure: ACEFAST GaN 65W PD Fast Charger review sample was supplied for reviewing