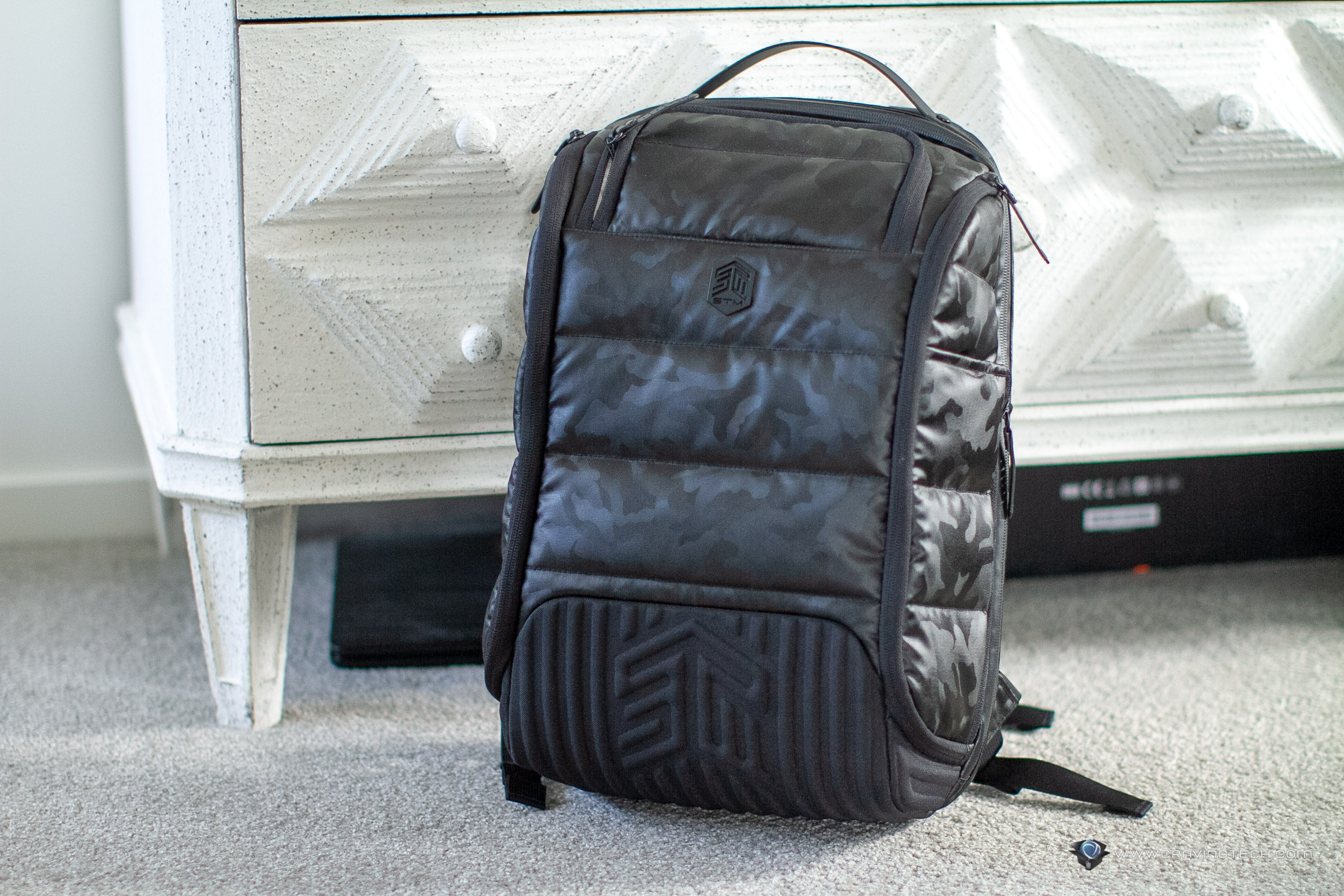 STM Goods Dux 16L Backpack Review – The STM Goods Dux 30L (30-litre) backpack was my most favourite backpack to travel overseas (make sure to check my review out) but for a day-to-day basis or when I want to travel light, I have to admit that it is too big for the needs. If you usually only carry your laptop and a few small items like headphones while you go to your lecture or work, you might want to use a smaller backpack than a 30 litre one.
Behold, the Dux 16L Back pack that focuses on a more compact, practicality in terms of design and use (and if you have a smaller-than-17-inch laptop). But make no mistake, this is the same Dux backpack equipped with FoamFortress 360 degree padding, water resistant shell, side-wing pockets, and many kinds of pockets and compartments.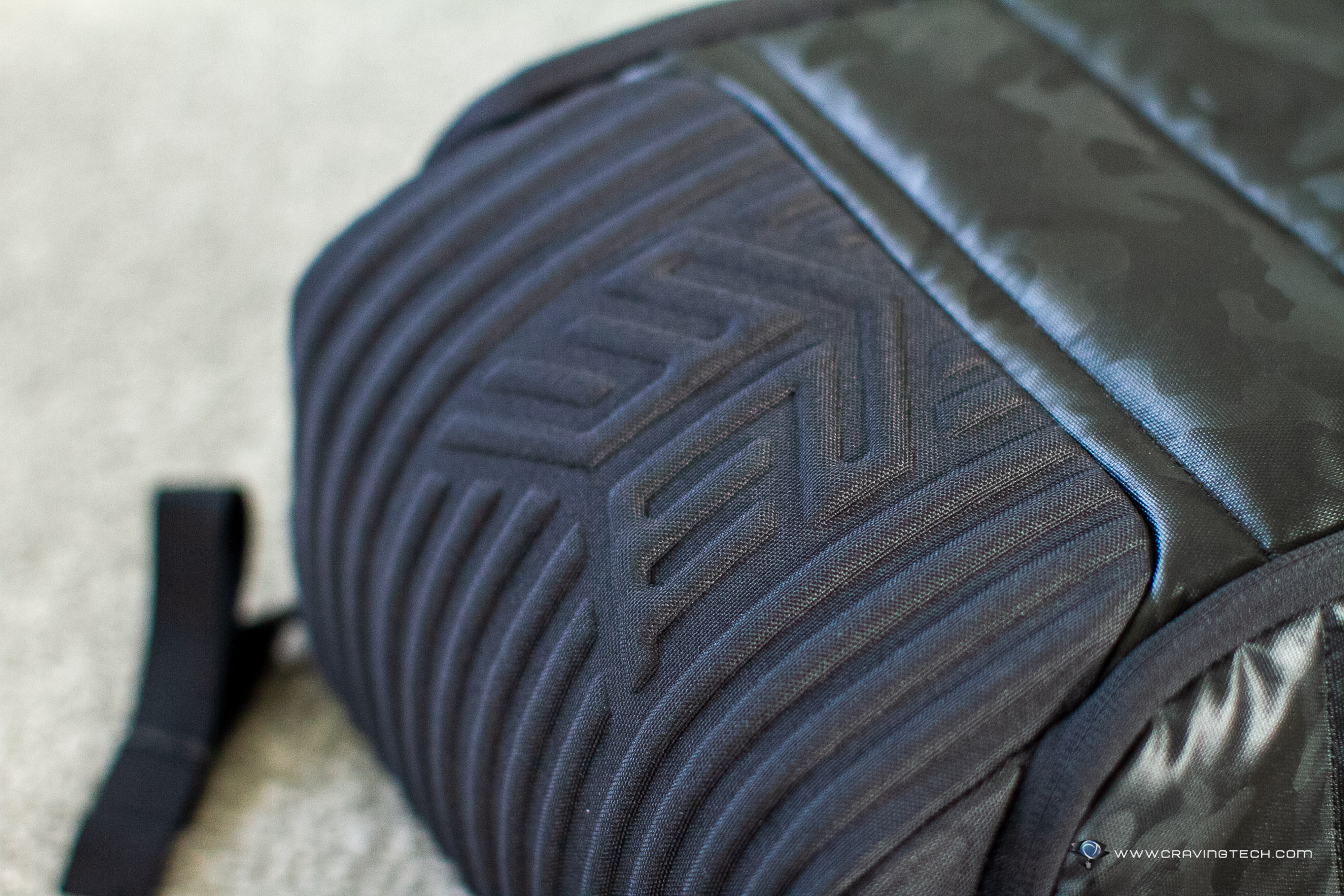 The Dux 16L weighs around 1.16kg in itself but it is packed by a lot of padding around the backpack. The most prominent is the rugged, heavy padding below the backpack that protects heavy impact such as when you slam the backpack on the floor. It's a regular thing that people do with their backpack when it's full with heavy stuff like a gaming laptop and other gadgets.
It has multiple pockets that you can utilise without having to open the main compartment. The top-loading pocket is the main one, allowing you to place lots of things with its ample amount of space including sunglasses inside soft-lined pocket. There is also a concealed security pocket on the bottom side of the bag where you can store things safely. It is located towards the front so it is safer from pickpockets, plus the pocket is quite tight – you'll definitely feel it if someone opens the zip and tries to slip their arms through!
And you can carry a water bottle with the expandable side water bottle pocket or a small umbrella. I find this useful when I travel by plane as you normally get a free water bottle so you can put the bottle here if you still have some left as you land.
Now, I haven't talked about the inner compartments and pockets yet. As you open the main area of the bag, you'll be greeted by a few more with various sizes and uses.
The laptop compartment can fit up to 15″ laptop as well as a 16″ MacBook Pro (as it is slimmer). The Dux 16L can fit my slim HUAWEI MateBook X Pro 2020 with plenty of space remaining and surprisingly, my thicker-and-bulkier GIGABYTE AORUS 15G gaming laptop as well. The AORUS 15G snugs nicely and tightly into the compartment.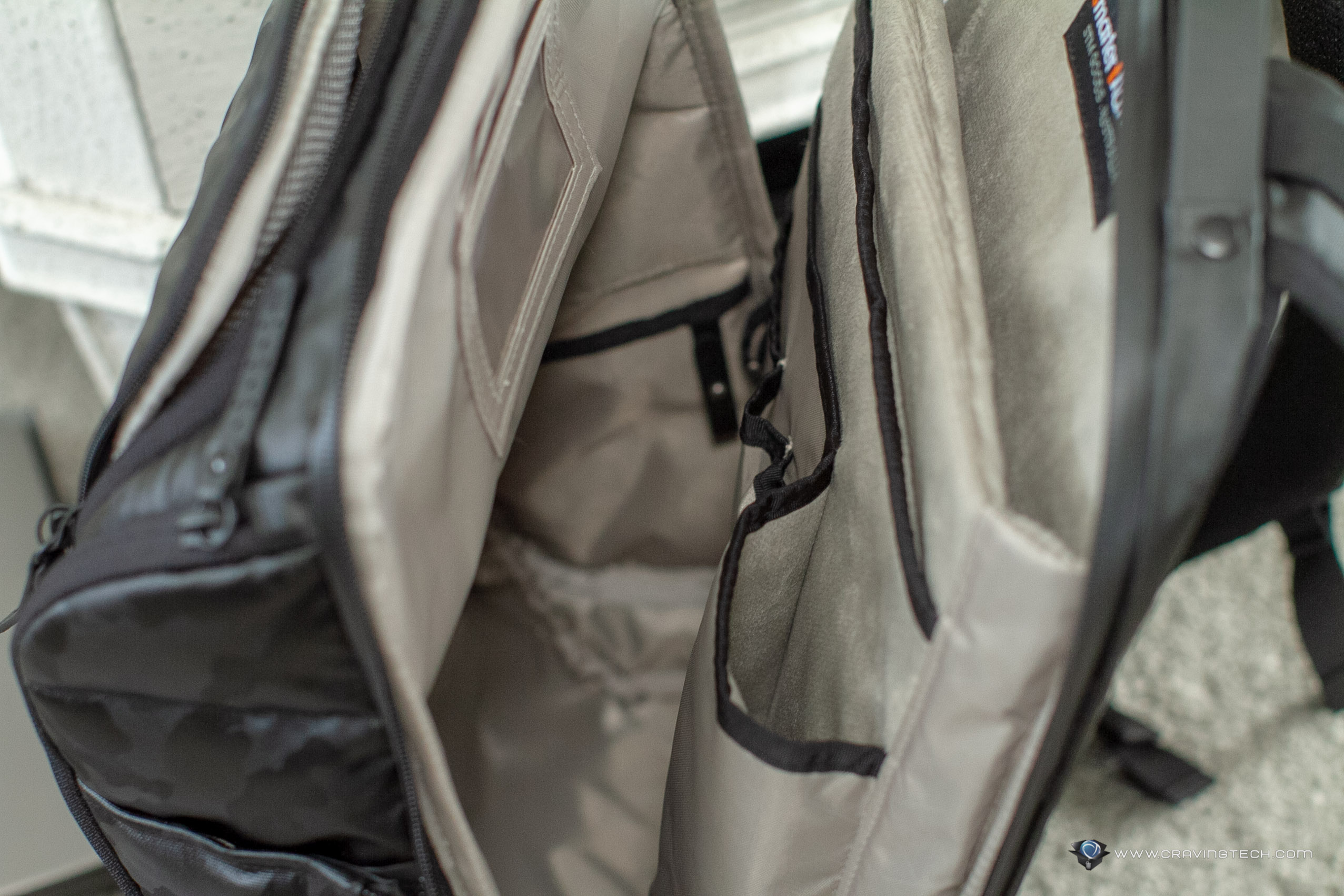 You can also store a tablet here and some documents like your COVID-19 International Certificate, or other important documents in a folder, along with a pen, etc.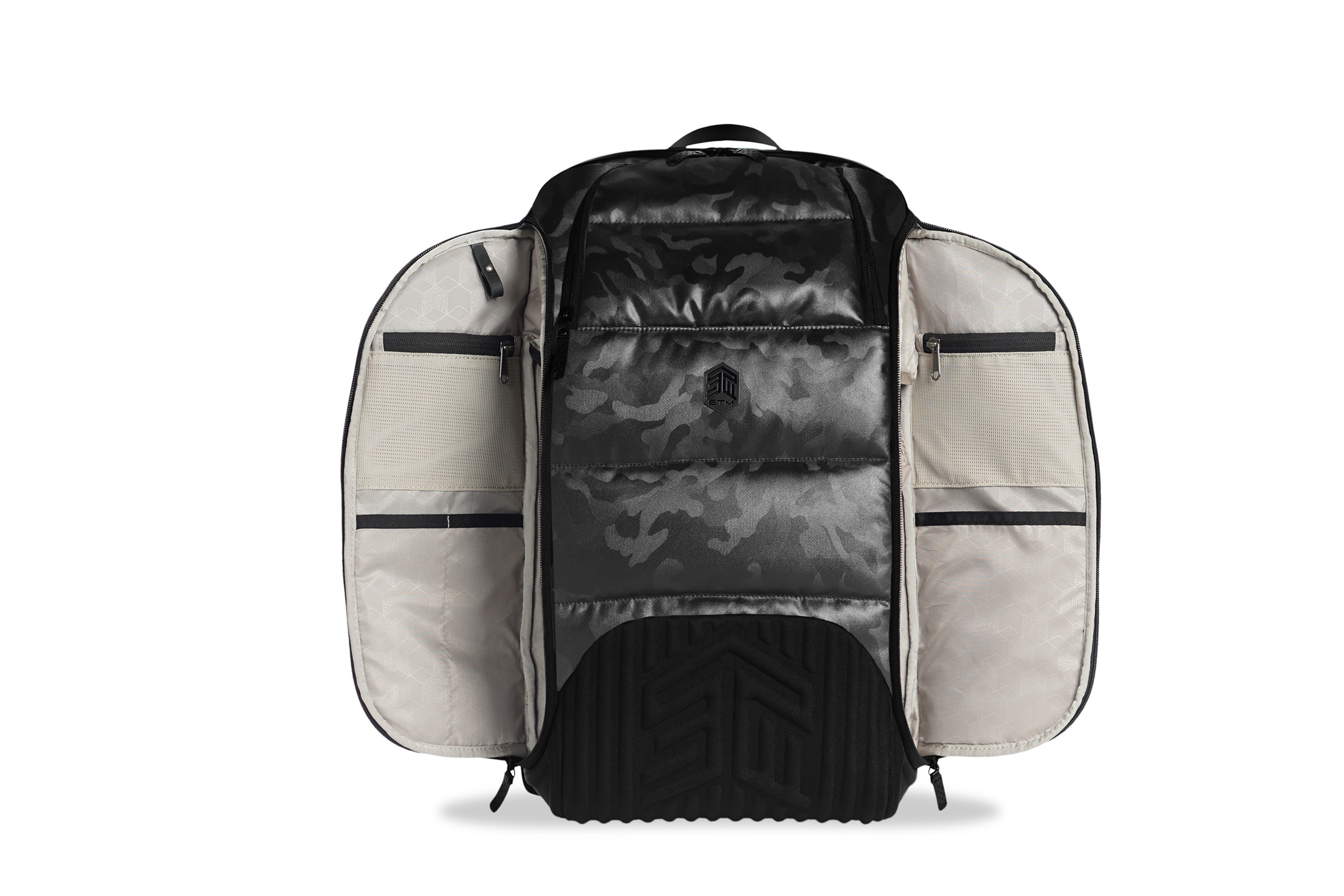 One thing I really like about the Dux 30L is the unique, swing-out side wing pockets, allowing you to gain access to the main compartment easily and quickly. While the smaller Dux 16L also has these, unfortunately it doesn't have the "shelving" system. It's probably due to the compact size of the backpack but I somewhat miss them here. It's probably the only disappointment I have with the bag as I was expecting it to appear, given it's the same model. You can still store quite a number of items inside, but they have to be on top of one another like any other backpack you may have.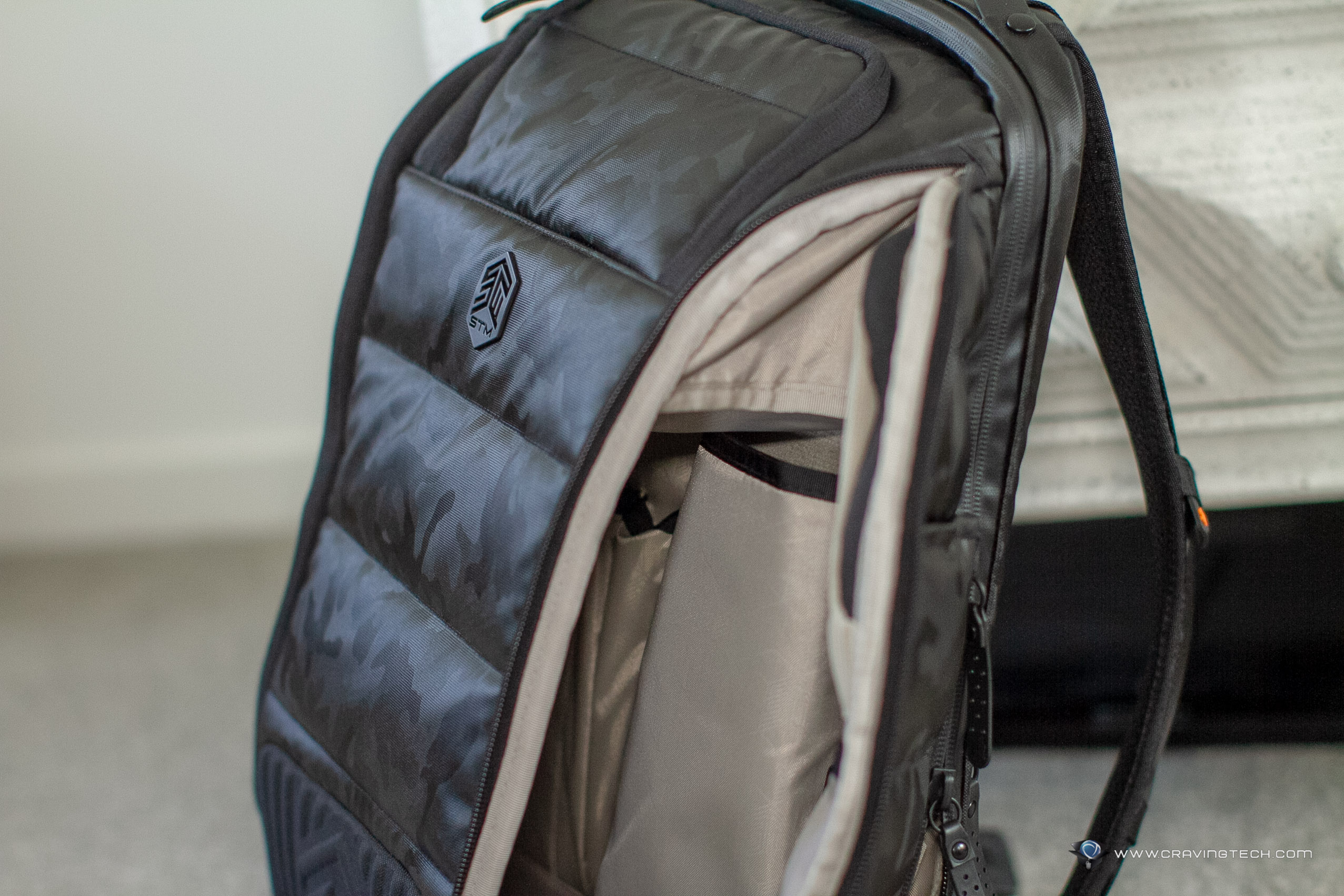 A removable accessory pouch called EasyStash is included with the bag where you can store on-the-go items securely here like cables, a shaver, or electric toothbrush so that's nice as everything can be stored safely inside.
A PassPort luggage passthrough is integrated into back panel so you can place your backpack securely through the handle of your luggage. This provides the convenience to carry both your backpack and luggage while queueing to check in, or after you get your luggage back. It's really useful as it takes loads off your shoulders, especially if you carry a lot of heavy stuff inside your backpack when you travel.
STM Goods Dux 16L Backpack Review Conclusion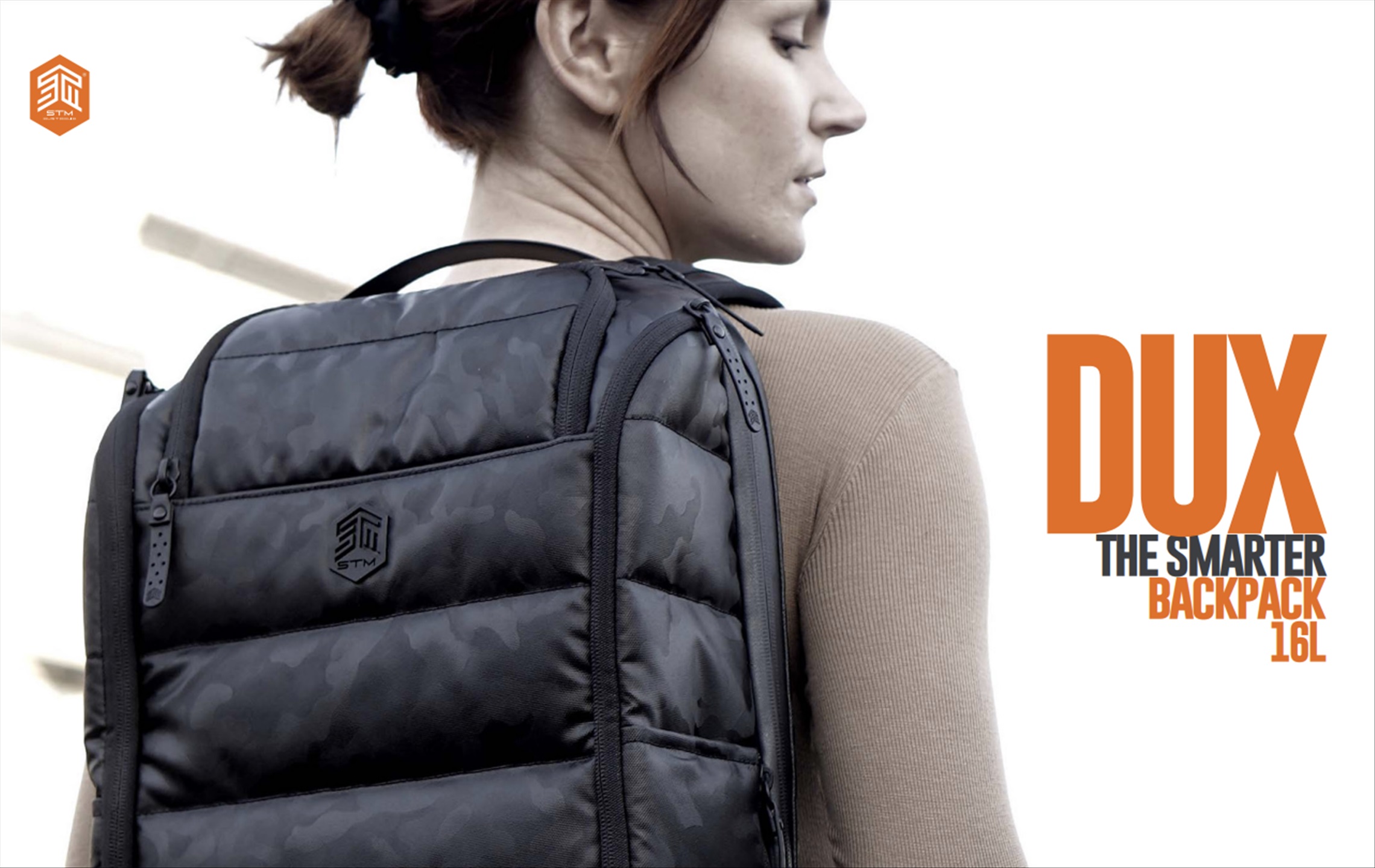 Overall, I'm really pleased with the smaller, compact version of the STM Goods Dux backpack. The capacity is cut down by almost a half (from 30L to 16L) but it somehow still feels spacious to store all of your important things inside when you travel. It still has plenty of pockets and compartments to store various things, including a 15″ laptop (or 16″ MacBook Pro), a tablet, and other gadgets like your ANC headphones, electric toothbrush, and shaver.
It's well-padded and protected from all areas, with extra care added to the laptop compartment – which is where your priciest item will be. The swing-out side wing pockets also make it easier to access your items (like when storing your headphones away after the plane has landed) without having to open the main compartment and exposing your laptop and tablet area. It's pretty handy, though I miss having the optional shelving system like on the bigger, 30-litre Dux.
I'll be travelling in a week and I'll most likely use the Dux 16L for my travel this time. My main gadgets to carry will be the GIGABYTE AORUS 15G gaming laptop, Braun Series 9 Pro Shaver, Oral-B iO Series 9 electric toothbrush, and my Bose QuietComfort 45 ANC headphones.
STM Goods Dux 16L backpack is available in four colours: Black Night, Blue Sea, Grey Storm, and Black Camo (the one I have here). It will be available online at stmgoods.com.au and through Australian retailers from September 2022. It retails for RRP AUD$269.95.
Disclosure: STM Goods Dux 16L review sample was supplied for reviewing
STM Goods Dux 16L Review
Summary
A more compact, 16-litre version of the awesome Dux 30L backpack, offering ample amount of protection, pockets & compartments, and the unique swing-out side wing pockets
Pros
Great, rugged design but aesthetically pleasing and professional-looking
Plenty of variety of pockets and compartments for all sorts of things
Extra care in the laptop area
Waterproof
Has luggage pass-through
Great, comfy shoulder straps
Cons
No shelving system like the 30L version