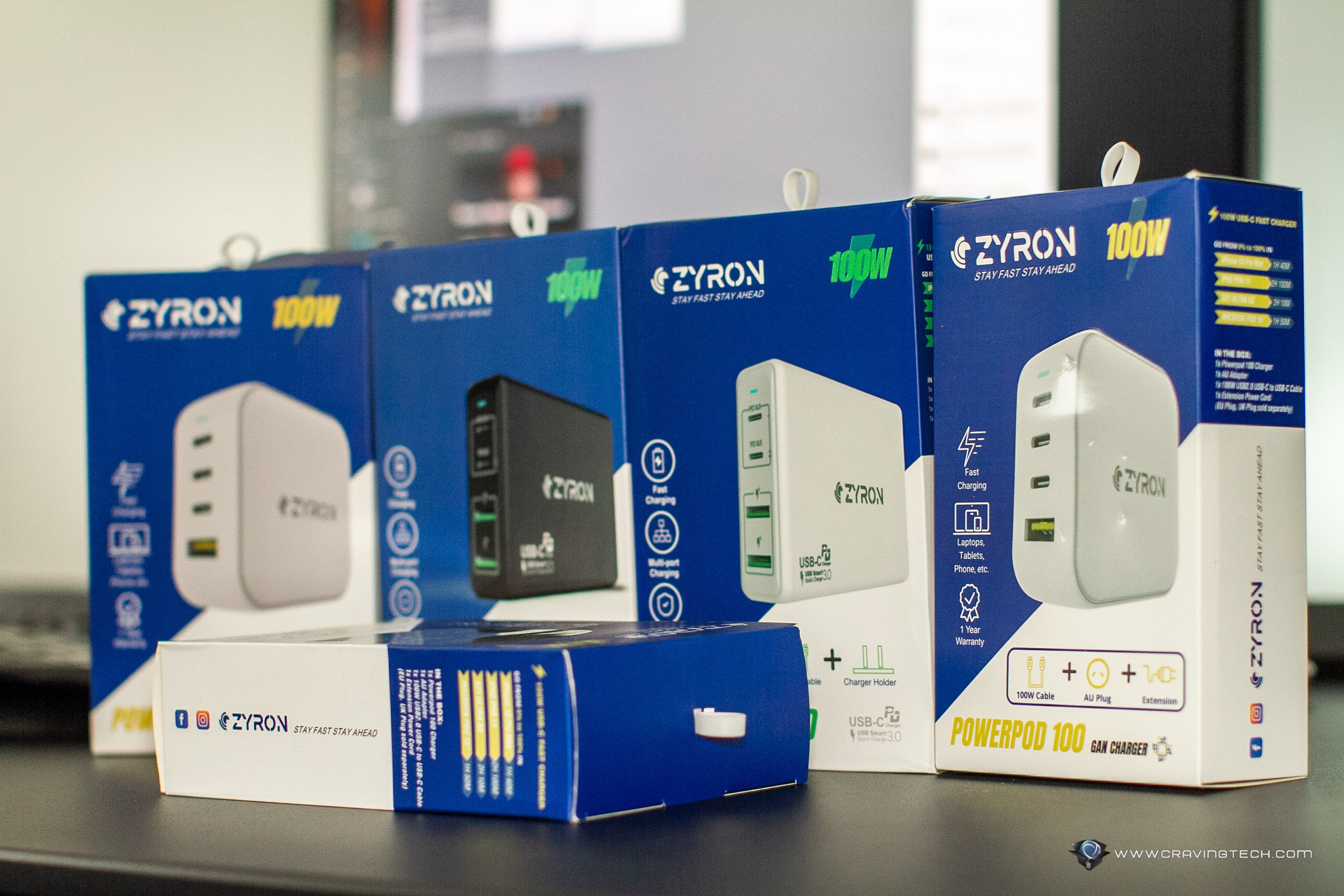 An Australian company began its journey after launching one of the smallest 66W GaN chargers back in March 2021. GaN charger, if you haven't heard that before, is basically a modern charger utilising Gallium nitride (GaN) technology to charge devices with less heat and more efficient in charging.
Lots of modern laptops can be charged with this technology and it only requires a USB-C cable and a GaN charger, which is relatively much smaller than the traditional laptop chargers that feel like a heavy brick.
We're looking at some cool and compact GaN chargers today from Zyron Tech Australia: the Powerpod and Deskpod.
Zyron Powerpod 100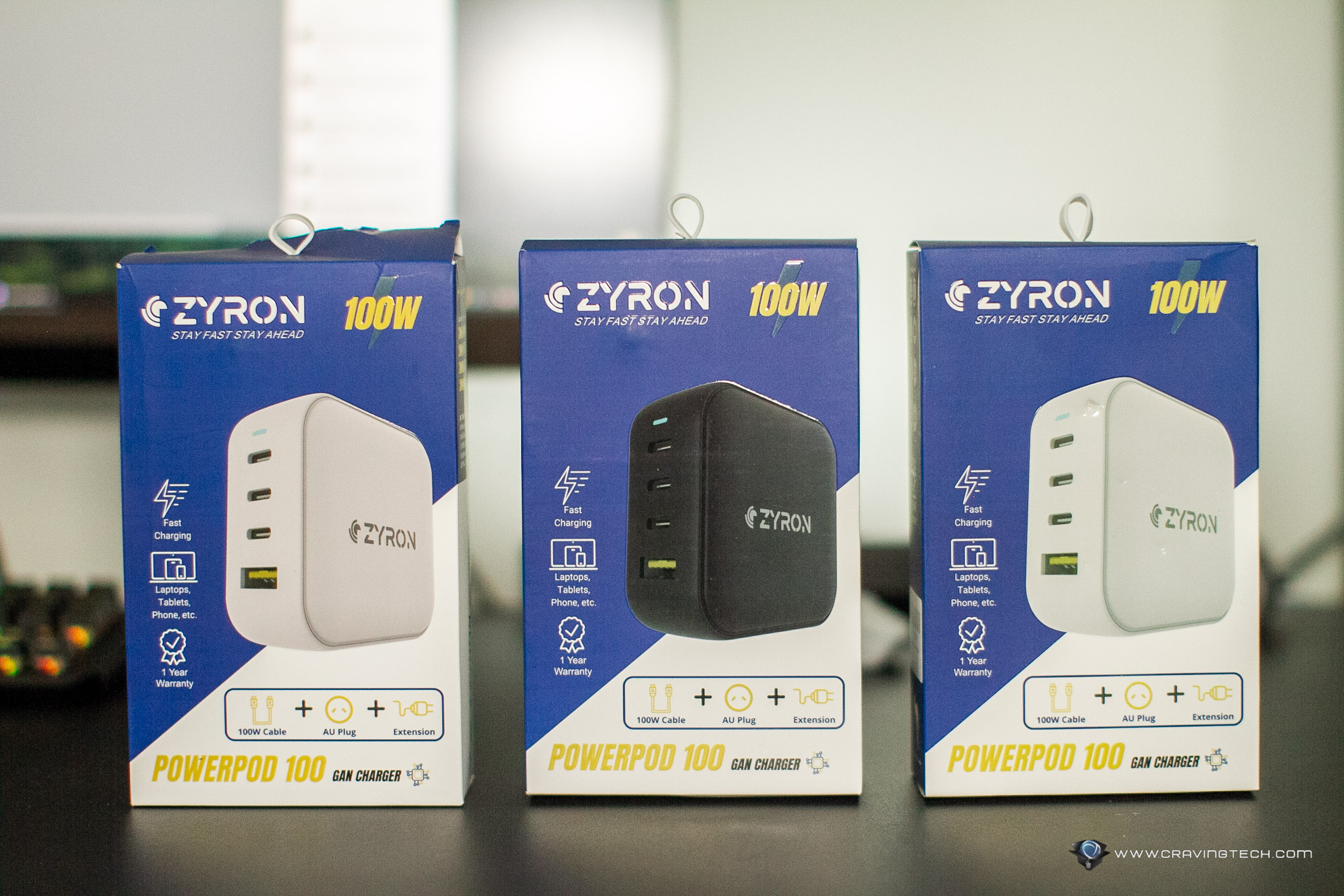 Zyron Powerpod 100 is a compact, 100W USB-C PD Charger. At just 210 grams of weight, it is even lighter than the MacBook Pro 16″ charger yet capable of charging up to 4 devices simultaneously. It comes with an AU plug adapter and foldable, fixed US pin. If you often travel to the UK, EU, or Asian countries, the corresponding travel plugs are also sold separately and will work well with the Powerpod.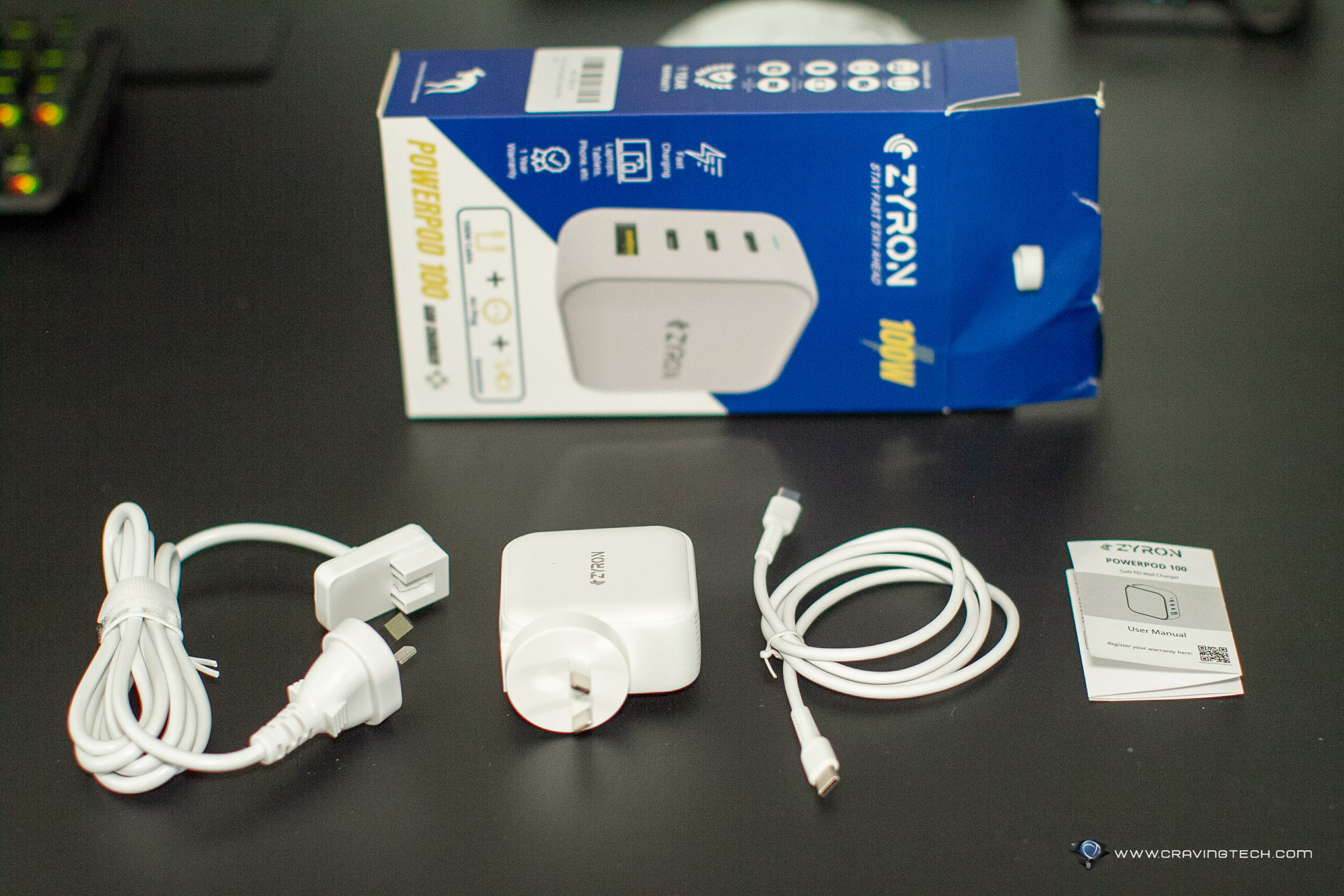 Note that Zyron sells a few different Powerpod chargers ranging from 65W to 140W. The one I have here (100W) is more than enough for my needs and has enough power to charge my HUAWEI MateBook X Pro 2020 – which only requires 65-Watt to charge. The charger is compatible with other USB-C powered laptops too from various brands like Dell, HP, Apple, Microsoft, etc.
And of course, smaller devices like your smartphones and tablet devices.
Zyron Powerpod 100 comes with 4 USB ports: 3x USB-C and 1x USB-A port:
1x 100W USB-C PD3.0 Output
1x 100W USB-C PD3.0 Output
1x 20W USB-C PD3.0 Output (for smaller devices like smartphones and tablets).
1x 18W USB-A Quick Charger QC3.0 Output
To charge your modern laptop with USB-C, you can simply plug the included 100W USB-C cable into either the first or second slot (you can see the labels clearly on the charger, which is nice so you don't need to remember which is which).
The included cable is one-metre length (which may or may not be long enough for you) with overvoltage & overcurrent protection.
While you can charge 4 device simultaneously with the Powerpod, the unit obviously needs to share all the power as you charge, so here's how it works when you charge more than one device on the Zyron Tech Powerpod 100W: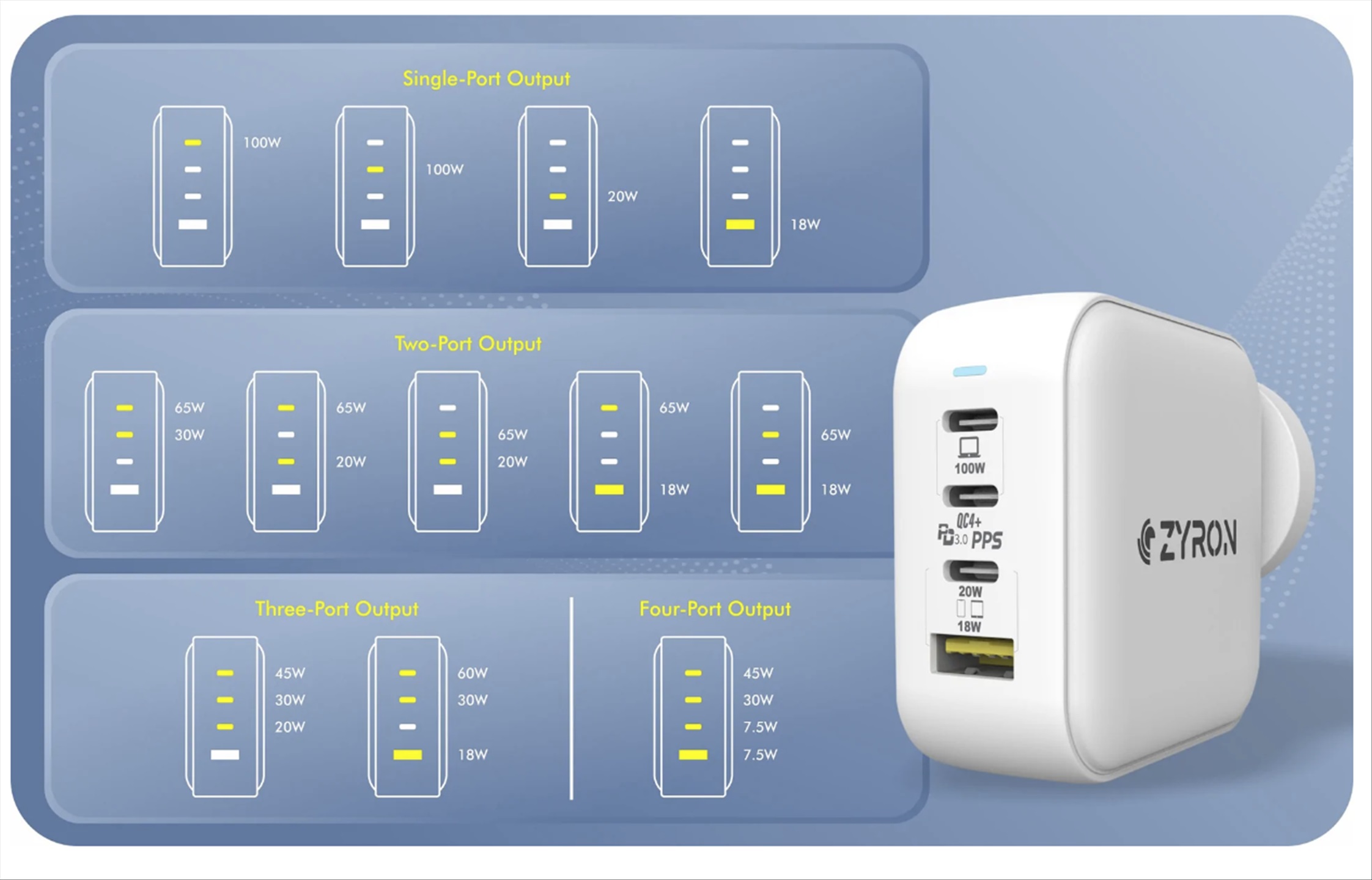 Basically the 100W USB-C power output will go down a bit as it needs to share power with another port but you can pretty much do your own calculation in mind as you pick which port to use to see if you're happy with the output power. If you are a heavy-charging user, you may want to grab their Powerpod 140W instead.
I really like the compact design and simplicity of the Powerpod. The labels are clear and the plugs are interchangeable, making it the perfect GaN charger to use at home and also overseas since you can prepare which plug you are going to need before you go.
Zyron Deskpod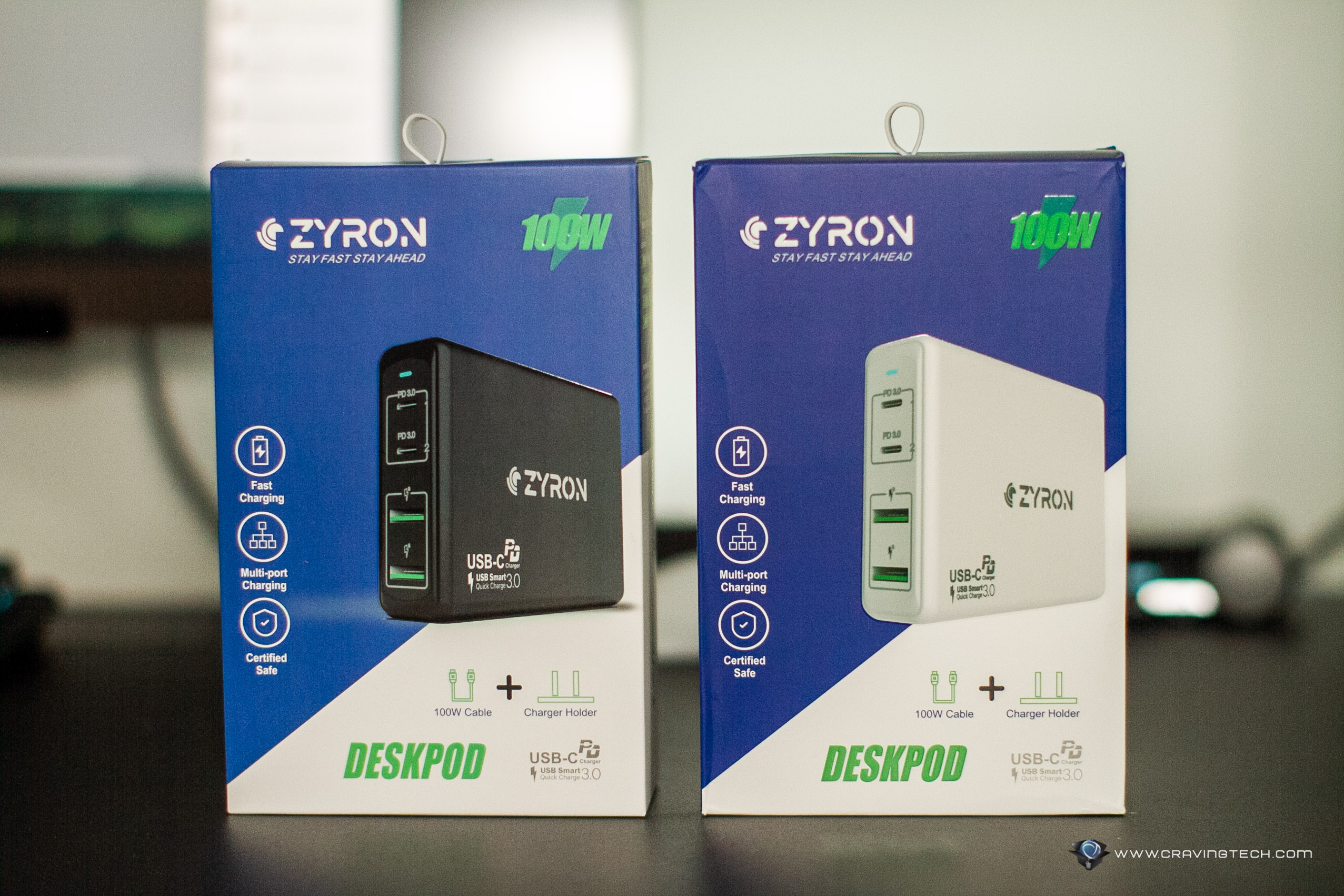 Zyron Deskpod, as the name suggests, will be on your desk most of the time. It serves as a charging station while simultaneously saving space on the desk.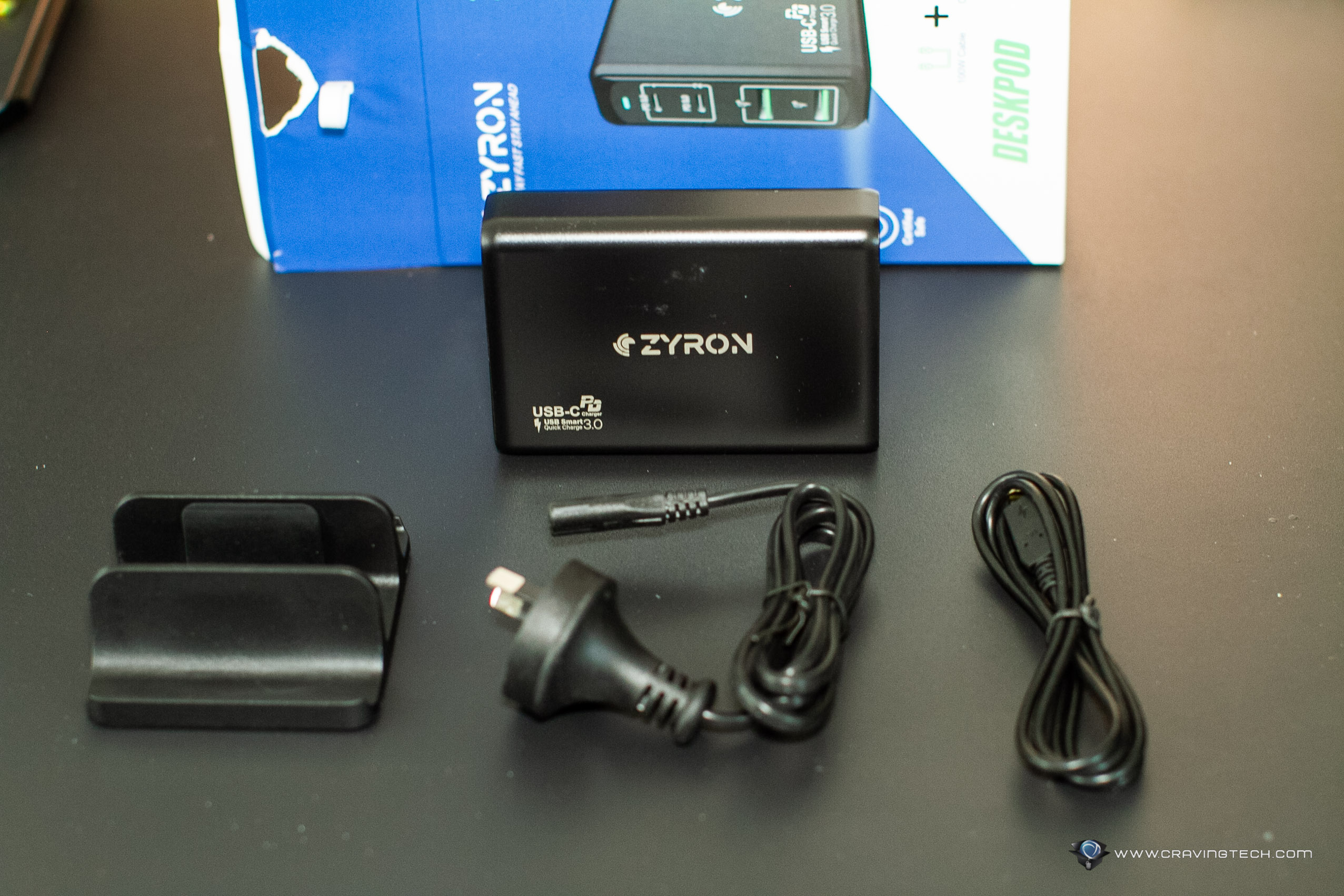 Compared to the Powerpod, the Deskpod can actually charge 2 laptops at 60W simultaneously via its dual USB-C ports. It offers up to 156W max output via its four USB ports in total (two USB-C and two USB-A ports):
1x USB-C 100W
1x USB-C 100W
1x USB-A 18W
1x USB-A 18W
You can check the power distribution over on the product page at Zyron Tech website to see what happens when you charge multiple devices simultaneously through these ports.
There is a charging stand included in the packaging that can support up to two small devices like your smartphones and tablets. It's meant to be placed on the desk so you can just plug your laptop on the desk to power and if need be, charge your phone or tablet at the same time. The stand makes it neat to charge while saving the extra space on your desk.
But even when you don't use it to charge your devices, you can still use the stand on itself to place your devices neatly on the desk.
A 1-metre cable is also included in the packaging, like the Powerpod.
Weighing 306 grams, I can definitely feel the weight when I lift the Powerpod out of the box for the first time. It's still a great gadget to carry with you on the trip though but you can also place it permanently on your desk so you can power+use your laptop + charge devices when you need to.
It removes some clutter from your desk and serves an excellent, yet compact charging station within reach.
---
Make sure to check out the Powerpod and Deskpod over at Zyron Tech, along with the other products they have. And don't forget to use the coupon code CRAVINGTECH to get 5% off if you are making a purchase!
Discosure: Zyron Powerpod and Deskpod review samples were supplied for reviewing