STM Dux Backpack Review – The STM Haven has been my go-to backpack whenever I travel, locally and overseas. It offers good protection, has plenty of pockets for different things, and can fit my GIGABYTE AORUS 15G gaming laptop. But years later, a better backpack has come along from STM Goods: the STM Dux.
STM Dux Backpack is a 30-litre backpack so yes, it is not exactly a compact backpack but what you get is a very rugged backpack with ample of protection for your valuable items. It also has removable compartments, unique side wing panel doors, pockets to hold many kinds of items, and can fit a 17″ laptop within.
Let's talk what I like most about the STM Dux: storage versatility. Traditional backpacks usually have compartments that you can open and access from the top. If you want to store a few items, most of the time you'd have to pile them up – leaving more fragile items to be squashed on top of one another.
The Dux backpack has unique compartments with various flexibilities. My favourite feature is the side wing panel doors which give you access to the compartments from both sides of the bag. It's like having shelves inside a backpack so you can store things without them getting squashed like a gaming mouse, headphones, digital cameras, or even a Funko Pop (I had to bring one as a gift during my recent overseas travel). With STM Dux, I could leave my Bose QC45 hard case behind and just placed the headphones safely inside the compartment.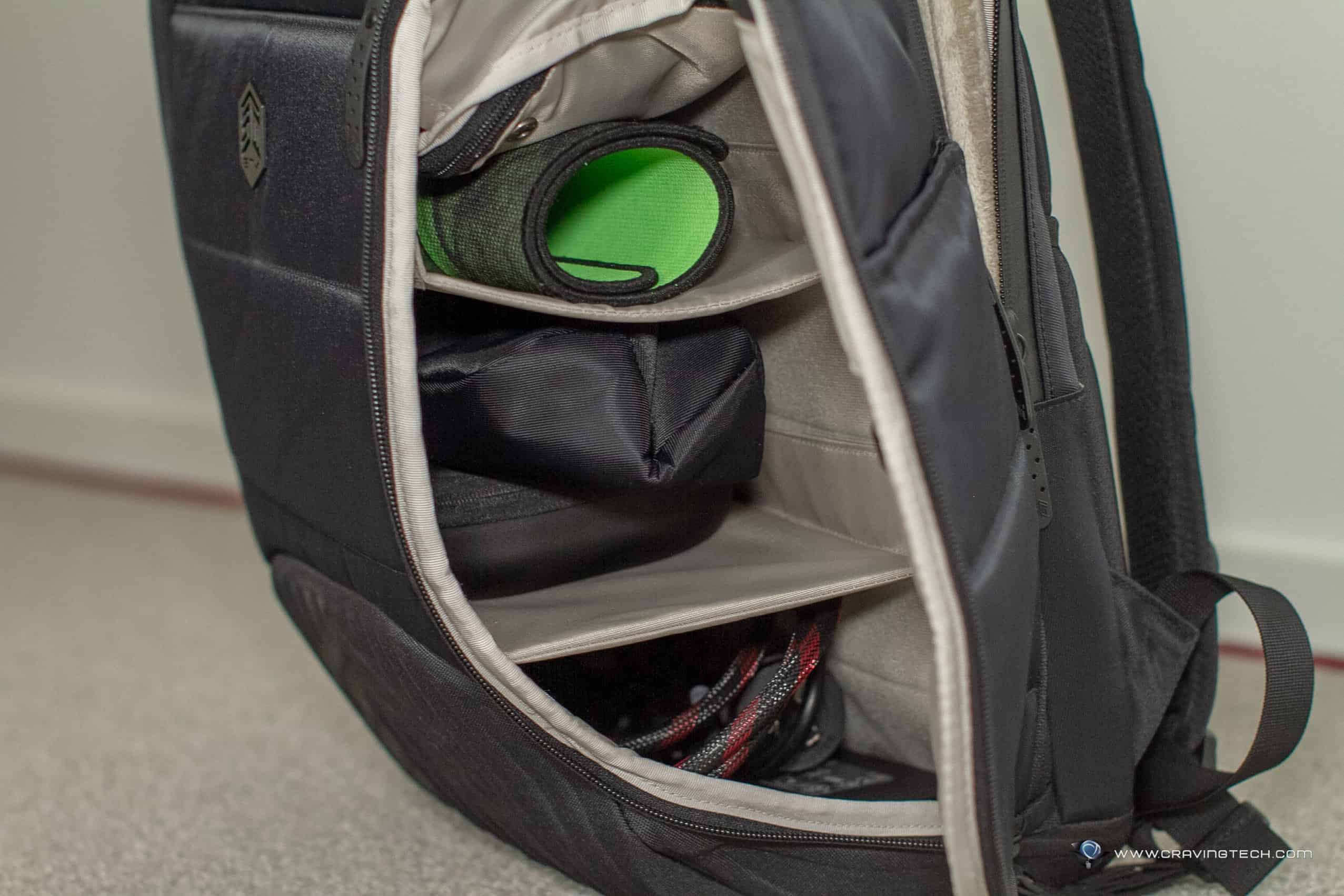 With traditional backpacks, you usually store the laptop's charger in the same area with your laptop which I don't really like as it can be quite tight there. But with STM Dux, you can store the laptop cable and chunky charger in their own shelf/space separately.
You can access these compartments from the top if you like, by removing the base layer under the top compartment. But I honestly never find the need to and find it easier to access them from the sides instead.
Apart from these unique compartments, the Dux also has a tight, smaller pocket to store your passport and boarding pass on the top. Or, you can also store them inside the spacious front pocket that has cascading fallout pockets to store charging cables or smaller items. Inside the front pocket, you'll find an extra zipped pocket which I used to store my overseas sim card and some cash.
STM Goods include a handy, soft, portable pouch if you need to store small items together safely. You can also store a water bottle, cables, or other things inside the side pockets.
The compartment to store your laptop, tablet, and documents are protected with soft fabric to avoid scratches and is very well-padded all around.
Speaking of padding, the backpack is protected by plenty of padding with heavier protection materials at the bottom of the backpack. If you are the type who usually throws your backpack on the floor after a tiring long journey (with your laptop inside), you'll be pleased with the STM Dux's ruggedness.
Even if the bag falls onto the ground (either on the front or back side), there are still lots of extra paddings to ensure the safety of your gadgets and fragile devices within.
STM Dux Backpack Review – Travelling experience
So I've decided to leave my precious STM Haven behind and used STM Dux for my recent overseas trip to Indonesia. It was definitely a different experience as the backpack itself is bigger and has different kinds of pockets. It's interesting and fun to explore and test which items should go where inside the backpack.
Here are all the things I carried during my recent overseas trip inside the STM Dux backpack:
It's really amazing to see how many stuff can get inside the backpack, how everything is well protected and can be placed into different kinds of pockets and compartments.
STM Dux backpack can be carried safely inside the plane's cabin (I flew with Qantas, Jetstar, and Singapore Airlines). And with all these items inside the backpack, the weight was around 6.8kg in total. The backpack itself weighs around 1.8kg with my laptop weighing around 2.2kg.
The Dux can be tucked below the seat in front of you though I find it more challenging to do so inside Jetstar's narrower seat spacing.
Thanks to the dual-foam shoulder straps plus molded EVA foam back panel with cooling airflow channels, it's pretty comfortable to carry the backpack as I walk through the massive Singapore Changi airport. I also like the luggage passthrough as I can hang the Dux on my heavier luggage handle during the check-in queue and after I collect my luggage at my final destination.
The passthrough is pretty tight though and while I can hang the Dux easily on my American Touriester luggage, it's more challenging with my wife's July luggage.
STM Dux Review Conclusion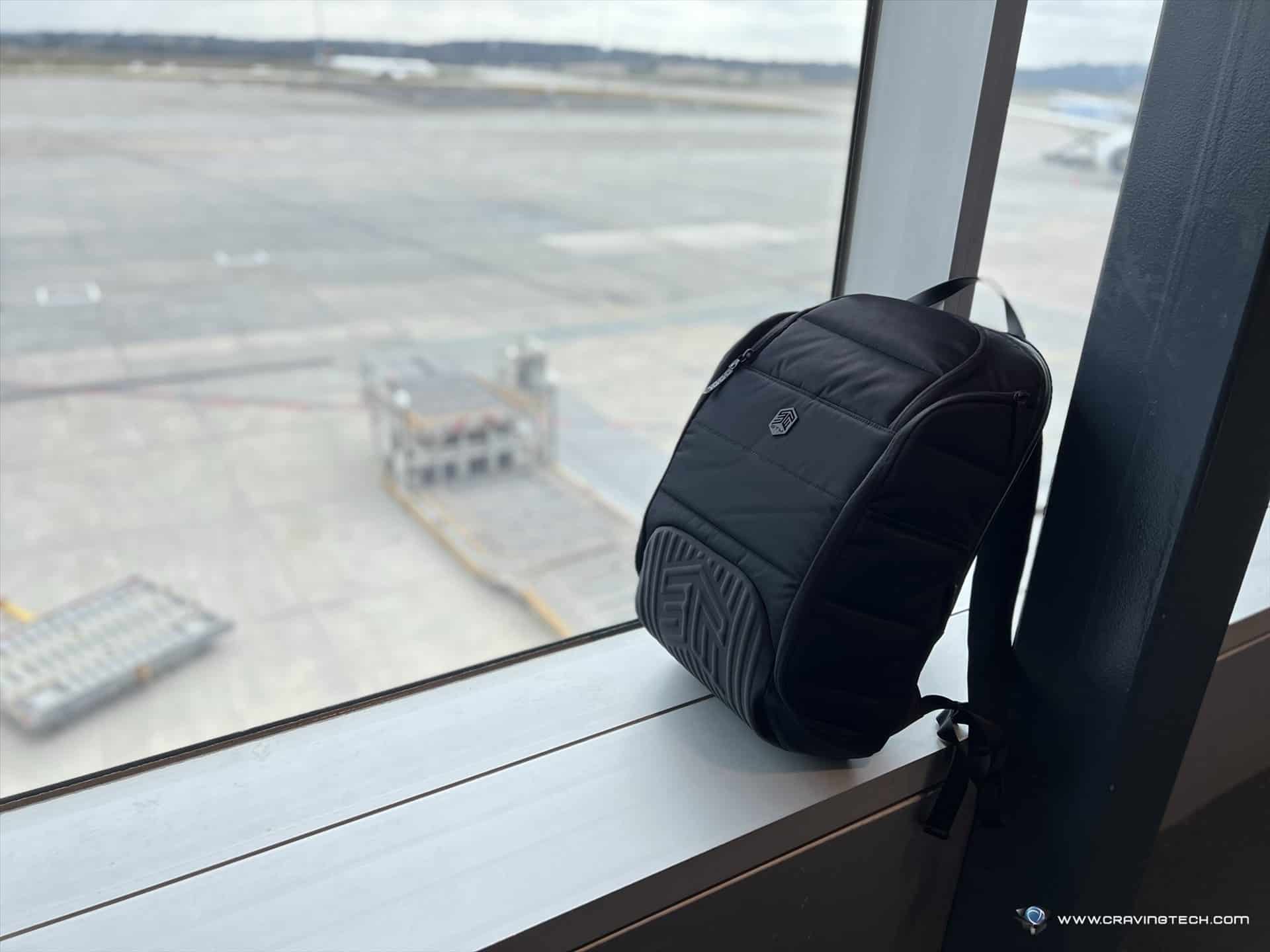 STM Dux backpack is a rugged backpack offering plenty of protection all around the bag, with massive space to store all kinds of items from big to small and even fragile items safely. Its side wing panel doors are simply the best and the most unique design feature that this backpack has. They provide easier access to your gadgets and more importantly, safe havens as devices can be stored into different "shelves". I truly love these backpack "shelves", they are amazing.
Plenty of protection, plenty of different kinds of compartments, pockets, and sections to store everything you can think of. It's the ultimate backpack to carry all your smart devices and gadgets easily, and safely.
The STM Dux backpack can be purchased for AU$329.95 over at STM Goods Australia site and also Amazon.com.
Disclosure: STM Dux review sample was supplied for reviewing
Summary
A spacious, well-padded, backpack with unique shelves and side wing doors to store your devices and gadgets safely. Plus, it's the ultimate backpack for travelling