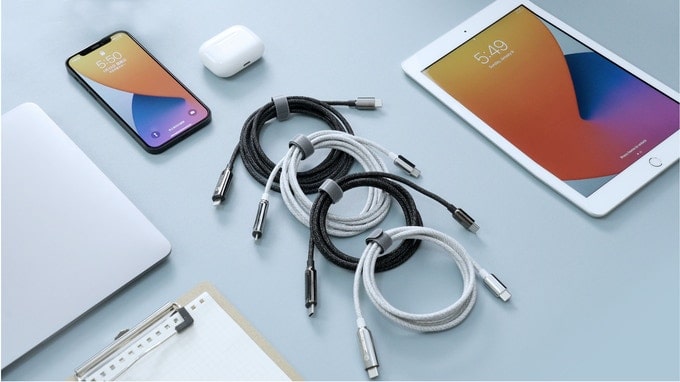 PixelCable Review – Want to charge your smartphone or devices? Just plug a charging cable in, it's that simple, right? Well, it is, but if you are looking for something more, keep an eye on this app-controlled charging cable with an OLED display.
Rather than having the traditional charging experience, PixelCable can display a few things on that OLED display – including start-up animations, your name, and something more useful like the current charging rate or battery level.
PixelCable is available in USB-C to USB-C or USB-C to Lightning (in Black or White colour). My current review sample is the USB-C to Lightning which supports both the iPhone and iPad.
The cable itself is pretty rugged and braided, which should last for a long time. It is woven with nylon braid which will also shield the cable from heat. From the lab tests, the cable should be able to withstand 30,000 bends and hold up to 80 kg.
It's 1.8 metres long, making it perfect to charge your phone sitting on a bedside table from a powerboard situated on the floor. The one I have here is an early prototype which is only 1.5 metres long.
The USB-C to Lightning has a 20W maximum output whereas the USB-C to USB-C cable has a 100W output which means you can use it to charge recent, modern laptops like my HUAWEI MateBook X Pro.
But what makes this cable special? PixelCable is the world's first app-controlled USB charging cable. This means that you need to install an app to get the most out of PixelCable. Through Bluetooth connection and QCharger app, the built-in OLED display on the cable can then display a few things like a start up animation as soon as you start plugging the cable into your iPhone.
You can select from different preset start-up animations (both static and moving) in the app, a custom one, or choose to display a text instead (which you can type manually). Is it cool? Yes. Is it useful? Maybe. It definitely makes the cable feel personal and creates a cool charging experience compared to a traditional charging cable, but that's pretty much it.
What I find more useful though, is that the display can show your current charging power in real-time and the device's current battery level. In a sense, this allows you to see the current charging rate and move to another power source if it's too low. For example, I just realised that my iPhone is charging slower through a powerboard located in my Study area. With this information, I then decided to start getting a new, better powerboard or use a wall charger like my Zendure Passport III to charge.
The OLED display part does make the cable head bulkier than usual so thicker cases with narrow charging port openings may have a problem with the fit, though my Cygnett AeroGrip case doesn't seem to have an issue.
PixelCable Review Conclusion
PixelCable delivers unique, personalised charging experience by being able to display smart charging information and personalised animations & messages through its OLED display. In all honesty, it's not something that you must have or find useful (though being able to see your current, real-time charging power output is kind of cool).
PixelCable makes a great personalised gift, however. You can type in a customised message on the cable and give it to a friend. Everyone always needs a charging cable and PixelCable looks premium, has a good length, and also durable.
You can find out more and purchase PixelCable at the Kickstarter page. If you purchase through our link, you can also get a free protective case (just make sure that you purchase from this link and then send an email to [email protected] or message them via Kickstarter indicating that you know about PixelCable from Craving Tech's review. The case will then be shipped together with your PixelCable.
Disclosure: PixelCable review sample was supplied for reviewing