Oral-B iO Review (Series 9) – The Oral-B SmartSeries 7000, followed by the Oral-B GENIUS 9000 were the first electric toothbrushes with Bluetooth connectivity (Bluetoothbrushes?) that I've ever used and reviewed. To be honest, I didn't really find the need of passing my brushing data to my dentist, or checking to see if I've been a good boy and brushed my teeth twice a day.
Years later, it looks like Oral-B is still perfecting the use of an app and Bluetooth and this time, it looks like the new Oral-B iO Series 9 hits the spot.
Thanks to the new A.I Brushing Recognition, the app helps to guide you in brushing the nooks and crannies inside your mouth, making sure you've actually covered everything within the 2 minutes window. And I do find that extremely useful.
Oral-B iO Series 9 Packaging & Unboxing
The packaging gives you the complete package including a sturdy, good looking travel case to hold the toothbrush & two extra heads (which are also included). I also love the new, magnetised charging stand to be placed on your bathroom bench.
For travelling, the charging case is really good but I wish it can just be charged via microUSB or USB-C. However, I assume it needs more power to charge the brush quickly so for now, you still have to carry an extra power adapter with you.
Oral-B iO Series 9 Review – Design and Features
The Oral-B iO Series 9 is definitely the best looking electric toothbrush I've ever used and reviewed so far. The OLED Smart Colour Display definitely adds an aesthetic value to the toothbrush design overall.
The display changes depending on the functions, which can display a full smile if you are brushing for 2 minutes or more (and half a smile if under), the remaining battery level, and brushing modes. It will also greet you with "Good Morning" for a personal touch in the morning.
Thanks to the Smart Pressure Sensor (i.e the ring light around the top of the toothbrush), you can see whether you are brushing too hard – which is a feature you'd see in most current electric toothbrushes. However, the Oral-B iO Series 9 sensor will also tell you if you are brushing too soft – which is quite uncommon and I found it very useful.
So what are the Bluetooth and app for? With the help of the new A.I Brushing Recognition, the toothbrush can track and predict accurately where it's at within the mouth. Rather than the traditional four zones/quadrants of the mouth, the toothbrush can recognise 16 different zones. This is based on how you hold the brush, its current brush head angle, and other smart alrogithm.
While the app is opened, you can see the progress in real time where you are brushing and whether you have brushed that particular region long enough. There is a bit of delay in recognising the areas so more often than not, I would go over than 2 minutes to make sure I tick the boxes on the app – but it's not a bad thing, really.
Is it useful to have these information? I didn't actually think I would praise the toothbrush for having this feature but I was quite surprised to find how useful it is. While brushing, I found that I have a tendency to miss certain places within my mouth. I tested this by brushing as I normally would, but without peeking at the app.
After I finished brushing, I looked at the saved history and saw that I haven't brushed as thorough as I thought I would be. Thanks to this nifty feature, you will be guided as you go along and it will also train your brushing muscle memory for the future (in case you don't want to use the app all the time).
Speaking of which, you can opt not to use your phone and open the app every time you want to brush. It will vibrate every 30 seconds to remind you to move to the other region of the mouth. Strangely, this vibration is non-existent if you are using the app to brush (which confused me at first and I hope they will include an update to have this as an option).
If you don't care about all these data and smart options, thankfully the team also improves the performance of the brush. Each bristle is twisted before it's inserted, making it strong and flexible for a more superior cleaning experience. The brush is also powered by magnetic drive which is quieter and more gentle with micro vibrations, yet powerful.
I find that brushing feels softer than my previous Philips Sonicare DiamondClean 9000, yet offers a superior clean. I can see lots of microbubbles being generated from the toothpaste which should clean harder-to-reach areas better and make my mouth feels somewhat fresher. It is also quieter which helps when my wife or 10-months-old son is already asleep in the room next door.
Oral-B iO Series 9 Review Conclusion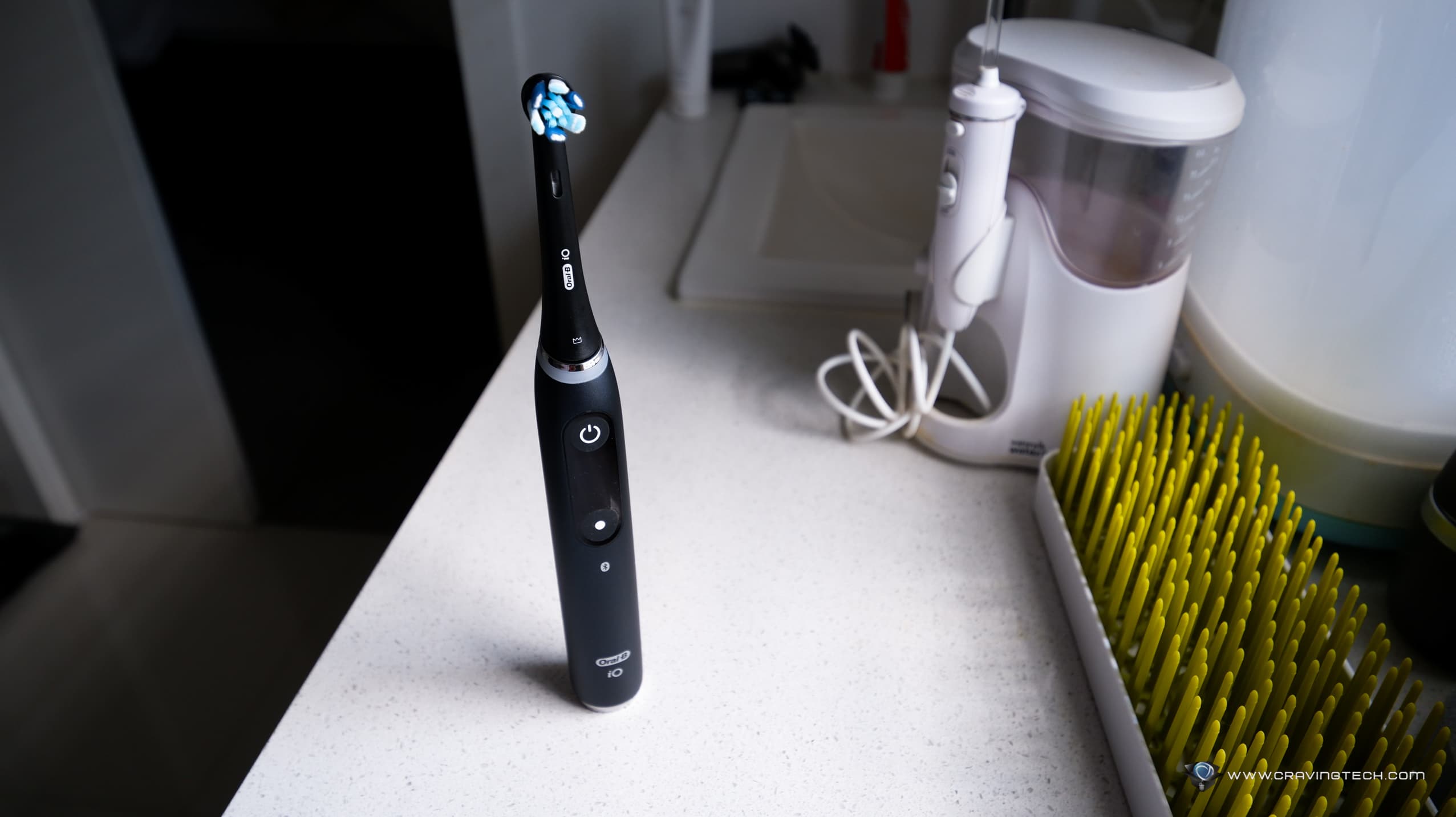 Oral-B iO Series 9 is Oral-B's latest, shiniest electric toothbrush with all the bells and whistles that coaches you the right way to brush your teeth, gives incentives with points & smileys if you are doing the right thing dailies, and offers the best toothbrushing experience & performance.
If you don't need the guidance, smart display, and connectivity however, most of the recent Oral-B or Philips Sonicare are already really good in cleaning your gums and teeth. And don't forget, you also still need to floss so you might want to use the money to invest in a waterflosser machine too like the Waterpik Whitening.
Oral-B iO Series 9 retails for AU$749 which is quite pricey, but Shaver Shop is selling them for AU$399 at the moment. If you have the money and want the most premium electric toothbrush (both look & feel and performance wise), definitely grab the new Oral-B electric toothbrush.
Disclosure: Oral-B iO Series 9 review sample was supplied for reviewing
Oral-B iO 9 Series Review
Summary
A premium electric toothbrush with OLED Smart Display, A.I Brushing Recognition, Magnetic drive for quieter yet powerful operation, and more
Pros
Powerful clean with softer feel on the teeth and gums
Not as loud as other electric toothbrushes, and the handle doesn't vibrate like crazy
Bright. colourful, OLED Smart display that changes dynamically
Sleek charging stand and travelling case
Bluetooth feature is actually useful to coach you brushing your teeth properly
Cons
Would love a grippier feel on the handle
Pricey