Philips Sonicare Power Flosser 7000 Review – I always recommend water flossing to those who hate dental flossing or worse, don't floss at all. I'd never flossed before until a dentist showed me how bad my gums were (they were bleeding and receding). After lots of unpleasant, deep cleaning experience with the dentist for over a year, my gums are all improving and healthy now, thanks to my new oral cleaning routine.
From having 9-12mm gum pockets, they all now come down to 3mm which is a good sign of healthy gums. All thanks to water flossing every night and a 2-minute tooth brushing session using the Oral-B iO Series 9 and/or Philips Sonicare DiamondClean 9000.
I wasn't too impressed with the Philips Sonicare AirFloss Ultra or air flossing in general. It just felt awkward after a while but thankfully, Philips Sonicare have decided to release their own water flosser, a market where Waterpik took all the glory.
And to my surprise, the Philips Sonicare Power Flosser 7000 is a really good water flossing machine, even surpassing all the Waterpik machines I have at home.
Pardon me for the long introduction – let's get to the chase!
Philips Sonicare Power Flosser 7000 Review – Unboxing & Packaging Contents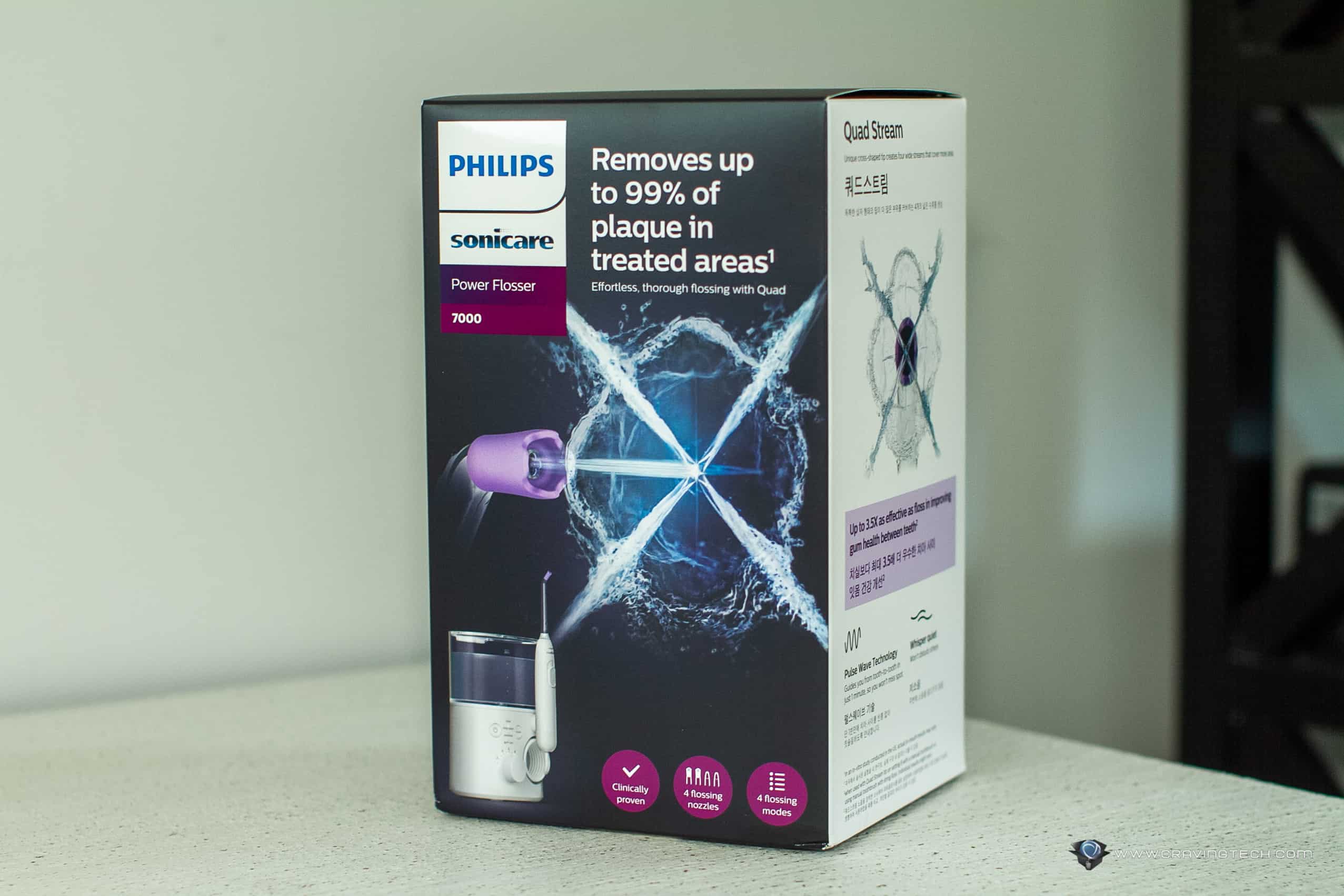 Philips Sonicare Power Flosser 7000 Review – Design & Features
The Power Flosser 7000 is a powered oral irrigator/water flosser and will sit nicely on your bathroom vanity. The cable is retractable, like many other water flosser machines, but there is more.
The unit has an easy magnetic dock like Apple MagSafe-like. Simply place the handle on the dock and it'd just snap in place. Moreover, when you place the handle on the dock, the machine also auto-shuts itself off. This is a really cool and nice concept which I haven't encountered on any Waterpick machines before.
And my biggest thumbs up (or one of the biggest), is how quiet the machine is – both while on pause and while I'm water flossing. On pause, you'll barely hear a thing and when you water floss, it sounds quieter than the other water flossers I've used before. While water flossing, I no longer feel afraid to wake my wife up, who sleeps on the side of the bed next to the ensuite.
While it's pretty quiet for a water flossing machine, thankfully the performance is not being sacrificed. You can adjust the intensity (up to 10 levels) and I'm currently flossing at level 9, getting great results as I can see food scraps coming out of my mouth.
The machine also has 4 flossing modes: Clean, Deep Clean, Sensitive, and Gum Care. I leave it on the Clean mode as I find that it's the best to properly water floss. Deep Clean uses distinct pulses rather than a constant jet stream so I think the Clean setting actually performs better.
With a 600ml water reservoir, I usually have enough water for my water flossing session but if you like to be more thorough and take your time flossing, you might have to refill it at higher intensity settings. it isn't a big deal as it's easy to take the reservoir in and out from the machine.
A unique, Quad stream nozzle is included in the packaging which concentrates water into four wide streams between teeth and along the gum line. It's a time saver and supposedly more efficient than a standard nozzle but if you want to meticulously clean your gum line, feel free to change the tip to the standard nozzle.
All nozzles can be stored inside the compact case so you can bring them along while you travel, and each family member can use their own nozzle for hygiene.
Philips Sonicare Power Flosser 7000 Review Conclusion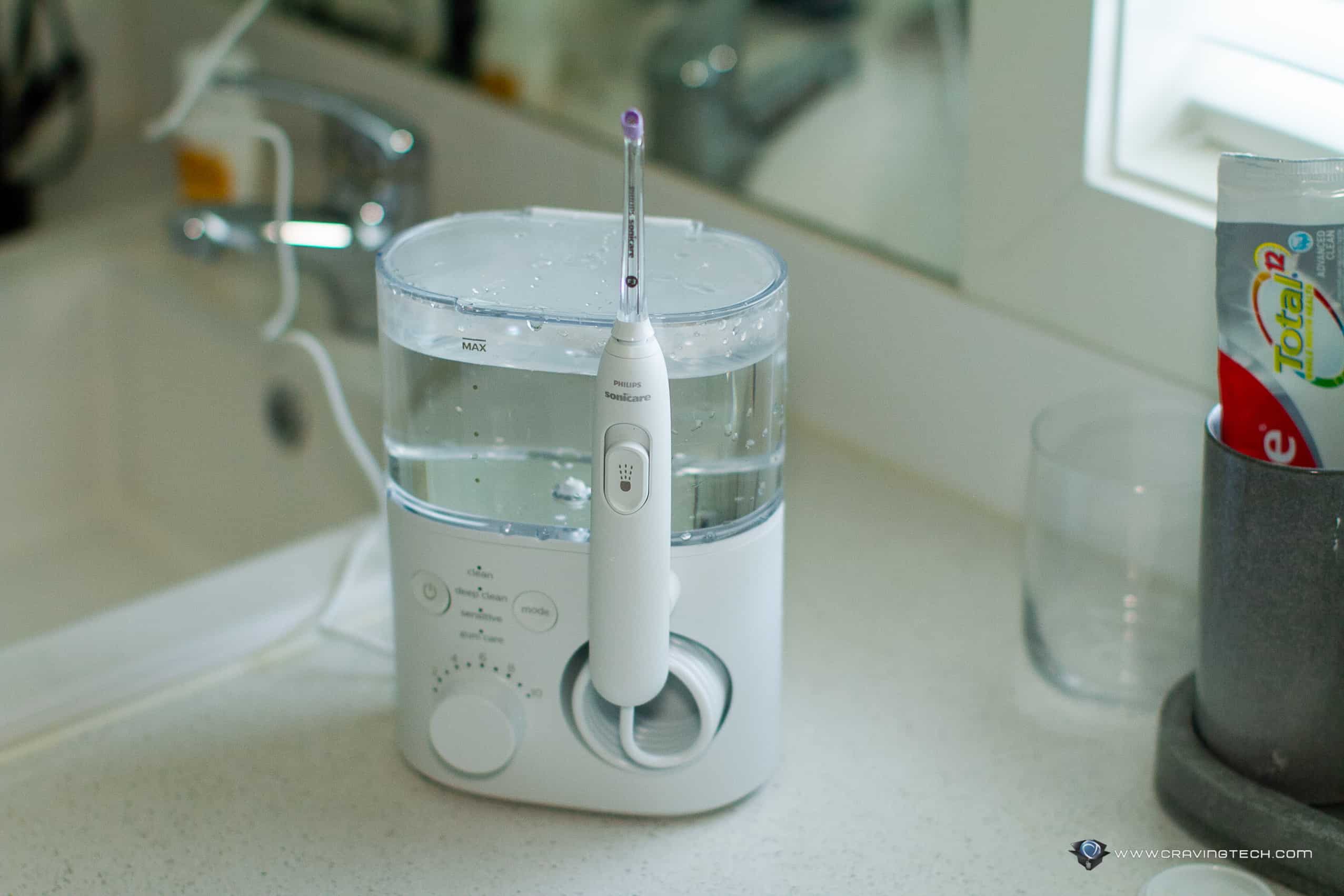 After using it more than two weeks, Philips Sonicare Power Flosser 7000 is now my most favourite water flossing machine thanks to the performance and convenient factors that it has. The machine is quieter compared to all the other water flossing machines I've used and reviewed, and the easy magnetic dock offers much-needed convenience.
In terms of design and performance, it looks to be similar to the Waterpik solutions. However, the machine feels more advanced and modern, thanks to the magnetic dock and quieter machineries within. These are small things but offer better experience overall when you water floss.
I'm really glad there is a new player in the water flossing market and we all know how popular and excellent Philips Sonicare brand is from their Sonicare electric toothbrush line. Philips Sonicare Power Flosser 7000 is an excellent water flossing machine and if you are looking for a water flosser, you will not be disappointed with this one.
In fact, if you are not flossing at all, I urge you to grab this as a worthy investment before you spend thousands of dollars at the dentist one day. Believe me.
The water flosser is available now for purchase at AU$269 RRP (AU$229 at Shaver Shop when this review is written) and at Amazon.
Disclosure: Philips Sonicare Power Flosser 7000 review sample was supplied for reviewing
Philips Sonicare Power Flosser 7000 Review
Summary
A really good water flosser, both in terms of performance and design features
Pros
Compact and full of features
Different intensity settings
Unique Quad stream nozzle
Magnetic handle holder, also auto turn the machine off
Quieter than the other water flossers 
Cons
Only has two nozzle types