Philips Sonicare DiamondClean 9000 Review – Philips Sonicare DiamondClean 9000 is Philips' latest and greatest sonic, electronic toothbrush. I was completely happy with their DiamondClean Black Edition that I've been using since 2014. Yes, it was that good. I recently changed it because I had to review the Waterpik Sonic-Fusion (brushing and water-flossing in one).
But after I was given the latest DiamondClean 9000 from Philips Sonicare, it didn't take me long to decide that this is now my primary, electric toothbrush and will be for months to come. Yes, its performance is that good.
Packaging & Unboxing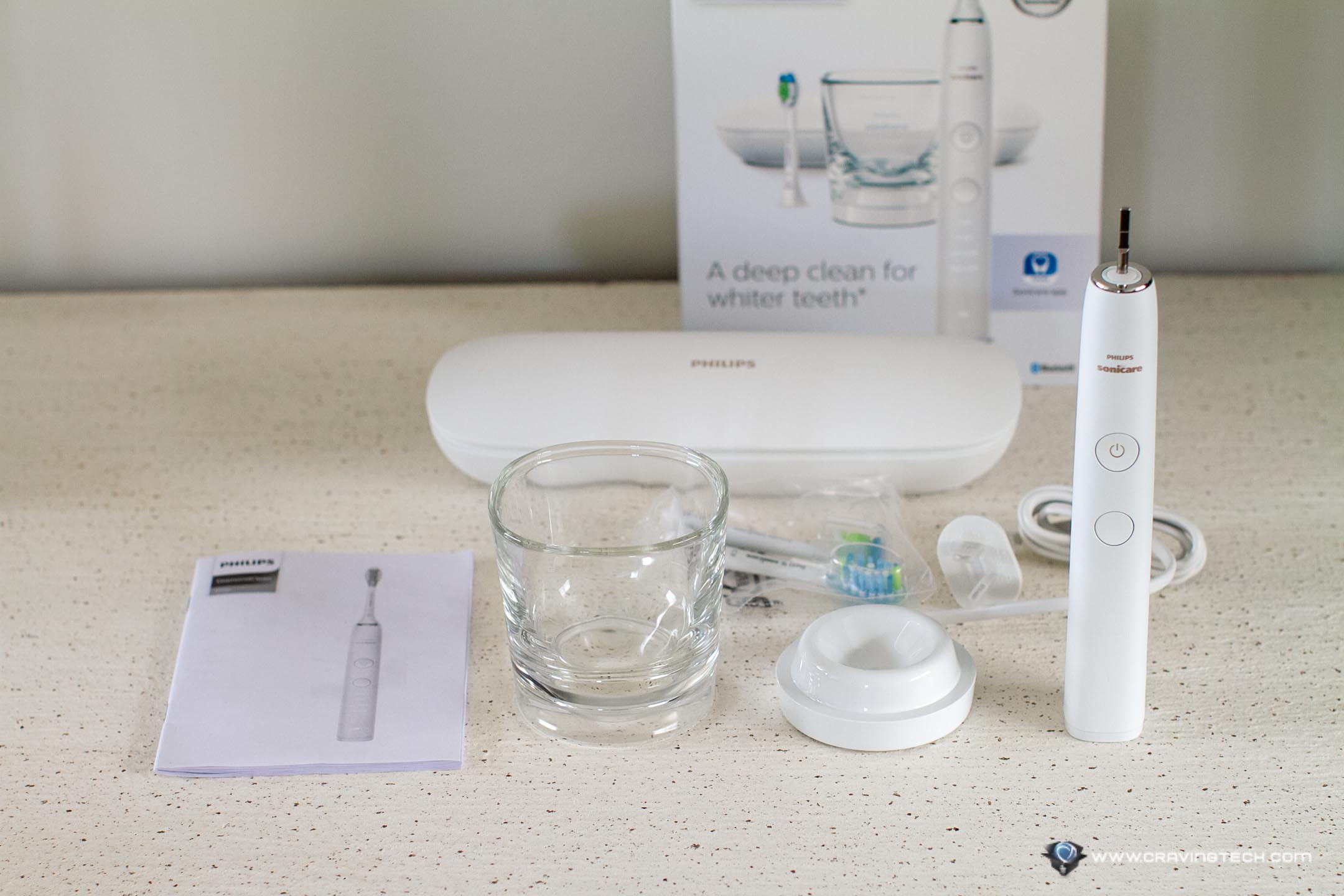 What I like about the DiamondClean series is the Glass Charger that you can use to charge the toothbrush. Not only it looks good on the bathroom bench, it is just cool and convenient.
A travelling case is included and can be charged via USB. It comes with 2 brush heads: a C3 Premium Plaque Control and a W2 Optimal White.
Design & Features
Design-wise, it is pretty much similar with the other DiamondClean family of toothbrushes. It looks quite slim, elegant, and modern. Unlike the previous DiamondClean I used, it now has an extra button to switch between different modes. It was easier to accidentally switch to a different mode when I wanted to turn the brush on and off in the previous model.
It has four modes of brushing (Clean, Deep Clean+, Gum Health, and White+) and intensity (High, Medium, and Low). I'm always on the High intensity, Clean brushing mode using the C3 Premium Plaque Control brush head.
The C3 Premium Plaque Control brush head has soft, flexible bristles that are designed to curve around your teeth, giving you more surface contact for better plaque removals and reaching harder-to-reach areas around your gums and teeth.
I love the feel of the bristles so far, giving a good scrub without making my gums bleed (I have a gum disease) and the built-in alerts certainly help in letting me know to move between the different mouth quadrants, when to replace my brush head, and whether I'm brushing too hard (which I normally don't have a problem with, but apparently 7 out of 10 people found this feature useful, according to Philips).
The cool things is (though I don't find it necessary), you can connect to a smartphone app via Bluetooth where you can analyse your brushing habits and even a report. You can also find out how long will your brush head wear out based on how you brush, which is quite useful.
Considering the brush head costs $20 each, you probably want to make sure that it can last for a while before grabbing the DiamondClean 9000. In my experience after using it for the first time, the app told me that I can do 178 more brushing sessions – which means 178 / 2 (if you brush twice a day) = 89 days (or around 3 months of use). That's pretty alright considering how good the toothbrush and brush head are to clean the teeth.
With up to 31,000 brush strokes per minute, your gum and teeth will definitely get the best treatment and oral care. It definitely feels refreshing after every brushing session with my Colgate Total toothpaste, and really happy with the results. Note however, flossing is still a must despite how good the toothbrush is. While I've used and reviewed the Philips AirFloss Ultra AirFlosser, I still prefer waterflossing than airflossing (using Waterpik Whitening at the moment).
Philips Sonicare DiamondClean vs Oral B Genius 9000
Make sure to read my review on the Oral B Genius 9000 as well to compare it with the Philips Sonicare DiamondClean 9000. My wife is using my Oral B Genius 9000 review unit until today (since 2016) but I somehow like the feel of the DiamondClean better.
Sonicare DiamondClean 9000 looks much more better, slimmer on the hand, and have better accessories. In terms of cleaning effectiveness though, I think they are about the same, but I'm no dentist!
Philips Sonicare DiamondClean 9000 Review Conclusion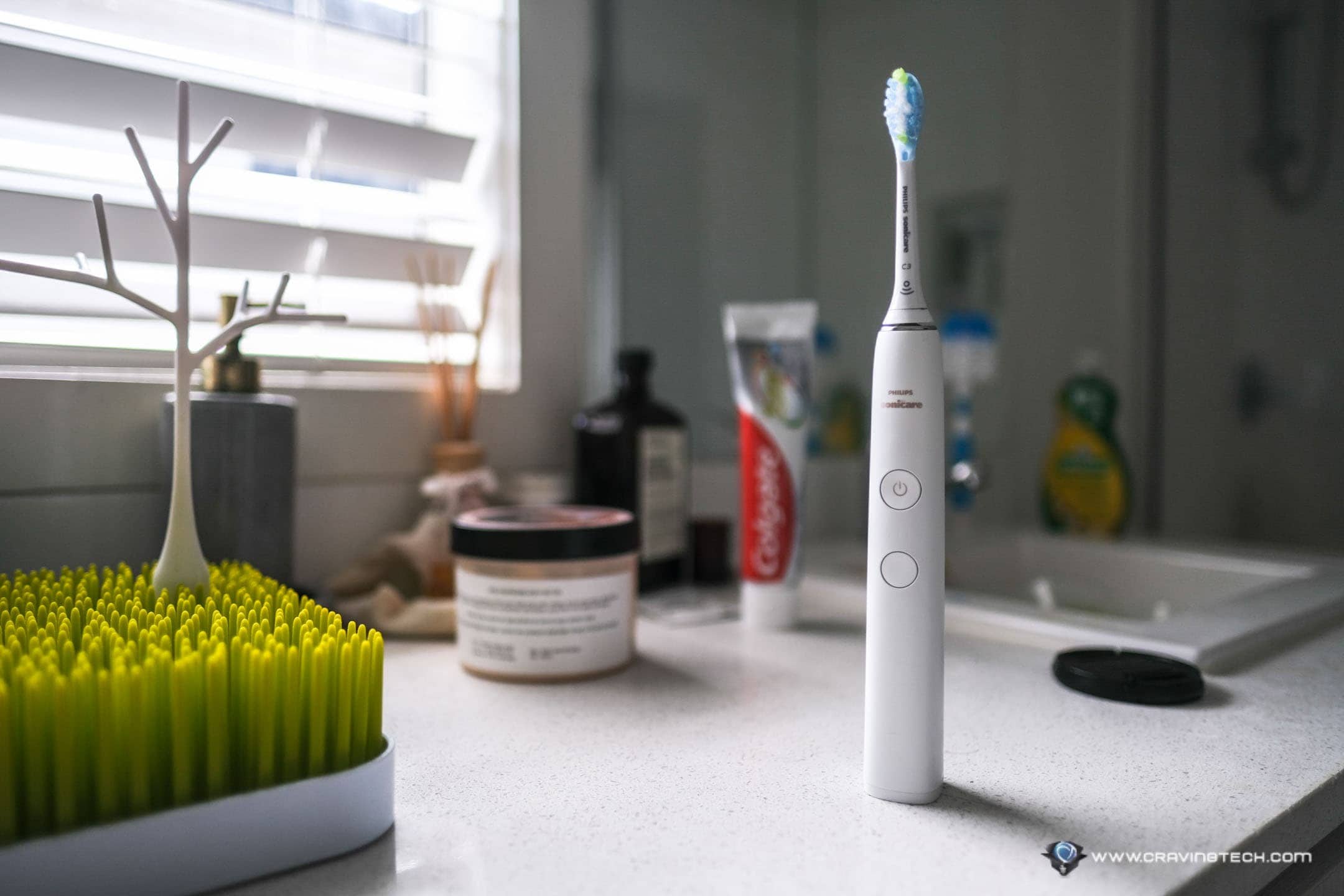 The latest DiamondClean 9000 sonic electric toothbrush is not cheap for sure. For AU$379, you are paying a premium price, but in return, you will get a premium oral care in return & premium accessories like the charging glass and case.
The brush cleans the teeth exceedingly well (and you can feel the bristles making its way to your teeth and gums) and amazingly doesn't make my gums bleed.
While it's cool that you can connect to an app to see how good your brushing sessions are, I highly recommend the DiamondClean 9000 because of how good it cleans, and how good it feels after each brushing session. The additional charging case and glass are definitely where the premium price comes from as well, but you will love these for sure.
The C3 Premium Plaque Control brush head is $20 each but you get a really well-designed brush head. The bristles are designed give you the deepest clean in all areas around your mouth. Plus, it lasts a few months which is not a bad offer. Trust me, what you have pay to go to dentist is far more worse than paying for a good toothbrush, and a good brush head.
Philips Sonicare DiamondClean 9000 is a great investment to having great, healthy teeth and gum. And you will be grateful for not having to pay thousands of dollars for the dentist in years to come. Please note, this is assuming you are flossing diligently as well because no perfect toothbrush can replace flossing, ever.
Philips Sonicare DiamondClean 9000 retails for AU$379 and available at retailers around Australia like ShaverShop.com.au. Also available at Amazon.
Disclosure: Philips Sonicare DiamondClean 9000 review sample was supplied for reviewing but all opinions are mine and not paid.
Philips Sonicare DiamondClean 9000 Review
Summary
Excellent oral care treatment, comes with premium accessories
Pros
Elegant design, premium look and feel
Great results, great refreshing feel after each toothbrush
Comes with a charging glass & charging travel case
Good battery life
Can connect to app to see how good you are with brushing
Alerts to replace brush head, if you brush too hard, to move between quadrants, and if you are running low on battery
Cons
A little bit slippery, would love to have a rubbery grip area in the next design
$20 brush head to replace every 3 month-ish
A more economical DiamondClean product would be nice without the charging case & glass to be more affordable to consumers