Waterpik Sonic-Fusion Review – Waterpik Sonic-Fusion is world's first flossing toothbrush – meaning that the product can actually brush and/or waterfloss at the same time. Like a toothbrush and waterflosser in one, if you want to call it that way.
While the concept of waterflosser is not new and we've reviewed a few Waterpik waterflossing solutions like the original Waterpik Ultra 100, Waterpik Whitening, and Waterpik Cordless Plus for travelling, this is Waterpik's first product ever combining them in one single, nice package.
The idea is definitely to save time by doing them together and if you don't like doing dental flossing and have not waterflossed before, the Sonic-Fusion will be a great one to increase your oral hygiene tremendously.
Packaging
Design & Features
Waterpik Sonic Fusion has a compact design, somewhat smaller than the past Waterpik flosser machines – which I like. Our bathroom bench has gotten more crowded and having a separate toothbrush and waterflosser is not making the situation any better.
The water tank is smaller than the Waterpik Whitening I normally used, but it can get through my regular waterflossing routine and also within the 2-minute magic number of toothbrushing just fine.
Design wise, with a white and satin chrome finish, Waterpik Sonic-Fusion fits right in any modern home.
Using two hard buttons on the toothbrush handle, the product offers 3 Cleaning Modes: Brush, Floss, Brush + Floss. To floss, the handle needs to be connected to the cord but can easily be detached if you want a cord-free brushing. Placing the toothbrush on the unit will also charge it at the same time. There is a funny mechanism that you have to place the toothbrush back to the charging point if you want to floss (after doing just brushing for some time). But if you are doing them together (by pressing the Brush and then Flush button), it's fine.
Brushing
Waterpik Sonic-Fusion uses a sonic toothbrush with 30,000 strokes per minute, giving the teeth and gum a really good cleaning service. According to Waterpik, it cleans far more superior than a competitor's 27,000 strokes, but Philips Sonicare DiamondClean has a slight advantage of 31,000 strokes per minute. To be honest, I don't think 1,000 strokes per minute matter much in terms of teeth cleaning, so let's say it's a tie in terms of numbers.
Experience wise though, the toothbrush cleans really well and feels softer on the teeth somewhat compared to my Sonicare DiamondClean Black. There is an automated 2 minute brushing timer with with 30 second pacer.
Thanks to the ergonomic design, the toothbrush is comfortable to hold, easy to steer, and does not slip.
The brush can be used cord-free so if you are only travelling for a couple of days, say, you may want to just leave your whole Sonic Fusion unit behind and go with the toothbrush alone. It has a few LEDs to indicate its battery charge level too.
A premium toothbrush case is included in the packaging, along with an extra brush head with a different ring colour, should you want to share it with another family member.
Flossing
The water pressure control system has up to 10 intensity settings, 10 being the strongest pressure. I normally use 5-6 but you should start low and crank it up as you go along. Compared to the dedicated Waterpik water flosser like the Waterpik Whitening, the Sonic-Fusion has a weaker pressure but I've never used the maximum setting on my Whitening unit anyway.
The flosser tip is located among the bristles and provides a steady jet stream of water. It's definitely effective as I can see little food scraps coming out of my mouth as I floss away.
If you are not a fan of dental flossing, I'd highly recommend waterflossing with Waterpik as it is highly effective, and kind of fun. It's also claimed to be more effective than using a string floss.
Brushing + Flossing
Waterpik Sonic-Fusion allows you to do brushing and flossing at the same time. It actually is a great idea as it saves a good amount of time, plus you'll be encouraged to actually waterfloss for a whole 2 minute (30 seconds on each quadrant).
However, I find that doing this at the same time actually pushes the toothpaste away out of your mouth too quickly. While there is a debate whether you should leave your toothpaste inside your mouth for as long as you can, at least it's optional to actually do brushing and flossing at the same time. Your call, but it's cool that you can do both.
Waterpik Sonic-Fusion Review Conclusion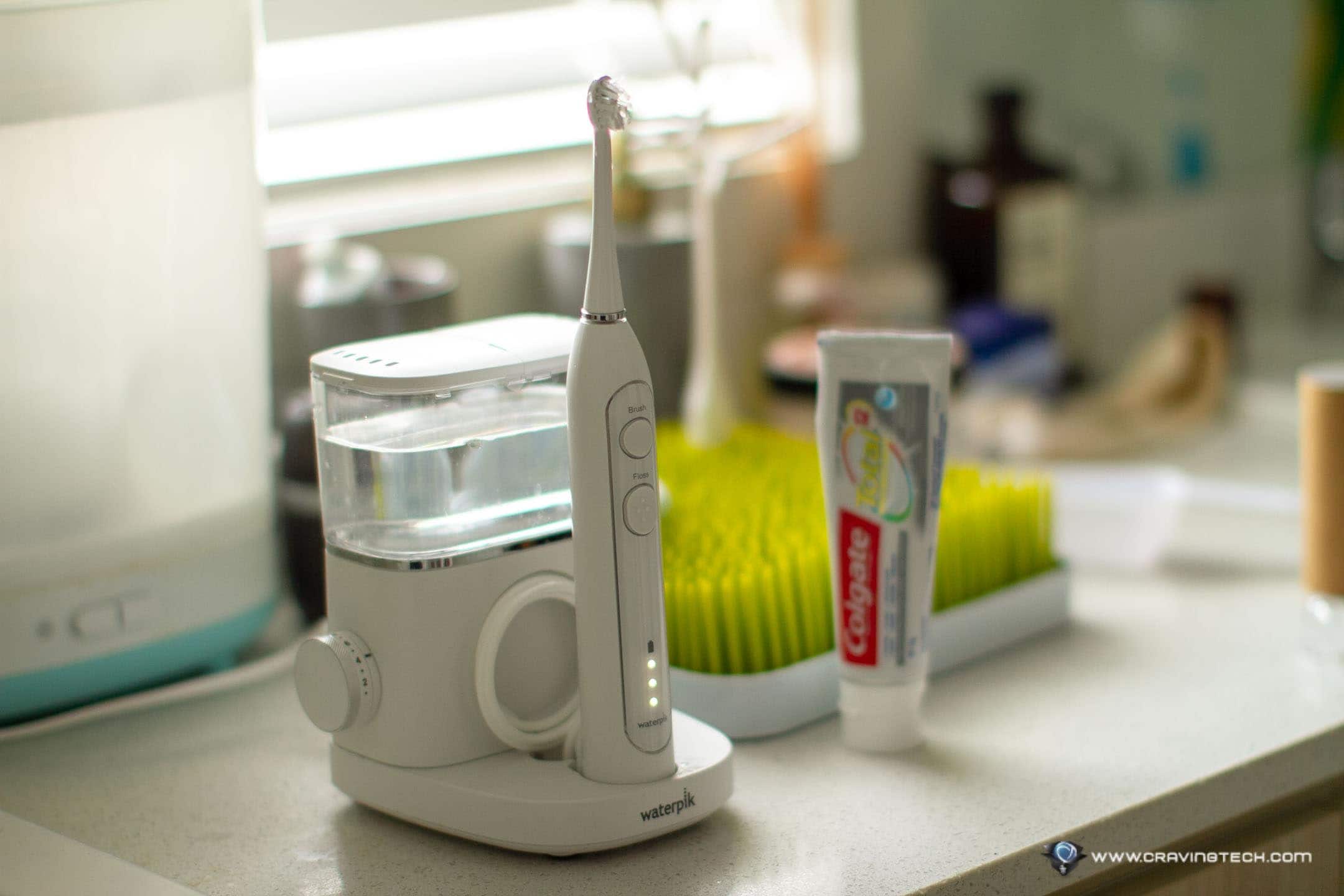 Waterpik Sonic-Fusion is the next best thing for oral care & hygiene, if you are still using a manual toothbrush with no flossing. Flossing is a must and if you hate string flossing like myself, you'll be far better off with a waterflosser. I had quite a bad gum disease thanks to going 40 years without flossing ever, and Waterpik waterflossers have helped me to get through.
With Waterpik sonic toothbrush and waterflosser combined in Waterpik Sonic-Fusion, you've got the complete package in a compact design for a great smile and healthy gums!
But if you already have a Waterpik waterflosser, I don't see a point in grabbing the Sonic-Fusion. In fact, yours is probably more superior with different tips, more water tank capacity, and stronger pressure options. If you already have a good sonic toothbrush, I'd recommend getting Waterpik's dedicated waterflosser – unless if you want the Sonic-Fusion compact design on your bench.
Waterpik Sonic-Fusion is available now to purchase and retails for AU$329 at ShaverShop.com.au (also available at Amazon).
Disclosure: Waterpik Sonic-Fusion review sample was supplied for reviewing but all opinions are mine and not paid
Waterpik Sonic-Fusion Review
Summary
Sonic toothbrush with waterflosser in one. It's the complete package for your oral hygiene and health
Pros
Compact design
Great performance sonic toothbrush
Great performance of waterflosser 
Time saver as you can do both at the same time
Has a travel case
Ergonomic design
Toothbrush is detachable
Cons
Doing brushing and flossing at the same time push toothpaste out of the mouth too quickly
Flossing not as superior as other Waterpik's dedicated flosser (with extra tips, etc)