Waterpik Cordless Plus Water Flosser (WP-450) Review – The original Waterpik Ultra 100 Water Flosser changed my life. Thanks to Waterpik Ultra 100, I've now been regularly water flossing my teeth every night with the flosser.
The only problem with that is the size. The Waterpik Ultra 100 is definitely designed to be placed on your bathroom bench and while it's possible to carry it inside your luggage or backpack, you'd wish there's something more portable.
Well, if you like water flossing with the Ultra 100 (or other Waterpik water flosser machines), you'll love their portable water flosser, the Cordless Plus.
Waterpik Cordless Plus Review – Packaging
Waterpik Cordless Plus Review – Design & Features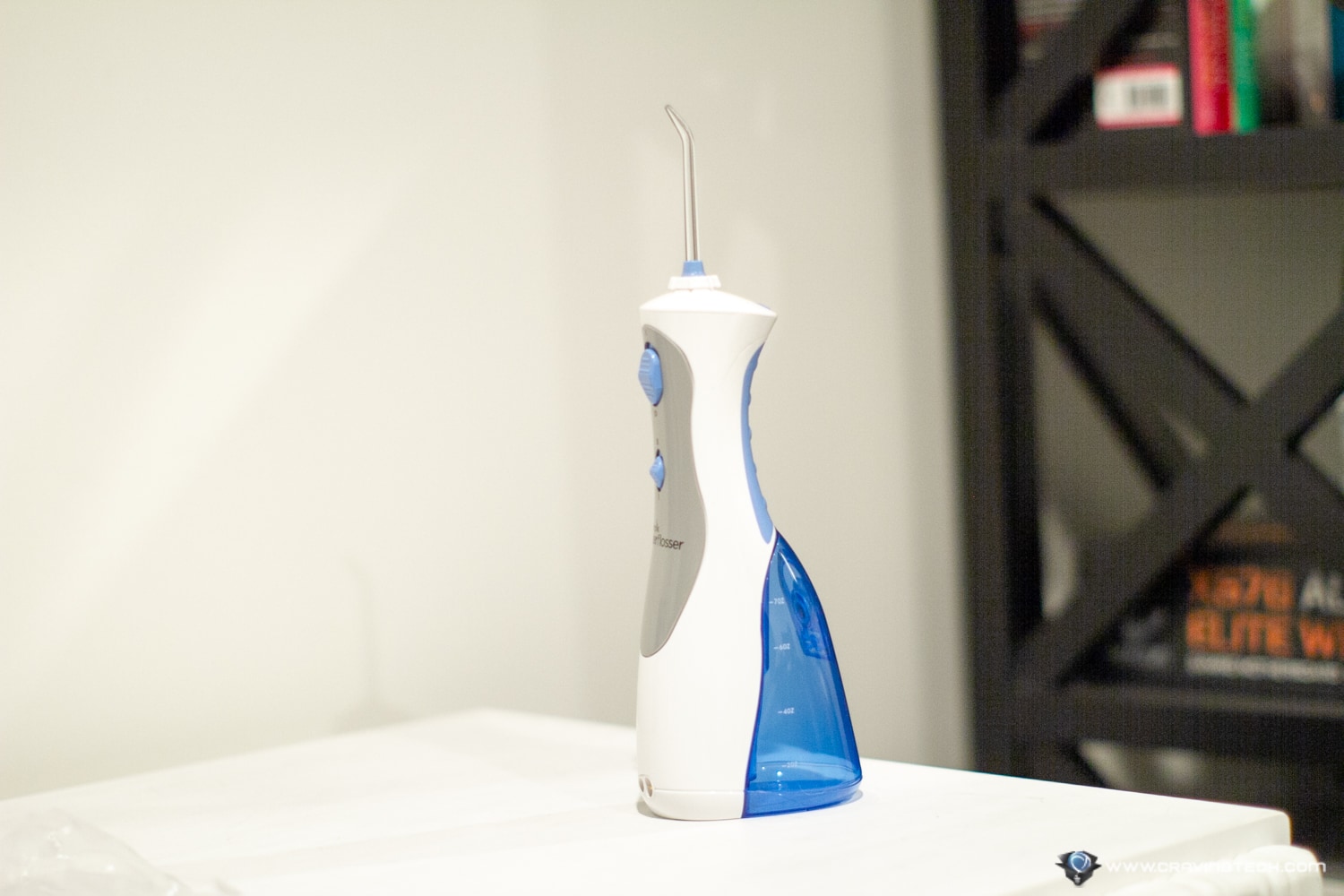 The Waterpik Cordless Plus is lightweight and much more portable to carry while you travel. It is also cordless (i.e has a built-in rechargeable battery) so if you are only travelling for a few days, you do not need to carry the charger with you. Waterpik mentions if you use it once a day, you should be able to use it for a week roughly (depending on usage, of course). I do wish there is a battery indicator at least somewhere on the unit to see how many sessions do I have left.
The flosser handle is actually larger than usual, because it includes a water storage unit that can be detached if necessary. Due to the larger size, however, it is actually more comfortable to hold with your hands.
Gripping the handle feels natural and there is also a rubbery, contoured area on the back of the handle for your fingers.
Water goes into the storage tank and even when it's full, the unit still does not feel heavy at all and can be maneuver at ease. The trickier part is when you want to floss the inner side of your teeth as you have to wiggle around to get a good angle. But the tips are rotatable which makes things easier.
The water reservoir is usually enough if you do a quick floss but most of the time, I'd have to refill it twice to have a good water flossing session. Bigger reservoir means heavier and bulkier unit, which you do not want if you want to make it portable. It's a trade off.
I did bring the Waterpik Cordless Plus to our Japan trip for 2 weeks last week, and placed the whole unit inside our luggage.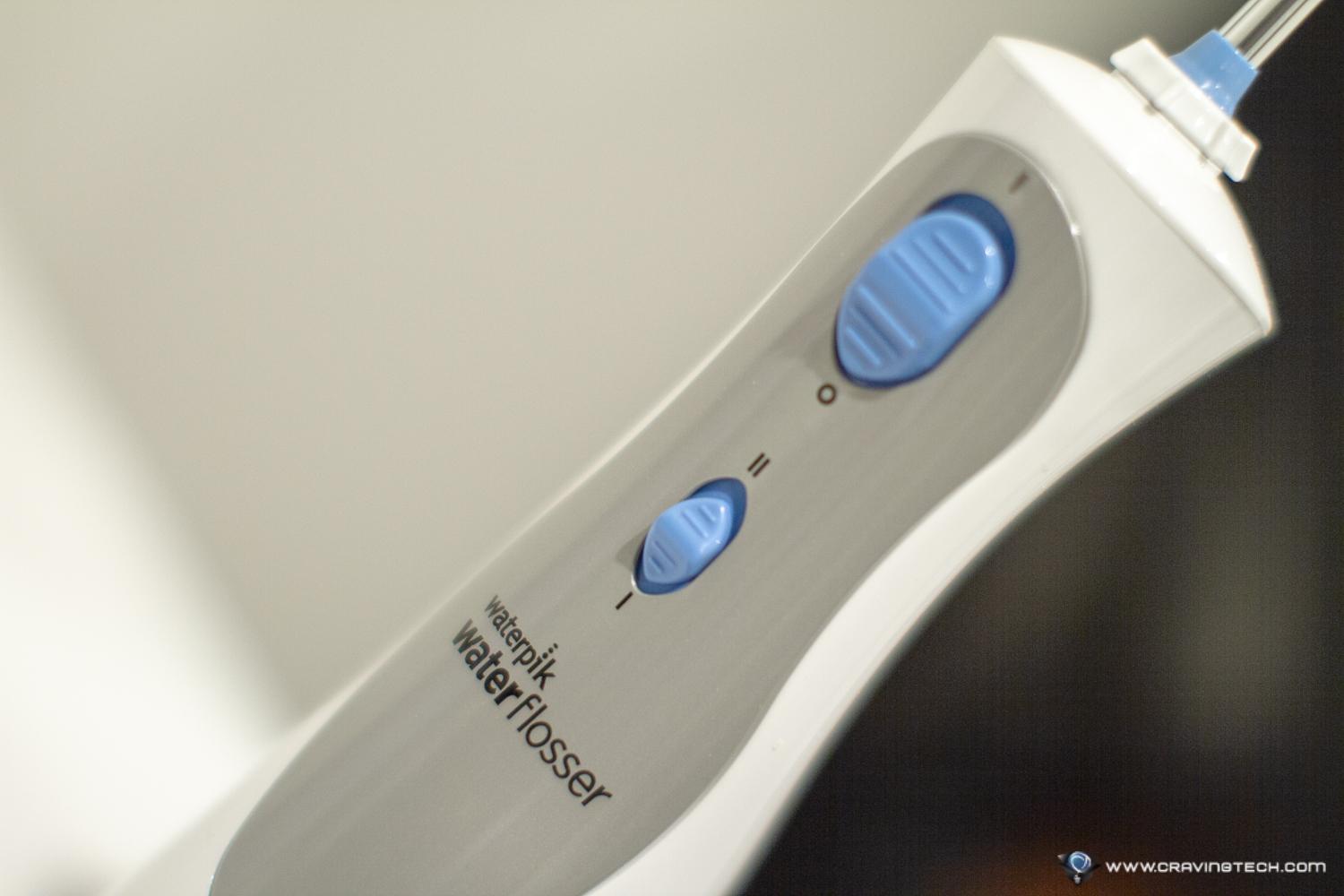 The Cordless Plus only has 2 pressure control settings but even on the lowest setting, I find it more than enough power to water floss my teeth. The water stream is very consistent and fast, and can easily push away bigger chunks of food residue between my teeth.
Before the trip, I've been using the Cordless Plus to water floss my teeth at home (and put the Ultra 100 temporarily on the shelf) – just to test whether it could totally replace the Ultra 100. The answer is yes, it totally could! This means if you are new to water flossing, you can just grab the Waterpik Cordless Plus to use as your daily driver and take it with you when you travel (without spending more money on the bigger unit).
Sure, you may have to fill the reservoir a few times but it's definitely easier on the wallet.
Waterpik Cordless Plus Review Conclusion
Waterpik Cordless Plus is a portable, yet powerful water flosser that you can use on your bathroom bench or to be carried with you while you travel. It has an ergonomic design and contoured texture surface for your fingers to rest – making it comfortable to use.
The stream of water is constant and powerful using the Jet Tip, but the packaging also includes a few other tips for you to use.
Battery life is more than adequate for days of flossing with large enough water reservoir – though you may need to fill it once or twice to get a really good water flossing session.
Overall, the Waterpik Cordless Plus delivers and will definitely be my go-to flosser for my overseas travels from now on. Sure, it's not as compact as I'd like it to be, but flossing with water does require a good amount to use.
Waterpik Cordless Plus WP-450 can be purchased for AU$169.95 RRP, but discounted heavily at the moment on Chemist Warehouse or Shaver Shop Australia. It's also available at Amazon U.S.
Disclosure: Waterpik Cordless Plus review sample was supplied for reviewing but all opinions are mine and not paid
Waterpik Cordless Plus Water Flosser Review