Fitbit Charge 5 Review – If you don't need the most premium-looking Fitbit like the Fitbit Versa 3, the Fitbit Charge's tracker line is a great buy.
Fitbit Charge 5 is Fitbit's latest and most advanced tracker that can scan your heart health and measure your stress level. And in my opinion, it has a more modern design compared to the previous Fitbit Charge 4 and Charge 3.
Fitbit Charge 5 Review – Packaging and Unboxing
Fitbit Charge 5 Review – Design & Features
With a thinner and sleeker design, the Charge 5 looks great on the wrist. It now has a colour touchscreen which feels like you are actually wearing a modern gadget from 2021. Plus, the screen is actually twice brighter than the Charge 4 so if you like to exercise outdoor, it's the perfect addition for Summer.
The screen is colourful, bright, and simply has more personality to it. There is also an always-on display option if you care about style and stats more than battery life. Thankfully, you can set the screen to still go dark at certain hours which is quite handy if you don't need that always-on display when you're home, or asleep.
Clock faces can be changed from the Fitbit app too though you don't get full customisations as such.
There is no hard button on the Charge 5 but you can interact directly on screen (i.e touchscreen). The response is pretty smooth and quick actually, which surprises me at first. There are also sensors (ECG, EDA) on both side panels for the health checks where you need to place two fingers on them for a half minute or so.
Ever since Fitbit added a built-in GPS on their Charge line, the trackers have been more popular than ever. A friend who runs and cycles a lot was thinking to get a Fitbit Charge but back then it didn't have any built-in GPS, so he hesitated. Thankfully, Fitbit Charge 4 and 5 now have a built-in GPS that lets you see and record your pace and distance while exercising outdoor.
Fitbit Charge 5 has heart rate monitoring that can notify you when your heart rate is above or below threshold. This can give a good indication if there is a problem with your heart (so you can go consult with a doctor). There is Sleep Tracking that exists on all Fitbit products where you can check your sleep score, along with your sleep quality details through the Fitbit app.
I also always love the Silent Alarms feature which can gently wake me up from my slumber – all the more important now that I sometimes have to sleep with our newborn on the same bed. With an alarm that only vibrates my wrist gently to wake me up, I can avoid disturbing our son from his sleep.
Smart Notifications can notify you when you get new messages from WhatsApp or other apps, and if someone calls. I always put my phone on silent so having the Charge 5 on the wrist is very handy.
Are you a Fitbit Premium member? Fitbit Charge 5 can compile all data and insights from your body to produce a Daily Readiness score. This is compiled from your daily activities, heart rate variability (HRV over your entire night's sleep) and recent sleep patterns. Then, you'll be given suggestions such as a recommended activity level and Premium content to help you become healthier based on the score.
Taking an ECG reading requires 30 seconds with your fingers sitting still on the stainless-steel panels and 3 minutes for an EDA scan to measure your stress level. I'm not easy to get stressed thankfully, but this might be useful to those who have a really busy and stressful life.
But having an ECG reader available at all times without having to purchase another device is definitely a plus.
Fitbit Charge 5 Review Conclusion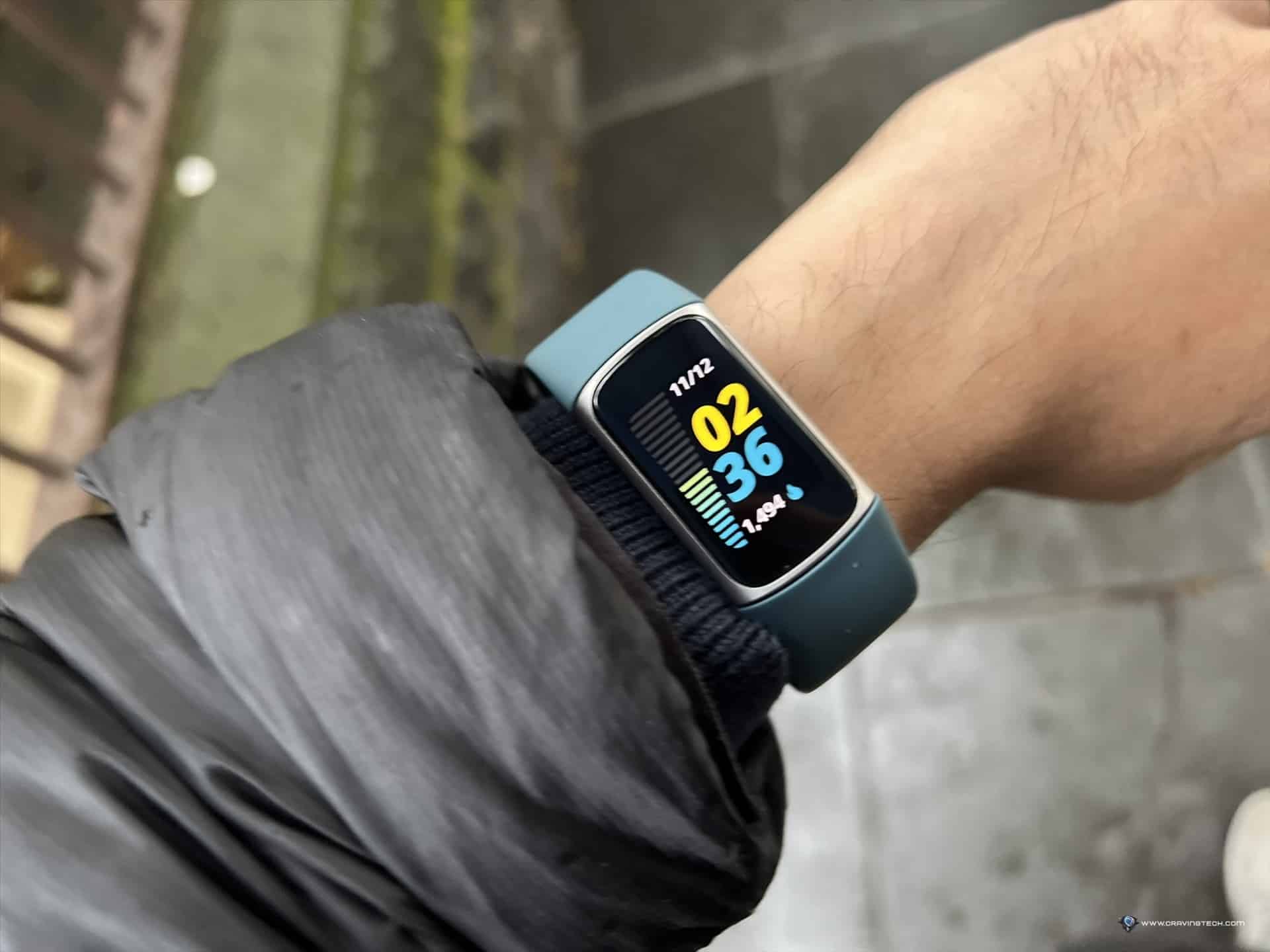 Fitbit Charge 5 is quite a major leap from its predecessors. It now comes with a colourful, brighter, screen with new sensors and a more modern design overall. With heart rate alerts, built-in GPS, ECG + ECA, and sleep tracking, you pretty much has a powerful health monitor on your wrist and a virtual assistant that is available 24/7 to make sure that you stay healthy and notify you otherwise as early as possible.
For those who are active or want to be active, Fitbit Charge 5 offers plenty though you may need to subscribe to the Premium monthly membership to get more out of it.
It's available now for purchase at retailers around Australia & Fitbit Australia website for A$269.95. There are 3 colours available: Black/Graphite, Lunar White/Soft Gold, and Steel Blue/Platinum.
Disclosure: Fitbit Charge 5 review sample was supplied for reviewing
Fitbit Charge 5 Review
Summary
Fitbit's latest tracker now comes with a brighter, colourful screen and on-wrist ECG for heart health, and EDA for stress management
Pros
More modern design compared to predecessors
Brighter, colourful screen with always-on display option
Comes with sensors for ECG & EDA
Tracks your hearth health, along with your exercises, goals, sleep qualities, etc
Built-in GPS
Good battery life
Cons
Some might miss that quick and handy physical button
Some features are locked under the Premium subscription
Pricey if you don't need all those fancy sensors
Yet another different charger design. Why can't Fitbit make every device charge the same?