Fitbit Versa 3 Review – The Versa has always been Fitbit's best watch you can get – make sure to check our review on the original Fitbit Versa and Versa 2. However, there was always one missing feature that sport enthusiasts were craving for: built-in GPS.
Those who like to record their run and cycling paths would usually have to rely on their phones to capture the GPS information (such as the distance traveled and other geographical tracking info). But looking at how Fitbit could fit in a built-in GPS in their newest Fitbit Charge 4, we know the Versa would be next.
Fitbit Versa 3 has a slightly bigger display & subtle design change than the Versa 2, Bluetooth 5.0, PurePulse 2.0 heart monitor, fast charging, Google Assistant support (along with Amazon Alexa), and of course, a built-in GPS – which is the first time coming to the Versa family.
Fitbit Versa 3 Review – Packaging & Unboxing
Packaging includes both Small and Large bands to cater for any hands (or wrists) size.
Fitbit Versa 3 Review – Design & Features
At first glance, the Versa 3 is similar to its predecessors and while there are subtle differences to the edges, display size, and resolution, you may not be able to notice it if you are coming from the Versa 2. Its AMOLED display is sharp and bright and touch-interactivity feels smooth.
With all the built-in sensors, it can measure your heart rate and even your heart rate zones during your exercise (Active Zones Minute feature), so you know when you should push yourself further.
But the highlight is of course, the new built-in GPS embedded inside Fitbit Versa 3. Through the geographical map, you can check your exercise routes, and even the different heart rate zones happening throughout. This is not just satisfying to look at, but can also be used as a decision making tool for your next exercise session.
There is also sleep tracking, which will detect and analyse your sleeping pattern through the night automatically. With a simple Sleep Score, you can understand your sleep quality and should motivate you to get better sleep. You can also drill down into the report to see your sleep stages (REM, Deep Sleep, etc) in detail.
There is an Always-On display option if you like, but this will require you to charge your device more often. It only displays the time, either in Analog or Digital.
App notifications are supported and you can enable/disable apps that you do not want to see from Fitbit app. For example, you may not need to be notified on the wrist each time someone likes your social media posts, but would want to be notified of reminders and events from your Calendar app. Surprisingly, you can also take calls now via Bluetooth (when your phone is nearby), thanks to the built-in speaker and microphone – a cool feature that I don't think I'll be using. This (plus Google Assistant support will be coming later this year through an update).
If you have a Deezer account, you can also play music and podcasts directly from the Versa 3. If you are on Spotify however, you can only have access to the media controls.
Fitbit Versa 3 is water resistant up to 50 metres (so yes, you can take it swimming), has Fitbit Pay, 6+ day battery life (but cut considerably to 12 hours with continuous GPS), and quick charging.
If you subscribe to Fitbit Premium, you'll get personalised insights and guided programs to help you build healthy habits. The video workouts are pretty good as well, ranging from beginners to experts, and from short to longer sessions.
Fitbit Versa 3 Review – Conclusion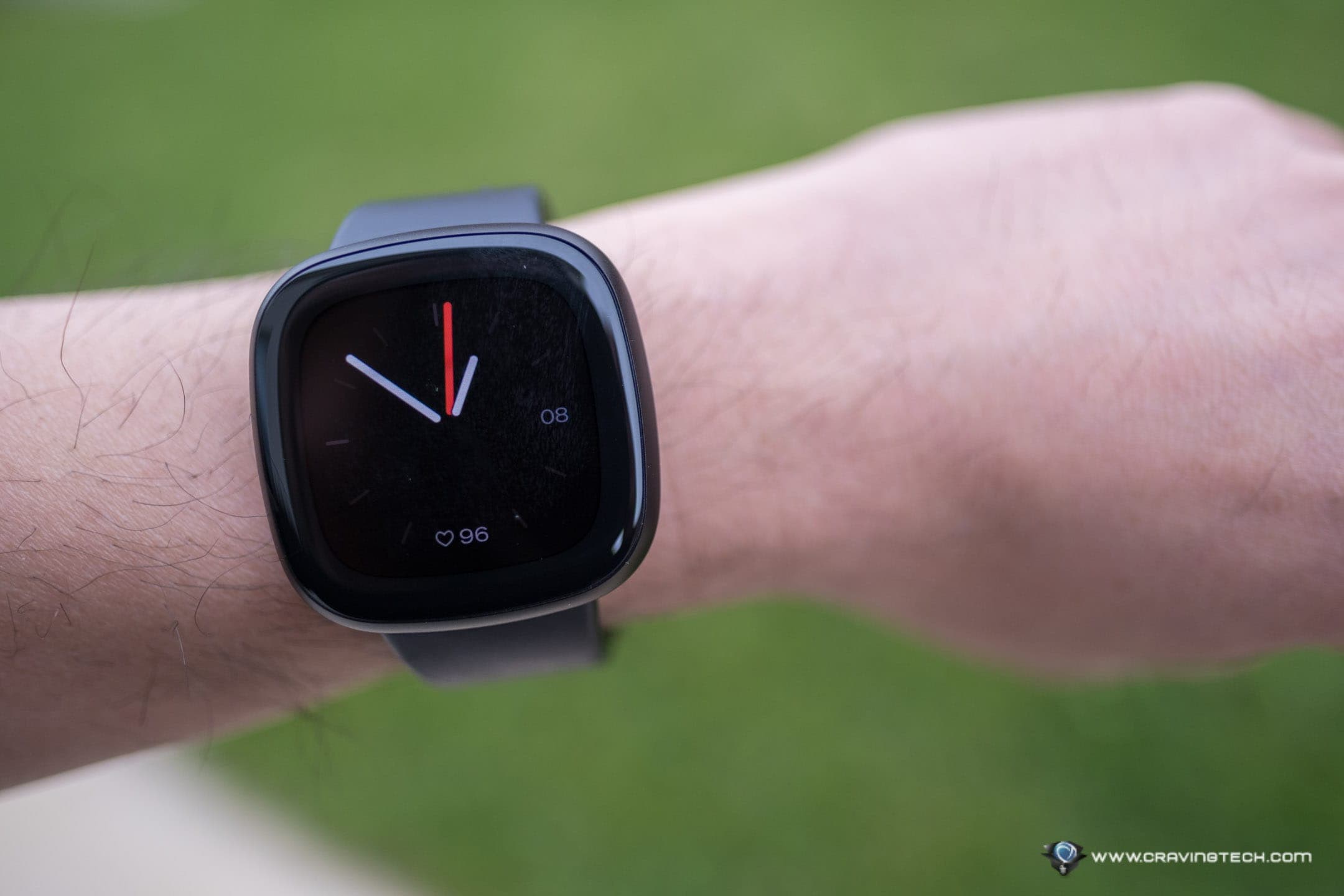 Fitbit Versa 3 is no doubt Fitbit's most advanced tracker/watch in the Versa family. With the new built-in GPS, it's the perfect watch for runners and cyclists who want to keep track of their exercise sessions and see their routes along with Heart Rate Zones data. It is also a great watch for newbies like myself who just want to try to be healthy by keeping track of daily steps and sleep quality – with an exercise routine every now and then.
The Versa 3 feels surprisingly light and comfortable on the wrist. With different clock faces to choose from, I much prefer the Versa design compared to the Charge family (i.e watch vs tracker). But if you only need the features they offer and don't really care about the fashion statement, the Fitbit Charge 4 or the new Fitbit Inspire 2 aren't bad either.
But if you care about how you look, there are different Versa bands to pick from and they are pretty easy to swap from the watch unit.
Fitbit Versa 3 retails for AU$399.95 and available now at retailers around Australia and also Fitbit.com.au. Also available at Amazon.com.
Disclosure: Fitbit Versa 3 review sample was supplied for reviewing but all opinions are mine
Fitbit Versa 3 Review
Summary
Fitbit's best watch gets a built-in GPS and a few other tricks like Bluetooth calls and Google Assistant in an upcoming update
Pros
Clear, AMOLED display
Tracks sleep, SpO2, heart rate, and more
Water resistant up to 50 metres
Built-in GPS with Heart Rate Zones details on routes data
Long battery life
Has an Always-On Display
Amazon Alexa and Google Assistant support
Cons
Finicky side button, hard to locate & press
Can't upload your own songs like previous Versa
Priced close to an Apple Watch SE