Fitbit Versa 2 Review – Fitbit Versa was one of Fitbit's most popular activity trackers as it offers the best of the best features in Fitbit: tracking activities, monitoring your sleeping pattern and quality, exercising, recording your swim laps, and more. It even includes a premium feature like paying through Fitbit Pay.
Fitbit Versa isn't bulky either and that's one of the things I really love about Versa. Seeing how popular the Versa is, it's a no surprise that Fitbit decided to release the "lite" version a.k.a Fitbit Versa Lite for those who do not really need some of the top features. And for first timers, you'll also be happy with the Fitbit Inspire HR released earlier this year.
And now, Fitbit has released an update to their most popular model with Fitbit Versa 2. Can it persuade Fitbit owners to upgrade? Let's find out!
Fitbit Versa 2 Review – Packaging & Unboxing
Fitbit includes bands of two different sizes: Small and Large. A charging cradle is also included. To my surprise, it has a different design compared to the original Fitbit Versa – which I think is worse.
The cable is much shorter – which means I now have to place my Versa 2 on the floor rather than on the bedside table to charge, and the cradle cannot stay flat on the surface due to its cable coming out from the center bottom.
I don't understand the design change decisions – it is as if they have two different design teams designing the charger and they all work separately?
Fitbit Versa 2 Review – Design & Features
The "Fitbit" branding at the front is gone and Versa 2 now has a slightly slimmer screen bezel (not full screen yet as you can still see a square-shaped black box). And oh! The screen is also AMOLED now and you'll notice the difference in quality and sharpness! Blacks are deeper, and the colours are more vibrant, love it. It will also help in the battery life department.
There is only a single hard button now compared to three on the original Versa. Swipes are being used in many interactions and the main button acts as the Back button. Holding and pressing the button will either launch Fitbit Pay or Alexa (you can set this on the settings).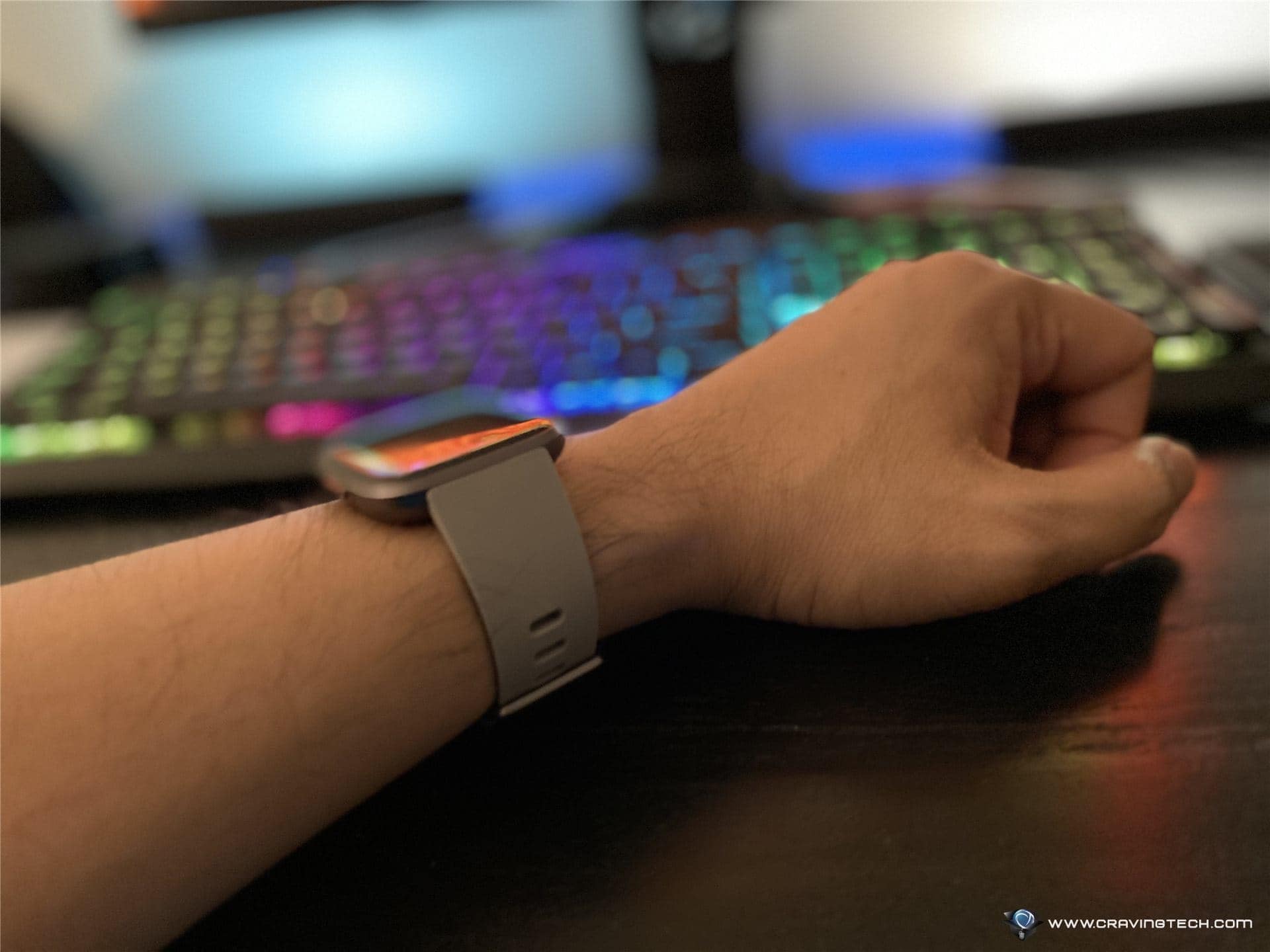 Yes, Alexa is here on the Fitbit Versa 2 which means it has a built-in microphone. I find that I have to speak quite close to it in order for Alexa to be able to listen to my voice commands, but it works flawlessly. Note that Alexa is not listening to you all the time, you have to trigger it with the button or through a topbar menu after you swipe down on the screen. You can also turn the microphone off if you are not comfortable leaving it on all the time. With Alexa on your wrist, you can now set reminders, ask weather, or search for local cafes nearby. Make sure to enable Location Services on your Alexa app – Fitbit services.
I tried searching for cafes nearby, getting the weather, and accessing my smarthome devices on Alexa. Unfortunately I can't get the Versa 2 to show my Ring Video Doorbell Pro camera, but hey, just a wish list.
Thanks to the built-in microphone, you can also reply to your messages with your voice on Android.
Fitbit Versa 2 has an Always-On option at the expense of lesser battery life. Thanks to the AMOLED display, the mode utilises black backgrounds to save battery. There is also a smart option to automatically turn the display off when you are sleeping. I kind of like the feature and have this enabled at the moment.
What's sort of battery consumption do you expect when turning the Always-On mode? I wore the Versa 2 around 11pm to bed (on a full charge), and it shows 82% the next day at 5pm. It's set to go to sleep when I sleep, and I didn't interact with the screen at all. Plus, there was no notifications going through Versa 2. Not that bad, actually – which means Versa 2 can still last around 4 days-ish.
Through the Fitbit app (love the new interface update), you can see all your activities and everything that Versa 2 tracks, including how fit you are overall.
Sleep tracking is still one of Fitbit's top features and the Versa 2 doesn't disappoint in this department. Tracking is accurate and you can now see your Sleep Quality Score to see how good your sleep was the night before, or for the whole month. More detailed reports such as your sleeping heart rate, are unfortunately locked within Fitbit Premium (Fitbit's monthly subscription service, which also includes premium workouts and coaching).
I only have around 70 sleep quality scores because I'm normally awake a few times during the night, something that I can't avoid unfortunately.
For exercising, Fitbit Versa 2 has real-time heart-rate tracking to push your exercise harder when need be, can track your swim (water resistant up to 50 metres), or for regular users, your steps and active minutes on a daily basis.
I set my goal to have 10,000 steps a day and it's quite easy to track with Fitbit Versa 2. At just a glance to my wrist, I can make decisions whether to take that extra steps before heading home for the day.
Fitbit Versa 2 Review – Conclusion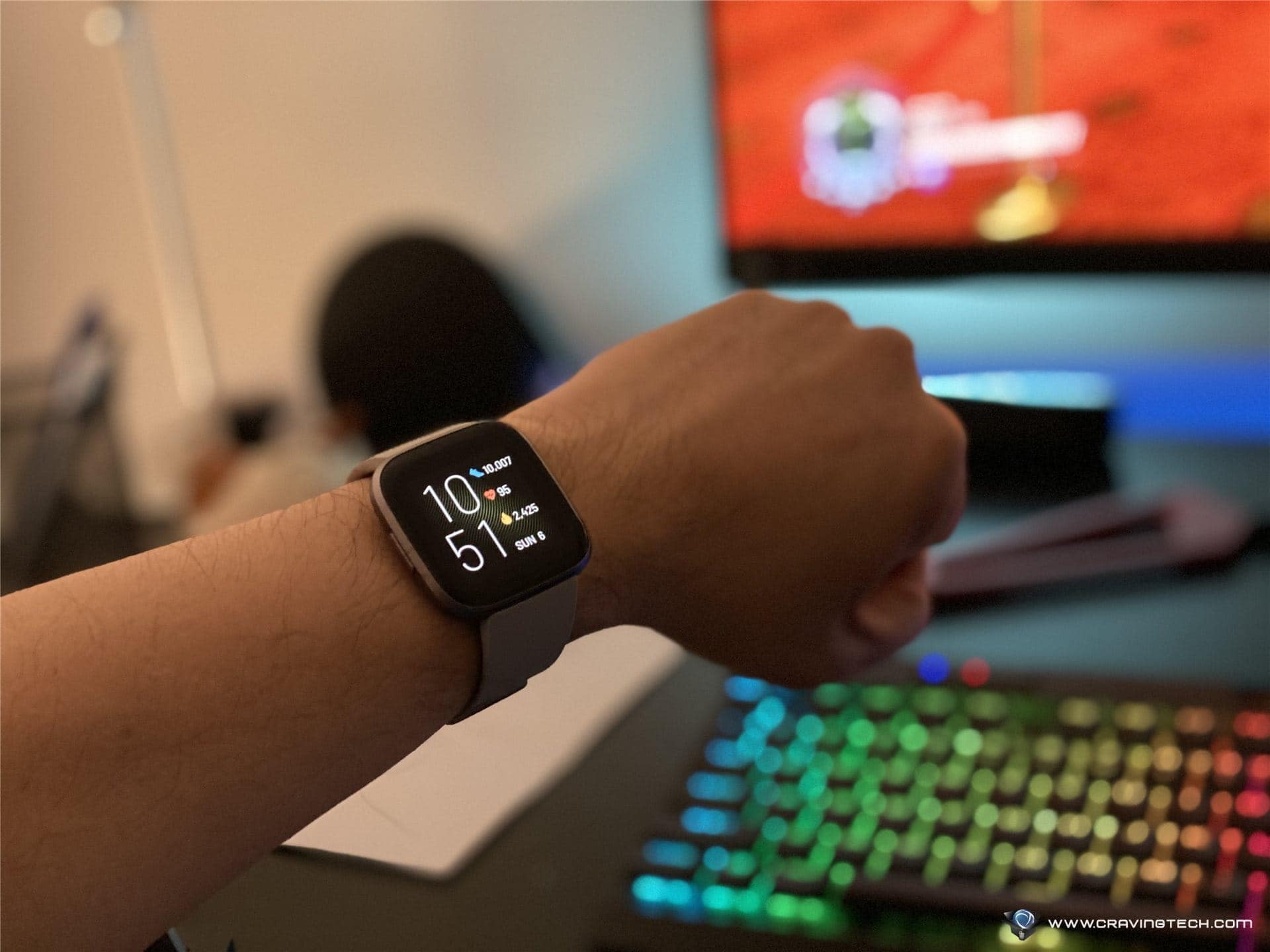 Fitbit Versa 2 is without a doubt, the best Fitbit can offer in 2019. Its AMOLED display is sharp, vibrant, and very responsive due to the hardware upgrade.
While the design looks similar to the original Fitbit Versa, why change what works, right? I do however, wish that the display can cover the whole screen (no reason not to) and I don't know, wish it has something more than Alexa.
It's hard not to compare this to the Apple Watch Series 3 because it's actually AU$10 cheaper than the Versa 2. If you are on the Apple ecosystem, there is probably a stronger urge to go for Apple Watch instead.
However, Fitbit Versa 2 does have longer battery life and can track your sleep, among other things. If you rarely use apps or have a need to reply messages on your watch, then the Versa 2 might be a better option. Your call though, you have to weigh your options and compare the features you need the most.
Fitbit Versa 2 is available now at major retailers around Australia and also at Fitbit AU website. Also available at Amazon U.S.
Disclosure: Fitbit Versa 2 review sample was supplied for reviewing but all opinions are mine and not paid