Dyson V11 Absolute Review – James Dyson had decided to stop focusing on making corded vacuum cleaners with the launch of Dyson Cyclone V10 last year. He's certain the future is in the cordless vacuum cleaners and we couldn't agree more.
Looking at how powerful the Dyson Cyclone V10 was, we have basically stopped using our corded Dyson Cinetic Big Ball Barrel Animal Pro and Dyson DC65 Animal Upright. Plus, Dyson can now focus their whole team of designers and engineers to making their cordless vacuum cleaner better and better.
Their latest Dyson V11 (I have the Dyson V11 Absolute model here), comes with further improvements and enhancements to their cordless vacuum cleaner line, which makes it the best cordless vacuum cleaner Dyson has ever produced.
Dyson V11 Absolute Review – Packaging and Unboxing
The Absolute model includes plenty of attachments in the packaging, but there is also the Absolute Pro, and Absolute Pro+ which has 3-4 more extra attachments like a mattress tool, etc.
To my surprise, even the Absolute already has more than enough attachments to clean most households. But the flexi crevice tool, for example, will help further in cleaning crevices, or even under your car seat. I also loved the mattress tool because you'll be surprised at how much dirt and dead skins you can collect by vacuuming your mattress!
The V11 Absolute includes a high torque cleaner head with bristles to agitate carpet and a soft roller cleaner head for hard floors.
A useful "mini motorised tool" that I use for cleaning our carpeted stairs and car's mats is also included in the Absolute model.
Dyson V11 Absolute Review – Design & Features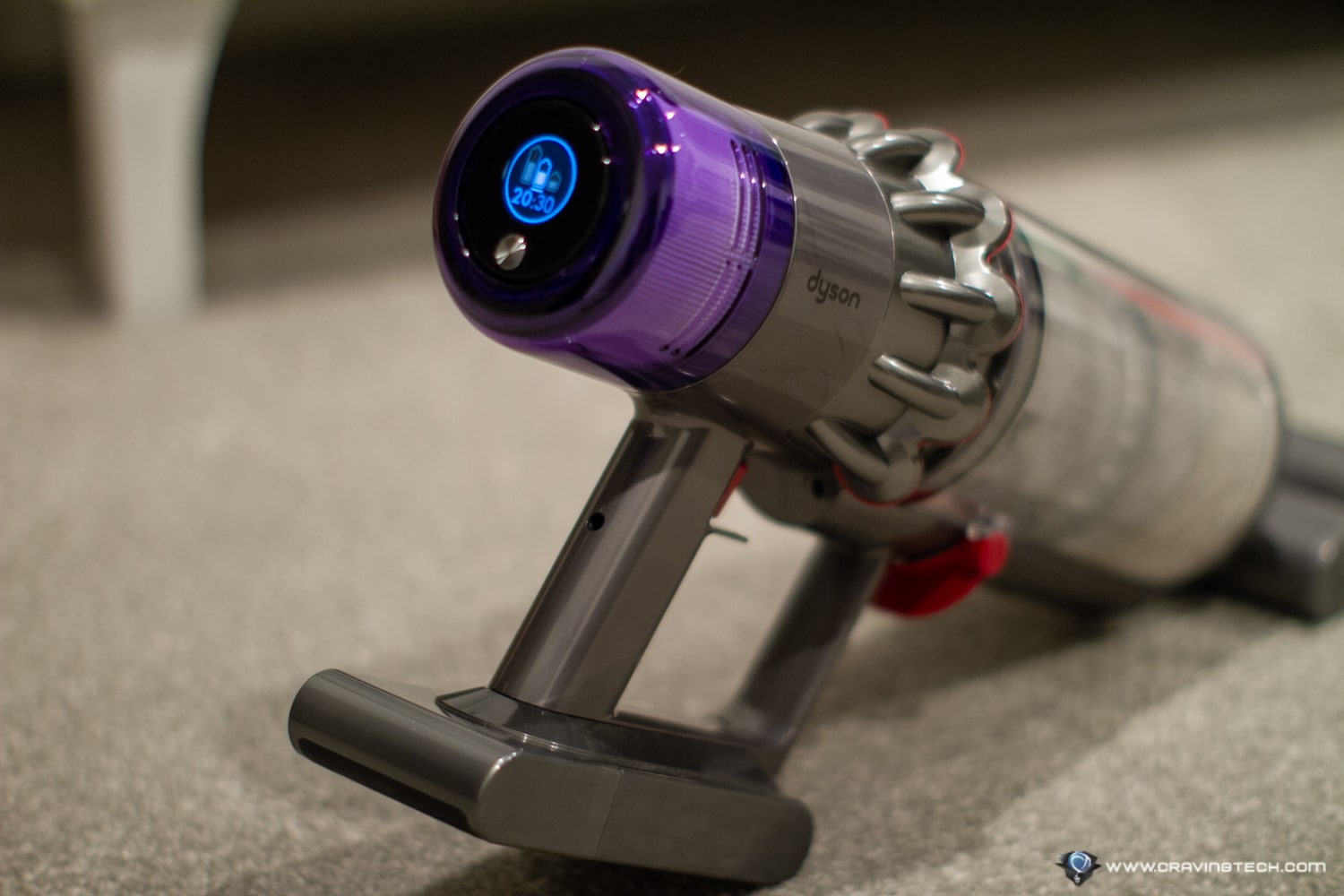 When I said that the V11 is the best cordless vacuum cleaner that Dyson has ever produced, I know it's a cliche. Products get better each year and will always be the better version than the predecessors (like smartphone). So, let's list out what's new on the Dyson V11 compared to the Dyson V10 and judge the sentence yourself.
The V11 uses a new V11 digital motor that spins up to 125,000 rpm like the V10, however the upgraded motor comes with a triple diffuser to make the machine more powerful and quieter. If you want to see what a Dyson vacuum cleaner motor looks like, check out our coverage about it when I met a UK Dyson Engineer in Melbourne.
Some redesign changes like blades profiles redesign and aerospace materials offer 20% more suction power in the V11 compared to the V10. Better suction is always good.
And ooooh, how I love the new LCD screen! It displays the remaining battery, machine performance, status, and even reminders & warnings beautifully in an animated-like information (like, Apple-y smooth and eyes-appealing kind of animation).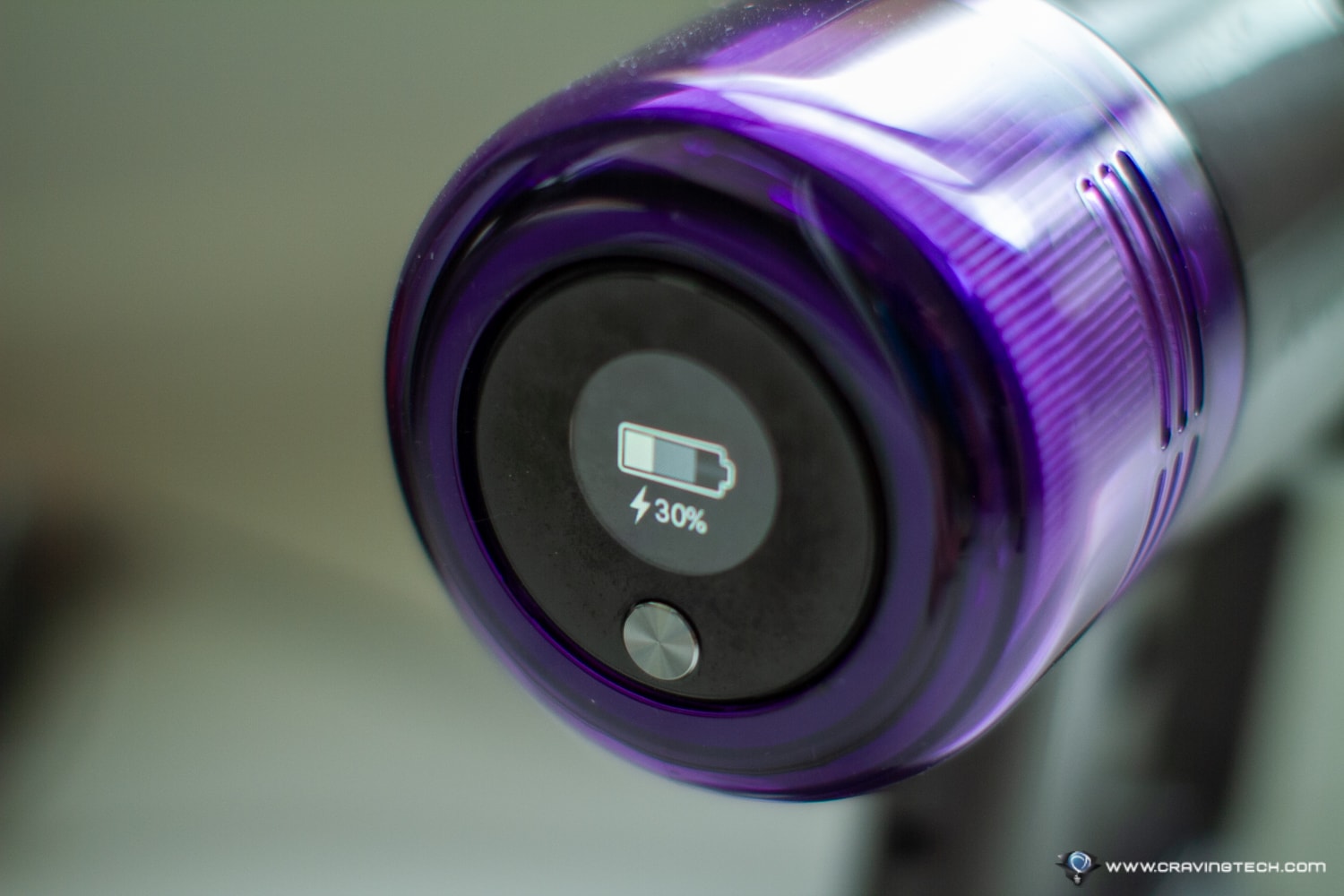 The high torque cleaner head now comes with a Dynamic Load Sensor that will intelligently sense the floor type and dynamically adapts suction if the mode is set to Auto. I'll explain how this works in a bit.
The V11 has a runtime of 60 minutes if you are cleaning with non-motorised tools in Eco mode.
Dyson V11 has 3 different modes: Eco, Auto, and Boost. You can switch between these by pressing the silver, metallic button below the LCD display.
While the machine is flexible enough that you can pick a mode to suit your needs at the time of vacuuming, I'd personally just go lazy with the Auto mode. The Auto mode will automatically sense and adapt the vacuum power accordingly. The way you should be using the V11 most of the time.
For example, when I'm vacuuming our bedroom carpets in Auto mode, the motor spins faster (and louder) for a higher performance in deep cleaning the carpets. The battery life gets updated instantly – in this case, to 12 minutes of running time left.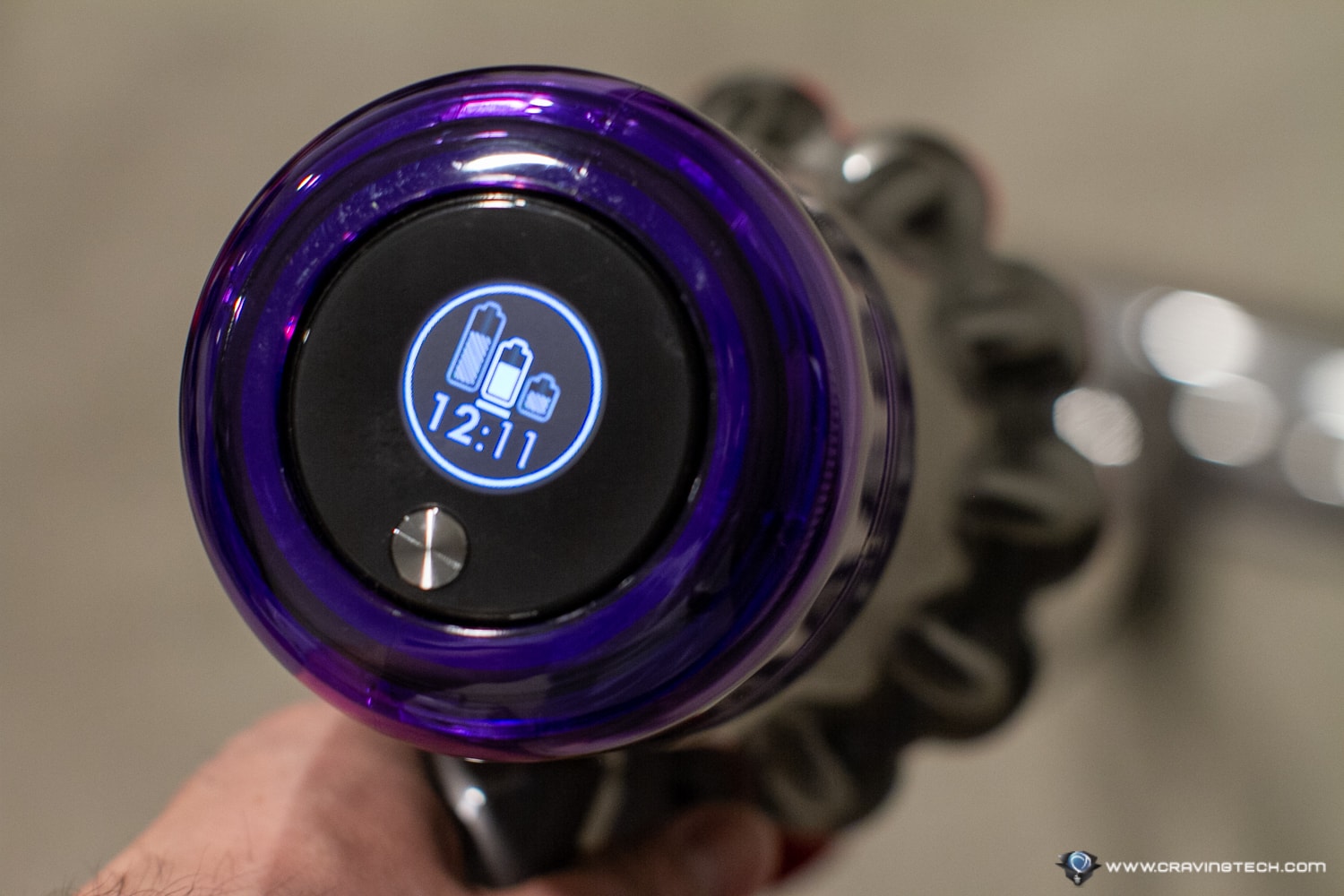 As soon as I move from carpets to tiles (from our main bedroom to the ensuite floor), I can hear the drop in the motor spin and suction, and the LCD also reflects the battery life accordingly:
Which is, uber cool to see.
Note that even when the suction power is lowered while I'm vacuuming on tiles, the machine still performs admirably. All dust, particles, and hair were picked up easily. When I used the V10, V8, or V6, I'd usually switch to a lower setting manually, or just didn't bother changing it at all.
The auto setting means you can save battery life by letting the machine switch to the correct mode for the right attachments and floor types. For example, when I switched to the mini motorised tool, the sensor adapts to this and automatically adjusts the suction settings to somewhere in between cleaning carpets and tiles:
Note that these 3 tests were done at the same vacuuming session and you can notice the difference in battery life remaining – which indicates how much power the machine uses in different modes and attachments.
My bet is because the mini motorised tool doesn't need (or can't take) as much power as the high torque brush head and the machine knows that it'd be useless to send full power to it even when it's vacuuming carpets. A brilliant design that just works.
And with different attachments on the Dyson V11 Absolute, you have plenty of tools available for you to clean different parts of your house.
The bin design is the same as last year and requires a push-and-eject movement to clear the bin out. As always, Dyson V11 performance doesn't disappoint and you'll see the results as clear as day through the see-through bin canister. You'll be surprised at how much dirt and dust the machine is able to pick up. I wish that it can hold more dust and dirt, but it'd make the machine bulkier, I guess.
I also notice the V11 does a better job at attaching and detaching attachments compared to my V10 (which I sometimes have to jiggle around to get long wand out).
Dyson V11 Absolute Review Conclusion
How do you improve a machine that is already so good at doing its job? Dyson still has the answers this year, thankfully. And it's not just the usual "more powerful, more battery life".
The new Dyson V11 brings a new level of intelligence to your vacuuming session, thanks to the microprcessors located in the Dynanic Load Sensor inside the high torque cleaner head, inside the V11 digital motor, and inside the battery.
All these work together to monitor performance up to 8,000 times a second to dynamically sense and adapt the suction power depending on the floor type and attachments continuously. You will then be informed through the smart LCD display to see how much battery you have left in real time (to the seconds!).
When a product adds "A.I" and "Smart processing" to it, normally you'd hear something like adding Alexa or something that has no impact to the user. The Dyson engineers really show what should have been done instead.
The algorithm will also improve over time (as a programmer, I know how hard it can be to gauge a system performance and estimated time to finish a process accurately) as you use and charge the machine over a period of time. But I'm already very impressed so far.
Knowing how much battery you have left means you can make a decision to move to another room to clean before the battery runs out. While I personally never run out of battery while vacuuming our house, it's because I do my vacuuming sessions regularly. Others might dedicate Saturday for a whole clean sweep. Either way, Dyson V11 will give you the crucial information to decide.
Dyson V11 performs like a beast in suction on all types of floors and best of all, when set to Auto, the machine will always adapt itself to give you the balance of best suction and best battery life.
Dyson V11 brings in artificial intelligence into vacuum cleaners with subtle, yet big impact to performance, battery life, and user experience.
Dyson V11 Absolute is available at major retailers around Australia for AU$1,199. There is also an included bonus of must-have V11 Dok™ valued at AU$149 while stocks last. The 11 Absolute is also available at Amazon U.S.
Dyson V11 Absolute Review
Summary
Dyson's latest, cordless vacuum cleaner comes into perfection with automatic power selection
Pros
Great performance in suction
Awesome battery life for a cordless vacuum cleaner
Has all the design that we love from Dyson's previous cordless vacuum 
Auto detects surfaces and adjusts accordingly