Dyson Cinetic Big Ball Barrel Vacuum Cleaner Review – Dyson's new Cinetic Big Ball barrel vacuum cleaner range comes with all the enhancements you wish to have in a Dyson's barrel vacuum cleaner: bigger and better bin, more attachments, plus easier to handle.
This is also the only barrel vacuum cleaner that can get itself back up when it gets toppled. There were surely times when a traditional barrel vacuum cleaner you used would get toppled over, while you were dragging it around the room. It's not a big of a deal, sure, but it sure is annoying in some ways as you have to walk back to it and get it back up again.
Dyson's new Cinetic Big Ball barrel vacuums will self-right itself automatically thanks to an engineering feat. This is made possible thanks to Dyson engineers, by designing a curved body on the Ball with a low centre of gravity.
The new #Dyson Cinetic Big Ball "stress" test @Dyson pic.twitter.com/IFiod0NmOG

— Michael Aulia (@michaelaulia) May 7, 2016
If I kicked it hard enough however, there was a state where the unit could not get itself back up again. But this was done on purpose and obviously you wouldn't normally kick a vacuum cleaner around while vacuuming, would you?
Dyson Cinetic Big Ball (2016) Animal Pro Review – Packaging
Dyson Cinetic Big Ball (2016) Animal Pro Review – Design & Features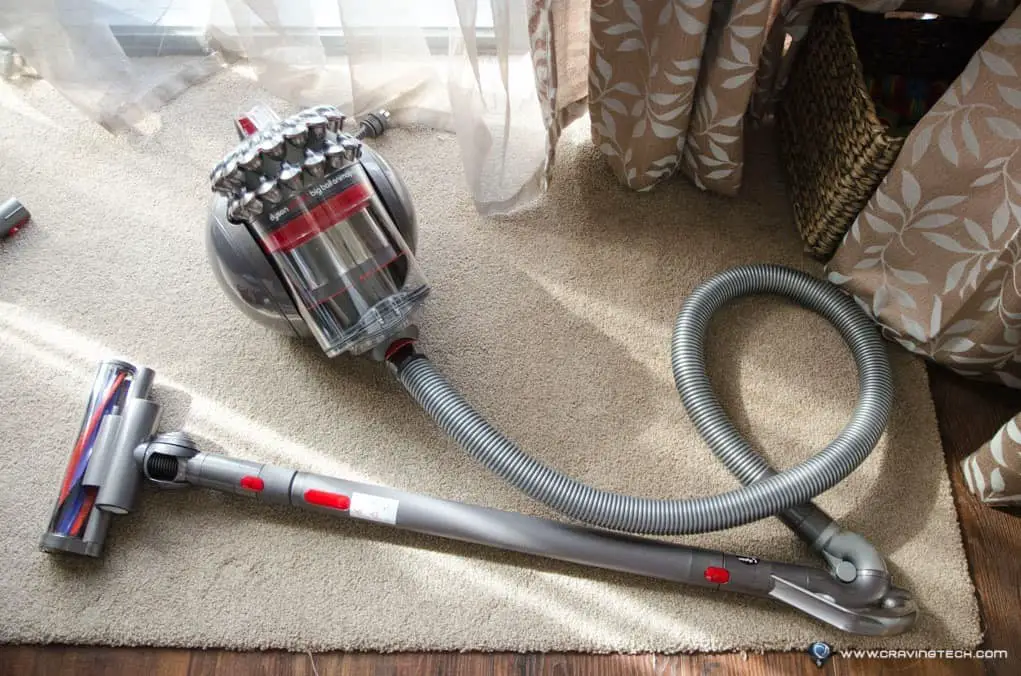 This is also the first Dyson vacuum cleaner in Australia that has the new bin emptying mechanism. If you own a Dyson vacuum cleaner, you'd understand what I'm talking about. After some heavy sessions of vacuuming, you'd usually have dust and dirt built up inside the canister. More often than not, you'd have to do some manual cleaning every now and then using a brush (or worst, hands) to scrap the dirt away.
The new bin emptying mechanism drives out trapped dust and dirt while you open the bin to empty it – a feature that I've been waiting for years. The bin is also 33% bigger than the previous generations which gives you less trips to empty the bin out.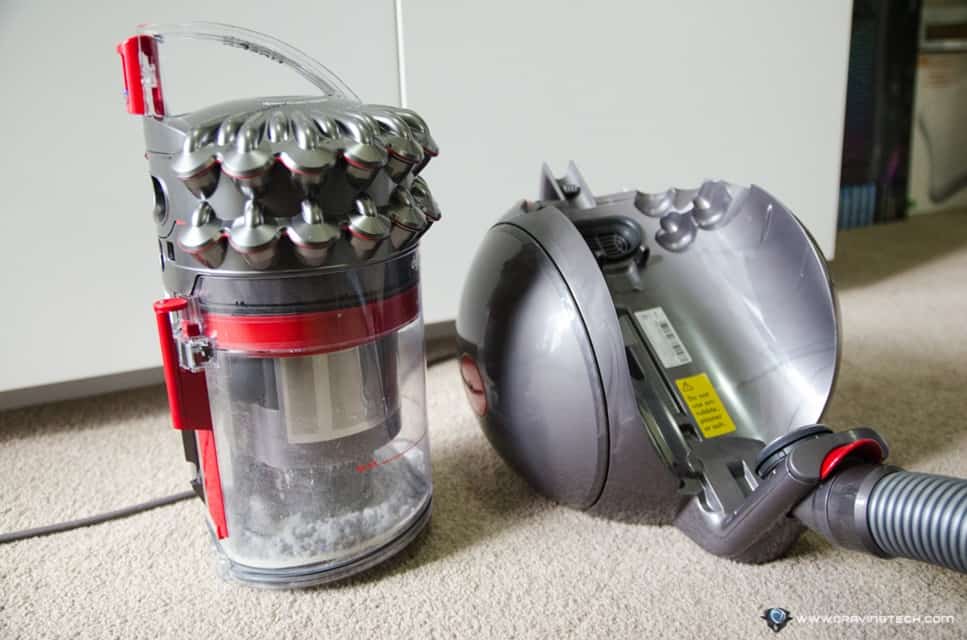 Compared to the previous Dyson barrel vacuum cleaners (like the Dyson DC54 or DC39), the new Dyson Cinetic Big Ball Barrel is easier to manoeuvre. It comes with a new 360-degree articulating wand handle that feels light and easy to control.
Rather than trying to force your arms to vacuum the carpet in a zig-zag-straight motion, the new handle gives you more flexibility. As a result, vacuuming does not feel as tiring as before.
Like the DC54, the new Barrel unit does not need dust filters. The machine itself runs with powerful Dyson Cinetic technology which effectively sucks dust and dirt and will not lose suction power.
Having no dust filters to wash or replace is more important than you think. I mean, seriously, how often do you wash your vacuum cleaner's filters? Clogged filters mean less effective in vacuuming and it can also blow bacteria and allergens back to the air.
Attachments, attachments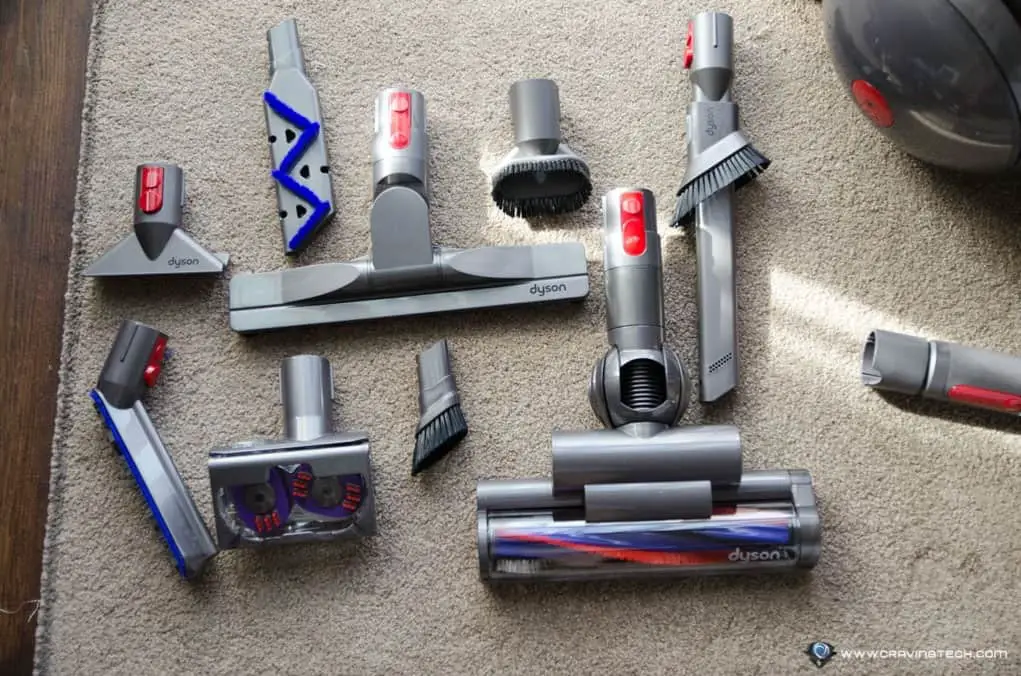 The new Dyson Cinetic Big Ball comes in different models (which gives you different attachments): multifloor, allergy, animal, and animal pro. The machine I have for reviewing here is the animal pro, which comes with a sheer number of attachments – where you can just mix and match to your needs at a particular time. And these attachments really offer you a solution in pretty much EVERY problem.
The animal pro model comes with:
Carbon fibre turbine floor tool
Combination tool
Reach under tool
Carbon fibre soft dusting brush
Stair tool
Swivel hard floor tool
Tangle-free Turbine tool
Dyson has also updated the mechanism, making it easier than ever to swap between one attachment to the other. Now, if you are planning to use your old Dyson attachments (which will be incompatible with the new mechanism), there is a handy old-to-new attachment converter that you can use.
Dyson Cinetic Big Ball Barrel Animal Pro Review Conclusion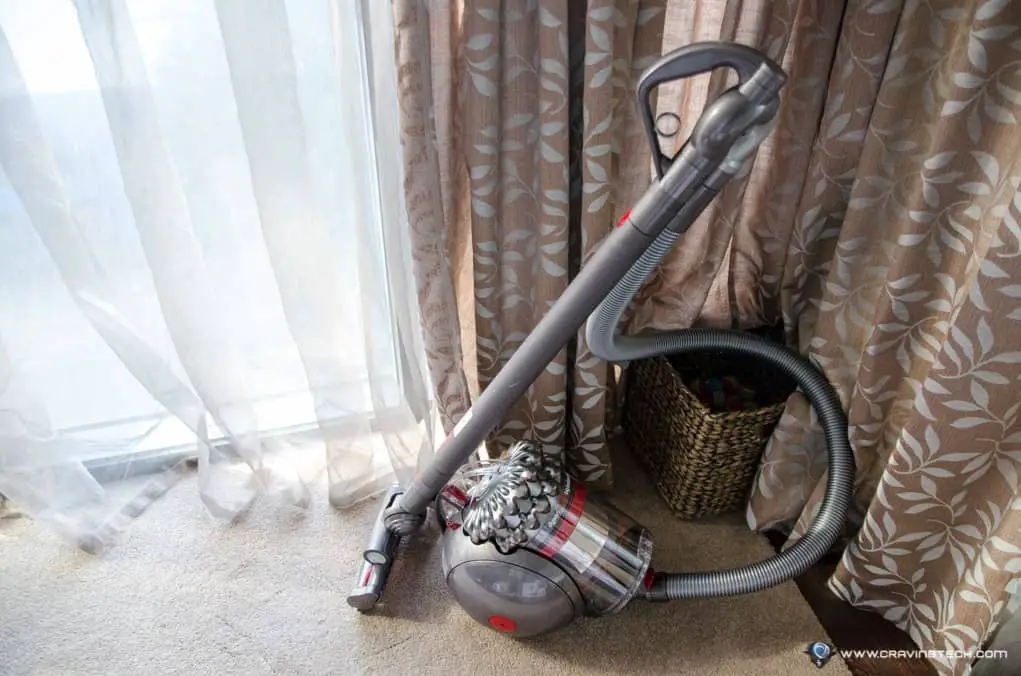 From my vacuuming tests around the house, the Dyson Cinetic Big Ball Barrel Animal Pro vacuum is as powerful as ever and thanks to the new enhancements, vacuuming just gets easier and less of a chore.
A larger, high-capacity bin means less trips to empty the bin out. The new, articulated handle makes it easy to control the direction that makes vacuuming less tiring. The machine self-rights when toppled, thanks to the improved design. The powerful Dyson Cinetic technology with different attachments gives you the flexibility and power to clean your entire house such as carpeted floors, floorboards, furniture, mattress, and even harder-to-reach areas.
The new Dyson Cinetic Big Ball Barrel Animal Pro is probably the most sophisticated barrel vacuum cleaner ever created so far.
Disclosure: A review unit was supplied by Dyson for reviewing but all opinions are mine and not paid.