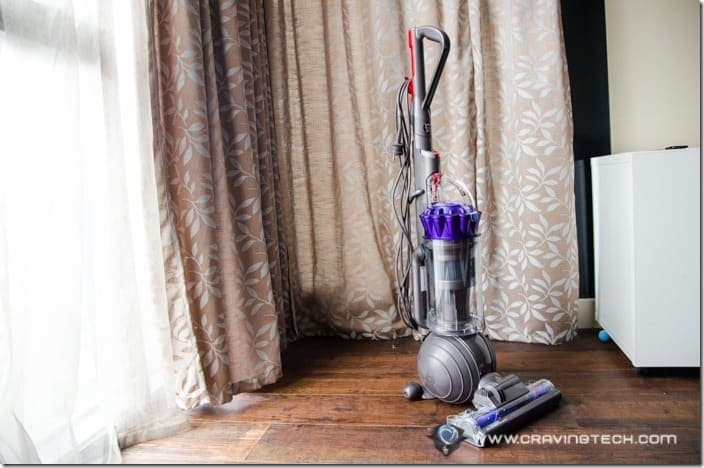 Dyson DC65 Review – The Dyson DC41 was one of my favorite vacuum cleaners from Dyson back in 2011. It has a really strong suction with large canister to hold the dust and dirt in, and its upright style combined with the Dyson Ball technology make it easy to vacuum. It still is the vacuum of my choice to clean my home, though I mostly switch to the cordless DC59 to vacuum my small bedroom.
The latest Dyson DC65 is an upgraded model to the DC41, featuring an improved brush bar with 25% more power suction and an updated Radial Root Cyclone to allow more airflow to pass through the cyclones for the ultimate dirt removal. The changes are pretty much under the hood though, because everything else looks the same as the DC41.
The DC65 is an upright vacuum cleaner, which makes it easy to store when it is not in use. You don't have to pack it all up in a cabinet somewhere because its somewhat skinny appearance should not take much space at home.
To start vacuuming, you just need to pull the handle to unlock it and start gliding the DC65 around (after turning it on, of course). To lock it back for storage, simply push the handle forward. I saw an official Dyson video where they test this hundreds (or thousands) of times, so you shouldn't be able to break this mechanism, no matter how clumsy you are.
Dyson DC65 is a bag-less vacuum, so all dust and dirt will be stored inside the see-through canister. To detach the canister, simply press the small red button on the canister. That same button is also used to unload all the dirt and dust inside your rubbish bin.
The bin canister is made with the same material as riot shields and again, I've seen a Dyson video where they banged it with a hammer really hard without it falling apart. The material is really solid even though it may look like plastic.
With the improved brush bar, you can now get more dirt and dust than ever. Compared to the DC41's brush bar, it does look different. According to Dyson (see video here), the new, reconfigured brush bar has 25% more power to dig up dirt from carpet. The brush bar glides through my carpets effortlessly and when I move to floorboards, the DC65 automatically adjusts so I don't need to pretty much do anything. There are no buttons to press, no new heads to change. It's basically seamless to move from carpets (bedrooms), floorboards (living room and main area), and tiles (bathroom). The DC65 never had any trouble vacuuming.
Combined with the Dyson Ball, I can easily maneuver around furniture such as chairs and tables so I can focus on one thing: vacuuming. Inside the packaging, you'll also find tools to vacuum different areas of your house, such as hard-to-reach places: stairs, under your bed, ceilings, sofa, etc.
These individual tools can be attached to the detachable wand on the handle.
I have to say that this is probably not the best part of the DC65. It feels a bit awkward at first to use as the hose feels stiff to move around and the powerful air suction makes it harder to move the wand around. I personally would still prefer using my Dyson's cordless DC59 with these tools. However, the detachable wand is a worthy bonus and once you get used to it, you can clean all corners of your house in no time.
These tools can be stored easily on the DC65, thanks to a handy little accessory that clicks on the sides of the unit. This way, these tools are ready for you to be used while you vacuum around the house.
Dyson DC65 also features an updated Radial Root Cyclone technology that maximises suction power with improved air flow efficiency. Its efficiency means it can capture even the smallest particles like bacteria and pollen (which should come in handy during the upcoming Spring here in Australia).
As always, Dyson vacuum cleaners never cease to amaze me (yeah, I think I say this in my every Dyson vacuum cleaner review). I actually brought a Dyson vacuum cleaner once to a friend's house to test and I managed to capture all the hideous things hiding on the carpet. The whole household were amazed (and scared at the same time, seeing how they have been walking and lying on that carpet all these times).
Even when I thought I have vacuumed enough of my room, I could still always manage to grab more, thanks to the DC65's strong suction.
Before I started vacuuming:
and look at how much dust and dirt the DC65 found:
Dyson DC65 Review Conclusion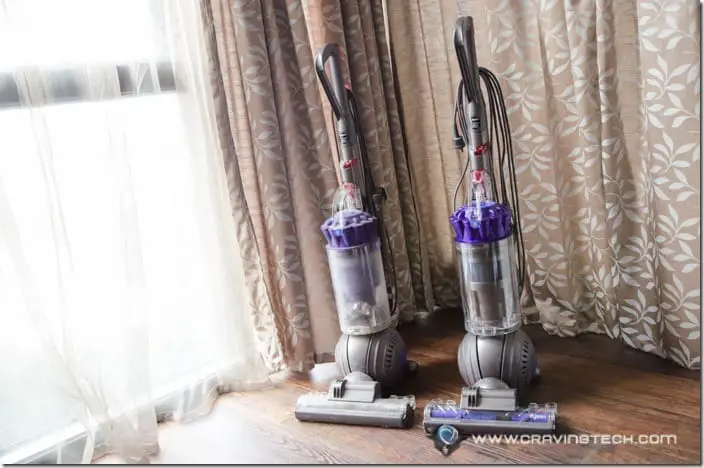 Overall, the improvements on the Dyson DC65 still make it the vacuum cleaner of my choice to quickly clean large areas of your home or office. With better powerful suction, it takes less time to vacuum and most importantly, you will see and feel the difference. Try lying on your carpet before you vacuum with the DC65 and then feel the difference.
Saying that, it's probably hard to justify paying for an upgrade from a DC41 to DC65. If you have a DC41, you already have one of the most awesome vacuum cleaners in the planet. Sure, getting more stuffs out from the carpet seems great, but only if you have the money to justify the upgrade. The DC65 also doesn't have the Dyson's filter-less technology like the Dyson DC54 yet.
If you are looking for a new vacuum cleaner to replace yours, I definitely would recommend to just grab the DC65 than the DC41. More suction power means cleaner home. The Dyson DC65 Animal is available today in Australia with $949 RRP. If you live in the U.S, you can pick one up over at Amazon.
[AMAZONPRODUCTS asin="B00HNUFRQC"]
Disclosure: Review sample was sponsored for the review. All opinions are 100% mine and not paid by Dyson.