UPDATE: Dyson has renamed the Dyson DC59 to Dyson v6, making changes to its price and also the included attachments. My review here was when it was sold as the Dyson DC59.
The Dyson DC44 was the latest cordless vacuum cleaner from Dyson (check out Craving Tech's Dyson DC44 review) before the Dyson DC59. It quickly became my most favorite cordless and portable vacuum cleaner ever.
The Dyson DC59 takes it a little further by improving the motor engine with more powerful suction (50% more than the DC44), improved motorised head, and easier-to-handle mechanisms.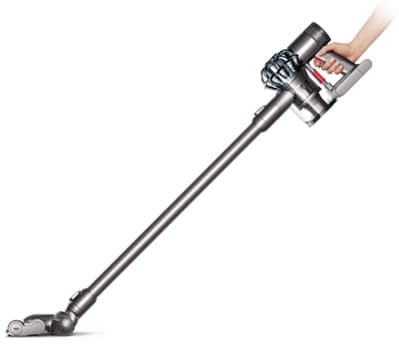 Packaging
The Dyson DC59 packaging includes:
DC59 unit
Battery Charger (to charge the DC59)
Warranty information, user guide, etc
Combination accessory tool
Crevice tool
Docking station (wall mounted)
The attachment tools:
The wall-mounted docking station (I'm still renting an apartment so unfortunately I can't touch the walls to install this – sad):
Design, Features, DC59 vs DC44
The DC59 has a similar design with the DC44 (and other older models like the DC35) with small, yet useful improvement changes. For a start, the trigger mechanism has been made softer to press, which is a really welcomed change. When I first reviewed a Dyson portable, the DC31, I made a small complaint about the stiff trigger mechanism. I understand that it is meant to save battery so not to waste seconds during your vacuuming session, of not vacuuming. By running the machine only when you need it, this design can give you better battery life in one session. Thankfully, DC59 trigger mechanism has now been improved to make it easier to press and hold.
The grip handle has also been made slightly different to make it feel lighter in the hand by shifting the weight of the device. This slight change makes it easier to lift the DC59 up high to clean ceilings or those high-to-reach places.
The Dyson's new motor running in this model is the digital motor V6, built by Dyson in-house (they were using the v2 motor previously). It has 15 cones (10 lower, 5 upper – 2 Tier Radial™ cyclones) compared to the 6 cones on the DC44 in a single tier. More airflow, better cleaning efficiency. Taking the filter out has been made more obvious and easy, so there is no more reason for you not to wash it every now and then.
Bin emptying release button has also been redesigned slightly, though I'm unsure why. Nevertheless, they still do the same thing: to open the bin canister up so dust and dirt can flow directly to your bin. I got a confirmation from Dyson about the reason they do this change. With the new bin emptying button design, it doesn't matter now whether you are left or right handed, because you can empty the bin by using either hand.
Like the other models though, I find that specs of dust can fly everywhere if you are not too careful while emptying it. Occasionally, dust and dirt will also get stuck inside but can be brushed off easily. Hoping one day Dyson can implement a new solution to tackle this problem (there's always something to complain about, right?).
Battery was easily detachable on the previous models just by pressing a button. Somehow in DC59, they are now secured with screws. Owners of previous Dyson portable models who like to swap batteries may frown about this change, but honestly I've never known anyone who actually buys a spare battery and do a hot-swap while they are vacuuming. There is also a new blue LED light indicator on the body of the machine.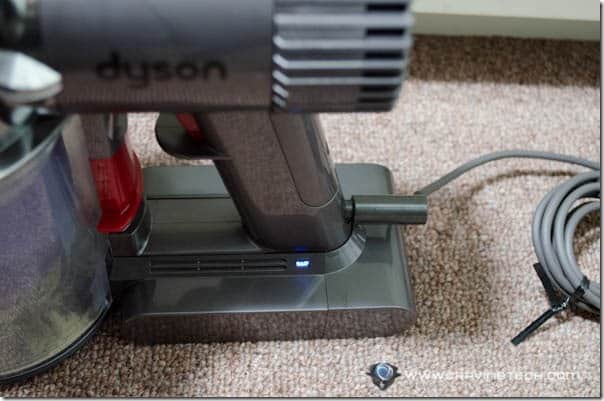 On the standard mode, the Dyson DC59 last for about 17-20 minutes, depending on the attachment you use (6 minutes on the Boost mode for even more suction power).
UPDATE: A lot of people get confused when the page mentions that you'll get 26 minutes of vacuuming time with the DC59. What Dyson actually means: when you press the trigger, only then the DC59 runs. This saves battery because you only vacuum when you need to (by pressing it again after a release). That 20 minutes' running time is equivalent to vacuuming for 26 minutes on a non-Dyson portable vacuum cleaner.
Though the newer machine lasts shorter on Boost mode, I feel that the suction power on standard is far more superior compared to the DC44. I admit that I don't have a real evidence to say that DC59 standard mode is better than DC44 boost mode, but the boost mode is definitely much more powerful in DC59 compared to the DC44 (it also makes a cool sound like an aircraft about to take off).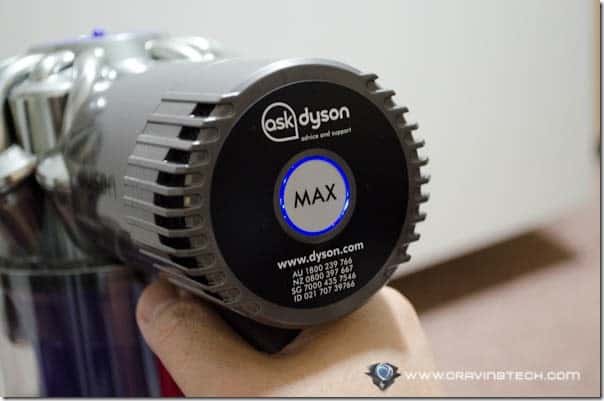 Conclusion
Whenever Dyson releases a new machine which may look similar on the outside at a glance, it is never the same thing. They are always researching and manufacturing new things to further improve what they already have. In this case, the Dyson DC59 gets a new powerful motor, more cones for better airflow and suck even finer dust suction, and better grip handling.
I've actually tried vacuuming my room with the DC59 on standard mode, followed by a full-powered DC54 machine that I'm still reviewing at the moment. There are barely dust and dirt to be picked up after I used the DC59 – which means a good thing. If you are contemplating between grabbing a battery-powered or mains-powered vacuum cleaner, the battery-powered Dyson DC59 should serve you well with really powerful suction and portability. Its suction power never disappoints and yes, that requires a significant amount of battery life.
Disclosure: Dyson DC59 review sample was sponsored by Dyson for the review. All opinions are 100% mine