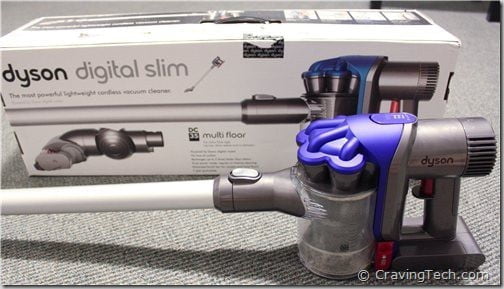 Dyson DC35 Review – When I saw the Dyson DC35 for the first time, I smiled because I could see in front of me, the perfect vacuum cleaner to clean my bedroom on a day to day basis.
The DC35 (also known as the Digital Slim) is Dyson's latest handheld vacuum cleaner for multi floor with a detachable long-reach wand and a motorised cleaner head.
Dyson DC35 Review – Design
There are times when you just want to do a quick one to a small space (such as your bedroom) or perhaps the kitchen floor. Even if you have a full sized heavy duty vacuum cleaner (such as my Dyson DC22), it can be quite troublesome to take it out from your storage room, extend the cables, and so on. Or I used to use my Dyson DC31 handheld vacuum cleaner to vacuum my bedroom. Since the DC31 doesn't come with a long-reach wand, it was never a pleasant experience.
The Dyson DC35 Digital Slim looks very similar to the DC31 (if not the same):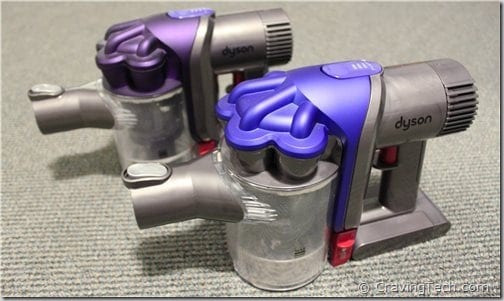 Dyson DC35 Review – Features and Impressions
The power seems to have been improved a little bit, however. The Dyson DC31 has up to 10 minutes on regular mode and 6 minutes on MAX whereas the Dyson DC35 has up to 15 minutes on regular mode (13 minutes with motorised floor tool attached) and still 6 minutes on MAX. To go to the MAX mode, simply press the button at the back of the unit: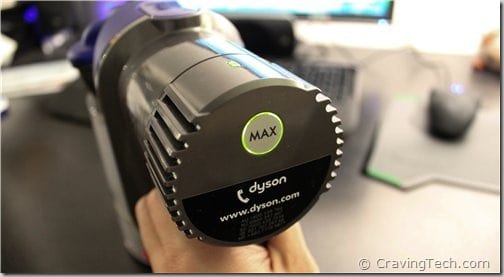 I find that the Dyson DC35 can vacuum on regular mode quite well but the sound it made when going into MAX mode has made me set the unit into MAX whenever I vacuum. Besides, 6 minutes is more than enough to vacuum my tiny bedroom space. With the help of the long-reach wand and the motorised head, I can vacuum with a comfortable position (like an ordinary vacuum cleaner).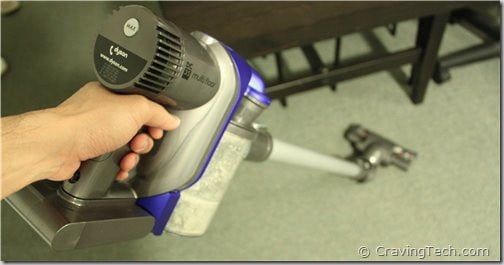 As always, Dyson vacuum cleaner sucks dust and dirt like there is no tomorrow. I don't know how many times I've recommended a Dyson vacuum cleaner to my friends. They are pricey, but worth every penny. The Dyson DC35 is no exception. I'm always amazed how many dust and dirt it collects from my carpet.
The Dyson DC35 is also bag-less. All dust and dirt can be seen inside a transparent canister and with a press of a button, you can open the canister to clear them out.
I also love how Dyson's accessories can be shared by each other model as you can see from my photo here: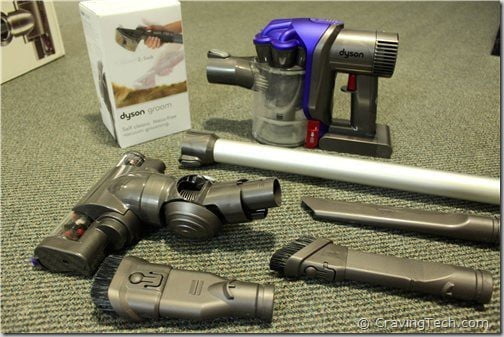 If you notice, I've also included the "Dyson Groom" on the picture, the latest secret product that Dyson has been developing for your pets. Stay tuned for the Dyson Groom review at Craving Tech soon! Watch the Dyson's video solution for your pets if you haven't.
Thanks to the long-reach wand, I can use the DC35 Digital Slim to clean hard-to-reach areas such as underneath my sofa, my bed, or even my bedroom's ceilings.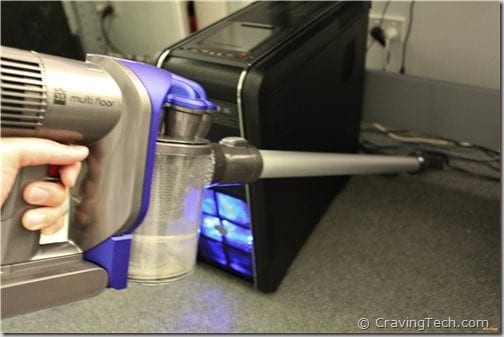 Dyson DC35 Digital Slim Review Conclusion
Dyson DC35 is probably the most powerful and flexible portable vacuum cleaner. Thanks to the multi-floor-capable motorised cleaner head, I can vacuum both on the carpet and on the tiles without the need of changing anything. The included long-reach wand makes it easier to vacuum like a regular vacuum cleaner. Because it is portable, you can also use the Dyson DC35 to vacuum hard-to-reach areas such as the ceilings and underneath your bed. Everything is detachable (the long-reach wand, the motorised head, and even the battery so you can charge it separately from the unit).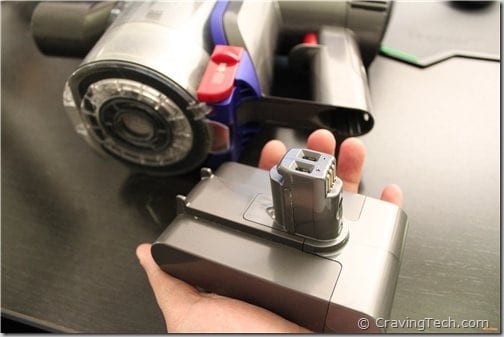 The same issue I have in the DC31 still remains though. You have to keep on pressing the "trigger" to vacuum. I wish they have a toggle so you don't have to keep on pressing the button for 6-15 minutes. I also wish that it can last longer but we may have to wait for the battery technology to improve. The packaging also comes with a docking station so you can literally hang the Dyson DC35 on the wall, always ready whenever you need a quick vacuum in one of your daily chores.
The Dyson DC35 Digital Slim is simply the perfect portable vacuum cleaner I've ever tried – works on both carpet and tiles, easily transformed into a regular vacuum cleaner with the long-reach wand, and very versatile because you can use it to clean hard-to-reach areas or even a whole empty space with it (by combining different accessories).
It may not replace your heavy duty vacuum cleaner but the DC35 is a worthy addition to your cleaning arsenal.
[AMAZONPRODUCTS asin="B004GN8UYA"]
Disclosure: Dyson DC35 Review unit was sponsored for the review. All opinions are 100% mine