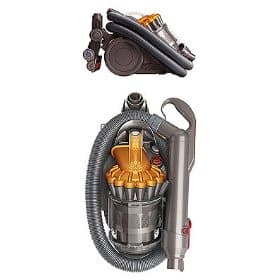 Dyson DC22 Review – I was searching for a new vacuum cleaner for quite some time until I stumbled upon Dyson vacuum cleaners. I've heard from my friends that Dyson has the best vacuum cleaners and they all suck dusts like there is no tomorrow. I hesitated because I'm quite happy with my current vacuum cleaner so I can't imagine what can be better than what I currently have.
Man, I was wrong. After I use a Dyson vacuum cleaner code-named  DC22, I'd never go back to my old vacuum (or trying other vacuum cleaners). Very rarely I vacuum my apartment (blame it on my laziness) but after I have a Dyson vacuum cleaner, I vacuum my apartment once a week now. Yes, that is true. I was so amazed and shocked at the same time to find out how many dust particles are lying around on the carpet even when it already looks so clean.
Dyson DC 22 Review – Overview
Dyson DC22 is actually a "baby" version of DC23. Although Dyson DC22 is actually 1/3 smaller than a Dyson DC23, its suction power is still as powerful as DC23. The drawback is a smaller dust canister, though. It means that on a bigger room/house, you'll have to do plenty of vacuuming and cleaning the canister on multiple rounds. If you have a large house, I'd suggest going straight for Dyson DC23 instead.
Dyson DC22 looks great and futuristic (just like other Dyson vacuum cleaners). But of course, you wouldn't buy a vacuum cleaner simply because of the looks. So let's move on to what it has.
Dyson DC22 Review – Specifications
Dimensions: 399 x 266 x 289 L/W/H (mm).
Weight: 8.18 kg.
Bin capacity: 1.2 l.
Cord length: 5.0 m.
Max reach: 8.6 m.
Dyson DC22 Review – Features
Lifetime washable HEPA Filter.
HEPA filter is like a requirement of a vacuum these days, ideal for asthma and allergy sufferers (like me).
Cleaner expelled air.
Dyson claims that air expelled from the vacuum cleaner contains up to 150 times less mould and bacteria than the air you breathe, thanks to the multi filters inside the vacuum (washable too).
Motorised Head.
Sucks more pet hairs and dusts than other vacuum cleaners easily.

Odorless expelled air.
I used to vacuum with my nose covered using my shirt because the air came out of the vacuum had a distinct smell (bad odor, you can say). Sometimes I even had to open up my apartment's balcony door because of the smell. With the Dyson DC22, I can vacuum longer without the need to worry to cover my bed sheet or my nose.
Bagless "transparent" canister.
Sometimes I got tired of trying to find a bag for my old vacuum cleaner only to find that the shop didn't sell that model anymore. Sometimes you already have the spare bags but too lazy to replace the bag. Well, with Dyson DC22, you simply open the dust canister above your bin to empty it easily.

Controls on the handle.
The Dyson DC22 vacuum cleaner has a few buttons accessible on the handle: the power and the motorhead on/off button. The buttons are operated through 2 small batteries (replaceable) and easily accessible when you are vacuuming. Don't be afraid though, you can still access the power button on the vacuum cleaner should you run out of batteries. The vacuum controls are just a finger press away!
Dyson DC22 Review – Vacuuming experience with Dyson DC22
I find that Dyson DC22's is very maneuverable. I could even manage my way across to vacuum underneath my bed frame, something that I seldom did successfully in the past with my old vacuum cleaner, thanks to the motorised head for easy steering.
One thing that I love the most about Dyson DC22 is the transparent dust canister. You can actually see the dusts, hairs, and other dirt collected while you are vacuuming your carpet or your floor. Although the idea of looking at the dirt is quite disturbing at first, after one round of vacuuming, you'll actually feel grateful that you can see what have been lingering on your carpet/floor. It is quite scary.
To test the Dyson DC22 suction power, I actually vacuumed my bedroom first with my old vacuum, the JetForce 2000. After I vacuumed my bedroom carpet with it thoroughly, I then switched on my new Dyson DC22. I was shocked to see how many dusts and dirt it picked up even after I already vacuumed it before! A picture speaks a thousand words, so here is the picture of the dust canister on the second round of vacuuming!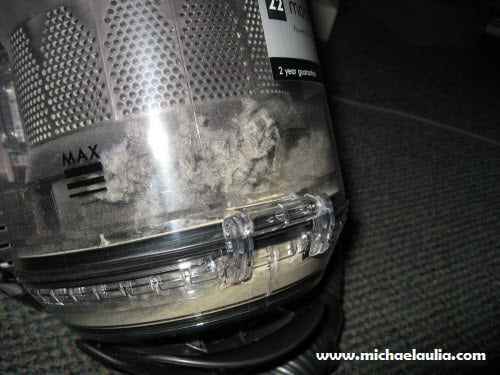 That alone made me swears an oath to never get another vacuum cleaner if it's not Dyson! There are probably other good brands out there, but after seeing this proof myself, I've fallen in love at first sight to a Dyson vacuum cleaner! Dyson is actually smart in letting people see what's inside the canister. It can be used as a perfect tool of marketing (similar to what I'm doing here!).
Emptying the DC22 Dust Canister
Emptying the canister is very easy. Simply press the release button on the vacuum to detach the dust canister and press the same button to open up the canister (make sure you do the second step above your bin though!).
Since the canister is quite big, it's recommended that you open the canister on top of a large rubbish bin. As you can see on the picture, I have a quite tiny rubbish bin so I ended up having some dirt near the bin itself.
Or you can use a rubbish bag to cover the dust canister and then open it while the canister is inside the rubbish bag. This way, all the dusts, dirt, and hairs stay inside the bag.
You can detach the dust canister easily so that you can clean it up as it tends to look dirty after being used for a few rounds.
Dyson DC22 Review Conclusion
Dyson DC22 is a superb vacuum cleaner just like any other Dyson vacuum cleaners reported by my friends. The DC22 grabs more dusts and hairs thanks to the Radix Cyclone technology and the motorhead brush. It also exhausts clean & odorless air from the unit, something that makes vacuuming the house a pleasant thing to do.
Ever since I have the Dyson DC22 and showed it to my friends, three of them have actually bought one for themselves! (and I'm not making this up). I lent my DC22 to one of them and he said that he had to empty the dust canister three times! His carpet looks much cleaner than before and hairs got picked up easily by the DC22 compared to his old vacuum cleaner. Another friend of mine has replaced her Electrolux Oxy with a Dyson DC23, based on my recommendation since her house is obviously bigger than my apartment unit. All of them told me of positive results from their new Dyson vacuum cleaners.
When you think that you wouldn't want pay that much for a vacuum cleaner, think again. It is a good investment for you and your family's health. You can grab a cheaper vacuum cleaner but if your house is cleaner with a more expensive vacuum cleaner, then why wouldn't you buy one? Dyson also gives good warranty for its products. On some big retail shops, you can even pay a few extra dollars to get an extended warranty (which I highly recommend to get).
Dyson DC22 Review – Pros
+ Superb suction power.
+ Easy to maneuver when vacuuming.
+ Controls on the handle.
+ Bagless.
+ Transparent dust canister. Vacuum and see the results at the same time!
+ Compact and easy to store.
+ HEPA filters and they are all lifetime washable, saving you money not to replace the filters every now and then.
+ Clean exhaust air coming from the vacuum.
+ Exclusive acceptance by Allergy/Asthma Foundation/Council around the world.
Dyson DC22 Review – Cons
– Not too heavy but not too light either.
– 5 meters cord length may be too short for a big house.
– The dust canister will look dirty after a few rounds of vacuuming unless you wash it frequently.
– A bit pricey
[AMAZONPRODUCT=B0025ZTL6W]
[AMAZONPRODUCT=B0019RD9VK]