Tineco FLOOR ONE series is very popular in the Asian market and it's making its way to the Australian market too (check my review on the Tineco FLOOR ONE S5 PRO). It's basically a cordless vacuum cleaner that can also mop the floor at the same time, removing stains and cleaning it at the same time. While the concept is not new (and we've seen a few others here at Craving Tech), Tineco is using an innovative brush bar with clean+dirty water tanks and a holding station that both charges and cleans the brush.
And now, Dyson has also entered the market with its first all-in-one wet and dry cordless vacuum cleaner, the Dyson V15s Detect Submarine Complete.
Dyson is going for a different approach compared to Tineco though, and focuses more on putting all the technology and creativity on the roller head instead.
The Dyson Submarine wet roller head is a feat of precision engineering, carefully calibrated to deliver the perfect amount of water for effective spill and stain removal, as well as capturing small dry debris like food crumbs. With a unique combination of hydration, absorption, and extraction technologies, the Dyson Submarine takes hard floor cleaning to new heights, ensuring a 'clean floor finish' without over-saturating surfaces.
It features an eight-point hydration system, which evenly distributes water using a pressurised chamber, ensuring optimal saturation across the entire roller width. The eight water jets, strategically spaced along the roller, release precisely 18ml of water per minute, effectively washing floors without leaving any excess wetness. A stainless steel blade scrapes the roller on the rear side every time it rotates, to clean and scrape any dirt away.
Dyson has ensured even with this blade constantly/continuously scraping the roller, it will last the life time of the product as it's been vigorously and thoroughly tested.
The motor-driven microfiber roller efficiently tackles spills, tough stains, and debris, while a durable plate extracts contaminated water, depositing it into a separate waste-water tray for easy disposal. The 300ml clean water tank can cover up to 110m2 of flooring, while the slightly larger 360ml dirty water tank ensures that no dirt or debris is transferred back onto the floor, keeping the roller consistently saturated with clean water from start to finish. The Dyson Submarine wet roller head is designed for effortless manoeuvring under furniture and offers edge-to-edge cleaning.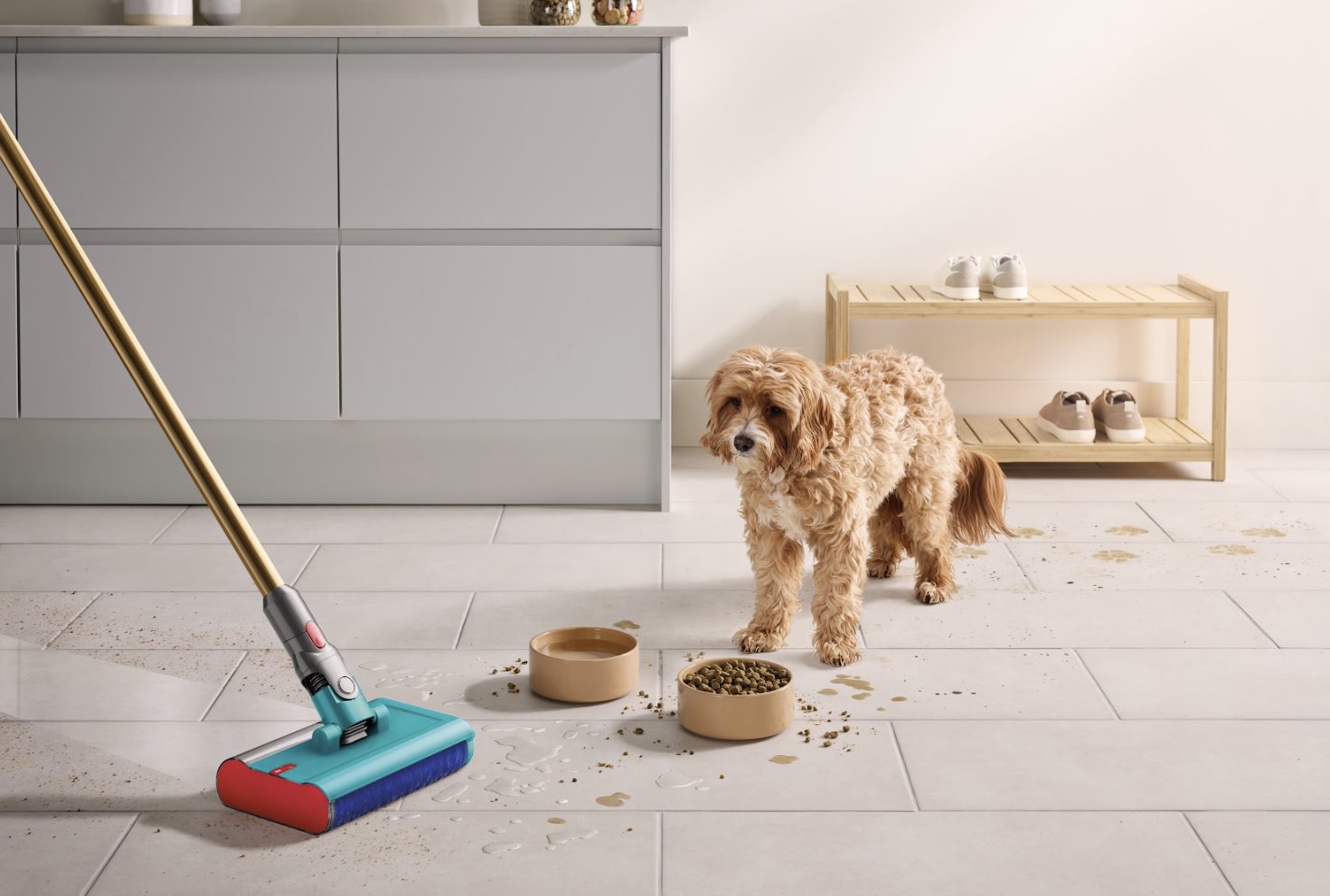 How do you clean it? According to Dyson, all the detached parts is fully submersible (the dirty water tank and also the debris/dirt holder) so it's pretty simple and easy to clean. Sure, it doesn't sound as techie and cool as Tineco FLOOR ONE auto cleaning system, but Dyson's solution is actually pretty practical and simpler to do.
Dyson's Submarine vacuum series features AI Optimum Tech, offering an all-new AI Cleaning Mode. The vacuum's suction motion controller and pressure sensors allow it to detect the floor type it is cleaning, adjusting the suction power and brushroll speed accordingly for a tailored cleaning experience. The Acoustic Dust Sensing feature provides real-time scientific proof of a deep clean by counting and measuring microscopic dust particles with a piezo sensor. This allows the vacuum to automatically increase suction power across different floor types and dust amounts, ensuring an exceptional cleaning performance. We've first seen this tech on the Dyson V15 Detect (check our review out).
The Dyson V15s Detect Submarine Complete is equipped with Dyson's powerful Hyperdymium motor, capable of spinning at up to 125,000rpm, delivering 240 air watts of powerful suction. When the Submarine wet roller head is attached, the vacuum's power automatically diverts from the Hyperdymium motor to prevent vacuum suction. This design prevents water from entering the motor, ensuring that contaminated water and debris are collected in the separate tray inside the wet roller head.
Dyson's HEPA filtration system captures 99.99% of particles as small as 0.1 microns, expelling cleaner air. The vacuum's efficient cyclone technology ensures that dust and dirt are efficiently separated from floors and surfaces, with the whole machine sealing preventing any leakage back into the home.
The Dyson V15s Detect Submarine Complete comes with the motor-driven Hair Screw tool, specially designed to pick up long hair and pet hair with ease. Engineered to prevent hair from wrapping around the brush bar, the conical brush and angled bristles allow hair to slide off the tip and into the bin, ensuring deep cleaning even in hard-to-reach areas like mattresses and sofas.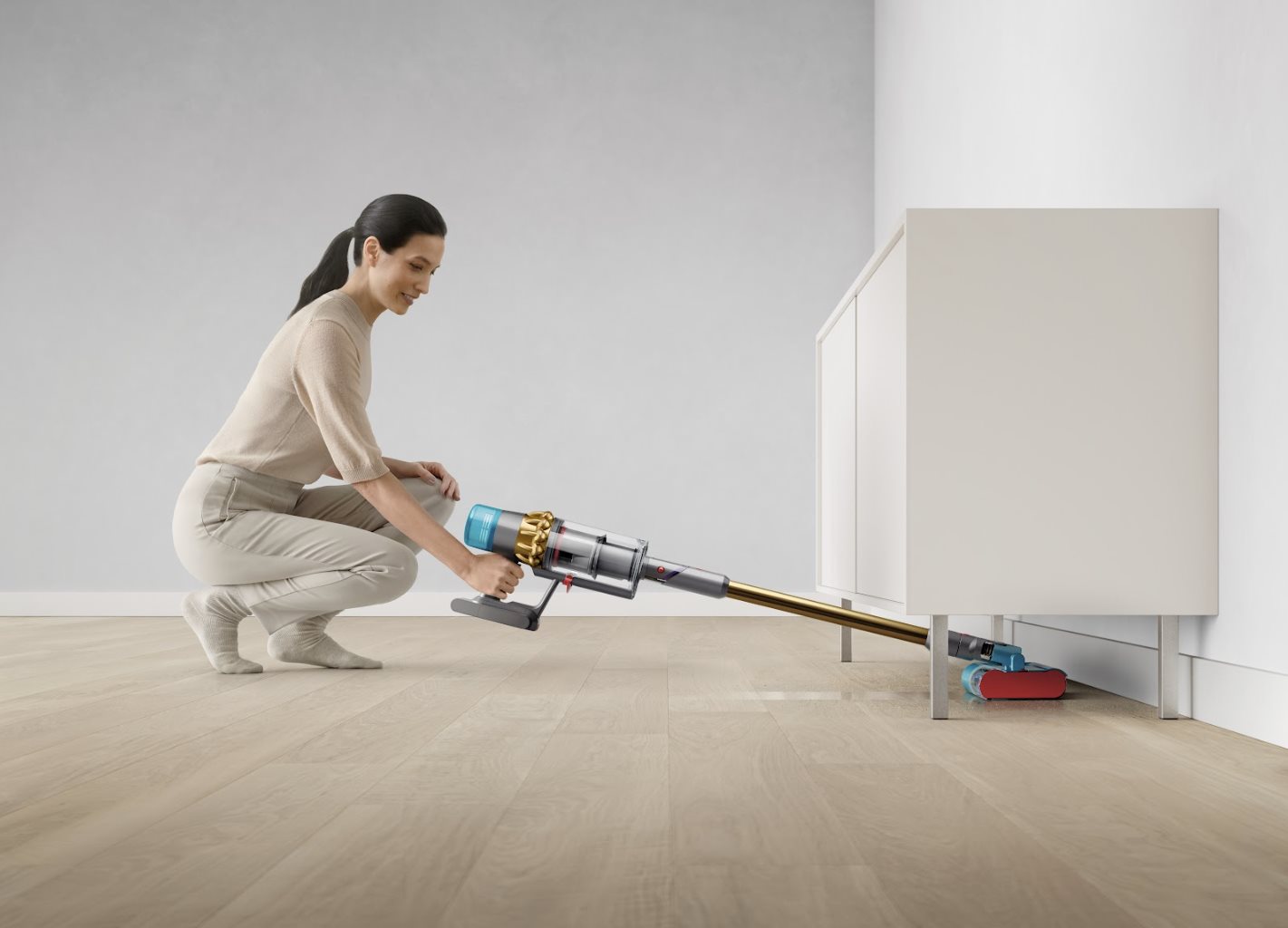 Dyson V15s Detect Submarine Availability and Pricing
The Dyson V15s Detect Submarine cordless vacuum cleaner will be available in Australia from Dyson online and Dyson Demo stores starting from July 27, 2023, priced at AU$1,549. From August 3, 2023, it will also be available from select third-party retailers. The Dyson V15s Detect Submarine Complete, which includes additional cleaning heads and tools, will be exclusively available from Dyson online and Dyson Demo stores from July 27, 2023, priced at AU$1,649. This also gives you extras like HEPA 99.99% to 0.1 microns, Fluffy Optic, Built-in Dusting & Crevice tool, and the Floor Dok Multi stand.
The Dyson Submarine wet roller head is not backward compatible with the other machines unfortunately, i.e if you already have a Dyson V15 Detect or other models, you can't just buy the new Submarine head. This is because the embedded software inside the machine needs to know what to do when the head is attached and this can only be done with a new machine that they've programmed during the manufacturing process.
If you are looking for Dyson's solution with wet and dry cordless vacuum cleaner, this is definitely it. Is it good? We'll let you know if we can get a hands on one!