Dyson V15 Detect Review – With the announcement of Dyson V10, James Dyson officially declared that his company would be focusing on cordless vacuum cleaners from that point on, emphasising that cordless vacuum cleaners are the future. This also means that their research and development can focus on improving the cordless tech.
And we could clearly see the improvements and updates from the V10 and V11 (check my reviews out), especially with V11's new focus on the artificial intelligence.
And now, the newest Dyson V15 Detect takes things further and no, it's not just having a more powerful motor and longer battery life. This time, the machine gets smarter when vacuuming and also gives you scientific proof of its performance. Plus, really awesome anti-tangle brush bars and an easy-to-swap battery with the press of a button.
Dyson V15 Detect Review – Unboxing & Packaging Contents
Dyson V15 Detect Review – Design & Features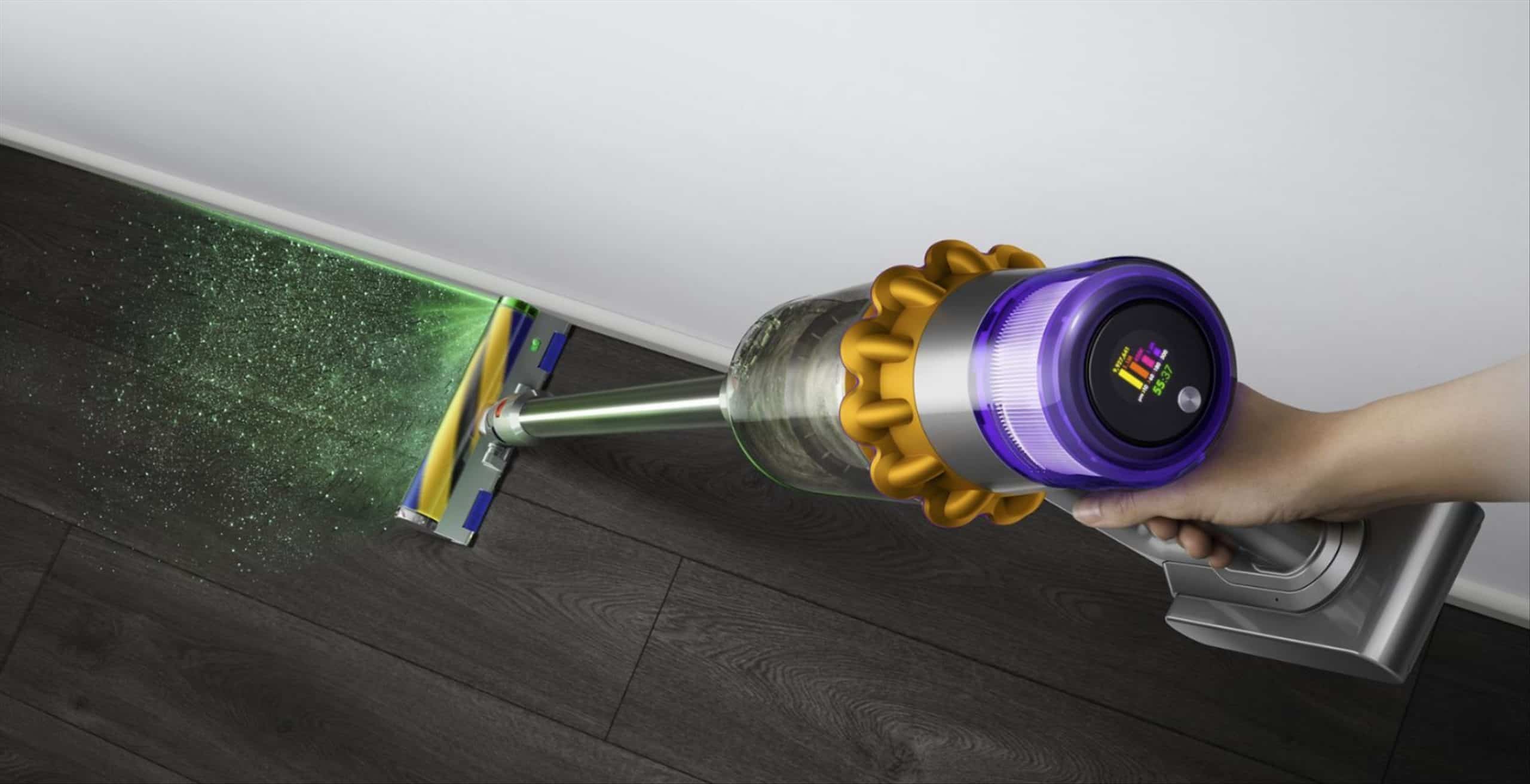 The machine I have here is the Dyson V15 Detect Total Clean (there is a pricier model called Absolute Extra, which includes the Dyson's charging dock and a whole machine HEPA filtration). However, they both have the same heads and tools/attachments.
In terms of design, the V15 Detect has the iconic Dyson cordless vacuum cleaners design we are all familiar with. Dyson V15 Detect is powered by Hyperdymium motor that can spin up to 125,000rpm (the same one that's powering the V11 & V10, but delivers more suction power), Radial Cyclone technology (14 cyclones), and the intelligent sensor found on the V11 that senses the floor types and automatically adapts to it by adjusting the suction power. However, there is an extra piezo sensor which we'll get into later.
The 3,600mAh battery is removable with just a press of a button (a new design on the Dyson V15) so you can grab a backup battery quickly and swap them for even longer cleans (great for big houses). In ECO mode on hard floors, the machine itself can last up to 60 minutes according to Dyson.
When tested on our carpet after a full charge, the readings show 20 minutes with the High Torque brush head and using the Laser Slim Fluffy cleaner head on tiles gives around 35 minutes of operation time. Obviously, operation time may vary depending on how dirty the floor is too (on AUTO). You'll also get much more operation time using the non-motorised attachments.
The remaining battery life in real time can be viewed on the LCD screen as you vacuum. You'll see the time remaining changes as you move from one floor type to the next, and as the machine senses more/less dust and adapts its suction power. Any maintenance alerts or information will also be shown on the screen.
The new piezo sensor continuously measures and calculates the microscopic dust particles as you vacuum. The machine will show the readings on the LCD screen in real time and adapt its suction power as needed (i.e when the sensor detects high concentration of dust on the area you are vacuuming).
Of course, you can turn the Auto mode off but I always leave my Dyson V11 Absolute on Auto all the time and it also works a treat on the V15 here.
The piezo sensor counts all dust particles of different sizes passing through the inlet 15,000 times a second, providing scientific proof of what the machine removes for you. The counts are divided into four different dust particle size in microns: >10 microns (size of allergens and pollen), >60 microns (size of microscopic dust and skin flakes), >180 microns (size of dust mites and fine sand), and >500 microns (size of sugar and fleas).
Seeing these counts go higher as you vacuum is not just mesmerising to watch, but also an eye opener to what are lurking inside your house and worse: your mattresses, pillows, and floors where you sit and sleep frequently on. They are not just good as reminders but also to motivate you to vacuum/clean the house more often. These numbers/stats will stay for a while on the screen and get reset for your next vacuuming session.
But the question is, do you actually need to see these numbers? Well, probably not. You can already see the dust and dirt get accumulated inside the transparent bin, so you sort of know how dirty your house is. However, since the piezo sensor counts the different particles and adapts the suction power as needed, why not display them at the same time for that peace of mind and satisfaction guarantee?
Being able to see the dirt and dust accumulated inside the bin with the naked eye is rewarding, but to also see the exact numbers of the unseen harmful particles is just mental. And knowing that you've done a great job is refreshing to the mind, sort of like giving yourself a pat on the back after each clean.
I was vacuuming our son's playroom and the the piezo sensor detected more than 84 million dust particles lying around on the carpet. If this doesn't motivate me to vacuum there more often, then I don't know what will.
Speaking of detecting unseen particles, the Dyson V15 Detect also has another surprise. One of the heads (the Laser Slim Fluffy cleaner head) for vacuuming hard floors is equipped with an eye-safe green laser that illuminates and reveals those invisible dust on the floor that you can't see normally. According to Dyson, the diode laser in the cleaner head is "precisely positioned at a 1.5 degree angle, 7.3mm off the ground to create the best contrast between dust and floor".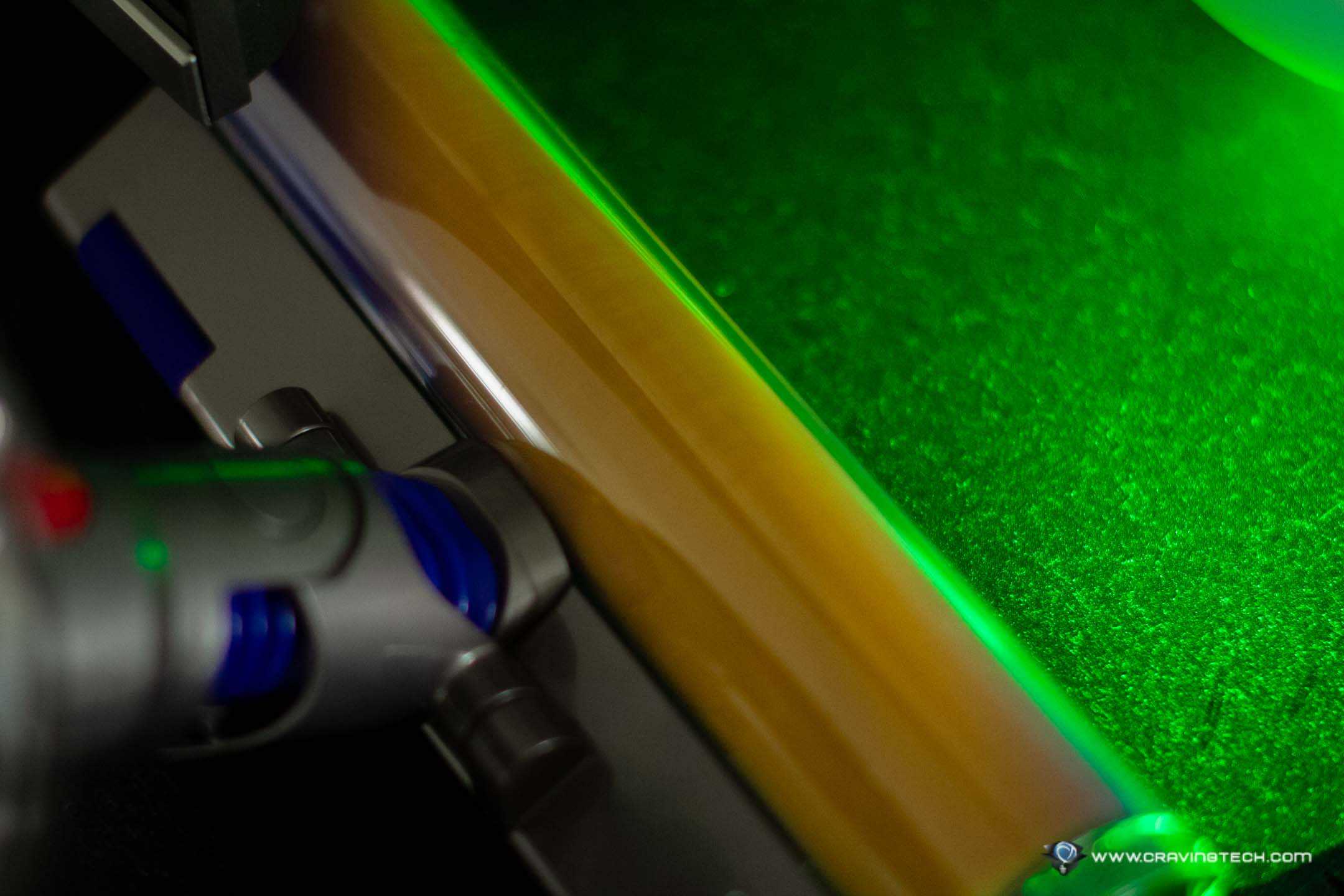 This is not the same as having a flashlight or LED on the head (like on the ROIDMI X30 Pro) because a green laser can easily reveal unseen dust particles, even in daylight.
The same question – do you really need this cool, new green laser? If you usually vacuum thoroughly section by section, you probably don't. However, it's actually really useful when you have to vacuum under the couch or bed frame, because you can really see which area you need to pay attention more. And I guess being able to see when an area is already clean of dust means you don't waste energy (and battery) for having to vacuum that same area repeatedly (by swiping back and forth a few times).
Note that the green laser is not on the High Torque brush head though, which is a bit disappointing. I think being able to light the carpet up would be super useful too here – but I guess this will further increase the cost of the product as the lens material is very expensive.
One more thing. I really love their new anti-tangle High Torque cleaner head and anti-tangle Hair Screw tool. These have been redesigned and re-engineered to prevent the wrapping of hair around the brush bar. With previous Dyson vacuum cleaners' brush heads, long hair tend to get stuck on the brush bar and after a while, you have to do the dirty work to clean them up (normally by cutting the hair with a pair of scissors and pull them out, eww).
Having a wife with long hair and a dog that shreds a lot, I truly love these new anti-tangle brush heads. I normally opted to use a different attachment to vacuum our bathroom floor (which usually is full with hairs) because I didn't like having to clean the tangled hairs on the brush head afterwards. However, with the new Dyson V15 Detect, vacuuming has been easier now with the wand and motorised brush head. Plus, it's more hygienic as I don't have to clean that brush head one day.
Dyson V15 Detect with anti-tangle High Torque cleaner head deep cleans our carpet at home well. I do notice a different feel and sound with the new brush head compared to the previous ones I used before. I also love how the machine adapts itself to stronger suction as needed (and yes, you can feel and hear it) and that real-time dust particles count on the screen is hypnotising and keeps me motivated.
Plus, with the included different attachments, cleaning every nooks and crannies around the house is super easy.
Dyson V15 Detect Review Conclusion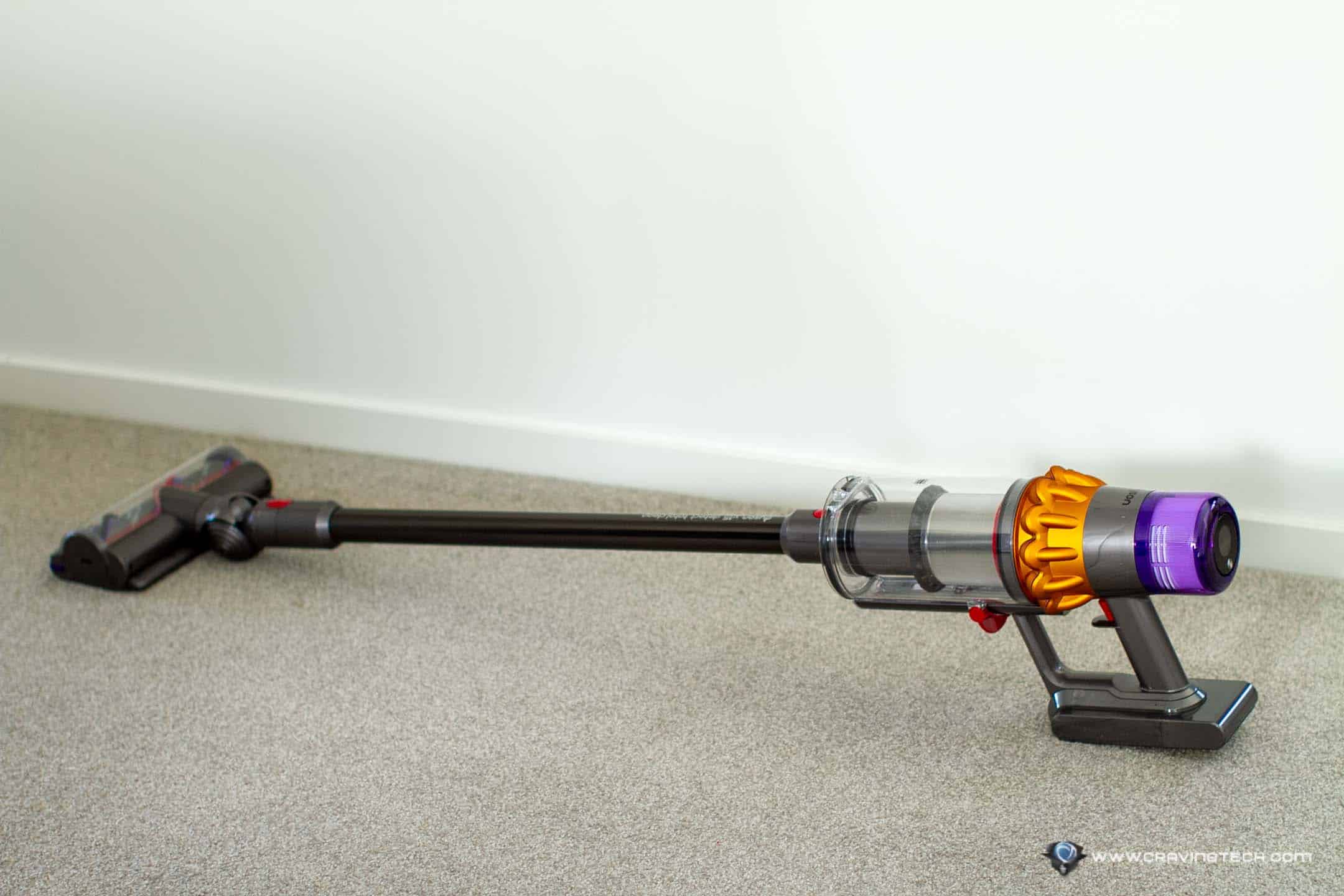 The Dyson 15 Detect is the most powerful and intelligent vacuum cleaner Dyson has ever created. It has the same design that Dyson owners love but the new machine has been further perfected to make cleaning more efficient, hygienic, and rewarding.
For example, the battery is easily detachable with just a push of a button. So if you have a spare, you can do a battery swap within seconds while cleaning the whole house. The High-Torque cleaner & conical brush heads have anti-tangle design now so hairs won't get stuck on the brush. It's perfect for those who live with a long hair partner & pets.
The Slim Fluffy roller head is now equipped with a green, eye-safe laser that illuminates the floor so you can see if you've vacuumed properly while removing the need to clean the same spot repeatedly.
And of course, the new piezo sensor doesn't just count and display the number of different dust particles the machine sucks (which gives you a peace of mind & feels rewarding), but this information is used by the machine to intelligently adjust the suction power accordingly. This makes vacuuming more effective (it deep-cleans more thoroughly when needed) and battery-efficient at the same time.
Dyson V15 Detect is the ultimate cordless vacuum cleaner ever created, thanks to all these new technology and perfected accessories. The Dyson V15 Detect Total (the one I have here) retails for AU$1,399 and the Dyson V15 Detect Absolute Extra retails for AU$1,499.
If you are looking for a more affordable option though, the previous models like the V11, V10, or even the V8 should still make you smile after each vacuuming session.
Disclosure: Dyson V15 Detect Total Clean review sample was supplied for reviewing
Dyson V15 Detect Review
Summary
Dyson's latest V15 Detect is the ultimate cordless vacuum cleaner with new technologies to clean more efficiently, hygienic, and also feel rewarding to clean. Delivers the best vacuuming experience
Pros
Great suction, more powerful than the previous generation
High-tech eye-safe green laser and piezo sensor
Automatically adapts to the environment (floor types and how dirty a surface is)
Includes many useful attachments/accessories
Finally, anti-tangle brush bars!
Bright and useful LCD screen
Easy-to-swap battery system
Cons
Pricey
High-Torque cleaner head doesn't have the green laser