Dyson v8 Review – Dyson V8 is the latest cordless stick vacuum cleaner from Dyson, the successor of the Dyson v6 (check out our Dyson v6 Absolute review if you haven't).
The Dyson v6 was an impressive and powerful machine, yet the team has managed to push the boundaries even further by releasing the V8 with updates and improvements that you'll love.
The model I have for reviewing here is the Dyson v8 Absolute, which has the extra Soft Roller Floor attachment for hard floors cleaning. They also have the Animal model in Australia if you vacuum mostly on carpet floors and don't need the extra attachment.
Dyson v8 Absolute Review – Packaging
Dyson includes these attachments inside the packaging:
Direct drive cleaner head
Soft roller cleaner head
Combination tool
Mini Motorised tool
Mini Soft dusting brush
Crevice tool
Like the other Dyson cordless vacuum cleaners, a docking station is also included.
Dyson v8 Absolute Review – Design & Features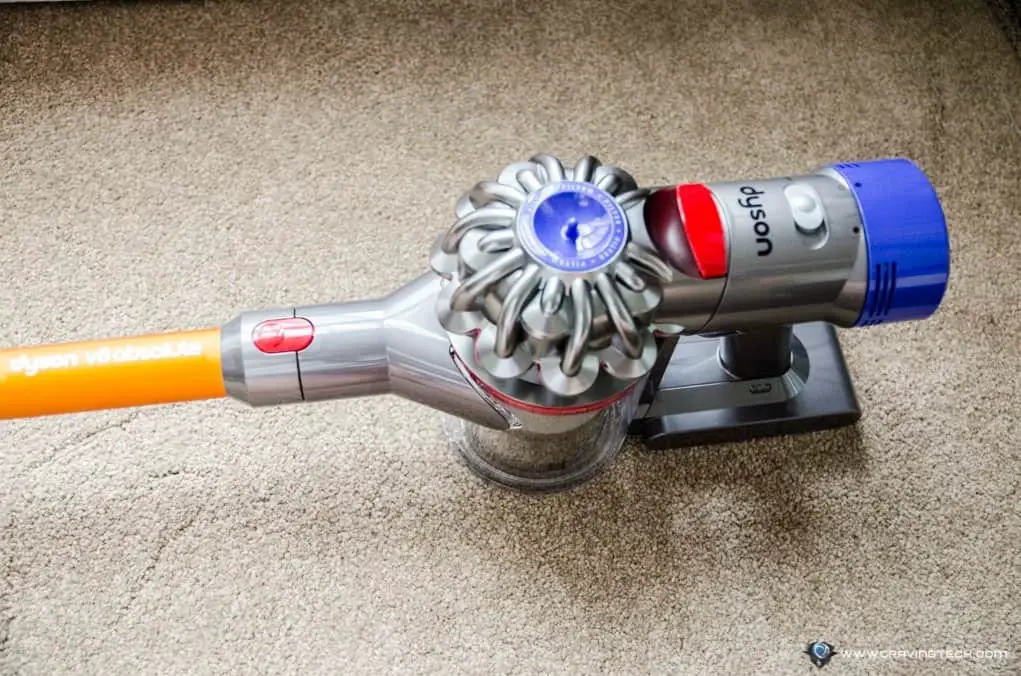 If you compare the V8 to V6, it's easy to say that it looks "similar but not the same" at first glance. You definitely see the same design resemblance to its predecessors (even before the V6 like the DC59, DC44, and the original DC35). However, many things have changed for the better.
Better Suction Power
For a start, the V8 motor now runs at 425W compared to the V6's 350W which gives you more suction power (spins at the same 110,000rpm), yet with a significant noise reduction. According to James Dyson himself, the V8 is the result from 18 months of research and more than 500,000 hours of testing it to perfection.
Better noise level
The noise reduction is noticeable but also gives a false impression that the machine sucks less dust and dirt. Obviously it's far from it (it sucks more dust and dirt than before), so it'll take some time to get used to it if you've been using the previous models.
Better battery life
The whole machine now runs for 40 minutes with the non-motorised attachments and 25 minutes with the motorised. Dyson engineers have worked hard to make this possible using the new Nickel-Cobalt-Aluminum battery and a rework on the battery chemistry.
The MAX mode will only give you around 7 minutes of vacuuming time but during my tests, I found that I now didn't feel the need to switch to it. The machine definitely does its job perfectly on my carpets. They've also changed the switch to be a toggle (from a button) and placed it on top of the body.
Oh, there is now a battery indicator as well on the unit which shows you how much battery you have left. Pretty neat.
Better dirt ejector
The bin design gets a lift as well. Previously, dirt and dust would easily get trapped and I often had to detach the whole bin, then clean them with a brush by hand (which was not a thrilling experience). For example, here is what my Dyson V6 often looks like after weeks of vacuuming:
The new bin design now pushes the stuck dirt and dust down as you open and empty the bin. So in theory, we should not see those trapped dirt and dust ever again (will have to wait til I use it for a few months though). Really glad that Dyson was aware of this and decided to update the design.
Mechanism has been changed too so you now have to pull the dirt ejector handle on top to open the bin. It feels a bit stiff but does its job perfectly. And oh, the bin now has 20% larger capacity than before.
Better attachments mechanism
Compared to the V6 and its predecessors, the new Dyson V8 has better attachments mechanism. It is much easier and smoother to detach and attach the tools. I first found out about this new design through the Dyson Cinetic Big Ball Barrel vacuum.
Dyson v8 Absolute Review – Vacuuming Experience
As always, vacuuming with a Dyson vacuum cleaner is a blast. Rather than feeling like a chore, it feels exciting (as weird as this may sound). This is probably caused by the sound it makes when dust and dirt get sucked in through the machine. In addition, the transparent bin also gives you a sense of accomplishment as you see it gets filled up with nasty stuffs lying on your floor. Thanks to its powerful suction capabilities, results can be felt and seen right away.
With the included attachments, you can pretty much vacuum every area around the house. I love how the Crevice tool can be used to clean harder to reach areas. I love how the Mini Motorised tool can be used to vacuum my mattress and pillow. I love how I can switch between the Direct Drive and Soft Roller for different types of floors. I love how I can use the Combination tool to vacuum my desk and other areas around the house.
I also use a combination of different attachments to vacuum my car (usually the Mini Motorised and the Combination tool). Since it's easy to carry the V8 around and has a great battery life, vacuuming cars is a pretty straight forward job.
Dyson V8 Absolute Review – Conclusion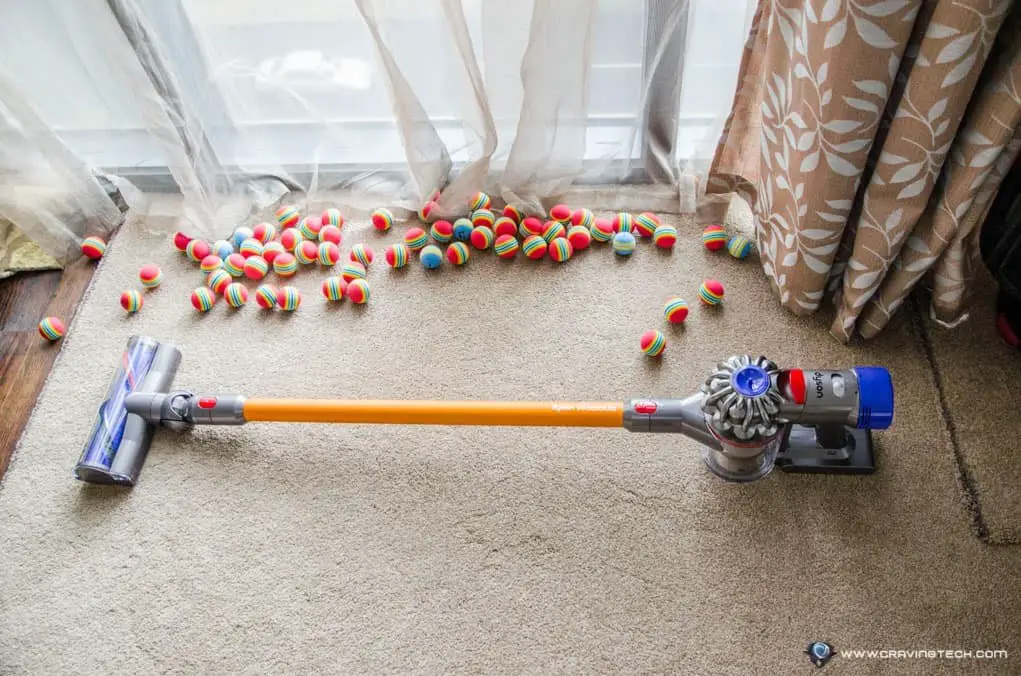 Dyson V8 is the most powerful cordless stick vacuum in the planet at the moment. Not only it has a motor that spins many times faster than a Formula One engine, the latest V8 comes with all the improvements that Dyson cordless stick owners will love.
It has better cleaning power, double battery life, better tools management, better bin emptying, and also quieter. Just when I thought the best couldn't get better. I was wrong.
Dyson V8 Absolute (AU $849 RRP) | Dyson V8 Animal (AU $749 RRP)
Disclosure: Dyson V8 Absolute Review unit was supplied for reviewing but all opinions are 100% mine and not paid