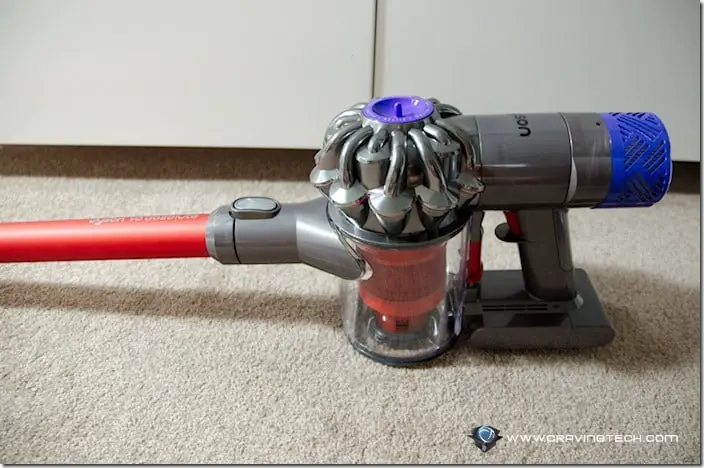 Dyson Absolute v6 Review – Dyson portable vacuum cleaners, like the Dyson DC59 I reviewed before at Craving Tech, have always worked wonders on my carpets, tiles, and wooden floors. The motorised brushed bar is great for all sort of floor types, but apparently there is always something better.
The latest Dyson portable vacuum cleaner, the Dyson Absolute v6, includes a new cleaner head which was solely researched and designed to vacuum hard floors more efficiently. Sure, if that's the only thing that Dyson has done to the newer model, you might as well stop reading and close this page. However, there are more changes and updates to the latest machine which make the Absolute v6 the most powerful and best Dyson portable vacuum cleaner at this moment in time.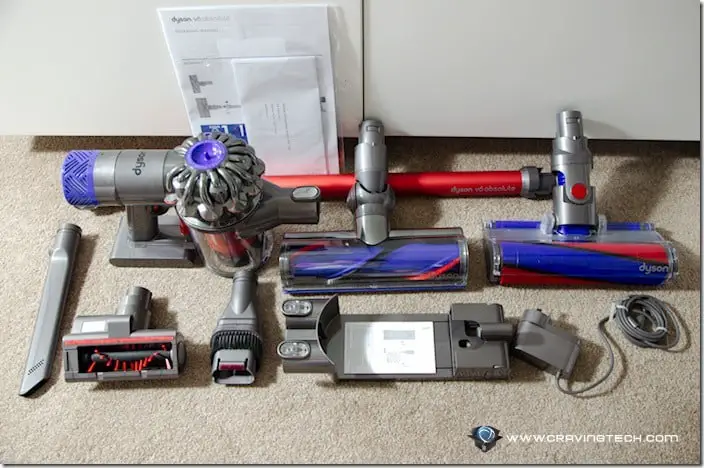 Design wise, Dyson does not really make any significant changes. At a glance, it's the same Dyson design you love (apart from the new wand color) and also powered by the same Dyson Digital Motor v6 as its predecessor. However, the software running the motor has been tweaked and optimised to output even more suction power.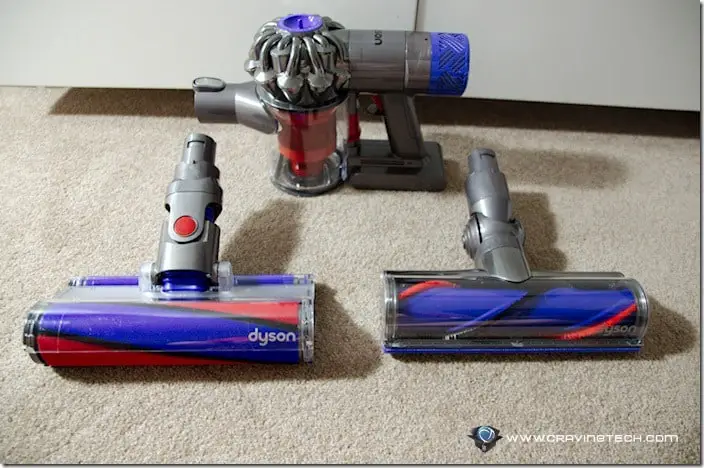 As such, the Direct-drive cleaner head can now suck even more dirt out of the carpet, compared to the older head running on the same motor. The new, soft roller cleaner head has also been optimised to work best on the Absolute v6.
The most common question that you'd probably ask is:
Will I be able to just buy the new soft roller cleaner head attachment and attach it to my older Dyson's portable?
The answer is unfortunately, no. The soft roller cleaner head is not being sold separately and before you start accusing Dyson for trying to milk more money from you, I've actually asked this concern to Archie Henderson, a Senior Design Engineer at Dyson. The answer is because the v6 absolute machine has an upgraded software and configurations to power the motor and the machine, so you won't be able to get the most out of it if the head is plugged to a different model.
I also notice a subtle change inside the see-through canister that holds the dirt and dust, compared to the DC59. The three pillars (I really don't know what to call them) that separate the dirt and dust seem to be made higher. The effect is a better dirt and dust separation inside the canister (and there might be other good reasons for it).
You'll love the new soft roller head because it's more effective on cleaning hard floors (covered by a soft woven nylon). As a plus, since it has a softer surface compared to a brush bar, you should not worry for having your hard floor scratched (not that I've ever scratched my wooden floor while vacuuming with a Dyson vacuum cleaner).
I find that the new soft roller head makes it easy to vacuum my bathroom tiles and rug (normally the rug would get sucked by the brush bar). For bedroom carpet cleaning, I simply switch to the other head for an optimum cleaning results.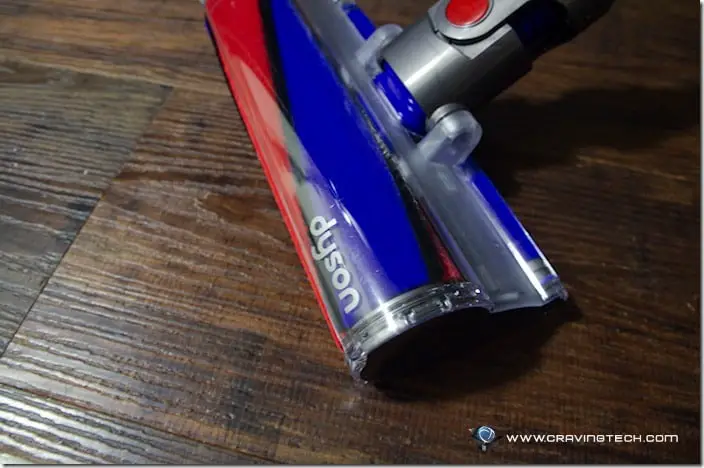 The packaging comes with other multiple attachments for cleaning hard-to-reach areas around your home (such as behind the couch or ceilings), cars, furniture, and beds (yes, you should try vacuuming your bed with a Dyson and be shocked with how much dirt, dust, and dead skin cells it gathers).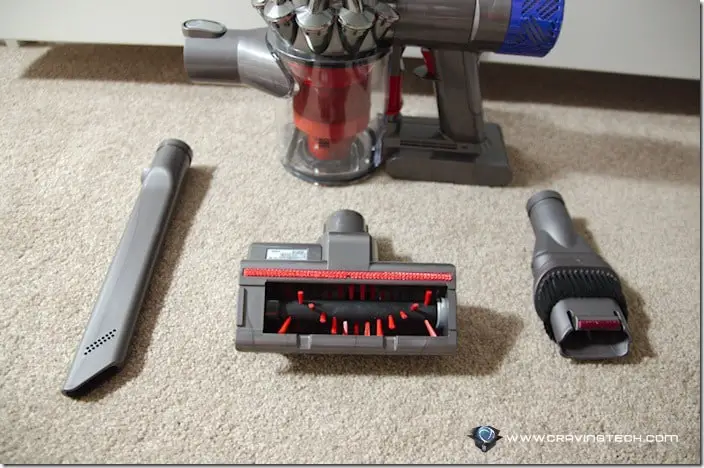 A docking station is also included to mount your Absoluve v6 to a wall (to save space and a cool way to recharge your machine). Despite of the new Dyson v6 Absolute being able to have more suction power, the battery life does not suffer: it can run for about 20 minutes (or 6 minutes on Boost mode).
Another thing that I should highlight is the HEPA filtration system on the machine body itself, which filters the air going out through the machine so you can breathe cleaner and healthier air. A thumbs up for allergy sufferers like myself.
Dyson Absolute v6 Review – Experience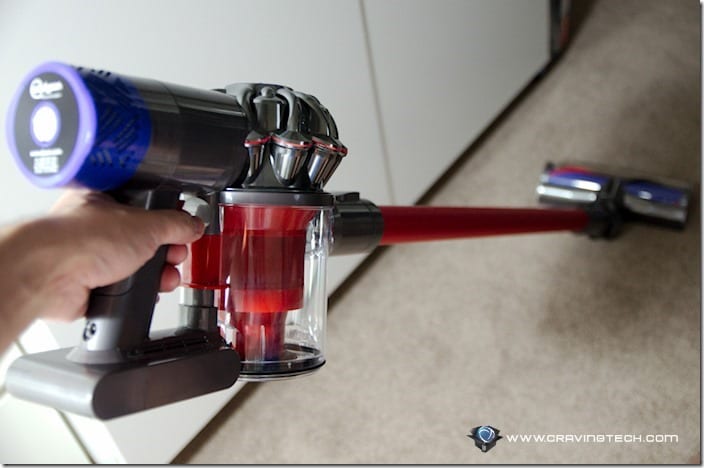 As always, I'm always amazed at any Dyson vacuum cleaner I've ever reviewed, as they suck dirt and dust like there is no tomorrow. Even when you think that you already have a cleaner carpet (and tiles, floors, beds), chance is that you'll always get some more dirt and dust after a vacuuming session with Dyson. It never disappoints.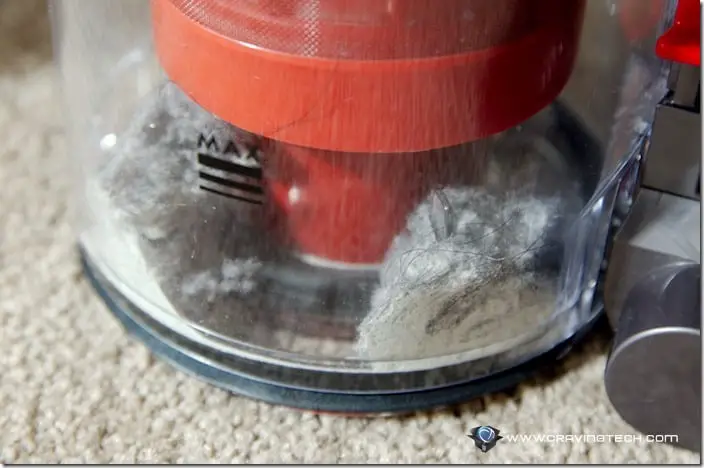 Changing between attachments is easy and painless, so I ended up using a few tools to properly clean my whole room. Or, when I'm feeling lazy, using the Direct-drive cleaner head is mostly good enough.
Once every week or so, I plug the mini motorised tool attachment to clean my car's seats and mats. Six minutes (on the highest suction mode, which I always use) is more than necessary to clean the whole car mats and the trunk.
If you have a big house though, the handheld won't do. You'd be better to invest in the bigger Dyson Upright (like the Dyson DC65) or Barrel (like the Dyson DC54 with no dust filter).
Dyson Absolute v6 Review – Conclusion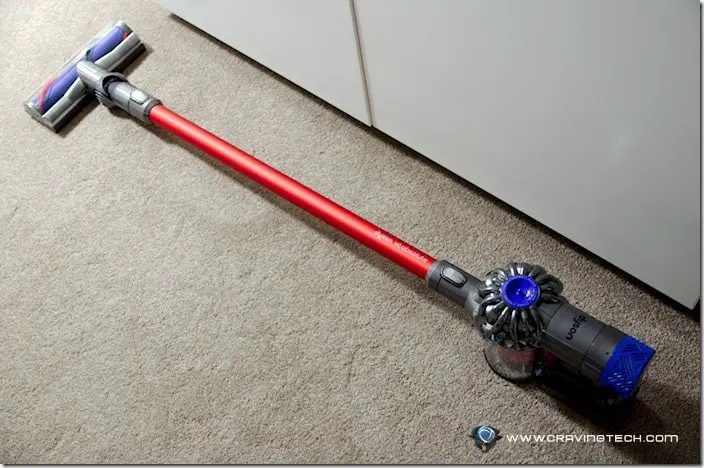 Dyson v6 Absolute is the most powerful Dyson handheld vacuum cleaner at the moment. It comes with an extra head to clean hard floors more effectively by maintaining a tight contact with the floor and using an anti-static carbon fiber filaments. There is also a HEPA filtration system on the unit for a cleaner air and upgraded tweaks to make the vacuum cleaner sucks more dirt and dust than the other machine running the same v6 motor.
For a house that has both carpets and hard floors, it is an easy decision. Owning the Dyson Absolute v6 is a must. Absolute power, absolute efficiency. An absolute must to Dyson fans.
Dyson v6 Absolute Pros
+ Powerful suction
+ Lightweight
+ Cleans both carpets and hard floors in the most efficient way possible
+ Variety attachments make it versatile to clean anything you can throw off (cars, mattress, furniture, etc)
Dyson v6 Absolute Cons
– Same battery life with previous model (though Dyson may have a treat for us with new battery technologies)
– Still has a filter. Waiting for an upgraded model with no dust filter like the Dyson DC54 (assuming it's possible)
– By adding a few more dollars, you can get a full-size Dyson vacuum cleaner
– The standard mode feels weak. Or maybe it's just because the Boost mode is really good. Okay, not sure now if this is actually a cons…
Disclosure: Review sample was sponsored by Dyson but all opinions are 100% mine
[AMAZONPRODUCTS asin="B00SMLJPKA"]