Dyson Cyclone V10 Review – I have been a Dyson fan ever since I tried and reviewed their DC22 vacuum cleaner back in 2009. Many things have happened since then and I was able to get my hands on every Dyson vacuum cleaner iteration that came out from their design & engineering hats labs.
As years go by, I could sense how Dyson slowly moved towards placing more resources and attention to cordless vacuum cleaners. And to be honest, ever since the Dyson DC35 Digital Slim came out, I rarely used my corded Dyson DC65 Upright or the DC54 Ball Barrel anymore.
Fast forward to the V6 and then V8, Dyson had been pretty quiet for a couple of years. But with the announcement of the Dyson Cyclone V10 this year, James Dyson has officially declared the "death" of corded vacuum cleaners.
Right here, I have the Dyson Cyclone V10 Absolute+ (which has the most complete set of attachments. But the machine and the things empowering are the same in all variants.
Dyson Cyclone V10 Review – Packaging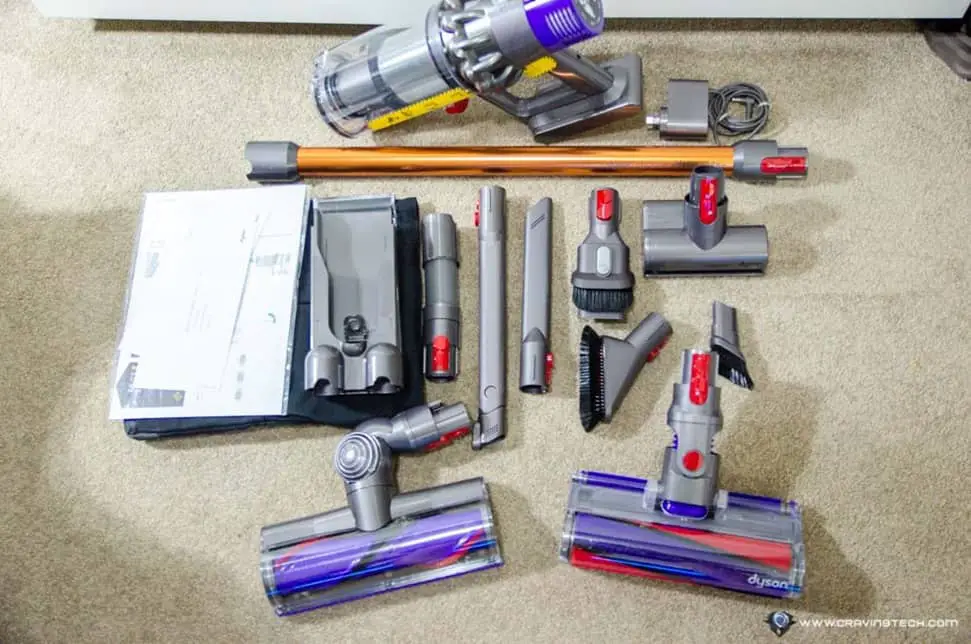 With Dyson Cyclone V10 Absolute+ model, these are included in the packaging:
The Dyson Cyclone V10 Unit
Soft Roller Cleaner Head
Direct Drive Cleaner Head
Drop-in Docking
Combination Tool
Crevice Tool
Mini Motorised Tool
Soft Dusting Brush
Flexi Crevice Tool
Extension Hose
Accessory Tool Bag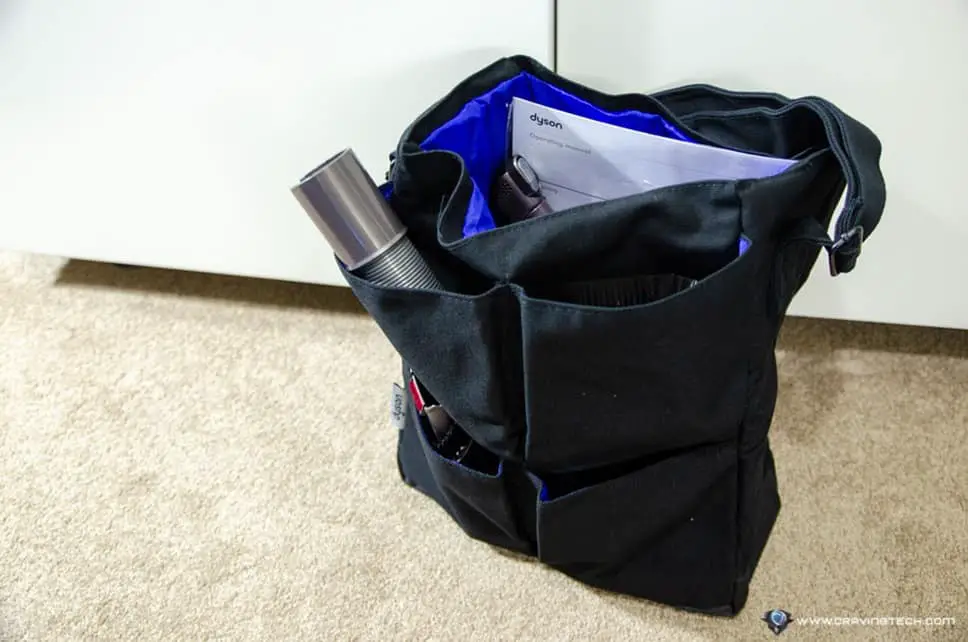 This is actually the first time Dyson has included a handy bag and I love it. It's great for storing all the attachments (they all fit inside) and to swap attachments around while vacuuming different parts of the house.
Dyson Cyclone V10 Review – Design & Features, Dyson V8 vs V10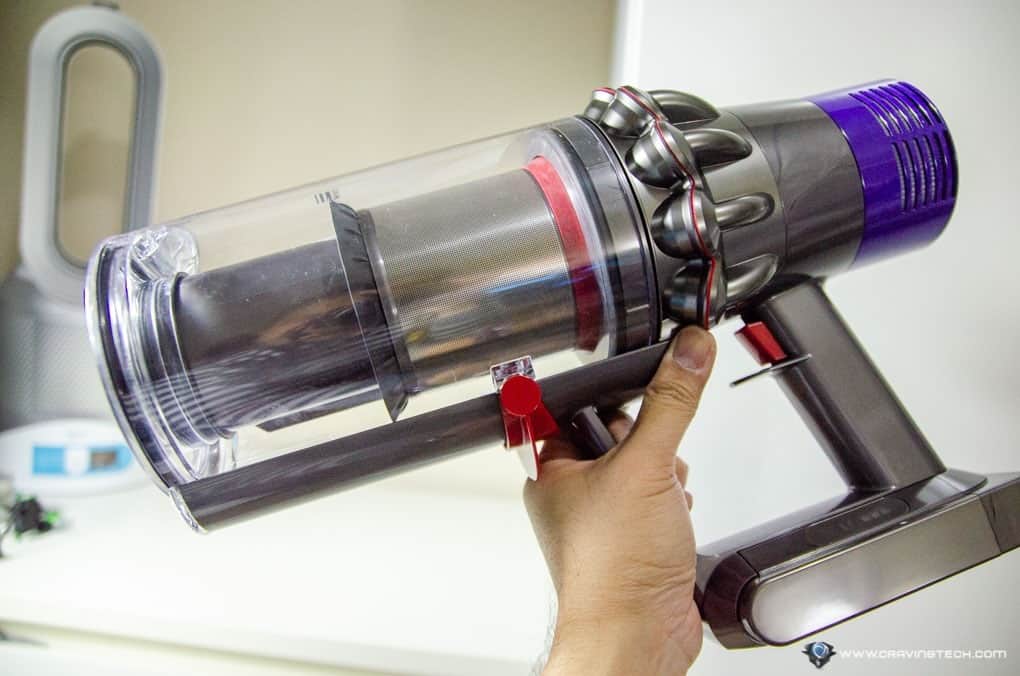 Compared to the V8, the V10 has a new in-line configuration design so that the air is drawn into the cyclones in a straight line. This has boosted the machine performance to having 20% more suction power.
Though the V10 is a little bit heavier than the V8 (by 70 grams), the new design makes it as if the machine is lighter to handle. Possibly because the weight of the machine has shifted, making it more balanced somehow when you are vacuuming the floor.
However, due to this design change, I find it hard to make the machine sits straight on the floor when not in use (it topples forward or sideways). I guess Dyson really wants you to dock it on the wall.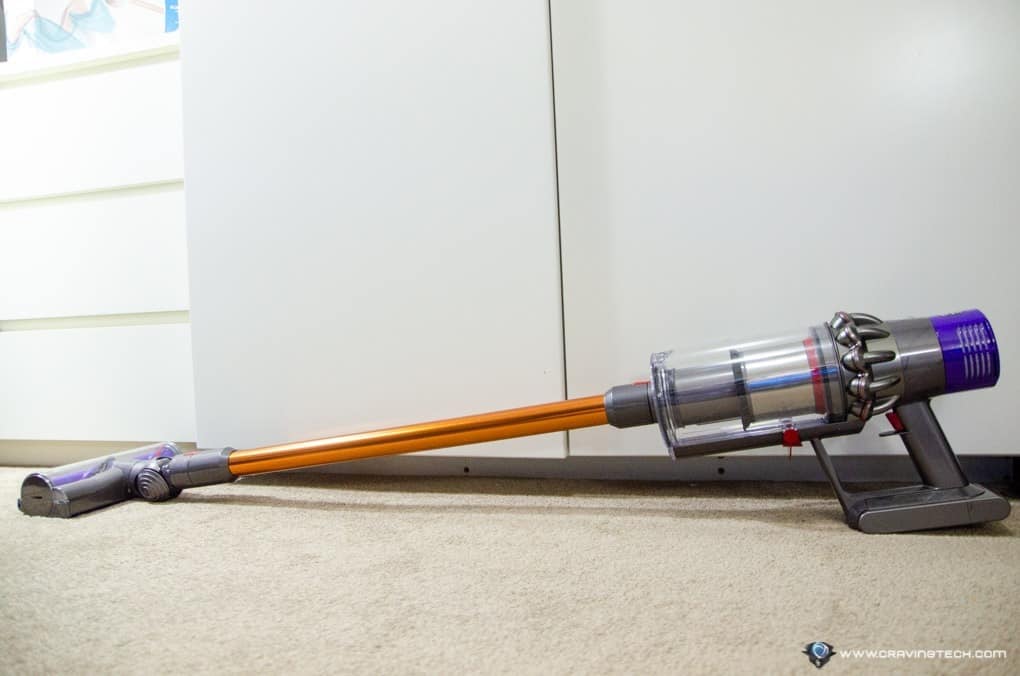 With the new V10 digital motor, the Dyson Cyclone V10 has become the most powerful Dyson cordless vacuum to date. It can spin up to 125,000rpm (compared to the V8's 110,000rpm) which means more dirt, dust, and harmful particles to be sucked into the bin. This is at the Maximum setting, which you don't really want to use all the time (due to the battery).
Speaking of which, there are now 3 different power modes in the V10: Low, Medium, and High. According to the wikipedia, the V8 gives 22 Airwatts of suction on Standard and 115 Airwatts on MAX/Turbo. The V10 gives 15.8 Airwatts on Low, 33 Airwatts on Medium, and 151 Airwatts on High.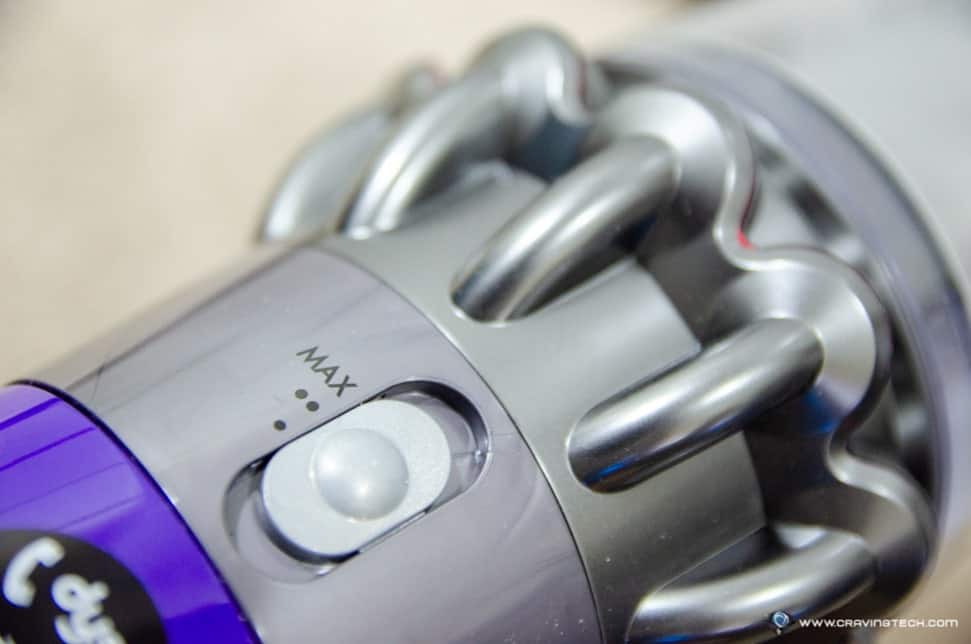 I almost never had to set my V8 to MAX when vacuuming my carpet floors – which means I can get much better suction power out of the V10 on the Medium setting.
And here's the thing. Dyson has focused on advertising the V10 as an "up to 60 minutes run time". However, that's only if you use it on the Low setting without any motorised floorhead attached. With a motorised floorhead (i.e if you are vacuuming either your carpet, tiles or hard floors), you'll most likely be getting around 20 minutes on Medium.
So why Dyson is trying to say that the era of corded vacuum cleaners is over if you can't vacuum your whole house for an hour or two? I think that's because we need to change our paradigm of house cleaning. Rather than having a dedicated day (like every Saturday) to clean the entire house, you should do them in batches. This, is more effective at the end and you don't have to spend too long to clean the entire house.
It depends on how big your house is and also depends on how you do the vacuuming. The machine has quite a powerful suction that in most cases, it only requires you to do a single pass to an area. If you have the tendency to vacuum an area over and over, then you'll run out of charge fast.
But if you are still old-style in terms of vacuuming and want a "whole day cleaning" ritual, you'll still be able to purchase a Dyson corded vacuum cleaner in the stores.
It's around 3.5 hours to recharge the battery from flat to full and you cannot swap the batteries over. A battery indicator shows how much battery is left, and the machine now has a filter problem indicator.
Also, don't be surprised with the new spring sound (a.k.a "boink" effect) after releasing the Dyson V10 handle (explanation here).
Ever since the DC35 came out, I actually have started to clean my house in batches, rather than having to dedicate a half day to clean and vacuum everything – so Mr. Dyson is on the right with this paradigm shift he wants us to switch over.
The bin is also now larger (40% bigger) and the filter has been changed to one location at the back of the unit for easier filter cleaning.
How you eject the bin has also been changed to a point-and-push action, compared to the V8's ejection method. It's easier to do now if you like to empty the canister inside a plastic bin bag.
Dyson Cyclone V10 has also been designed to keep the sound down, and a Dyson engineer also mentioned how they made use of the expensive acoustic chamber during the testing. Intrigued, I asked during the V10 hands on session whether the machine can perform better if I take the noise dampening foam out from the machine. He was quite moved by the idea but of course, I decided not to give it a try. I don't mind having a louder vacuum cleaner in expense of getting more suction power. I mean, who would vacuum when everyone else is sleeping anyway? But some people seem to care.
The attachment tools and especially the new Flexi Crevice and Extension Hose are really useful. Before, it's harder to clean beneath the sofa or car seats but it looks like a simple, additional attachment tool is the golden solution for the problem.
Dyson Cyclone V10 Review – Conclusion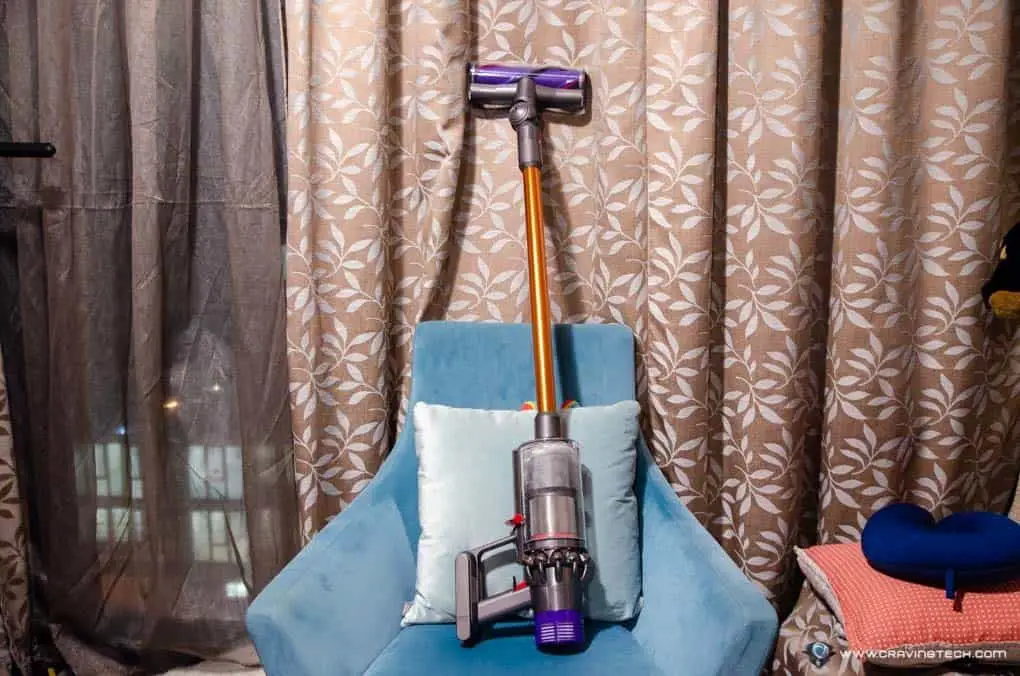 The Dyson Cyclone V10 is definitely the most powerful Dyson cordless vacuum cleaners to date. It's clear that the engineers have worked really hard in designing the V10 to make it more powerful and better in all things, while trying their best not to make it bigger, bulkier, heavier, and noisier.

It is kind of ironic that most consumers will only care about how much they'll have to pay for the new machine, and that they only see it as a "better and longer" version of the V8. The V10 is a well-built machine that's been tested rigorously and offers a clean home with less hassle, and they are lots of things happening behind the scene.
It's amazing how much dust, dirt, and particles are sucked (from carpets, mattresses, and even pillows) by the Dyson Cyclone V10. You'll most likely be happy with the Medium setting (or Low if you are vacuuming floorboards and tiles) which leaves you about 20-30 minutes of running time (depends on how you vacuum and which attachment do you use).
The future of cordless vacuum cleaners is here, if you are willing to shift your paradigm from a one-day-cleaning to cleaning-in-small-batches. At least if you have the new V10, you'll most likely do it because it's so easy and quick to clean with it.
So what's next for Dyson? I'd love it if they can further explore how to make the battery last longer and if possible, implement the Cinetic technology (i.e having no dust filter) like the DC54. With James Dyson dedicating all resources to researching better cordless vacuum cleaners, we may not have to wait long for the next big thing.
Disclosure: Dyson Cyclone V10 review unit was supplied for reviewing but all opinions are mine and not paid