Tineco FLOOR ONE S5 PRO Review – Have tiles or hard floors at home? You'll probably already get used to your routine. First, you either vacuum or mop the floor first for any dust, dirt, hair lingering around and when everything is clear, you then move to mopping the floor. I usually use my Dyson V15 Detect to vacuum our tiles and when it's done, I take my Bissell Steam Mop out and start mopping the whole floor all over again.
Sure, it works, but if you can just do all these in one go, and without any cords, why would you?
Ok, so the concept of vacuuming and mopping floors at the same time is not exactly new. I first stumbled upon appliances that can do this like the Viomi Smart 11 robot vacuum and also the cordless ROIDMI X30 Pro. However, none is more superior than the Tineco FLOOR ONE S5 PRO that I'm reviewing today.
The FLOOR ONE S5 PRO does a better job, more effortless, and best of all, it can also auto clean itself – which is the biggest win, in my opinion. But let's take a look closer about the machine and what it can do.
Tineco FLOOR ONE S5 PRO Review – Unboxing and Packaging Contents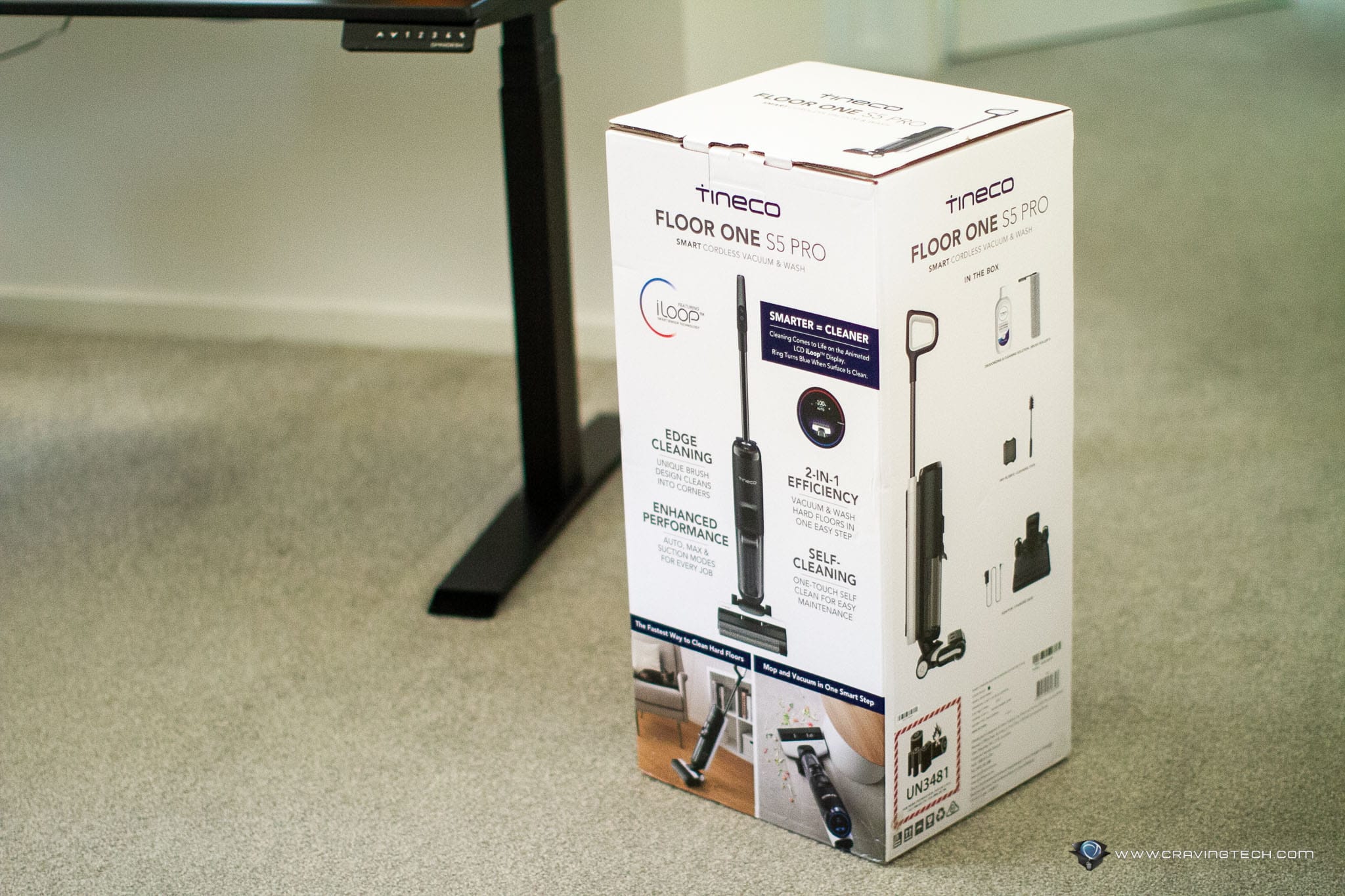 The packaging includes extras such as an extra brush roller and dry filter (so you can swap and let the other ones dry – more on this later), a cleaning tool to remove dirt and dust, and a Tineco deodorising and cleaning solution (which costs an extra A$24.99). A nice charging base means you can just place the unit onto it to charge and clean at the same time. Handy holders are also included on the base so you can store the extra accessories to swap and dry them easily.
Assembling the machine is easy and everything just clicks into place so you know that they are solid and secure.
Tineco FLOOR ONE S5 PRO Review – Design and Features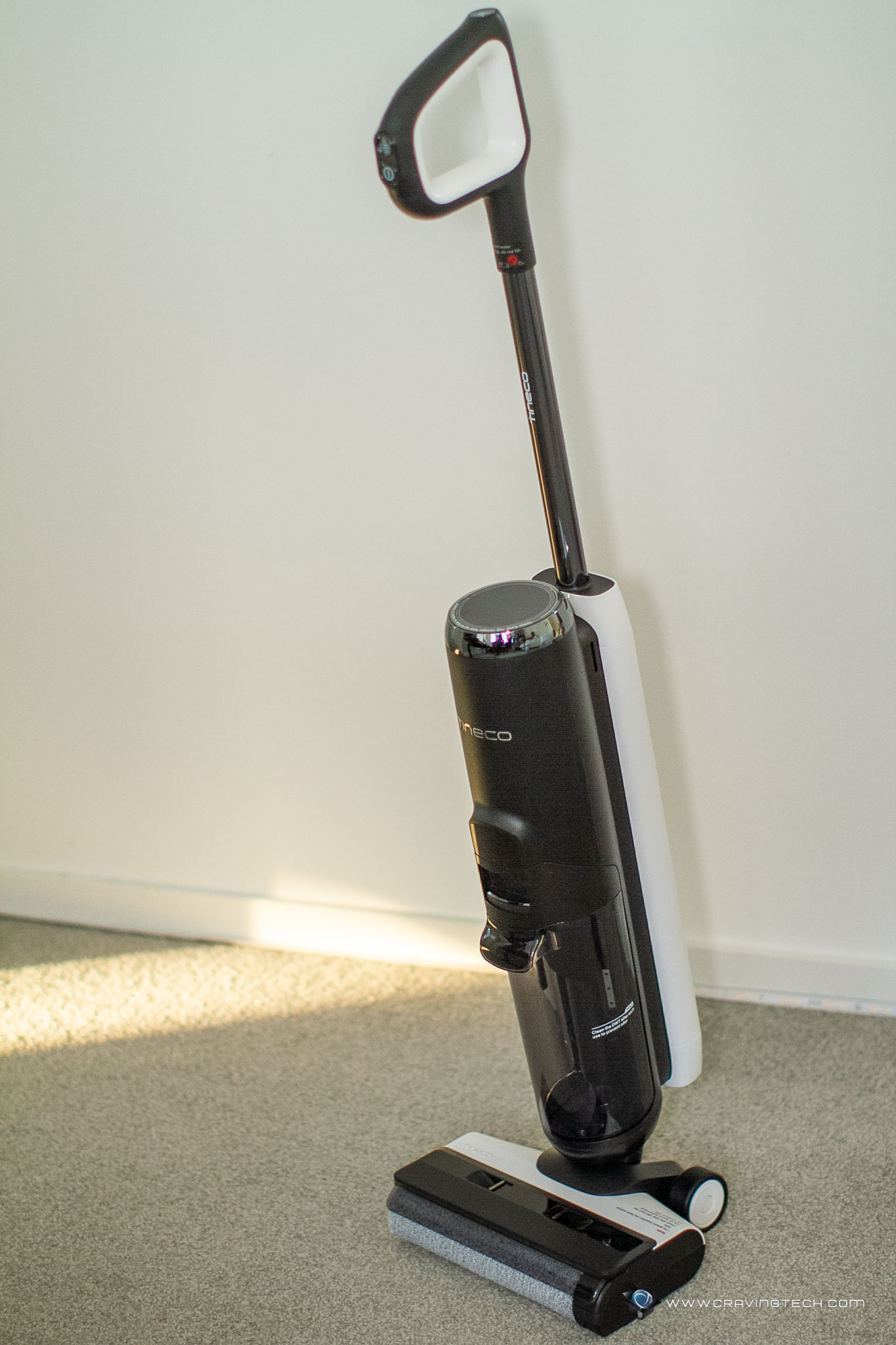 The Tineco FLOOR ONE S5 PRO looks like an upright vacuum cleaner without the cord at first glance. It actually comprises of different parts that you can take out: a dirty water tank (DWT), clean water tank (CWT), and brush roller. The filter + hair trapper are inside the DWT to trap any bigger particles including human and pet hairs.
To use the FLOOR ONE S5 PRO, you just need to fill the CWT with tap water (and if you want, a bottle cap of the included Tineco's solution in). I tested both with and without the solution and didn't really notice the difference, but if your floor is super dirty then it's definitely recommended to apply the solution as well.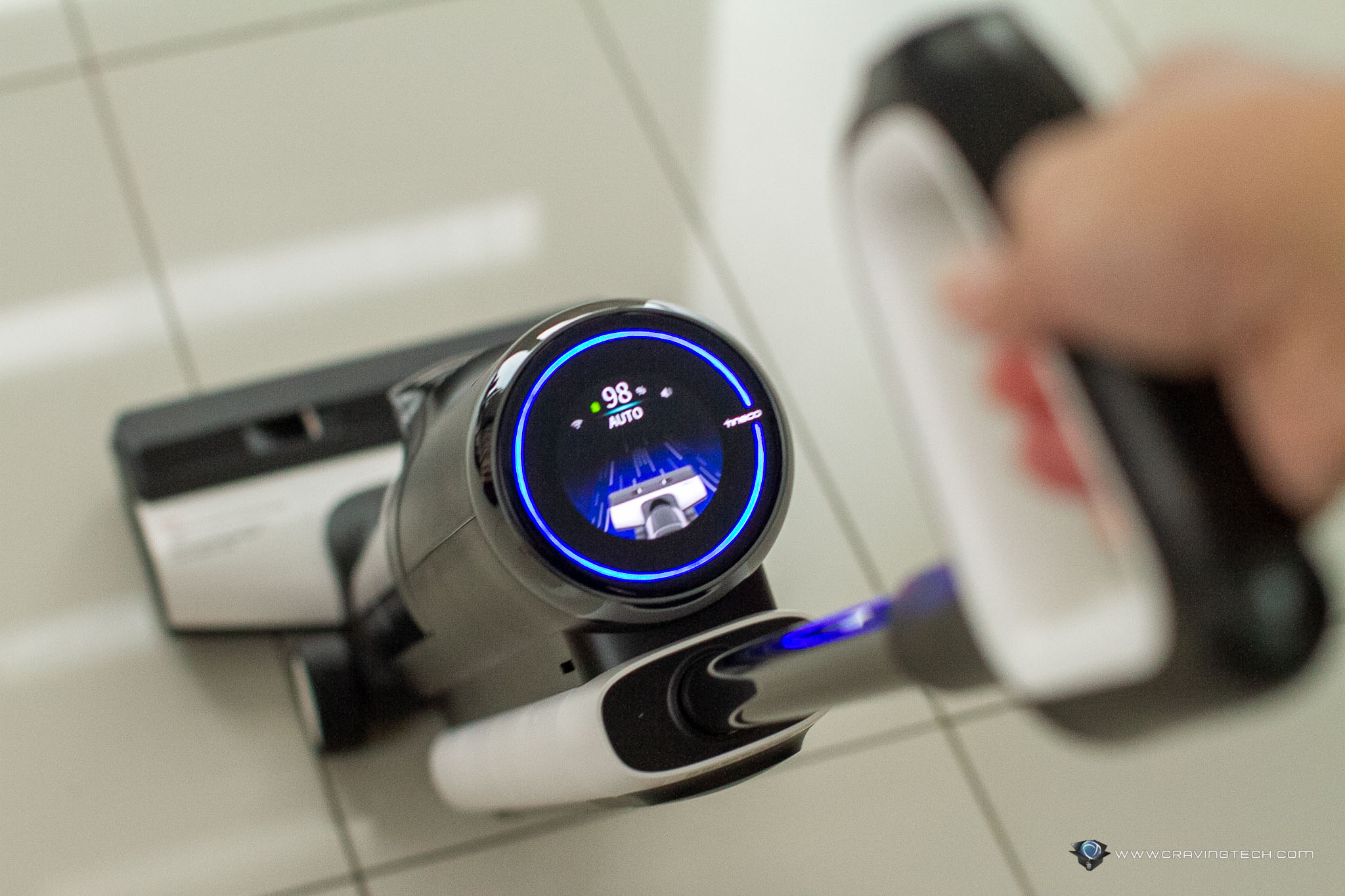 A big, bright LCD display with vivid 3D animation and audio is pretty helpful to guide you through the process and to display information when you switch options or other indicators, including battery life. I'm not sure about how much battery life does this thing have (If I'm not mistaken, I read somewhere that it has around 25-30 minutes of battery life in AUTO mode with both vacuum and mop functions turned on), but I usually still have around 60-70% of battery life when I use it here at our home.
Speaking of modes, you can easily switch between AUTO, MAX, and Suction only mode with the press of a button on the handle. Suction mode is when you just want to use it without the mopping function but if you already have a good vacuum cleaner at home, I'd suggest to just use a proper vacuum cleaner. The reason is that any hair or debris might stick into the roller and on the filter – that you later have to clean by hand (or use a cleaning tool). It'd be easier to just use a vacuum cleaner first to get the majority out of the picture.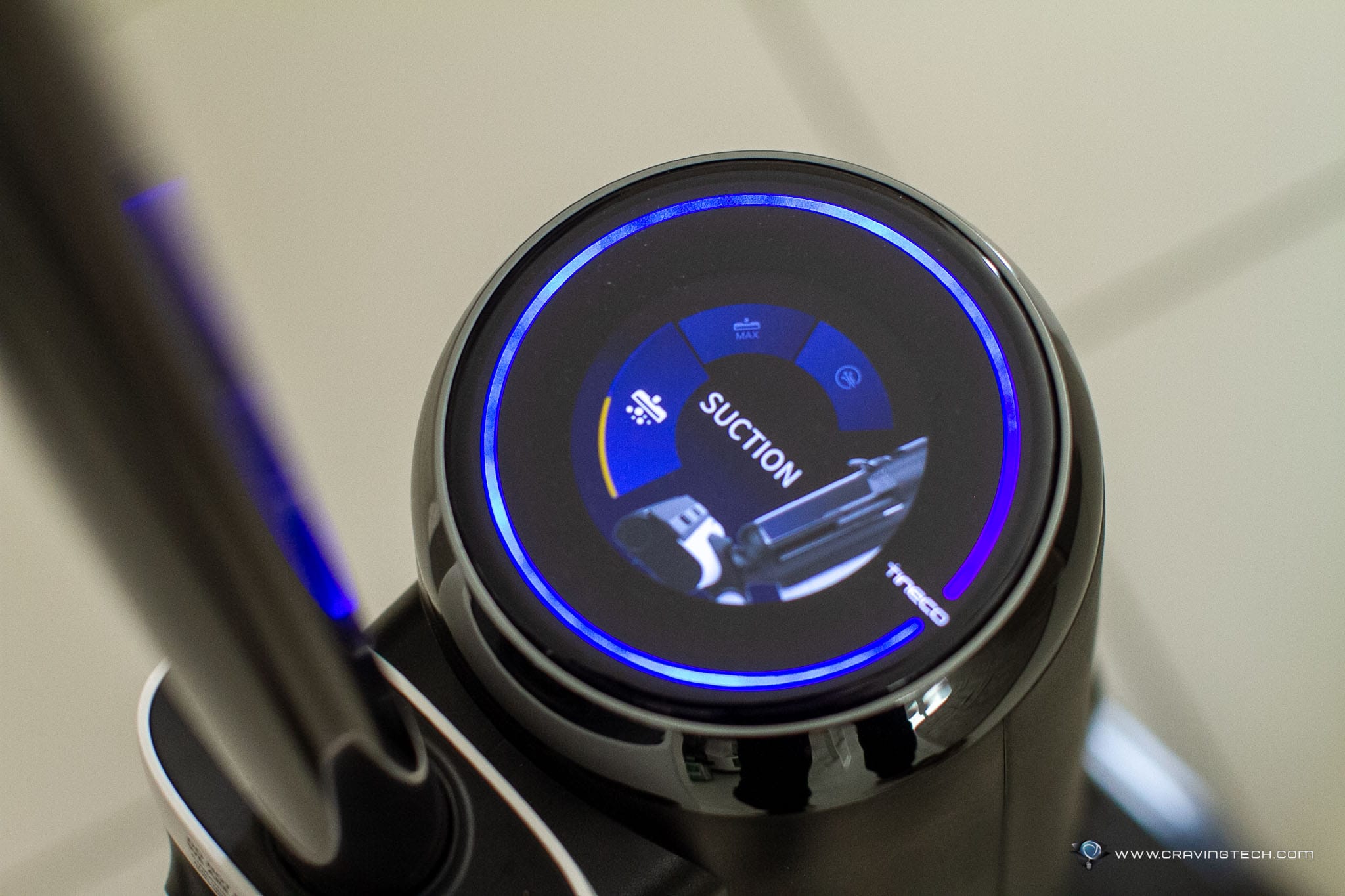 On the AUTO mode, the iLoop™ Smart Sensor will automatically detect how dirty your floor is and adjust water flow and suction power accordingly. You can also see the colour change on the LCD display and hear the suction sound going louder. I normally use the AUTO mode for the daily/weekly cleaning here with the FLOOR ONE S5 PRO but occasionally switch to the MAX mode when I want to remove a sticky, stubborn dirt on the floor that requires multiple passes.
And this is the beauty of it. As soon as you recline the unit, it will auto start and propel you forward. This immensely helps with manoeuvrability and that little force helps you to push the unit along the floor. Once you put it back upright, the machine will stop running.
With traditional mops (like the Sabco mop I also have from Woolies) and even my Bissell steam mop, I usually have to press the mop harder on the floor to make sure it removes the dirt and stain on the floor properly. This can be quite tiring if you have a very big house. Thankfully, thanks to Tineco FLOOR ONE S5 PRO, the brush roller does its job to scrub the floor gently but strongly (it's safe to use on hard floors), plus it helps you by pushing itself forward so you don't have to use an extra energy for both operations.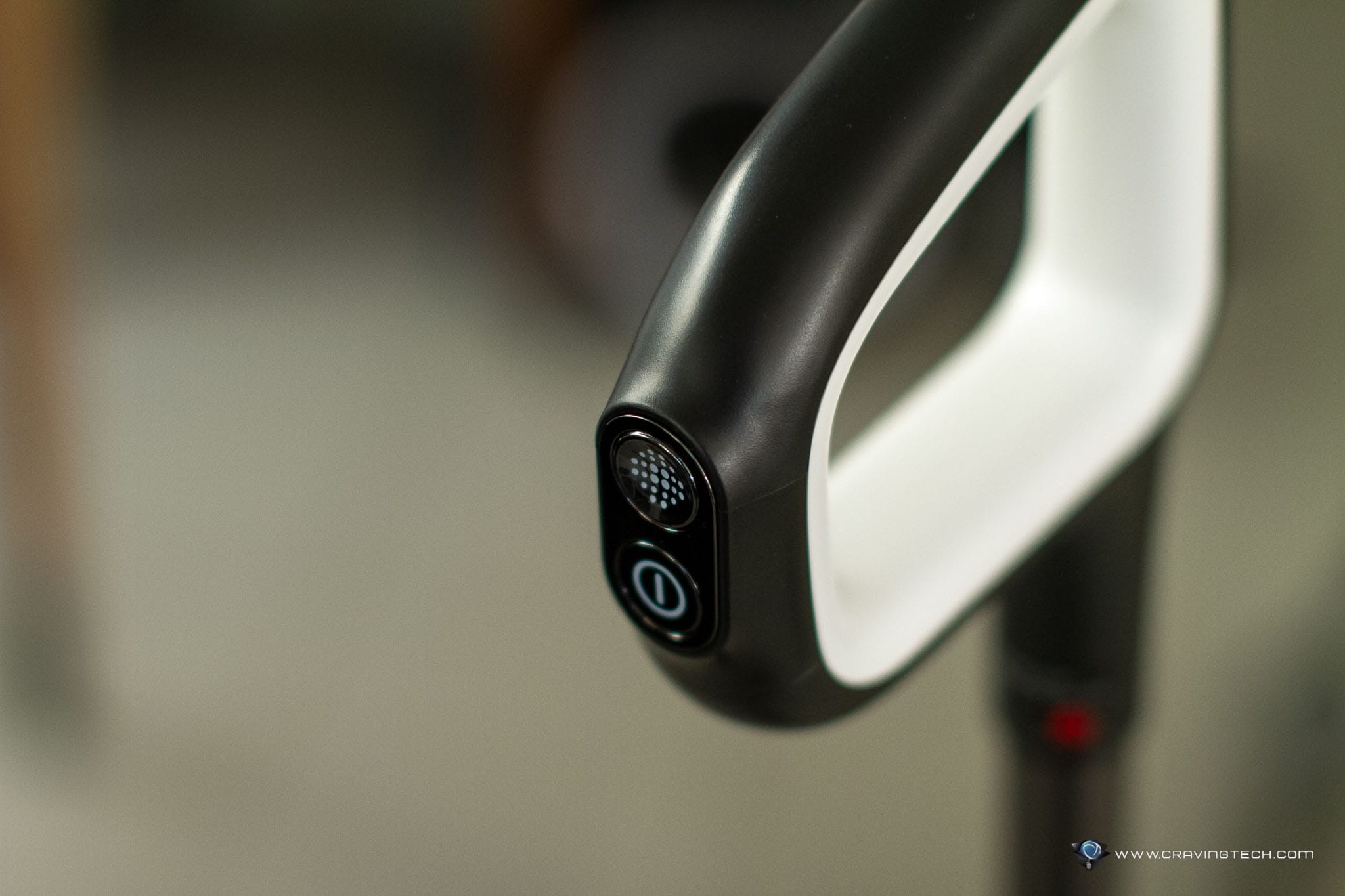 Even on very stubborn dirt sticking on the floor, all I needed to do was to hold the brush in place or do a forward-and-backward motion without having to press the roller harder – and let the machine does its magic.
You can see how good the cleaning session is by looking at the dirty water tank. The machine uses the clean water to wet the brush roller and then send the dirt (and any excess dirty water) into the tank. Okay, it's kind of gross in a sense but satisfying at the same time – like when you look at all the dirt and dust into a Dyson's bin canister.
And finally, you then place the FLOOR ONE S5 PRO into the charging dock where you can ask it to self-clean itself. This will clean the brush roller as much as it can so you don't need to manually. Once done, simply take the brush roller out and let it dry. If it's still wet by the time you want to use the FLOOR ONE S5 PRO again, there's always that extra one handy nearby to use.
While these sound really good and amazing, note that there are things to consider here. If you have long-haired dogs that shred a lot, the hairs will be caught (thankfully) but you may have to clean this properly as it may affect the operation of the machine. Some might find it disgusting to touch these while cleaning (though you can use a cleaning tool for this), so if you are in this situation, I'd highly suggest to vacuum the floor first with a vacuum cleaner. While it defeats the purpose of having this 2-in-1 machine, it may save you from the post-cleaning process after. But it's your call.
I have a long hair Chihuahua that shreds quite a lot but the machine trapped the hair nicely after every cleaning session and I can just simply chuck them to the bin.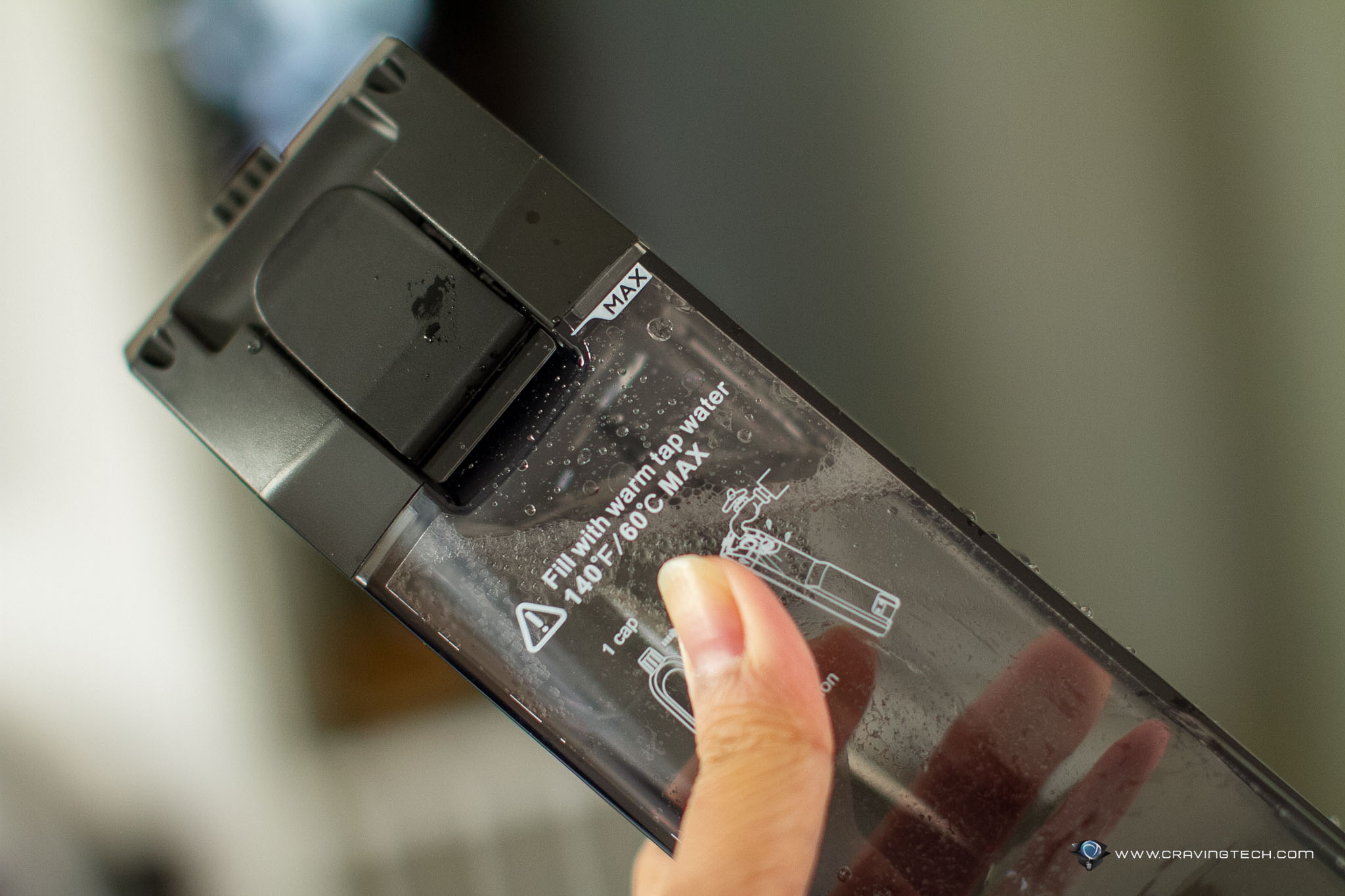 I also find that the self-clean process is really good but if you have curry stain on the floor or something stronger, the brush may still have stain even after it's being cleaned. So you either have to execute the self-cleaning multiple times, or manually clean the roller. Depending on how dirty your floor is, you may also find some dirt residue here and there that you have to clean to make sure the machine is always in good condition.
I usually use a kitchen's paper towel to remove any stain or if I spill something. But if you are lazy, sure, you can just the FLOOR ONE S5 Pro to quickly make this go away. This includes dog's piss (but honestly I don't recommend doing this), spilled milk, and many more. As long as you don't mind getting the brush roller a bit dirty afterwards.
Tineco FLOOR ONE S5 PRO Review – Short Video on how it works
Tineco FLOOR ONE S5 PRO Review – Conclusion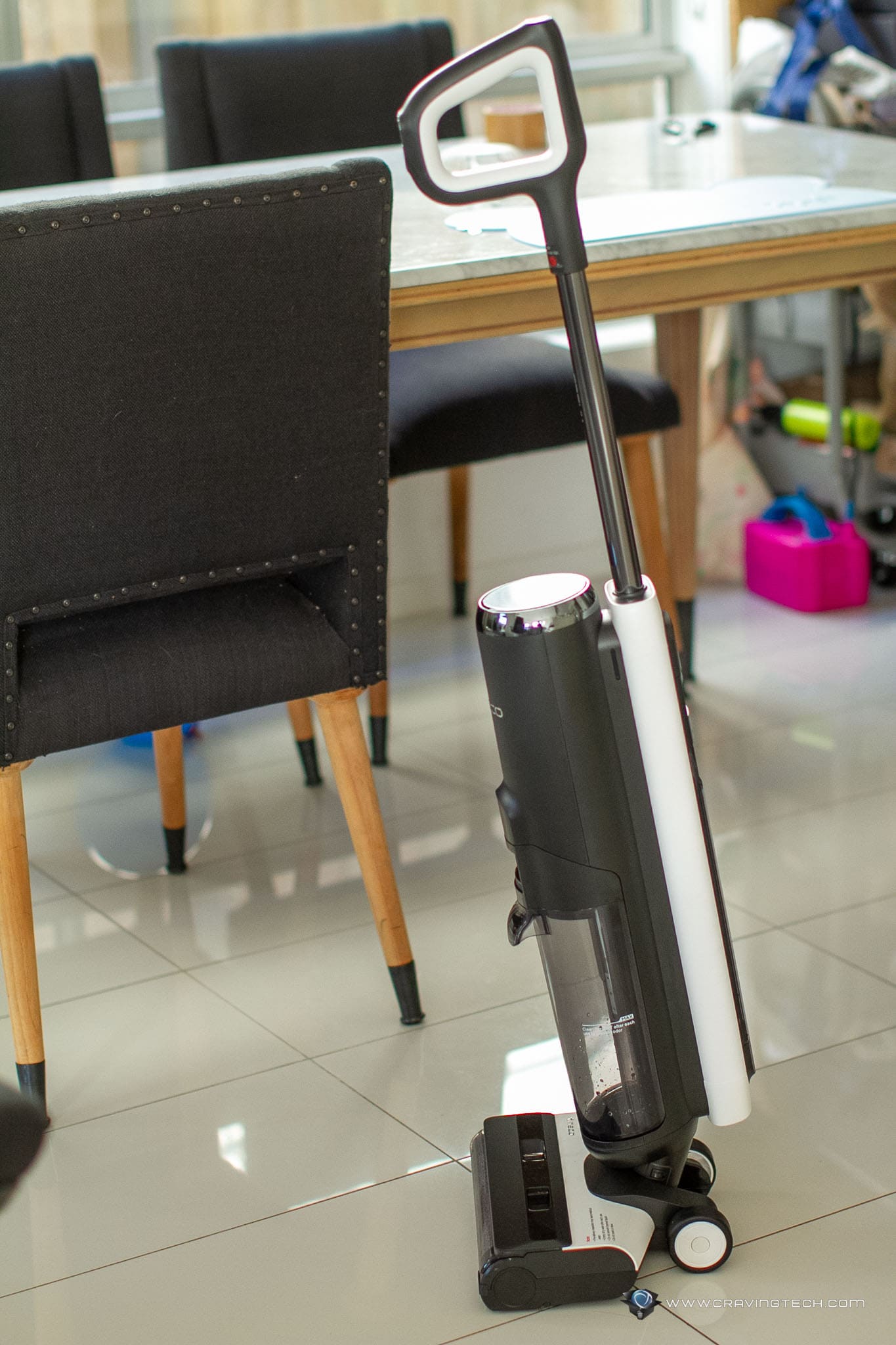 Tineco FLOOR ONE S5 PRO is very popular in Southeast Asia because we mostly have floor tiles in our homes (not much on carpets). Having to broom and then mop the floor afterwards is definitely a tedious process and since you have to do this daily, it's quite an annoyance that you have to live with. But Tineco gives a really good solution with its FLOOR ONE S5 PRO that both vacuums and mops the floor at the same time.
The machine is highly manoeuvrable, quick and easy to use, efficient in removing all kinds of dirt + stain on the floor, and best of all – can auto clean itself on the charging dock. These combinations are what make the machine one of the most recommended solutions at home if you have hard floors or tiles.
Sure, there are still things to do post cleaning session such as emptying the dirty water tank, washing the filter, taking and cleaning the hair out, and possibly brushing the excess dirt around the holes, but it's a small price to pay for what you get with the convenience.
Tineco FLOOR ONE S5 PRO retails for A$999 and is available at Godfreys around Australia. You can also come to the store and ask for the demonstration (I had this during Christmas last year) before you finalise your purchase decision and to see it first-hand. If you reside outside of Australia, you can also try Amazon.com.
Disclosure: Tineco FLOOR ONE S5 PRO review sample was supplied for reviewing
Tineco FLOOR ONE S5 PRO Review
Summary
If you have having to vacuum your floors and then mop them after (while getting tired after doing so), definitely check the FLOOR ONE S5 PRO out
Pros
Easy to assemble, easy to use
Great manoeuvrability
Good suction, great mopping performance
Charging dock included to charge the unit but also do the self-clean
Useful extra accessories
LCD display with audible information
Easy to reach controls
Cons
You still have to clean things here and there manually after each session
You'll probably have to vacuum the floor first with a vacuum cleaner if you have dogs with long hairs
Due to the dirty water tank size, you can't recline it low enough (i.e under the couch, etc)
You can connect it with an app, but I never find the need for it