Dyson DC31
Michael Aulia
Review summary
Dyson DC31 Review – The most powerful handheld vacuum cleaner yet easy and light to carry. The Dyson DC31 also has a great suction power even when the battery is running low or when it's already filled with dust and dirt.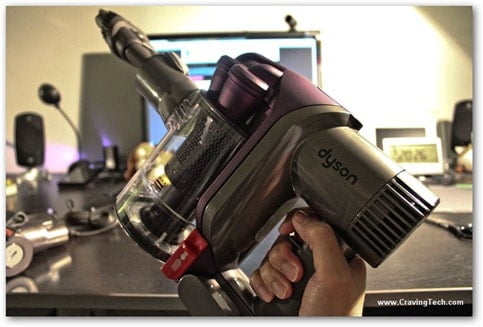 Dyson DC31 is a handheld vacuum cleaner by Dyson, delivering probably the strongest suction on the handheld vacuum cleaner's market. It was made so that it can be operated with just one hand, with ease.
The Dyson DC31 has a Radix Cyclone technology which basically means it's safe to know that it won't lose any power when dust and dirt are starting to fill up like conventional vacuum cleaners. This is true because I remember having my $40 vacuum cleaner years ago and I could tell when the bag was getting full. Although this is unrelated, I found that the DC31 didn't lose power even when the battery was running low too.
The Dyson DC31 has 2 power modes:
38 air-watts mode, which lasts for 10 minutes.
65 air-watts mode, which lasts for 6 minutes but with 70% more suction.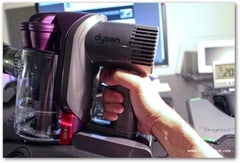 You can switch between the 2 modes by pressing the big "Boost" button on the unit. Now, you may think that 6-10 minutes of vacuuming is not enough, but most of the time, it is. Remember that the DC31 is not meant to replace your main vacuum cleaner. In fact, I wonder how you can clean your whole house with a handheld vacuum cleaner. Because of the time limit, Dyson DC31 works best to do quick clean-up jobs and to vacuum small areas such as your rugs or small to medium sized carpets.
The Dyson DC31 is quite light (around 1.3 kg) and easy to carry. The power button is located on the handle (like a gun's trigger) and you hold it to start vacuuming with the DC31. I wish that the button is a toggle like the Boost button though, as it's quite tiring if you have to press and hold the button non-stop for 5-10 minutes straight. I guess the button is designed to do some short sessions rather than a long one.
Dyson DC31 is also bagless. All dust and dirt is going inside the transparent canister and all you need to do is press the release button to empty it. It's more hygienic this way because you don't have to touch the dust and dirt at all unlike any other vacuum cleaner with bags.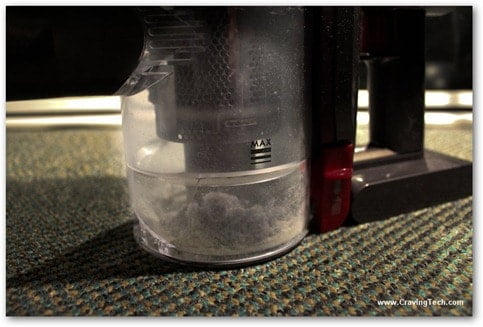 The packaging also includes 3 different attachments, shown on the photos below and can easily be attached/detached from the main unit.
The good news is, you could actually use other Dyson attachment on the DC31 and they will attach perfectly. So if you've been a loyal customer to Dyson, you can do a "mix-and-match" since the kit will work in other Dyson models you have. For example, here is a photo of the DC31 using an attachment from the Dyson DC22 to clean my computer case: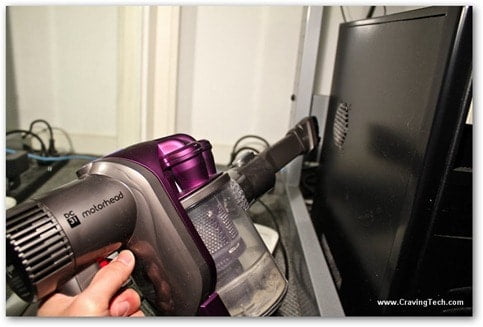 As far as the suction goes, Dyson DC31 doesn't disappoint at all. It's powerful yet so compact in size, it's really amazing. A rug or a carpet that looks so clean can't actually deceive Dyson DC31's suction power. You will be amazed at how many dirt and dust are collected in your house even when you have vacuumed it the day before.
Using the 3 different attachments, it's also easy to use the DC31 in different environment. They are very useful and since changing the attachment is very easy on the unit, doing the chore is actually more fun than ever. It feels like assembling a weapon somehow – okay let's not go there..
To recharge, you simply plug the power cable to the base that holds the battery unit. The base is also detachable from the main unit, so you can easily recharge it somewhere else while storing the DC31 main unit away.
Dyson DC31 Review Conclusion
Dyson DC31 is the most powerful handheld vacuum cleaner that I've tried in my entire life, honestly. It has the best suction power, yet it is very compact in size. Carrying it around the house or to your car is easy and since almost everything is detachable, the DC31 is also easy to store.
Although the 6-10 minutes battery power might seem to be a disappointment, most of the time I actually never finished the whole battery in one go. It's a different story when you want to vacuum your car though, as you may need to utilize the Dyson DC31 to its fullest. If you are concerned, watch this video where someone proves that you can vacuum a whole car in 10 minutes with the Dyson DC31 :)
The only minor thing that I'd like the DC31 to have is a toggle button to start the DC31. At the moment, you have to press and hold the power button to vacuum and it can be tiring if you hold it for too long without a break.
All in all, I'm very happy with the DC31, especially its suction power and ease of use. Now I wish Dyson has started to research to produce a Dyson vacuum cleaning bot. One can only hope :)
NOTE: Review unit provided by Dyson, photos taken with Canon EOS500D.