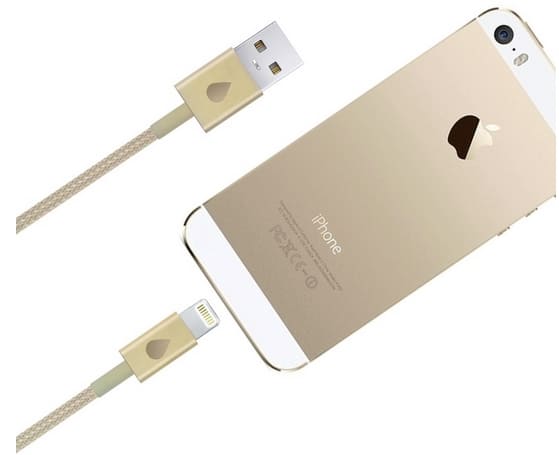 Patting your gold iPhone 5s every chance you get only to be followed with a frown on your face because the USB charging cable comes in white color? Well, frown no more because a Kickstarter project, JUICIES+, will make sure that you can get a big golden smile on your face.
JUICIES+ is a Kickstarter project to manufacture the USB charging/syncing cable that Apple should have made – a really nice, high quality, and sturdy cable.
The cable is designed to have the same look-and-feel with your latest smartphone in sandblasted anodized aluminium material. The Lightning JUICIES+ cable also gets an MFi certification which means the cable is not a cheap third-party cable that iOS 7 will complain for not being compatible, etc etc. It's certified and guaranteed to work with quality to charge your iOS devices.
A wire mesh is also inserted within the cable to make sure that the cable stands for abuse, along with strong woven material on the outside.
JUICIES+ cable is also longer than the official Apple cable by 1 feet (about 0.3 meter) – which should make people happier when they are charging their devices through a power board.
The cable is available in Black, White, or Gold color on Lightning and microUSB.
I've secured my own Black Juicies+ cable for my Space Grey iPhone 5s for $23 ($18 to back the project and grab one cable + $5 international shipping fee). If you own the gold iPhone 5s, then you should grab the gold charging cable while the project is still on going. The only negative thing is that we all  have to wait until January 2014  before we can grab ourselves one of these juicy JUICIES+ cable. Sigh.