Philips Sonicare Cordless Power Flosser 3000 Review – I've had a fair share of using and reviewing water flossing machines here at Craving Tech. While I love using the Philips Sonicare Power Flosser 7000, it is not exactly made for travelling. Sure, you can pack it inside your luggage but it's better to carry something more compact than that.
The Power Flosser 3000 is definitely the compact version of the Flosser 7000, making it easier to carry around for holiday but when you still need to take care of your oral health.
Philips Sonicare Cordless Power Flosser 3000 Review – Packaging Contents and Unboxing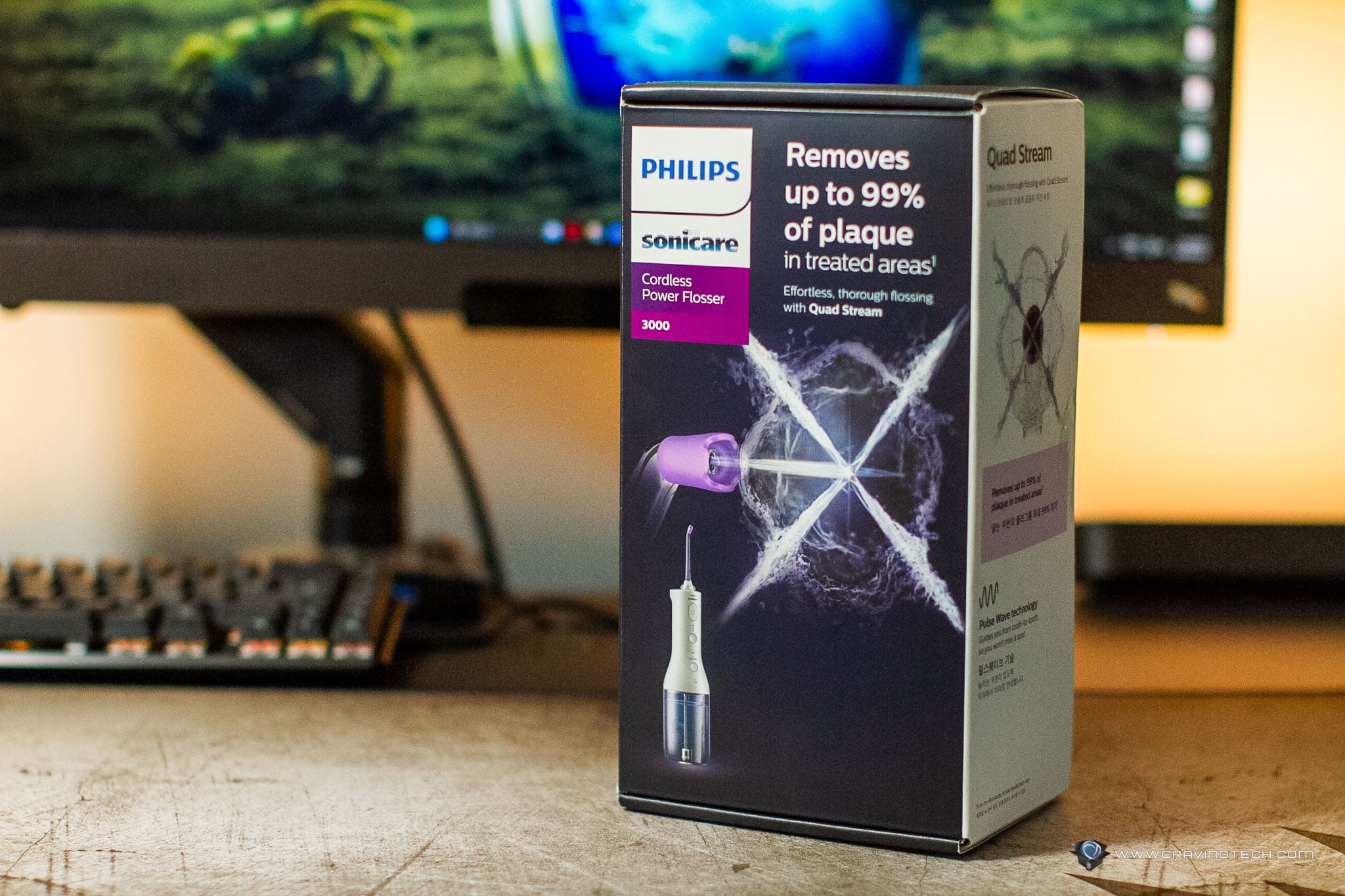 Philips Sonicare Cordless Power Flosser 3000 Review – Design and Features
The water flosser has two flossing (Clean and Deep Clean) and three intensity modes. These options can easily be accessed through the physical buttons located at the front of the unit – pretty much where everything is. You can check for the modes you've selected through the different LEDs, and feel it while you are waterflossing your gums and teeth.
Two tips are included in the packaging – the usual Standard nozzle (Jet Tip) and Quad Stream nozzle that separates flow into 4 water jets, covering more area between teeth and along the gum line in one go. It makes water flossing more efficient but I personally somehow still prefer the Standard nozzle as I can aim it more accurately. Feel free to try both though as you can easily switch between the two tips.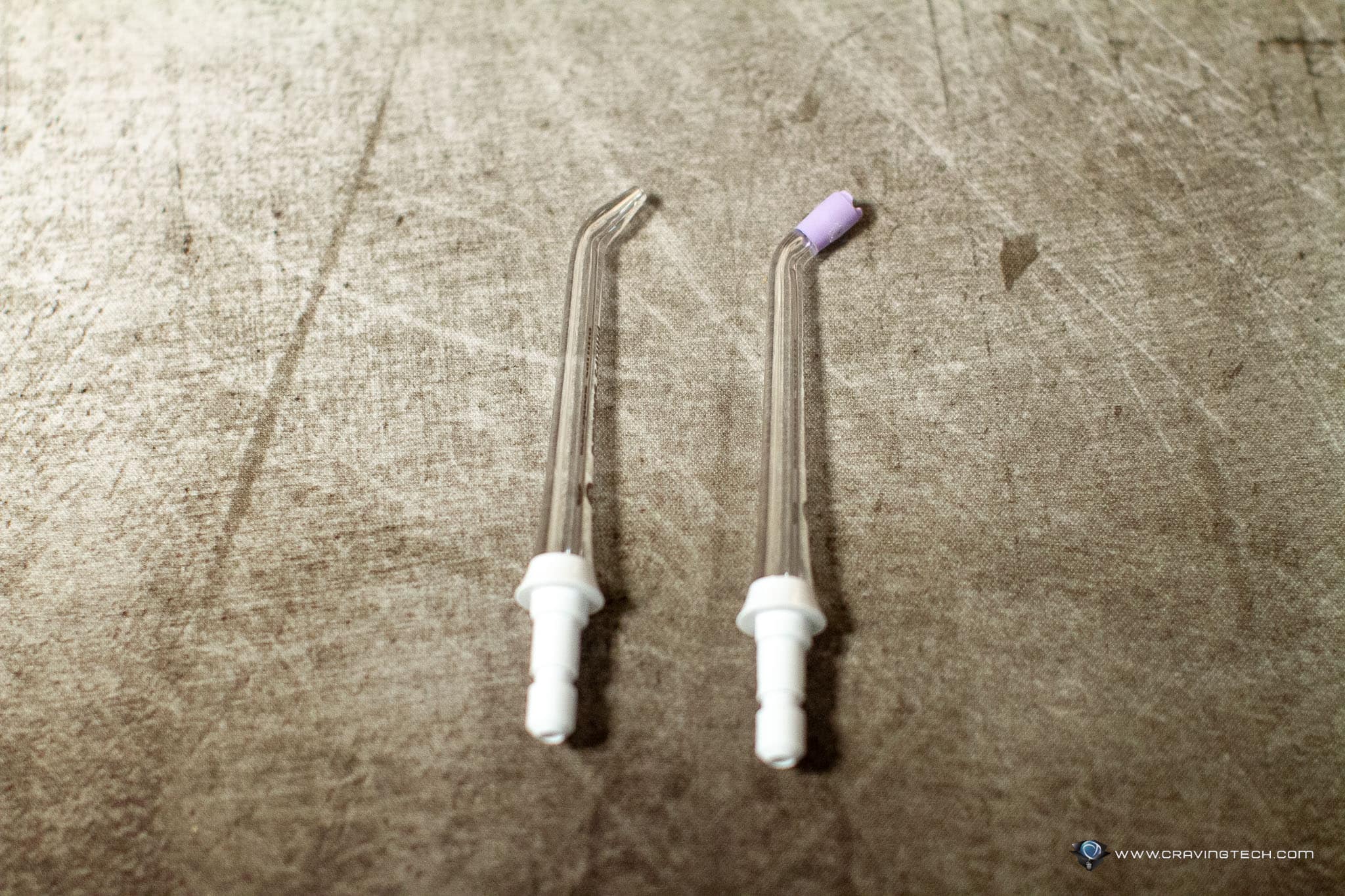 While water flossing, you'll also be notified through a gentle vibrate around every 15 seconds when it's time for you to move to the next mouth quadrant.
I've been waterflossing with the Power Flosser 3000 for the past week and so far it's been great. I opted for the maximum intensity setting and happy with the results. Food residue come off from the gum pockets and in-between teeth, priming them for a good, clean brush after.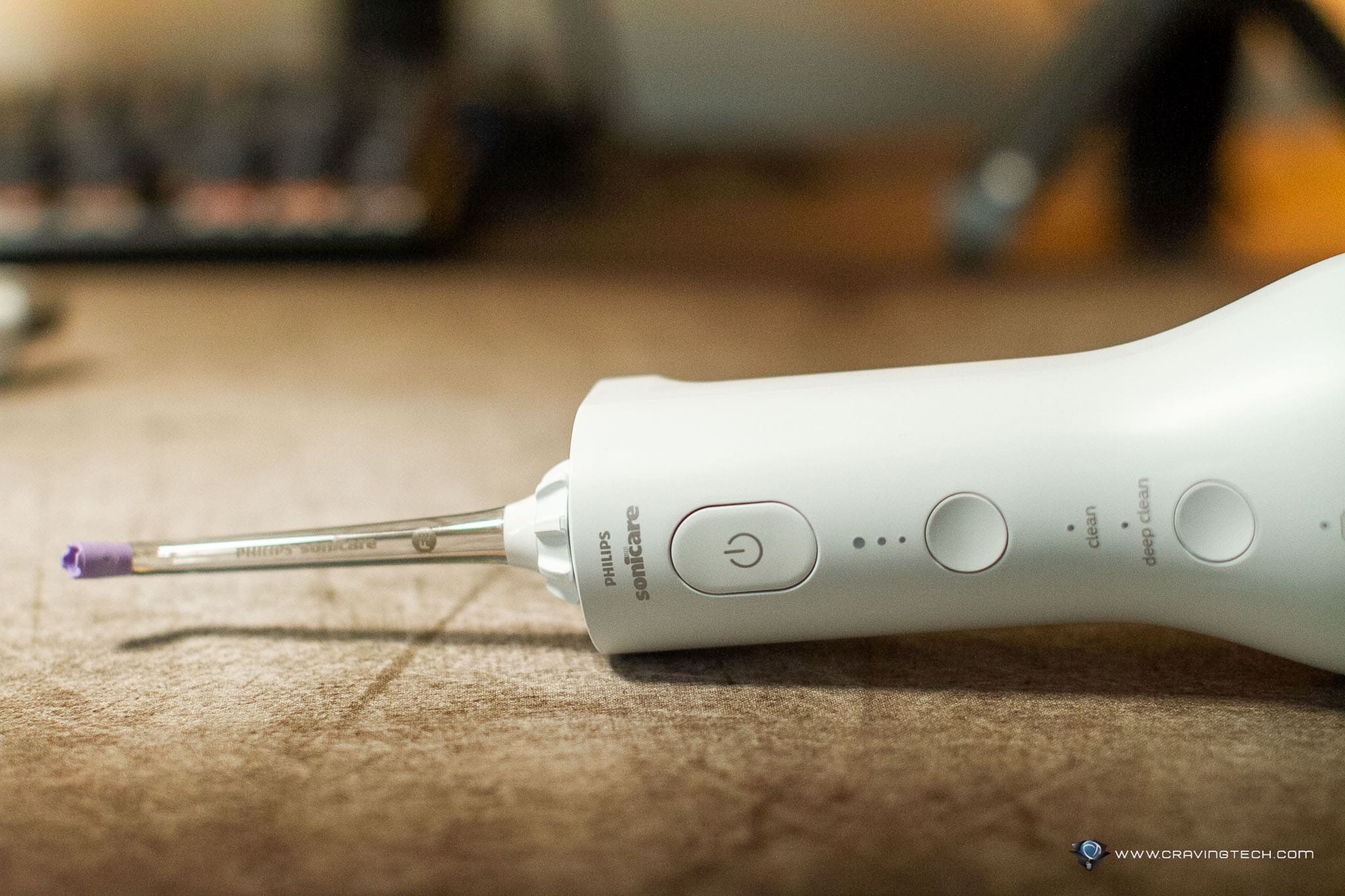 Philips Sonicare Cordless Power Flosser 3000 comes with a 250ml reservoir and in my opinion, it's just enough to waterfloss my mouth regularly. Only when there were a stubborn piece of meat or veggie stuck between my teeth that I needed to refill the water one more time. Your usage may vary, of course, but please note that this product is made for travelling so don't complain for the water tank being too small. If you are water flossing at home, I definitely recommend you to grab the bigger brother, meant to sit on the vanity benchtop – the Power Flosser 7000.
What I really like about the Power Flosser 3000 compared to its competition (i.e Waterpik's) is that the unit can be charged via USB-C! I normally had to carry an extra power adapter to charge my water flosser (Waterpik Cordless Select) when I traveled – which means extra space and weight. With Philips Power Flosser 3000, you can pretty much use the same USB-C cable that charge your Android phones or tablets.
According to Philips, you can get up to 14 days of cleaning from a single charge.
Philips Sonicare Cordless Power Flosser 3000 Review – Conclusion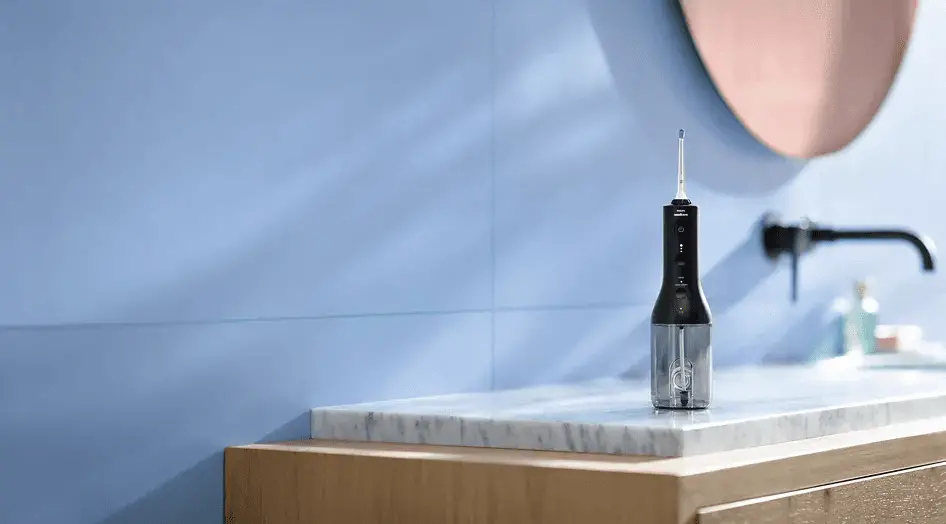 Philips Sonicare Cordless Power Flosser 3000 looks and feels more premium compared to my Waterpik's counterpart. It's easy to move around the mouth, has different kinds of settings, enough water capacity without making it too bulky, and I love that it's using USB-C to charge.
I have no complaints whatsoever and it has become my go-to water flosser whenever I go travelling (it also comes with a travel pouch). It retails for A$199 but there's a Father's Day cashback if you purchase it by the 3rd of September.
Disclosure: Philips Sonicare Cordless Power Flosser 3000 review sample was supplied for reviewing
Philips Sonicare Cordless Power Flosser 3000 Review
Summary
Easy to move around the mouth, has different kinds of settings, enough water capacity without making it too bulky, and rechargeable using USB-C
Pros
Premium look and feel
Excellent performance, with different modes and settings
Automatic reminder to move to other quadrants of the mouth
Two different tips included
Rechargeable with USB-C
Travelling pouch is included
Cons
Not as strong as the countertop version