Arlo Essential Spotlight Review – Arlo wireless cameras are very popular in the wireless security market and they come with different sets of features, mostly in terms of video resolution and camera's field of view. But you can check for the comparison between one Arlo camera to the next over on their web page in detail.
We've reviewed many recent Arlo cameras such as the Arlo Ultra (4K video quality) and Arlo Pro 3 (1080p video quality). There is also Arlo's new wireless floodlight camera but it serves a different purpose and specific placement. Arlo Ultra and Arlo Pro 3 are great cameras, but they require you to have the Arlo Ultra Smart Hub/Smart Hub – which can be costly if you just want a single wireless security camera.
With Arlo's new Arlo Essential Spotlight, no Hub is required (though it will help with range and battery life), making it far more affordable than having to buy the Arlo packs. For just AU$229, you'll get yourself a nice Arlo 1080p camera with 130-degree viewing angle, and all the essential features an Arlo camera has.
Packaging
A set of wall mount & screw kits are included.
Design & Features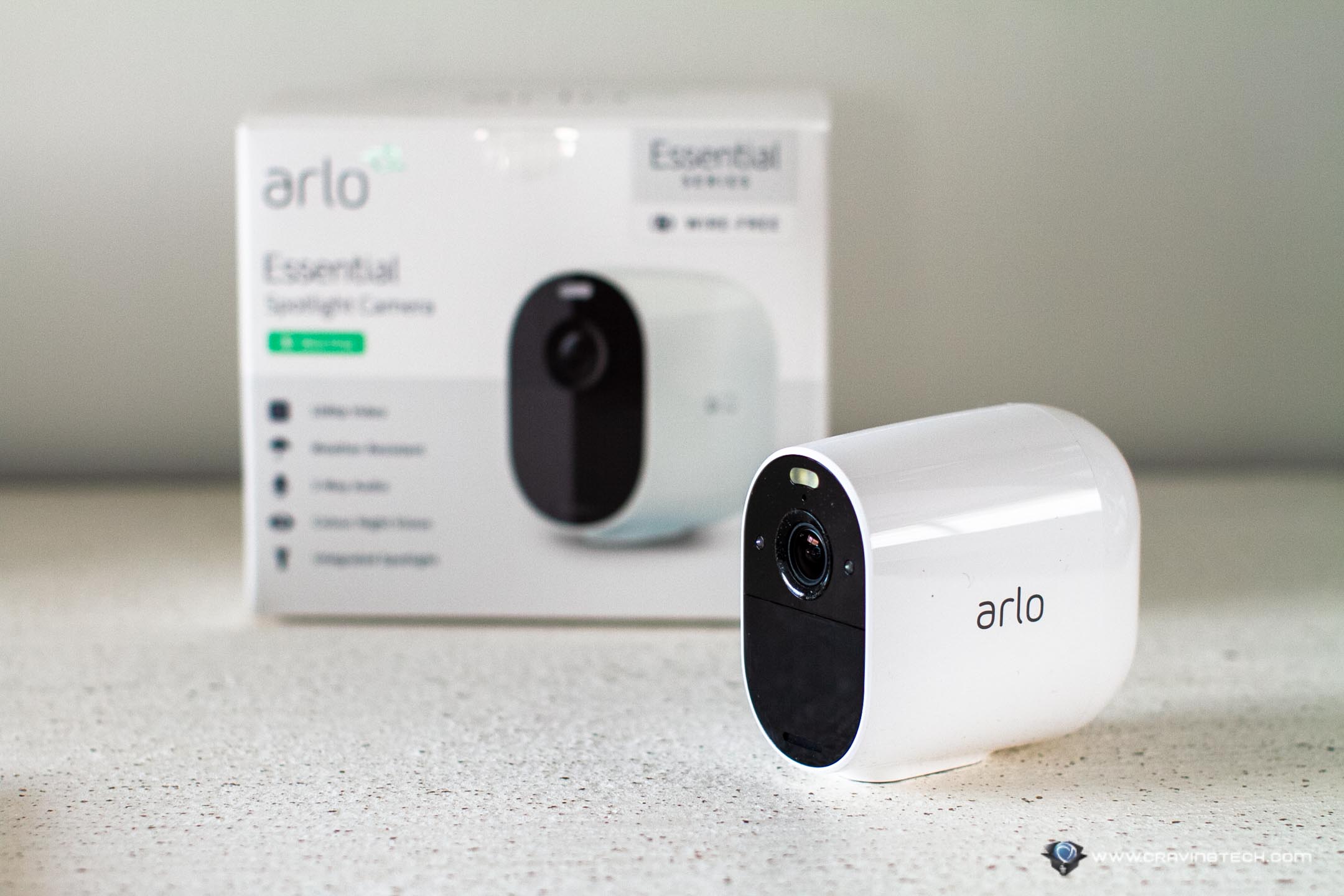 Arlo Essential Spotlight has two-way audio, an integrated spotlight with colour night vision, and built-in siren. It is also weather resistant so you can set the camera up outside and not having to worry about the weather. The charging port is well concealed to prevent water from coming in.
Once set up, you can also define the motion zones for the camera to focus on. For example here I set the Arlo Essential Spotlight in my backyard and I don't want the camera to notify when there are movements inside the house (i.e through the ground floor windows) and the tool is easy and powerful to create multiple zones to cover.
The camera records videos in 1080p and with 130-degree viewing angle, it can capture quite a lot in a scene. The clips are of really good quality too. With built-in night vision, Arlo Essential Spotlight can also record in complete darkness – which should keep you at peace while you are sleeping.
Plus, its built-in spotlight will automatically get triggered as soon as it detects movement, quite handy to light the area to get the coloured night vision footage but most importantly, scares intruders away. You can change the brightness setting to save more battery, among other options like the spot light behaviour, etc.
It works with Amazon Alexa, Google Assistant and IFTTT so I can say through my Amazon Echo Show 8 device like "Alexa, show me the backyard" and Alexa will automatically connect to the Arlo camera and show the live footage on screen. You can also enable other automation through IFTTT.
Arlo Essential Spotlight purchase includes 3 month trial of Arlo's AI subscription-based service, Arlo Smart, which is essential to have, mostly because this enables cloud recording and smart detections/notifications. The camera itself, like the other more premium Arlo cameras, can detect between people, vehicles, animals, and packages through Arlo Smart.
Arlo Essential Spotlight Sample Clips
Arlo Essential Spotlight Review Conclusion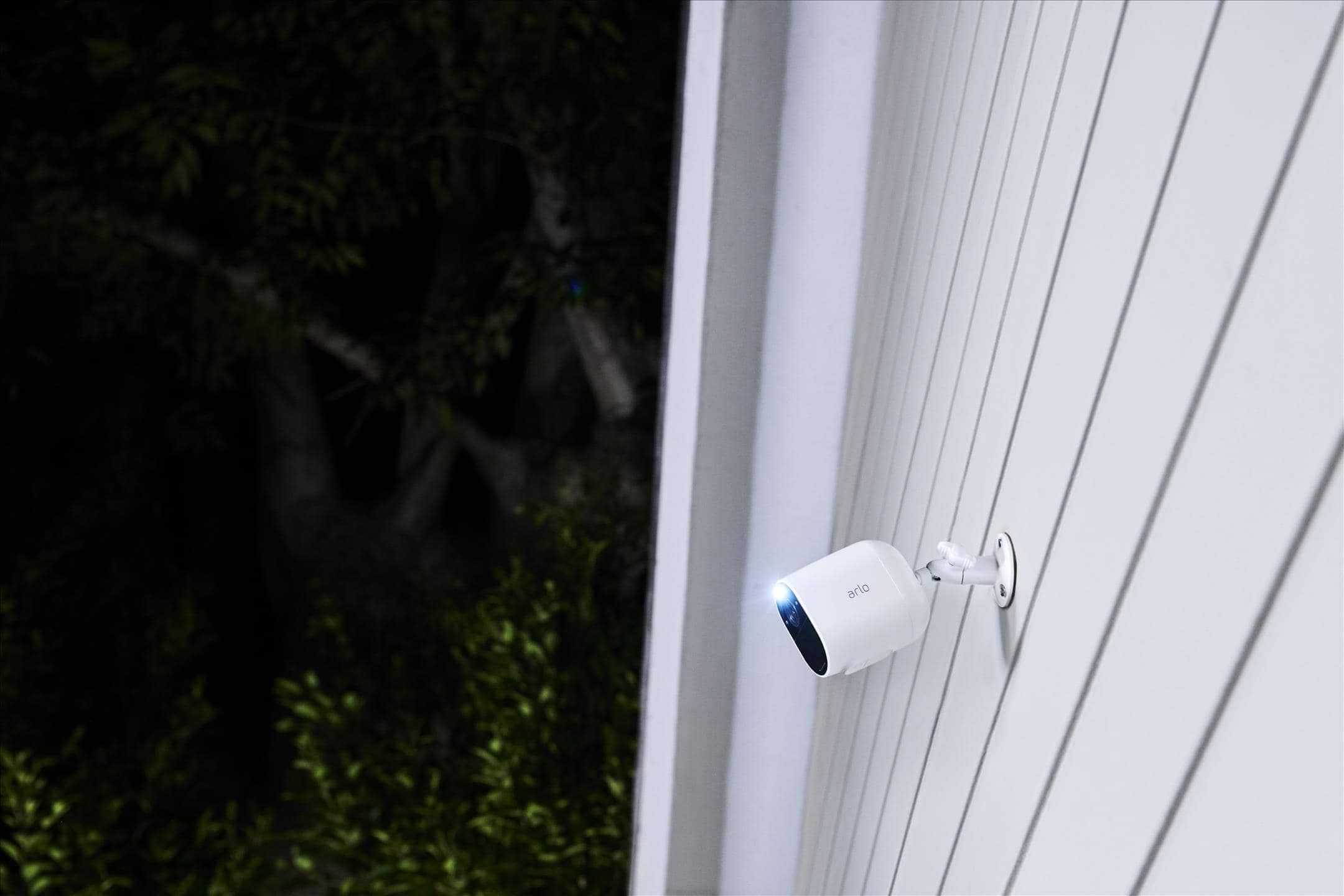 It's easy to fall into the trap of thinking that Arlo Essential Spotlight Camera is an Arlo's budget, wireless security camera with basic features. As a matter of fact, it really has all the features we love about Arlo such as great footage, coloured night vision, built-in siren, two way audio, siren, and even a built-in spotlight. Sure, it doesn't have a local storage with microSD or hot-swappable battery, but anyone can live without those.
Arlo Essential Spotlight Camera can be purchased and used on its own, which makes it the most affordable Arlo camera ever (especially if you only need to install one camera to secure your house). At just AU$229 for one camera (or AU$429 for two), Arlo Essential Spotlight Camera is highly affordable and a great choice for your first wireless, security camera.
The camera will be available in September 2020 but you can pre-order at a few retailers like Harvey Norman now.
Disclosure: Arlo Essential Spotlight Camera review unit was supplied for reviewing but all opinions are mine and not paid
Arlo Essential Spotlight Review
Summary
Arlo's most affordable wireless security camera with every good thing that Arlo cameras offer 
Pros
1080p Video Recording
Wide camera angle
Built-in spotlight & siren
Night Vision
Two Way Audio
Weather resistant
Doesn't need an Arlo hub (though helps with wireless range & battery life)
 
Cons
Requires Arlo Smart monthly smart subscription for Cloud recording and other useful things