Arlo Ultra Review – This is quite a strong opening statement of my review, but Arlo Ultra is simply the best wireless camera in terms of quality and features.
While we have reviewed the original Arlo and Arlo Q, the Arlo Ultra takes a massive leap by offering 4K HDR & Artificial Intelligence, leaving other wireless security cameras like D-Link Omna Wire-Free or Ring Spotlight Cam behind.
But let's not get ahead with the conclusions already. Let's unpack the Arlo Ultra one by one.
Arlo Ultra Review – Packaging
Arlo Ultra Review – Installation
Before you start setting up the wireless cameras, you need to set up the Arlo SmartHub first. With the help from Arlo's free mobile app, installation is very easy: just plug it in to power, router, and follow the step by step instructions.
There is no awkward, traditional "connect to the device's Wi-Fi, change something, and reconnect to your Home Wi-Fi" steps. Even adding new cameras is as simply as inserting the battery and the app can find them instantly.
I literally set the Arlo Ultra up within minutes and that was quite amazing. But if you require drilling and mounted installation, it'll surely take more time.
I believe if you purchase the add-on "Arlo Ultra Magnetic Charging Cable" (either for Indoor or the more-weather-resistant Outdoor version), you can power the camera indefinitely.
Arlo Ultra Review – Design & Features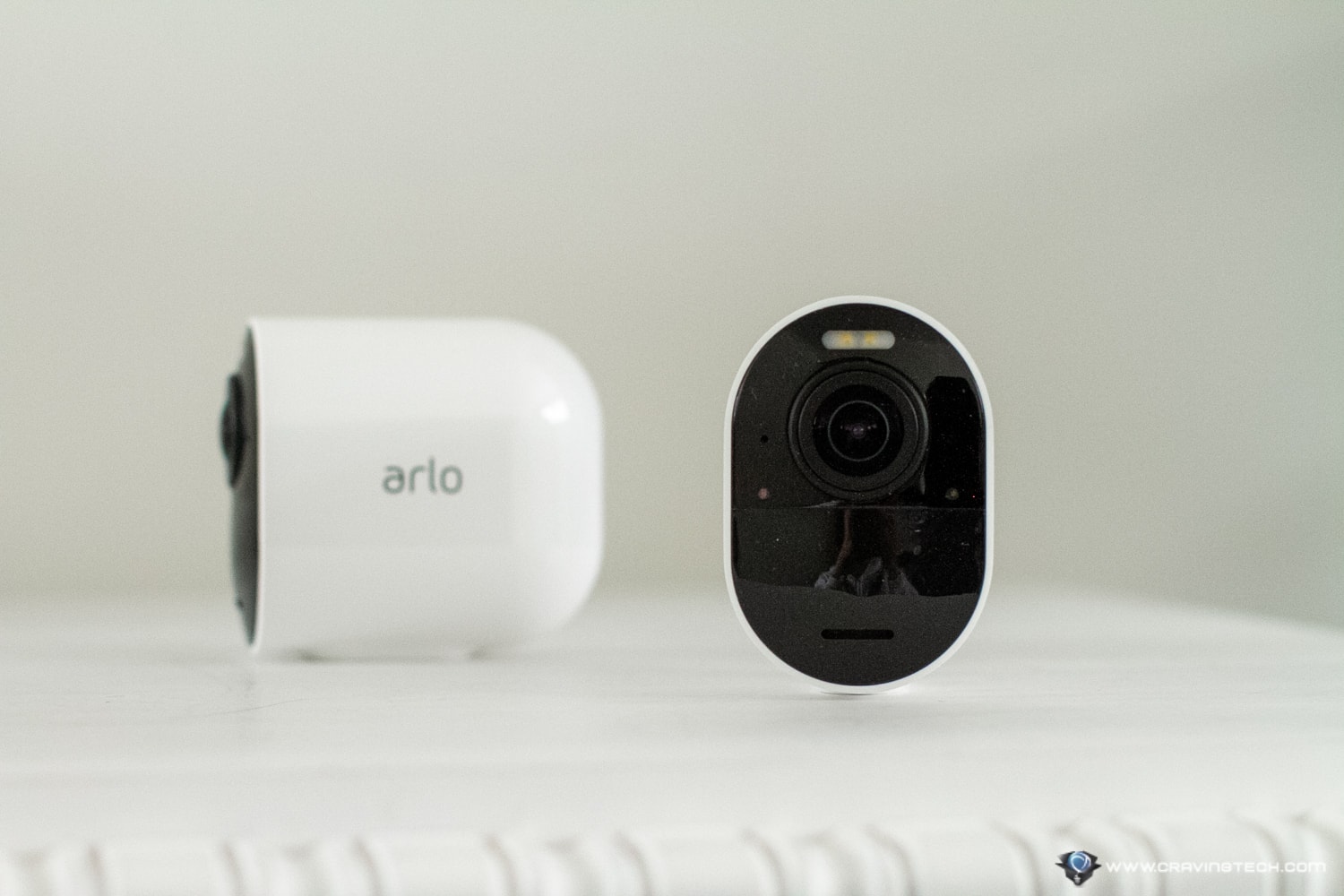 Arlo places all the core functionalities and processes inside the Arlo SmartHub which extends the battery life of the wireless cameras. The Hub is pretty compact too. Unlike D-Link's solution, Arlo places the siren functionality on the camera unit itself and not on the hub. The good thing is that it can scare the intruders directly in front of their face, but it won't be as loud.
With a microSD (not included in the packaging), you can have an option of having local recording saved on the Hub (with 4K resolution without having to subscribe – more on this later).
Arlo Ultra is capable of recording at 4K (3840×2160 resolution at 16×9 aspect ratio) which offers you the best image quality from a wireless security camera so far. It means that you can zoom in on a clip and still get a clean, good quality image. It also supports auto HDR which is great if you are installing the cameras outdoor.
Arlo Ultra also supports night vision (coloured) and has an up to 180-degree viewing lens that captures a lot of angles.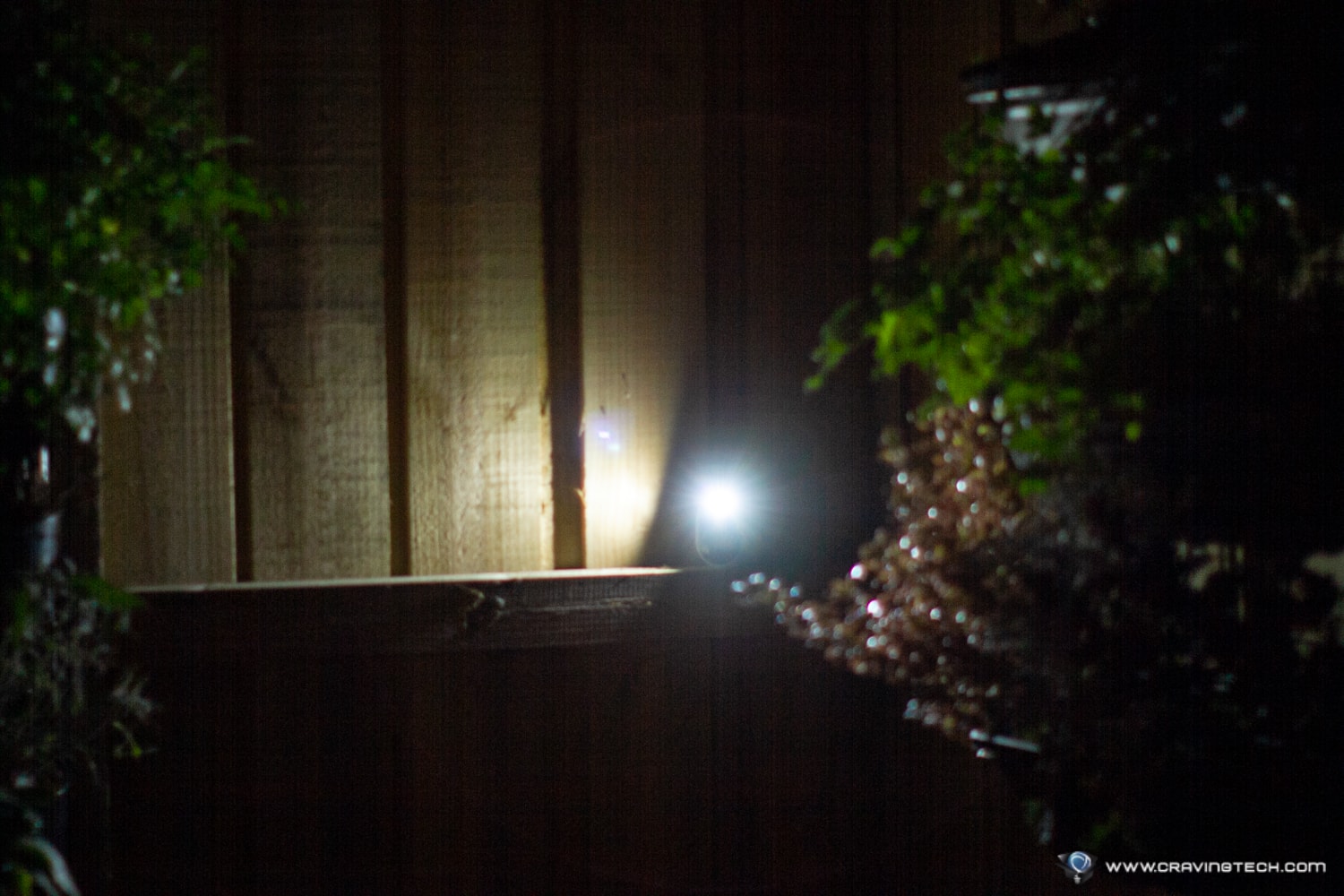 There are dual, noise-cancelling microphones (from wind and rain) and internal speaker for a clear, two-way talk feature.
Arlo Ultra also has a built-in spotlight like the Ring Spotlight Cam Battery where the spotlight can automatically light up if the camera detects a motion. This will (hopefully) scares the intruders away but you can also use it to light your path through a side or fence gate. I'm quite surprised at how bright the spotlight is (6500K, 42 Lux @1M), which is great.
If you enable the option, Arlo can also automatically zoom in when it detects a person and track him/her while on the scene. This feature doesn't seem to work when 4K Streaming is on but to be honest, the track & zoom is not a compulsory feature as you can still see what's going on anyway. Still, a cool feature nevertheless.
Arlo Ultra is also equipped with smart detection where the camera can differentiate between People, Animals, and Vehicles. You can change these as you see fit.
This way, you can disable certain motion detection depending on where you are installing the camera at. For example, if you install the camera at your backyard, you might not need to get notifications each time your dog or cat is wandering about (i.e, only enable "People"). You'll also see this on the app notification.
In my experience, this feature is the coolest and works wonders. I can cut a lot of false notifications from the cameras which are normally quite annoying on traditional security cameras with motion sensors. There is also a feature in Beta where Arlo can even detect packages if you are going to install an Arlo Ultra camera near your front door.
To even tailored your motion detection further, you can set up specific zones (like the Ring Video Doorbell Pro) for Arlo to monitor. This is useful if you want to make sure Arlo picks up any motion (i.e enable the "All Other Motion" setting) but still want to filter out your moving trees and plants.
I also love Arlo's rich notifications when a camera detects a motion as I can take action straight from my phone's home screen such as viewing the camera live, sound the alarm, or call a friend (if you have set it up) quickly.
The Arlo app itself is very comprehensive and user friendly. Compared to the other wireless security cameras I've reviewed so far, the Arlo app is the best overall in terms of features and simplicity of the app.
With the app, you can check your recorded videos from the cloud, change each camera settings, create a schedule when to arm and disarm the cameras, and even create custom rules and actions. For example, I have the Arlo Q monitoring our church's main hall and I do not want it to notify me each time there is a motion event, but would love to just record it – in case something happens and we need the clip for insurance purposes.
Last thing, Arlo Ultra supports both Google Assistant and Amazon Alexa. So for example, I can ask my Google Nest Hub to show me a live footage from the Arlo Ultra camera using my voice alone. If I'm not mistaken, Apple HomeKit support was also mentioned but it's not 100% confirmed on the release date or if it'll even make it out (so, don't make a purchase decision based on this alone). Apple HomeKit support is also now available as of October 2019 – which requires a free firmware upgrade if you get these before then.
Arlo Ultra Review – Subscriptions & Plans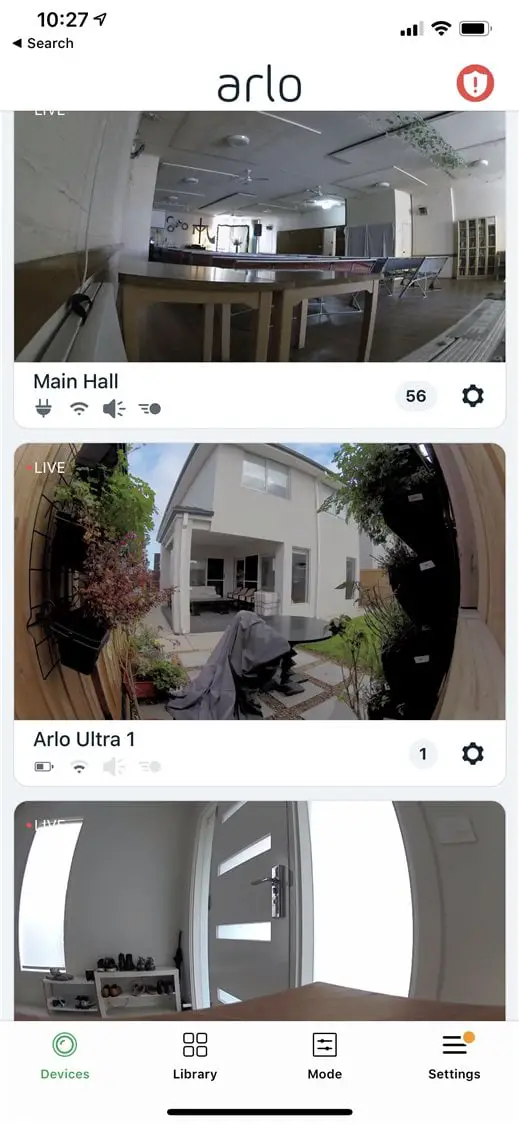 Now, I might have gotten you excited with all these nifty and smart features from Arlo Utra. Unfortunately, the fun sort of ends here if you are not the type to pay monthly subscriptions.
Many of the features I talked about earlier are only available if you subscribe to one of the monthly subscription plans. And to get the 4K Video Quality stored in the cloud? It'll be on a different subscription plan on top.
To make things interesting, you won't even get access to free cloud recording at all (i.e, no free, 7-day cloud recording like other Arlo cameras), unless you subscribe to a plan.
To sum it up: You need to pay for one of the Arlo Smart subscription plans (ranging from AU$3.99 to AU$18.99 per month) to have access to the cloud recording and smart features. On top of this, you need to pay an extra AU$2.99 per month for Premium Video Recording plan per camera, if you want to store 4K video clips in the cloud (note that you can still live stream in 4K and store 4K video clips locally on a microSD card without any subscription).
Later in the year (2019), Arlo plans to add remote access to locally stored clips which means you should be able to view your locally stored 4K later on.
Check out the comparison table page from Arlo for a clearer picture, and also the Arlo Smart subscription page.
These costs are on top of the Arlo Ultra system you purchase. The review unit I have here is the Arlo Ultra 4K UHD Wire-Free Security Camera System which comes with 2 Arlo Ultra Cameras & the Smart Hub. They are selling for $AU$1,049 at JB Hi-Fi.
Thankfully, Arlo has included a free 1-year Arlo Smart Premier Plan (which is supposed to be AU$12.99 per month, or AU$155.88 per year) so you can at least get a good value straight out of the package.
But trust me, it's really hard NOT to keep subscribing to the Arlo Smart plans after you've seen how good the smart features are. In fact, it's a bit hard to recommend Arlo Ultra if you are not planning to get the Arlo Smart plan (and possibily the Premium Video Recording plan to have access to 4K cloud recording) since you are already paying a premium for the product.
But if you are reading this review, you are most likely thinking to get the Arlo Ultra due to these smart features and 4K anyway, so I'd say you'll be very pleased with what you get – assuming you know how much you will be paying upfront and monthly.
Arlo Ultra Review – Conclusion
Arlo Ultra simply is the best wireless security cameras you can get at the moment. It has 4K HDR recording support (local & cloud), great design, impressive operating temperature (-20 to 60 degree Celsius), and Smart AI features that can differentiate between people, animals, vehicles, and packages (in Beta). And there are tons of other features that I have written in detail on my review above.
If you don't mind paying premium to get the best wireless security camera to protect your home or property, Arlo Ultra is definitely on top of the list compared to other solutions from Ring, D-Link, or Swann.
Disclosure: Arlo Ultra review sample was supplied for reviewing but all opinion are mine and not paid