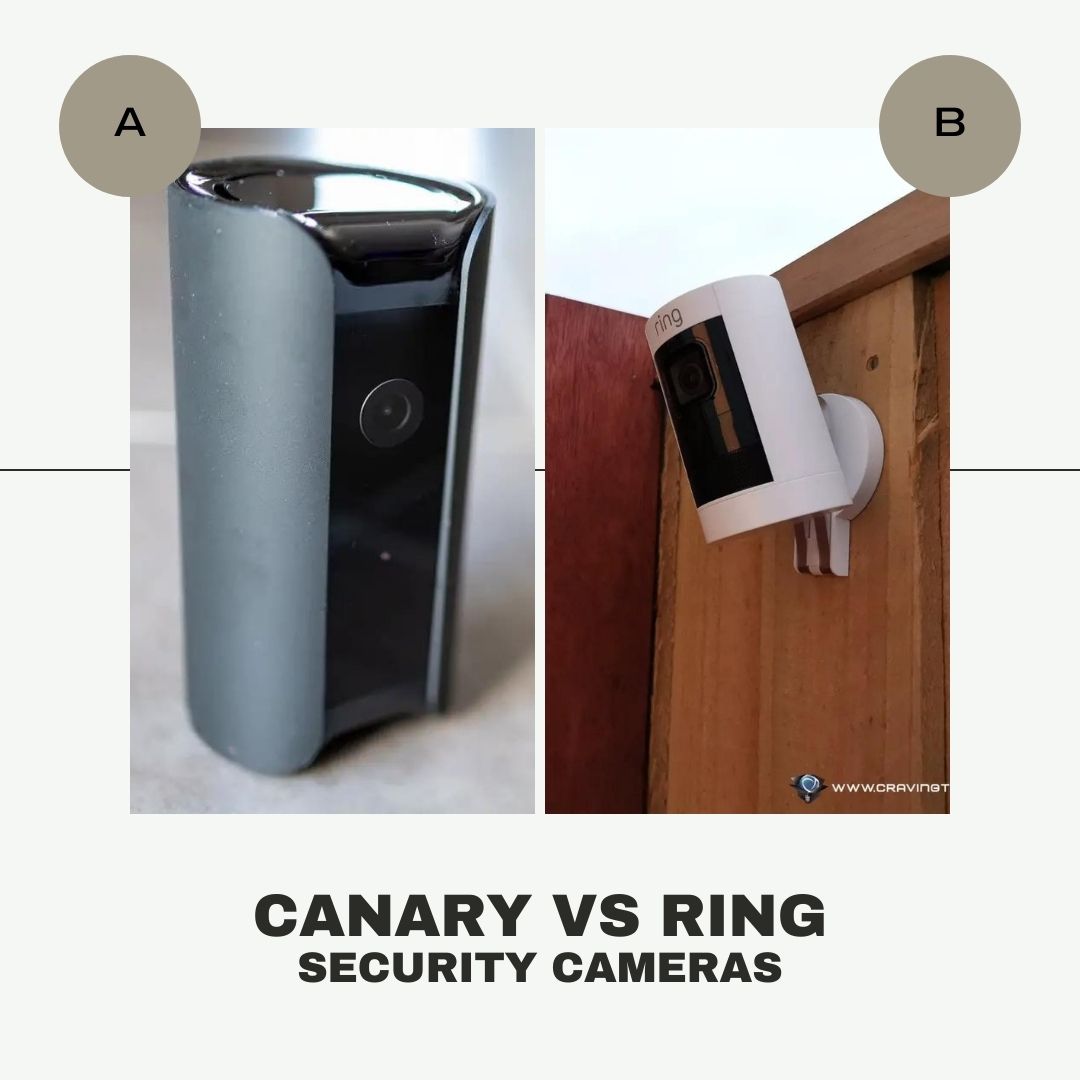 Note: This is a guest post written by Michael Wanjiru – At this point, a security camera is a crucial tool for the safety of your home or business place. Ring by Amazon is one of the best security cameras on the market right now. However, which should you choose between the Canary vs Ring security camera?
While Ring security camera is a popular brand in the country, you may be hearing about Canary today. The two companies deal only with standalone wireless security cameras- that is, they can work without a DVR. And the best part is they both have indoor and outdoor security cameras to ensure you cover all your grounds.
Verdict: 5 Reasons Ring is the Best Home Security Camera
Ring security camera is relatively cheaper
Ring security camera can turn off night vision
Ring security camera has a weather-resistant build
Ring security camera comes with a battery or wired power
Ring security camera has automatic warning announcements
Canary vs Ring Security Camera: A Summary of the Home Security Cameras
In this guide, the goal is to help you decide between Ring and Canary security cameras. But I'm going to focus on the Ring Stick Up Cam and Canary Pro.
| | | |
| --- | --- | --- |
| Features | Canary Pro Camera | Ring Stick Up Cam |
| Dimensions | 3.0 x 3.0 x 6.0 inches | 2.4. x 2.4. x 3.8 inches |
| Field of View | 147 degrees | 130 degrees |
| Video Quality | 1080p HD | 1080p HD |
| Video Frame Rate | 30 fps | 15fps |
| Night Vision | Infrared Only   |  Infrared Only   |
| Audio function | YES | YES |
| Sound detection | NO | NO |
| Built-in Siren | YES   | YES |
| 24/7 Live Stream | YES | NO |
| 24/7 Recording | NO | NO   |
| Free Storage | Not Any More | NO |
| Power Supply | Plugin | Battery or Plug-in |
| Connectivity | 2.4/ 5GHz Wi-Fi or Ethernet | 2.4GHz Wi-Fi   |
| Activity Zones | YES | YES |
| Smart AI | People detection & pixel-based motion detection | Person-only & PIR motion detection |
| Smart Integration | Alexa & Google Assistant | Alexa |
| Environment | Indoor only   | Indoor/ Outdoors |
| Best Feature: | Climate monitoring: Temperature, Humidity, and air quality   | An optional Pan-Tilt Mount: Monitor your entire area with 360° coverage |
|   |   |   |
Should I Get The Ring Security Camera?
Are you looking for a budget security camera to monitor your home? Ring is an excellent option to consider, thanks to its entry-level Stick Up Cam.
As an entry-level series, the Ring Stick Up Cam camera goes for under A$200 (or under 100 USD). And despite the friendly budget, the security camera system still packs some decent features.
For instance, the Ring camera records in the industry-standard 1080p full HD resolution, in full color during the day. At night, the built-in infrared LEDs activate, where the nighttime footage is still enough to pick out objects within the frame.
Another thing, the Ring Stick Up Cam is available with a rechargeable battery, perfect for areas inaccessible to wired power. But the security camera system also has a plug-in version, which is handy when you don't need to worry about recharging.  
Other pros and cons of the Ring security camera you should know before buying include:
Pros
It has person-only motion detection
You can install it indoors or outdoors
Has a built-in siren to deter intruders
Supports audio recording & two-way talk
Can control with voice commands via Alexa
It's compatible with the new Pan-Tilt mount
Cons:
It has no free local storage
Requires subscription for AI detection
It lacks continuous live view/ recording
Should I Get The Canary Security Camera?
Are you looking for a wireless security camera so you can enjoy 24/ 7 continuous viewing? Canary may fit the bill, a feat not many smart CCTV cameras have been able to pull off.
The live stream of the Canary security camera is in 1080p Full HD resolution, which is good for general-purpose monitoring. It continues to record even at night when the lights go off, albeit in the infrared (black and white) quality.
When I first prepared the Canary Pro Indoor Security Camera Review, we saw the captured video sample was also smooth. But this shouldn't be surprising with its high frame rate (up to 30fps).
Furthermore, Canary security cameras have built-in sensors on the top to track the temperature, humidity, and air quality of your room. The camera will then push the results to your mobile app, including alerts when things get out of hand.
Other pros and cons of Canary security cameras you should know include:
It has person-only detection
Has a built-in siren to deter crime
Supports audio recording & two-way talk
Includes a PoE port to connect a wired internet
You can operate on a mobile app or web interface
It's compatible with both Alexa & Google Home
Cons:
It has no continuous video recording
You can't turn off Night vision IR LEDs
It requires a subscription for most features
Canary vs Ring Security Camera: Comparing Features & Capabilities of the Security Camera
In this section, I'll now briefly take you through the things you'll get or miss on Ring and Canary security cameras. Let's start with the obvious one:
Pricing:
First, you should know both Ring and Canary are American companies. And like most other US-based brands, their products are not cheap.
For our reference models, though, the Ring Stick Up Cam goes for about A$179 on the Battery model and A$199 for the plug-in version. While the two are the base prices, you can bundle up your selection with other accessories at an extra cost.
For example, you could get the Ring Stick Up Cam battery with a solar charger at A$229. Then, the bundle of Ring Stick Up Cam Plug-in and Pan-Tilt Mount cost around A$250.
In either case of a single Ring camera, the amount is cheaper than the Canary Pro with a price tag of A$285. But now begs the question, are the extra dollars for the Canary worth it?
Design:
If it was a pageant of security cameras, the Canary Pro takes the point. It has a sleek design that you can comfortably set in the living room without being intrusive. What's more, you could use it as a spy camera in some situations as it looks more like a modern-day router.
Sadly, however, the Canary security camera is not weather-resistant to mount outdoors. If you need something you can switch between indoors and outdoors, the Ring Stick Up Cam is up for it.
The Ring camera has a weather-resistant build that can withstand harsh conditions like rain and dust. Then the look, though not as sleek as Canary, is still good enough to use indoors without making your guests uneasy.
Note: It's tricky to set the Canary Pro camera to watch outdoors while looking through the windows. If done, the nighttime recording tends to experience flare issues as there's no way to turn off the night vision LEDs.
Video Clarity:
If looking for home security cameras for general-purpose monitoring, either Ring or Canary could work. They both have a 2MP image sensor that records up to 1080p Full HD, clear enough to identify faces close by.
That said, the Ring camera has a slightly smaller field of view than the Canary camera. It means the 2 million image pixels on the Canary camera are a bit spread out to occupy the extra space on the lens. But in doing so, the camera will also lose some details of the final recording.
If with a sharp eye, you may be able to notice the slight sharpness in the clarity of the Ring camera. Then again, the Canary camera records at a frame rate of up to 30fps, which has the smoothest videos for moving objects.
Audio Functions:
Ring and Canary camera will now split the point here fairly. They both have a built-in microphone to record videos you can listen to, plus a speaker to facilitate two-way talk.
In a test, the audio quality of the two security cameras is also about the same. You, plus the person on the other end of the camera, can hear all words without breaking up or echoing.
Active Deterrence:
Both Ring Cam and Canary Pro cameras have multiple ways to deter intruders before committing a crime. The first active deterrence feature is the two-way talk, which gives you a chance to warn, shout, or scream at the uninvited guest.
Secondly, the wireless security cameras have a built-in siren you can activate manually. Neither of the models (Ring Stick Up Cam or Canary Pro) has the option of an automatic siren (activated with motion detection).
Nevertheless, the Ring camera siren can be set to go off automatically when linked with the Ring alarm system. If you don't have the alarm system, the Ring camera has pre-recorded warnings "you're being recorded" that go off automatically after detecting motion.
Note: Ring has an extensive line of floodlight and spotlight security cameras (check Craving Tech's review on Ring Floodlight Cam Wired Pro). The integrated white light of these cameras usually turns on only after detecting movement, thereby an excellent crime deterrence.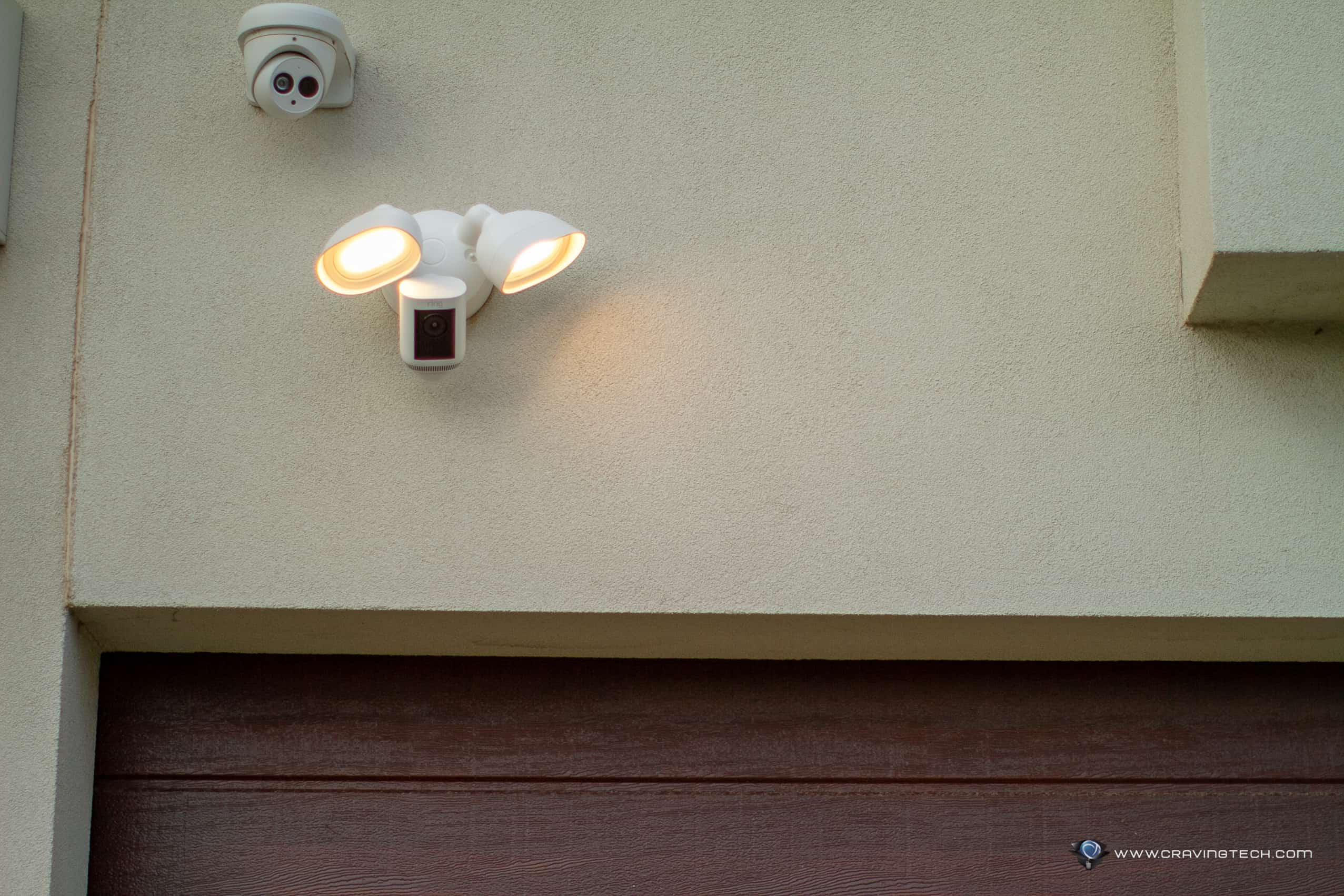 Smart AI Detection:
When we compare Ring vs Canary security cameras on artificial intelligence, it's also a lot alike. I mean, the two cameras allow you to enable people-only detection and ignore alerts from other objects.
If you decide to go with all motions, Canary Pro picks up quite a lot more false alerts than the Ring Stick Up Cam. But again, this is something to expect, considering it (Canary camera) utilizes pixel-based motion detection.
On the plus side, the pixel-based motion detection allows the Canary camera to detect objects while behind glass. And this is something the Ring security camera can't achieve since its PIR motion detection sensor can't detect heat behind glass.
Note: Ring and Canary require you to subscribe to their cloud packages to access person-only detection mode.
Video Recording & Storage Options:
If we start with the first one, neither of our two brands supports 24/7 continuous video recording mode. The surveillance cameras only record by activity when the motion sensor detects a movement.
Regardless, the Canary Pro camera records full-length videos until the object that triggered the sensor stops moving. If you ask me, this is better than the Ring cameras that only record short video clips of a timed duration. The "timed duration depends on the Video Recording Length you've enabled, including 15, 20, 25, 30, 60, 90, or 120 seconds.
In both Ring and Canary cameras, the recording takes place on the cloud servers of the companies. None of them has built-in local storage you can save your recordings for free.
Mind you, Canary used to have a "STARTER" plan with free 24-hour cloud storage until 2018. Unluckily, the customers who had this plan before 2018 aren't so lucky since the company retired it (STARTER plan) in 2022.
So, everyone today has to pay the Canary Premium subscription of $9.99/ month or $99/ year per device. If with multiple Canary cameras, the subscription charges are $2.99/ month or $29.99/ year per additional device. (All prices are in USD here).
Meanwhile, Ring cloud subscription plans start at A$4.95/ or A$49.95/year per device. If with multiple Ring cameras, the Ring Plus is A$15/month or A$150/year for all devices. (Ring Pro plan for the full "Ultimate" Ring home security experience is only available in the US)
Smart Home Integration: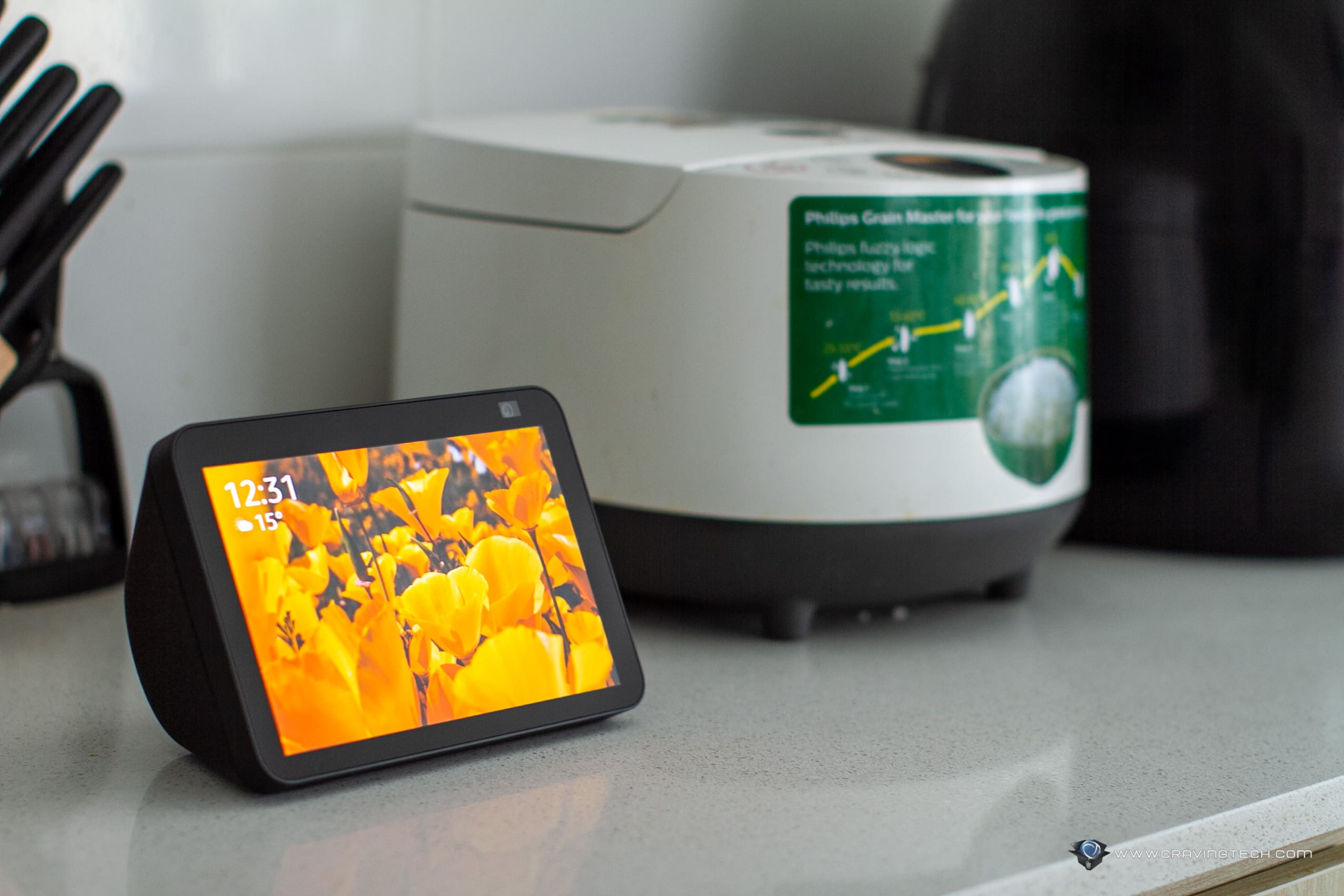 Last but not least, many WiFi security cameras now can integrate with home automation systems. Canary and Ring security cameras are no exception, as they both can pair with Alexa devices effortlessly.
Once paired with Alexa, you can control your system with simple voice commands- like "Alexa, show (your camera. name)", et cetera. Also, you can set the Alexa device, such as the Echo Show, to announce when the camera detects a person.
Besides Alexa, Canary and Ring security cameras can also work with Google Home. However, the Canary camera takes the point here as it's natively compatible with Google Home- you can pair it directly.
Ring cameras also used to work directly with Google Assistant devices before Amazon acquired the company. After the acquisition, everything on that part started to fall apart to a point now Ring Cams aren't natively compatible.
Note: security cameras from Blink, now-a-step-sister of Ring, are also not natively compatible with Google Home. However, the Blink camera can work with Google Home through IFTTT. I think the same approach could work for Ring, but that's just a theory I'm yet to try personally.
Final Thoughts:
While there are still other things to compare, these are the most crucial similarities and differences between Canary vs Ring security cameras. The pair has a lot of areas they differ than share. But this is to be expected when dealing with devices from totally different brands.
In any case, I love the climate monitoring with the Canary Pro security camera. The continuous live stream option is also pretty handy and the videos are decently good for general use.
Still, the Ring security camera is my favorite choice, and my first recommendation. If on a tight spot pocket-wise, the device gets to save you up to over A$100 with the battery-powered version.
Most importantly, the Ring Stick Up Cam can work efficiently indoors or outdoors. You'll not have to worry about damage from rain.
Check out the product range of Ring and Canary security cameras.