Canary Pro Indoor Security Camera Review – Canary has been around since 2014 and was founded in New York City, United States. The Canary Pro indoor security camera is their flagship camera and we're going to find out if it's any good. 
What is it?
Canary Pro is an indoor security camera with a climate monitor. It can alert you from your mobile phone. Plus, you can contact first responders and sound the built-in siren in the event of an emergency from the app.
Features
Indoor Camera with 1080p HD Video
24/7 Watch Live & Motion Alerts
147° Wide-angle Lens
Night Vision
Two-way Talk
90+ dB Siren
Climate Monitor
What's in the box?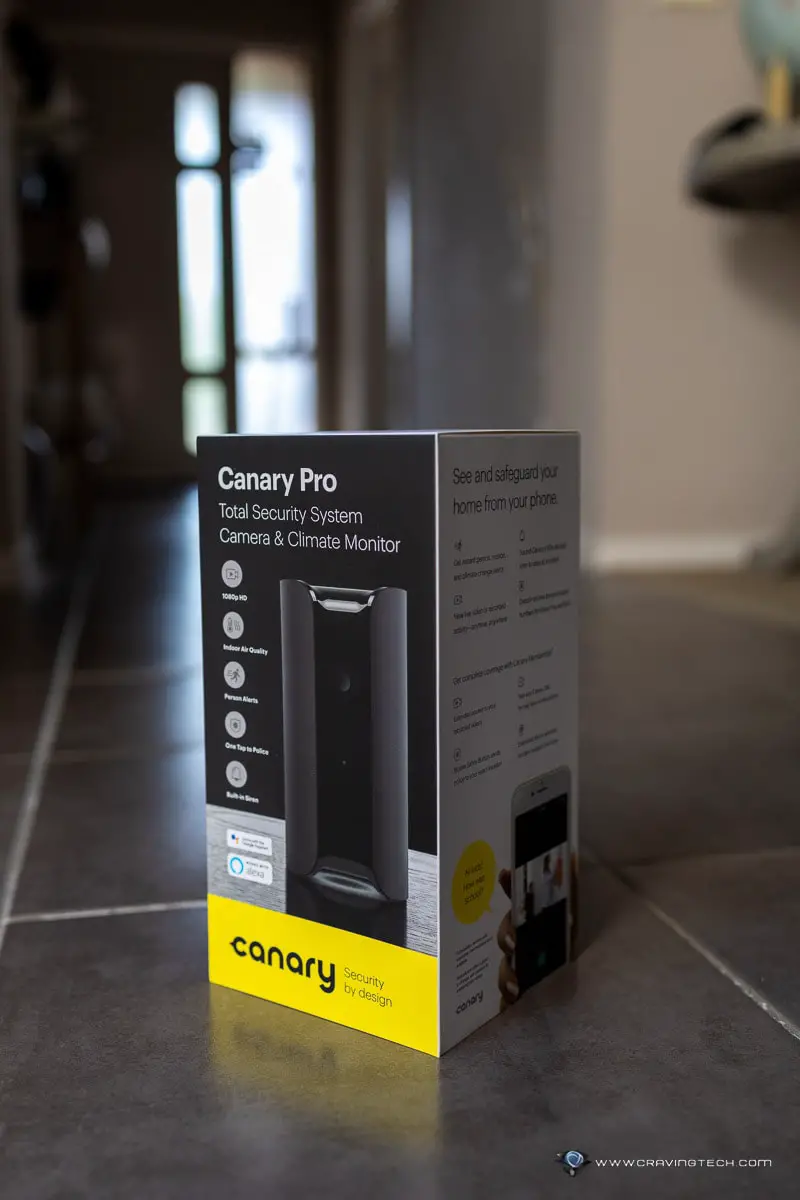 1 x Canary Pro indoor camera
1 x Micro-USB charging cable
1 x AC power adapter
Setup
The setup was a breeze. It's simple, and doesn't require any physical installation. You just put the Canary Pro camera on a table. 
Then, download the Canary app from Google Playstore or Apple Store. 
Firstly, create an account and open the app to add the camera. Select which kind of camera and then follow the steps to pair your camera. Place your hand on the top of the camera for 30 seconds to start the pairing. Choose the serial no when it appears. Afterward, connect to your Wi-Fi. Finally it will download the latest firmware.
Finally, you'll be asked whether you want the Premium service or not. The optional Premium service will give you a 30-day video history, full-length video recordings, person detection, unlimited video downloads and desktop streaming.
Please note that Canary was generous to give me both the device and the premium service for this review.
First impression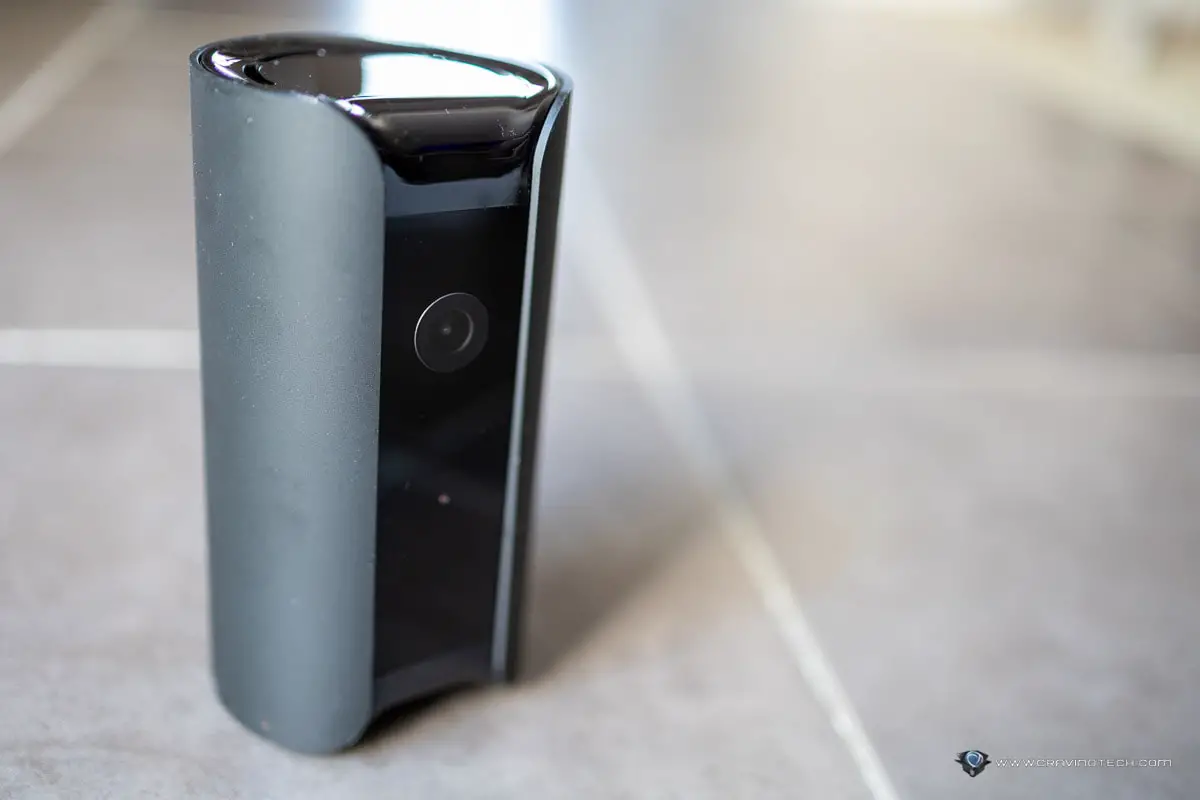 The Canary Pro camera certainly looks sleek. It doesn't look like a security camera at all. In fact, I reckon it kind of looks like a modern router. I put the camera on a small side table in the hallway so it can spot anyone entering the house. It sort of blends into the area and I'd wager that no one would know that there's a camera there. Unless during the night, there's a slight ambient light under the camera to indicate that the device is on.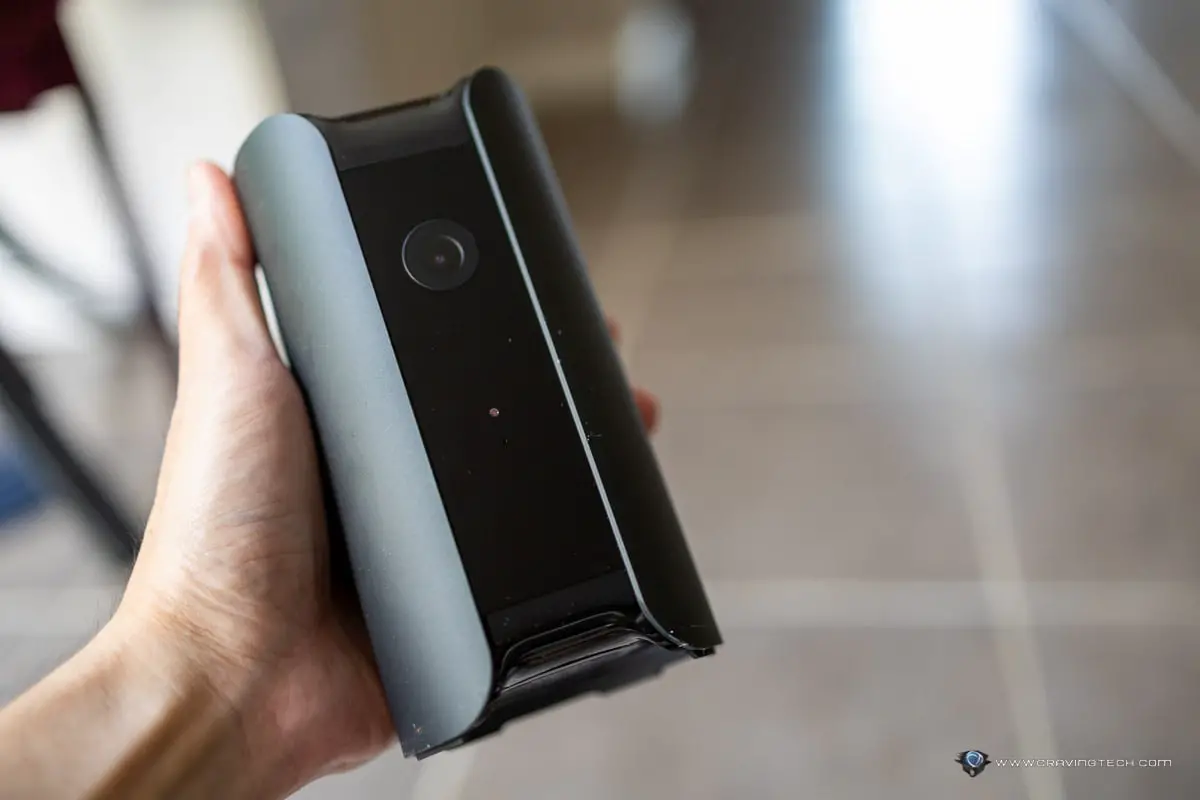 There are also features like Safety Button (like an alarm button that notifies the local police of your emergency and exact location – Premium Service only) and Professional Monitoring.
Video quality
The video resolution is full HD 1080p and the quality is good for security purposes. I really like the wide angle camera because it captures 147 degrees of view. Trust me, it's really wide. Albeit, there's a slight distortion on both sides which are expected. 
If the camera detects a person, it will notify you from the app, and you can view the recorded video.
I've been testing this camera for the past two and half weeks, and it's been great. I can set a schedule on what time it should start recording (i.e. night time only). 
There's been a few instances where the camera tells me that the air quality is abnormal. This can be ambiguous since I don't know what to do, perhaps it should advise on what needs to be done to improve the air quality. Mind you, it wasn't triggered by cooking smoke or anything. I believe it could be just because of the ventilation. 
You can also do a two-way talk like a walkie-talkie with this Canary Pro camera. This could be handy if you're outside and you need to talk to your children at home.
Overall I'm satisfied with Canary Pro as an additional security camera in my house (as I already have a few of them). 
Tech Specs
Camera: HD Camera with 1080p image sensor, Motion detection
Field of View: 147° wide-angle lens
Night Vision: High-quality automatic night vision
HomeHealth Technology: Temperature, Humidity, Air Quality
Audio: High-quality microphone, Built-in speaker, Two-way Canary Talk
Power: 100-240v power supply
Connectivity: 2.4GHz Wi-Fi (802.11 b/g/n), Bluetooth Low Energy (BLE)
Sensors: Ambient light, Capacitive touch
Height: 152.4 mm, Diameter: 76.2 mm
Weight: 372 grams
Security & Data Protection: Encrypted cloud storage, Secure web transfer (SSL/TLS), AES 256-bit data encryption
Warranty: Comes with a 1-year limited warranty (Valid only for Canary products purchased by end users from Canary and its authorized resellers.)
Service plan
There are three ways to buy the Canary Pro camera.
#1 Basic Canary Pro: USD $169 upfront (no monthly + no contract)
You'll get: 
24/7 watch live and motion alerts
Two-way talk
Night vision
One-year warranty
#2 Premium Bundle 24: USD $0 upfront (USD $12.99/mo with 24-month contract)
You'll get all the basic ones plus additional features: 
Two-year warranty (instead of one-year)
30-day video history
Full-length video recordings
Person detection
Unlimited video downloads 
Desktop streaming
#3 Premium Bundle: USD $169 upfront (USD $9.99/mo with no contract)
You'll get all the same features as Premium Bundle 24. I would personally recommend the Premium Bundle 24, because you don't need to pay any upfront fee (only the monthly subscription fee).
Note that Canary Pro is not currently being sold in Australia retailers. You can grab it from Amazon.com
Disclosure: Canary Pro review sample was supplied for reviewing
Canary Pro Review
Summary
An indoor security camera with a unique climate monitor function
Pros
Wide angle camera
Discrete look
Detects air quality
Cons
Doesn't have a micro-SD slot support