eufyCam 3 Review (S330) – Wireless security cameras are great, especially if you don't have hard-wiring around the house. They give you plenty of flexibility in terms of placement and easily expandable too as needed.
The only problem with wireless security cameras is that you have to charge them every now and then. And depending on how busy the traffic is (i.e the number of times the sensor triggers a motion and the camera has to record videos), you may have to charge it frequently – which can be annoying.
eufyCam 3 is designed to solve this issue, thanks to its integrated solar panel built on top of each wireless camera unit and it's a brilliant design idea.
eufyCam 3 Review – Unboxing and Packaging Contents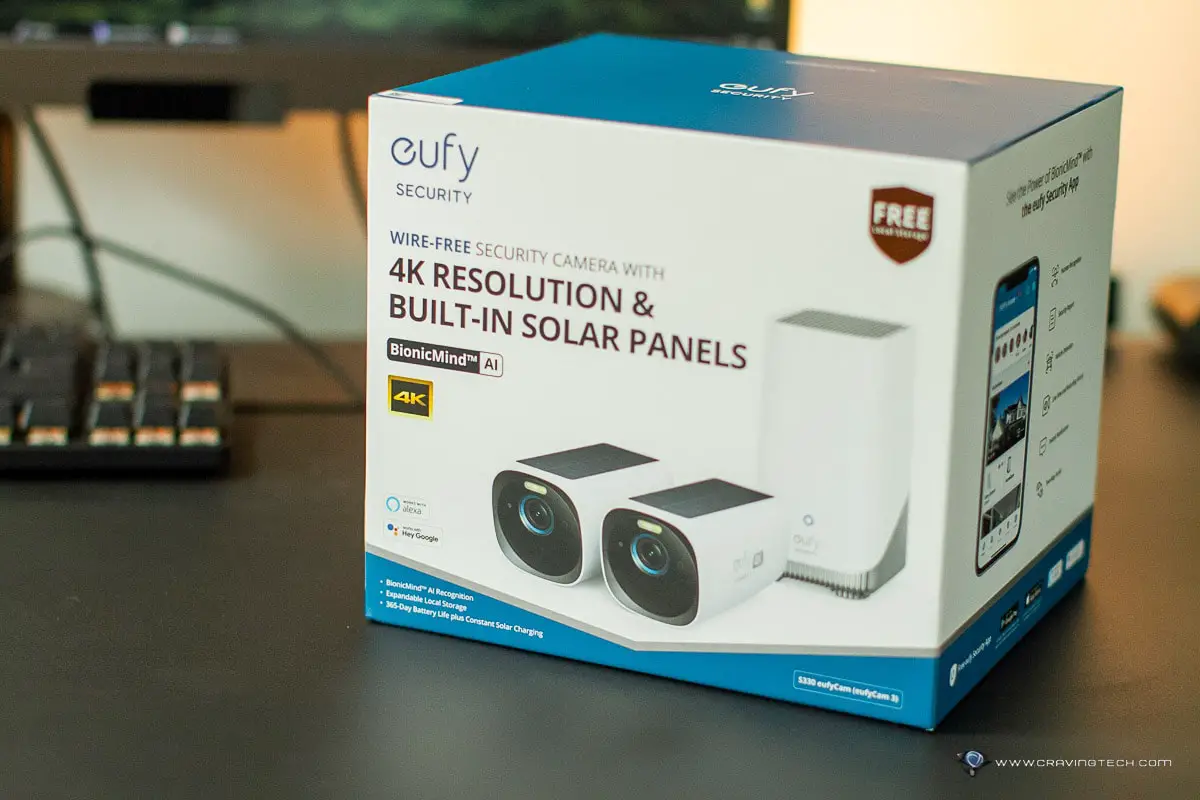 The packaging includes all the necessary screws to mount your cameras and once you're happy with the placements, you can enable a feature called "Anti-Theft Detection" from the app. This will trigger the alarm within both the Camera and HomeBase when the camera is moved or tampered with.
eufyCam 3 Review – Design and Features
eufyCam 3 camera unit looks modern and will fit any new, modern homes well. It has a built-in solar panel on the top, spotlight, speaker, and microphone for two-way talk. The camera lens has a 135-degree wide angle view that covers a good amount of area and capable of recording in 4K. With the motion-triggered spotlight, it also supports Colour Night Vision (which can be turned on and off). The unit is IP67 rated which should give you a peace of mind as it survived the recent Melbourne's thunderstorm last week on my backyard.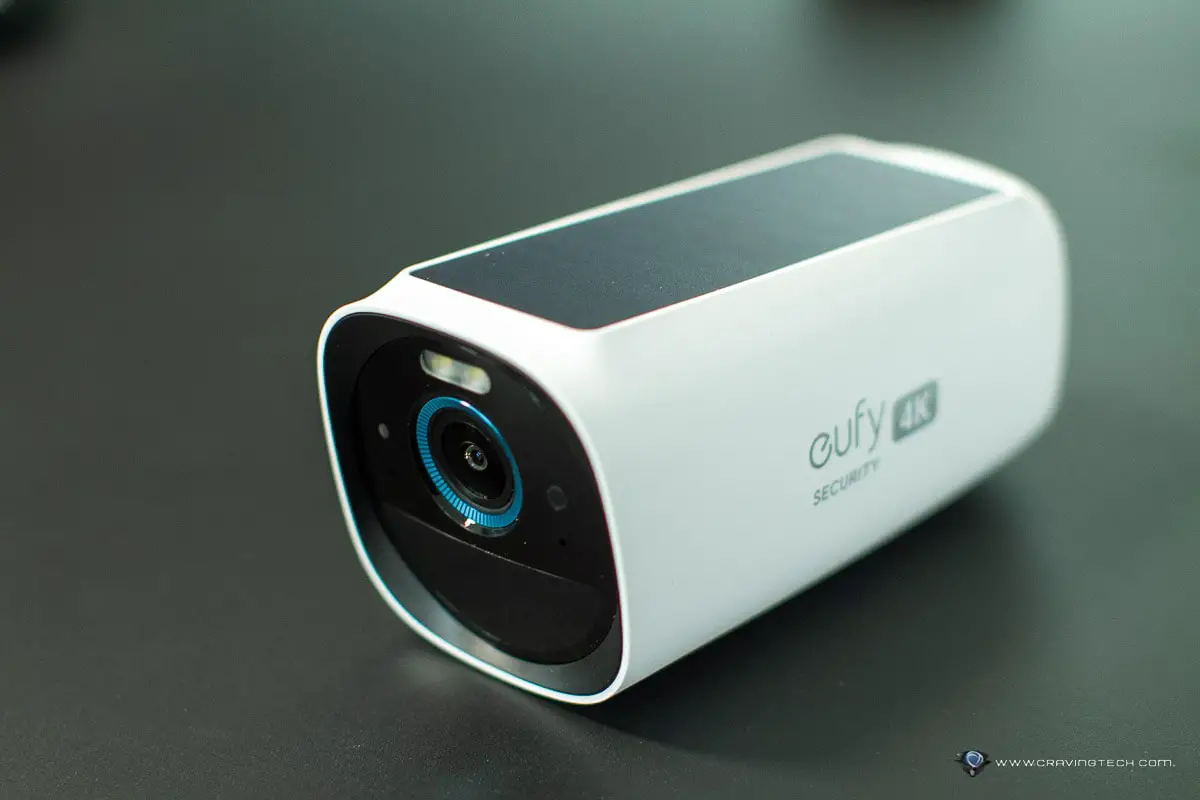 eufyCam 3 HomeBase is the centre of its AI features that can recognise objects but more importantly people with its facial recognition (eufy calls this their BionicMind Recognition tech). You can register each member of the family through the app by having a selfie and name them. When people motions are detected, eufyCam 3 will try its best to recognise the face (and body) and this affects the notifications you get. For example, instead of "Front Door: Someone has been spotted", you will see the rich app notification displays "Front Door: Michael has been detected".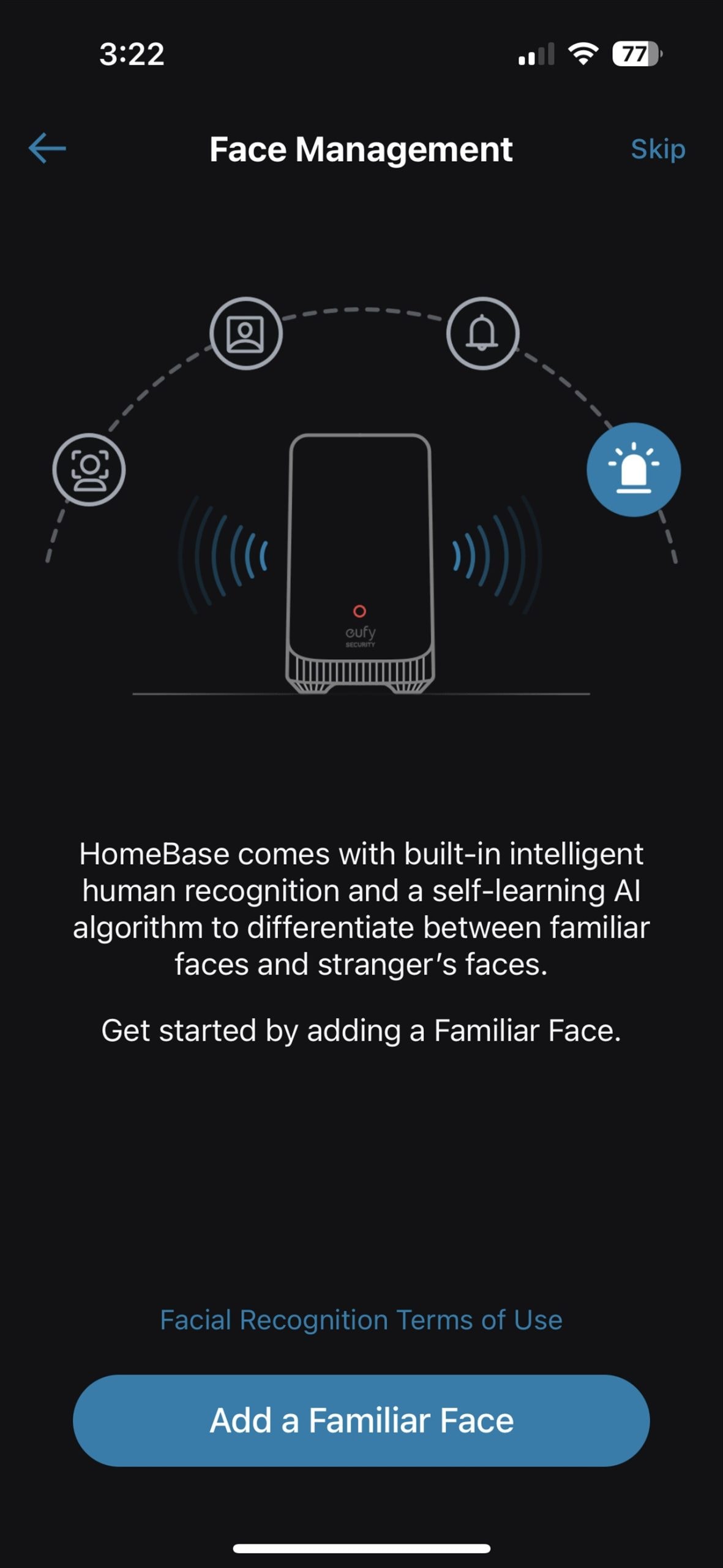 This is pretty useful as you can safely ignore known family members triggering your security cameras when you are away from home, and take actions if it's not. For example, it can serve as a quick notification that lets you know when your child has just returned home from school (without having to see who it is from the event history or opening the app). You can also peek through iOS rich app notification as it includes a thumbnail of the event.
There are times where the AI couldn't detect my face properly but it works quite well most of the time. The coolest thing is that the AI is supposed to be self-learning so it will get better at recognising you (and others) as time goes by. You can help by letting the AI know when it thinks it detects a familiar person by confirming these from the app: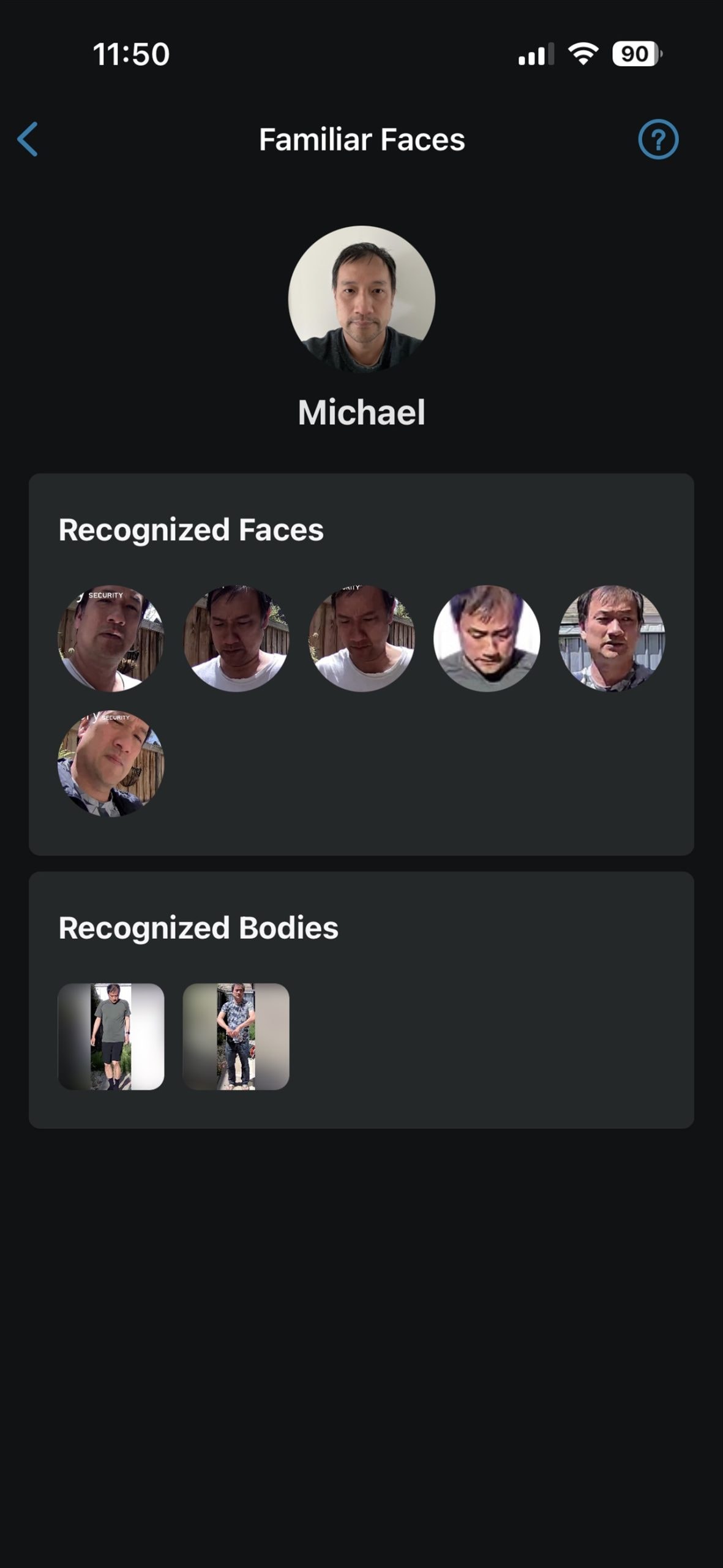 If it detects strangers, you can add them later into the database of your familiar faces or known visitors. This is pretty handy if you have gardeners or couriers who regularly visit your home.
The HomeBase 3 is the brain of everything and this takes a lot of processing power out of the camera units – which means battery saving. The HomeBase 3 has a built-in 16GB of storage space that can store up to 3 months of videos (depending on the resolution and number of videos obviously – eufy said that this is based on 500 seconds of video recording per day so it sounds pretty good) but its video storage can further be expanded by inserting a portable hard drive. Supported hard drives must have a 2.5-inch size but can be a traditional HDD or SSD with up to 16TB in size.
Note that if you want to store recorded clips in the Cloud, you have to subscribe to either the Basic (covers 1 device, up to 30 days) or Plus (covers 10 devices, up to 30 days) plan. For local storage however (or even to have access to the AI features), you do not need any subscription whatsoever. Most other companies like Arlo charge you for advanced features but thankfully, not with eufy here.
eufyCam 3 Review – Battery life and Integrated Solar Panel
So, let's talk about battery life and the integrated solar panel – which is probably the main reason why you are reading this review. First of all, there many ways you can do to further reduce unnecessary battery consumption such as changing your streaming and recording resolution, set up activity zones (so the cameras only detect motion at certain areas they are covering), shortening video clip length, etc. But with the help of the integrated solar panel, you can top up the battery without having to charge the cameras through a charging cable.
The solar panel covers the whole camera unit surface to maximise the potential. The solar panel itself can collect and store from 150 to 300 mAh in a day (each camera unit has 13,000 mAh battery). 300mAh is approximately equal to 2% of the battery power. That may sound minimal but note that the camera doesn't use up battery all the time – mostly when it detects a motion and decides/processes what to do with it.
You can also see through the Solar Dashboard section in the app to check how much solar charging energy you get every day within the past 30 days. Owning a Tesla and solar panels at home, this is definitely something that I like to check every now and then.
I do find however, that the solar panels need direct sunlight in order to be effective (unlike the big solar panels I have at home) so the camera placement is really important. Testing the eufyCam 3 solution in Spring is great but during cloudy and gloomy Melbourne weather days, I found that the panels did not capture enough sunlight to increase the battery level. I'd expect that you still have to charge these cameras every now and then during Winter. If you live in Queensland or other states in the world with lots of sun throughout the year, you should be able to keep the charging cables inside the box permanently.
My "Back Yard" camera has been running for 13 days with 118 Detected Events and 3 Recorded Events. It now has 92% battery life (from the initial 77%). My "Side Gate" camera has been running 13 days with 600 Detected Events and 6 Recorded Events. It now has 65% battery life (from the initial 65%). I'd actually say that these numbers are pretty good considering that my "Side Gate" camera doesn't get as much direct sunlight as the "Back Yard" camera.
eufyCam 3 Review Conclusion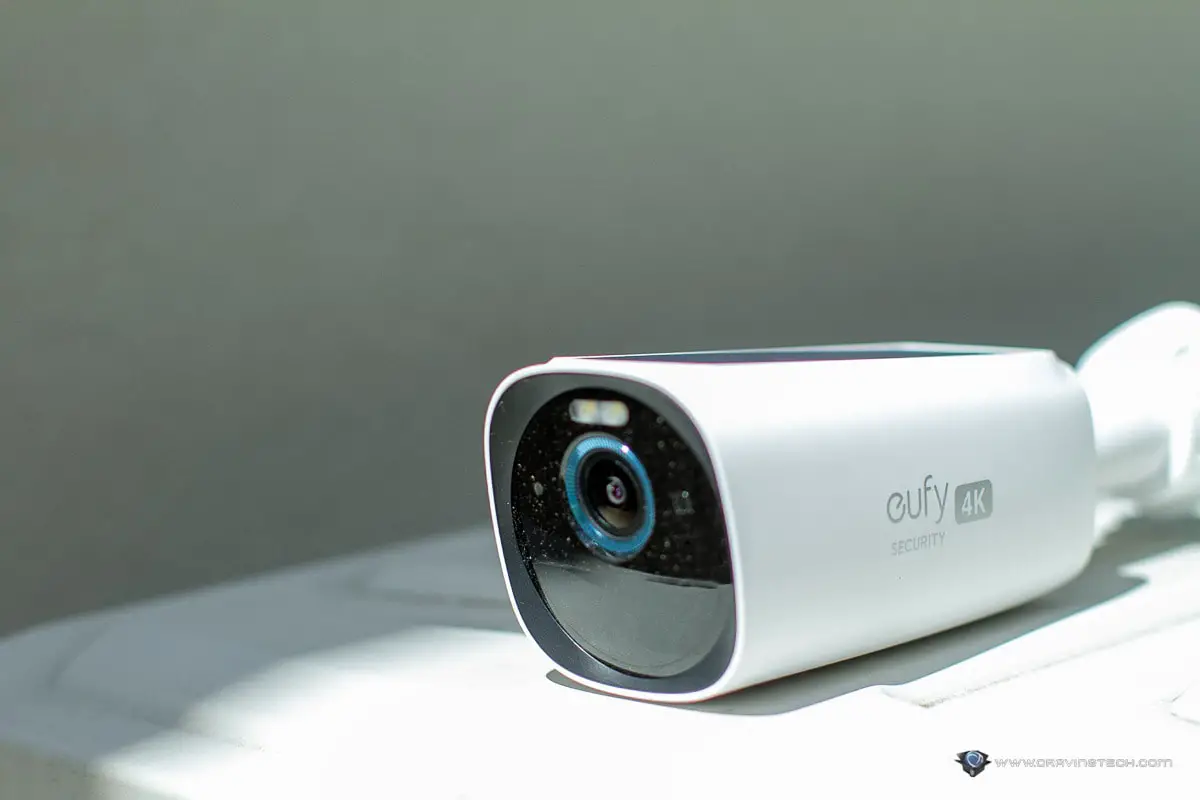 eufyCam 3 is an amazing, wireless security camera system with plenty of built-in features that you may not find in most wireless security camera system out there. I've been reviewing wireless security cameras from Ring, Arlo, Swann, D-Link, Google, and a few others but none of them has everything that eufyCam 3 offers in a single product. An AI based solution? Sure, many cameras have that nowadays. But facial recognition with learning AI and integrated solar panels that come with every camera unit? Pretty nifty.
It also has built-in alarms, microphone, speakers, spotlight, anti-theft/hamper detection, and more with many advanced/customised settings on each.
Best of all, you don't even need to pay for a subscription fee to have access to these advanced features – that other brands will gladly charge you for them. However, you do have to pay for the cost upfront, once. eufyCam 3 (S330) 2 Pack with HomeBase 3 is available now for purchase at retailers around Australia (JB Hi-Fi and The Good Guys) and retails for A$1199 (currently on sale for A$999). There is also a 4 Pack available.
If you are purchasing this security solution from eufy, it is fairly easy to recommend their other supported products with HomeBase 3 such as their smart locks (these will be compatible with HomeBase 3 through a firmware update by the end of this year).
UPDATE 13/12/2022: There has been a commotion about Eufy's not actually storing and processing everything locally as advertised, i.e there are privacy and security issues, such as Eufy uploading image thumbnails to the Cloud (and that these images + videos can actually be accessed if you know the unique URL to these), among other things. Please do a research beforehand to find out more about this before making your purchasing decision.
UPDATE 01/02/2023: Here's an official reply that addresses and acknowledges the issues (and the fixes) from The Verge
Disclosure: eufyCam 3 review sample was supplied for reviewing
eufyCam 3 Review
Summary
The best battery-powered, wireless, outdoor security cameras that can auto charge itself and has powerful AI features
Pros
Great design for both the camera unit and HomeBase
4K video recording, wide-angle view, microphone, alarm, night vision speakers, etc
Has integrated solar panel that can charge the battery within, and it's no gimmick
Built-in storage but expandable with an HDD or SSD
Powerful AI features like facial recognition and self-learning algorithm
Fast live streaming and intuitive app with many customised options
HomeBase supports other eufy products and can share its AI (familiar faces, etc)
Cons
The integrated solar panel needs direct sunlight to work
Upfront cost