Wyze is a Seattle-based start-up launched by three ex-Amazon employees in 2017. Their mission is to make great technology accessible and affordable to everyone. Their first ever product was the Wyze cam which was priced very competitively at USD 19.99. Fast forward to present time, they just released their latest Wyze Cam v3 Pro (AUD 99.98) with 2K resolution plus built-in spotlight and we're going to find out if it's any good. 
What's in the box?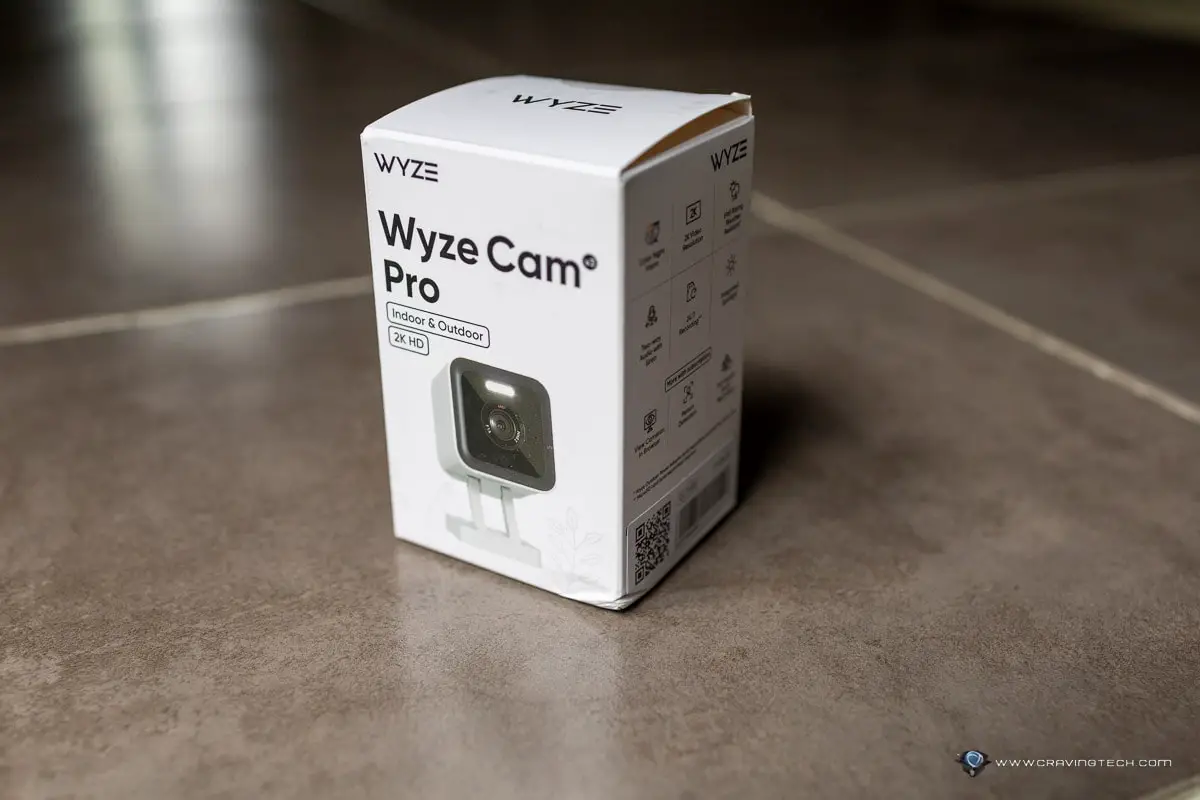 1 x Wyze Cam v3 Pro
1 x USB cable
1 x Power adapter
1 x Wallplate
1 x Mounting tape
1 x Screws
2 x Expansion tubes
1 x Quick start guide
Features
2K Video Resolution — View the Live Stream and Events in clarity and detail, whenever you need it, with crisp, clear 2K resolution. 
Integrated Spotlight and Built-In Alarm — A motion-activated, 80-lumen spotlight for more detail in your videos, more light along your walkway, and more deterrence for unwanted visitors. Plus an 89-decibel, user-activated alarm when you need to deter them even more. 
Faster detections with Edge AI — A powerful, dual-core 1.2 GHz processor and 8 TOPS neural network accelerator for near-instant person detections thanks to AI that doesn't rely on the cloud. 
24/7 Recording (requires a microSD card which is sold separately) —microSD card-ready for uninterrupted 24/7 recording. Up to 15 days (in full 2K resolution) on one 128 GB card. 
IP65-Rated Weather Resistance (Wyze Outdoor Power Adapter is sold separately and required for outdoor use) — All-weather, year-round, indoor and outdoor security. 
Two-Way Audio — Speak in real time to anyone in front of the camera. 
Color Night Vision — 4MP Starlight sensor amplifies low light and shows dark areas in vivid, unbelievable detail. 
Brand-New User Interface — A completely redesigned user experience with simplified event navigation, customizable detection zones, and the all-new Smart Focus feature. 
Works with Alexa and Google Assistant—Receive alerts and use voice commands to check and manage your devices. You can also create schedules and automation in the Wyze app. 
First impression
Right out of the box, the Wyze Cam v3 Pro feels solid and it's made of high-quality plastic. The packaging is compact and the camera itself is small enough for me to hold it in my hand.
The camera can be rotated and you can adjust the height as well. Plus, there's a micro SD card slot underneath it for 24/7 recording. 
Since it is IP65 weather resistant, I installed the camera at the back of my house and I must say the installation effort was minimal. I put the charger indoors since the cable is slim enough to fit between the door gap. I only drilled one hole outside to hold the camera.
You can download the Wyze app in iTunes or Google Play Store and then, you'll need to create an account. Pairing was super simple as I just needed to scan the camera to add the device and voila, it's connected. The rest is pretty straight forward. By the way, it did a firmware update when it first connected to the Internet. 
During my two and half weeks of test, there were a few occasions where it gave me a false detection at night: it detected some birds flying near the camera and saved the footage. I'm sure that the camera's AI will improve itself gradually to differentiate between real and false threats. However, when I walked pass by the camera, it surely detected me and notified my phone straightaway. The playback tools are easy to use too.
You can also create a detection zone so that it only detects movement in the selected area. There's a spotlight function where I scheduled the light to turn itself on between 10pm and 5am. I think this is such a great feature of the app. 
Video quality
Wyze Cam v3 Pro gives you a crisp 2K resolution. There is nothing negative about the video quality. It's clear enough for me to see what's happening in the video from my phone.  Even during night time, I can attest that the night vision is more than adequate. 
Tech Specs
Finish: Matte White 
Dimensions: 2.05 in x 2.05 in x 2.3 in (52 mm x 52 mm x 58.5 mm) 
Weight: 4.23 oz (120 g) 
Power Cable Length: 6ft (1.8 m) 
Mounting Method: Magnetic, Screw, Tape 
Ports: 1 micro-USB 
Power Adapter Input: 110-240V(AC/DC) 
Power Adapter Output: 5V/2000mA 
CPU: 1.2 GHz 
Memory: 1 GB 
Image Sensor: CMOS (2560 x 1440) 
Digital Zoom: 8x 
Field-of-view: 116° 
Night Vision: 4 IR LEDS(850nm)+ 2 Spotlight (5000K, 70 lumen) 
Video Encoding: H.264 
Video FPS: Daytime—20 fps; Nightime—15 fps 
Video Resolution: 2560×1440 (2K) 
Audio: Built-in speaker & microphone; 2-way audio; Noise & echo cancellation 
Alerts: Push notifications 
Local Storage: Supports up to 256 GB microSD in FAT32 format 
Wi-Fi: 802.11 b/g/n, 2T2R 2.4 GHz (5 GHz Wi-Fi not supported) 
Integrations: Alexa, Google Assistant, IFTTT 
Compatibility: iOS 14.0+, Android 7.0+ Operating Temperature: -4°F – 131°F (-20°C – 55°C) Storage Temperature: -40°F – 158°F (-40°C – 70°C) 
Weather Resistance: Indoor and Outdoor (IP65)
Wyze Cam v3 Pro Review Verdict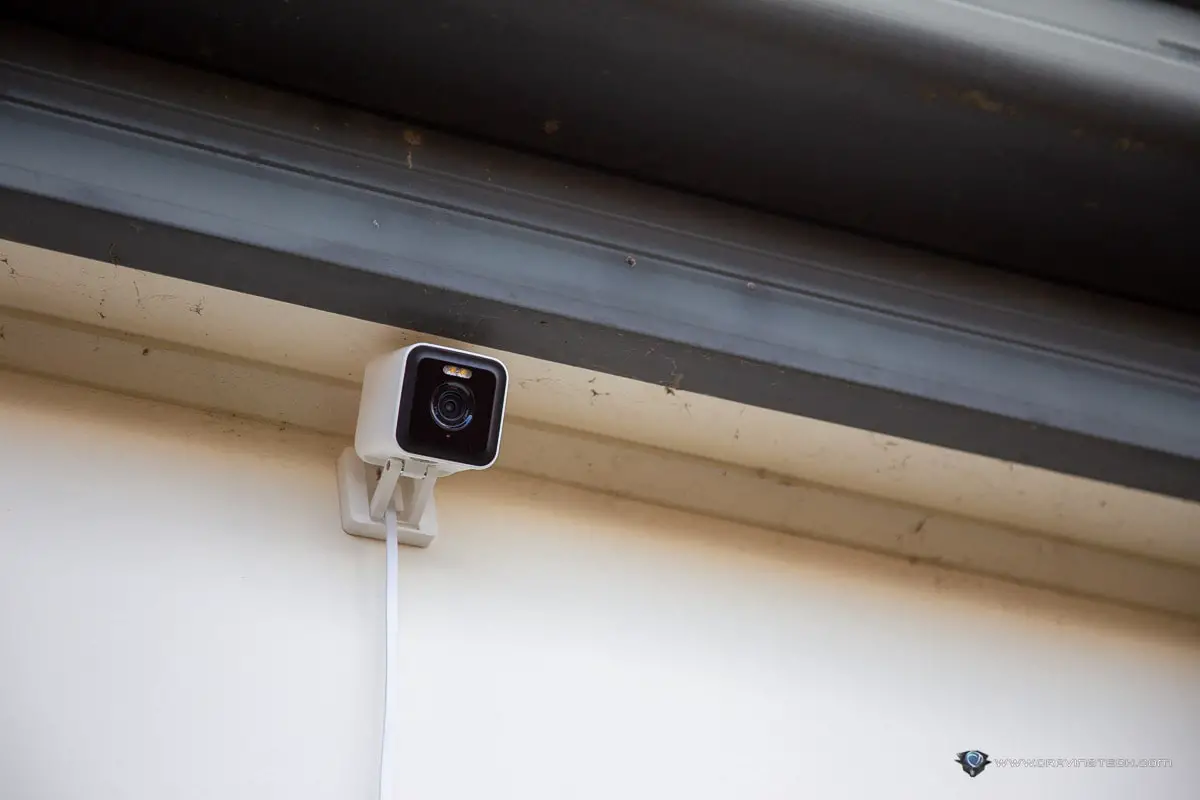 I'd highly recommend the Wyze Cam v3 Pro if you don't have one and want to beef up your home security.  You can get one at Wyze's website or Amazon for AUD 99.98.
Disclosure: Wyze Cam v3 Pro review sample was supplied for reviewing