Note: This is a guest post written by Ekim Saribardak
Early telematics systems recorded information about how a vehicle was driven in a 'black box' that was installed inside the vehicle and could only be accessed with specialised tools. Since then, developments in telematics technology have paved the way for tech companies to create state-of-the-art car tracking systems that can be accessed using only a smartphone app.
By combining tracking devices with sophisticated software and a cloud-based central server, real-time information about the location, speed, direction, and fuel use of a vehicle can be accessed on-demand from anywhere in the world.
The GPS and telematics data collected by vehicle tracking devices is invaluable for both businesses and individuals. But unfortunately, GPS tracking technology is still not well-understood. There are many questions in people's minds, like who uses these tracking systems? How exactly can a device the size of a matchbox protect my teenage child? Can my company actually save money by installing a car tracking system?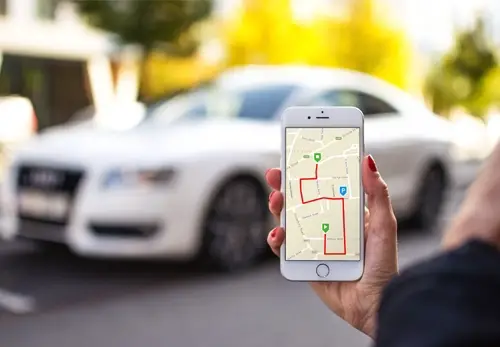 In a nutshell, intelligent vehicle tracking systems can solve a huge number of problems that both companies and individuals face every day, although the benefits differ between business and personal use. What's more, modern car trackers are really easy to use and reliable when it comes to emergencies. Let's take a look at exactly how these advanced devices can help families and businesses with their daily challenges.
The basic function of a car tracker is to check your vehicle's location on-demand. However, you don't have to sit and watch the smartphone app all day to be sure your vehicle is safe. Geofence zones are perfect safeguards for vehicles that are often stationary for some time. As soon as the vehicle leaves the specified area, the tracker will send an alert to designated people about the breach.
Not even the most sophisticated criminals can move a vehicle with an active geofence zone around it without triggering multiple alerts to its owner. A simple smartphone notification may be all you need to stop an ongoing theft attempt or recover a vehicle that was stolen minutes ago. When it comes to vehicle theft, time is everything; a geofence zone can be the difference between keeping your car and never seeing it in one piece again.
A well-hidden car tracker can also facilitate the quick recovery of stolen vehicles by locating them and reporting the situation to the police. Vehicle theft is rife throughout the world; every year, millions of cars are stolen and never recovered. Over the past few decades, anti-theft technology has been developed and employed to help tackle vehicle crime, but tech-savvy criminals have adapted and found new methods to circumvent the security measures in place.
Keyless theft is one of the more worrying techniques used by these criminals – it threatens all modern-day vehicles with keyless entry and ignition systems. These systems are supposed to increase the quality of our lives, but they can be exploited by skilled criminals to steal brand-new vehicles without breaking a sweat. Owners of these vehicles need every bit of help they can get to keep their vehicles safe.
As well as ensuring your vehicle is where it should be, geofence zones have additional benefits for businesses. Every time a vehicle enters or exits one of the pre-set zones, the details are logged and stored on the tracking server. This data can be used to create detailed time sheets with minimal effort. What's more, analysing the time spent in a given area can be an excellent indicator of how effectively work hours are being used. Accurate time sheets mean you can charge clients correctly, prevent false overtime claims, and accurately compensate employees for their work.
From a business standpoint, the ability to locate vehicles on-demand has significant advantages. Fleet managers can direct drivers to customers in need and steer them through any obstacles on the way to help them reach their destination faster. And if a commercial vehicle breaks down in transit, field supervisors can locate the distressed driver within minutes and dispatch emergency response teams.
Regardless of the severity of the situation, sending help to drivers that are stranded on the roads or involved in an accident is paramount. Once a tracking device is installed in a vehicle, it's as easy as pressing a few buttons on your phone to pinpoint its exact position. Whether it's a stranded family member or injured company driver in trouble, with precise geolocation data at hand, you can send medical aid or roadside assistance promptly. Car tracking can be a lifesaver in certain situations with tools like crash detection and instant notifications.
In fact, these small gadgets are equipped with dozens of powerful features that can provide additional protection for loved ones as well as company vehicles. With a sophisticated vehicle tracking system, there are numerous ways to secure a vehicle and communicate vital information. From ignition alerts to motion sensors, the tracker can utilise a wide range of built-in sensors to detect a vast amount of information about your vehicle's current condition.
You can observe who's in the driver's seat, check if a vehicle's engine is running, and monitor the temperate of a cargo hold remotely. For example, a company vehicle carrying perishable cargo over a long distance can be monitored closely to ensure the produce arrives in good condition. For many fleet business owners, sensors are essential to keep tabs on vehicles and drivers.
Car tracking systems are cutting-edge innovations that provide the ideal tools to ramp up operational efficiency and ensure the safety of drivers behind the wheel. Companies stand to gain the most by choosing a dedicated vehicle tracking system that's tailored to their business needs. Once the vehicle tracking system is installed, you can expect to see seamless fleet operations, improved resource management, and lower costs across the board, all while providing a safer work environment for your employees.
Although the financial benefit might be smaller if you're getting a vehicle tracker for personal use, for most of us, there's nothing more important than the safety of our loved ones. Teenage and elderly drivers in particular are more likely to be involved in an accident when they get behind the wheel. However, it's common even for spouses to worry about each other when driving, because it's inherently more dangerous than most of our daily activities. Vehicle tracking devices can give you and your family peace of mind with real-time location capabilities and important event alerts.
Note: This guest post was written by Ekim Saribardak