Beats by Dr. Dre Powerbeats Pro Review – The Beats Powerbeats 2 wireless in-ear headphones was one of my favourites. It was comfortable to wear and had a fun, punchy sound signature. But this was back in 2014.
Five years ahead, Beats by Dr. Dre (who is now owned by Apple – so this is an Apple product in a sense) has released a new Powerbeats and it is a tough one to beat (pun intended)!
Apple's Powerbeats Pro wireless earphones have now joined in the competition among the over-saturated market but definitely made it to the top list.
Powerbeats Pro Review – Packaging
Thanks to Apple's H1 chip, pairing is super easy and intuitive if you have an iPhone. Android phones will have to go through the usual Bluetooth pairing from their phone settings. Either way, the setup is only needed once.
Powerbeats Pro Review – Design & Features
Powerbeats Pro has a compact design without cords or wires, but has ear hooks which I actually like. Though it doesn't look as clean as the PaMu Slide or Jabra Elite Active 65t, the ear hooks keep the earphones in place and give you a sense of confidence and stability. Also, if you are not a fan of "earrings" design because you think it looks silly, Powerbeats Pro design should make you happy.
While it takes an extra step trying to wear them around your ears, the fit and the redirected pressure keep the ear buds in place. I wear these Powerbeats Pro every day for the past couple of weeks and they never fell off, ever. Plus, they feel very comfy.
With different ear tips options given in the packaging, you can always get the right, perfect fit to your ear canals.
Powerbeats Pro doesn't have touch capacitive controls like the PaMu Slide where I can just tap on one of the ear buds to control volume. Instead, it's controlled by physical buttons like a volume rocker and a soft button that are easily accessible at all times.
The main button (the "Beats logo / b" button) doesn't require much force to press, so be prepared for accidental presses every now and then, but I kind of like how you don't actually need to press it hard like other products. Normally, this action would cause uncomfortable pressure to the ear as the tip tried to plunge deeper into your ear canals.
Powerbeats Pro automatically turns on (and pairs to your phone) when you take the ear buds out from the case, and auto pause your music when you take them off your ears.
Powerbeats Pro will last through your exercises and training sessions. It has a reinforced design for sweat and water resistance, a perfect companion for jogging even during rainy days and also other sorts of sweaty exercises in the gym.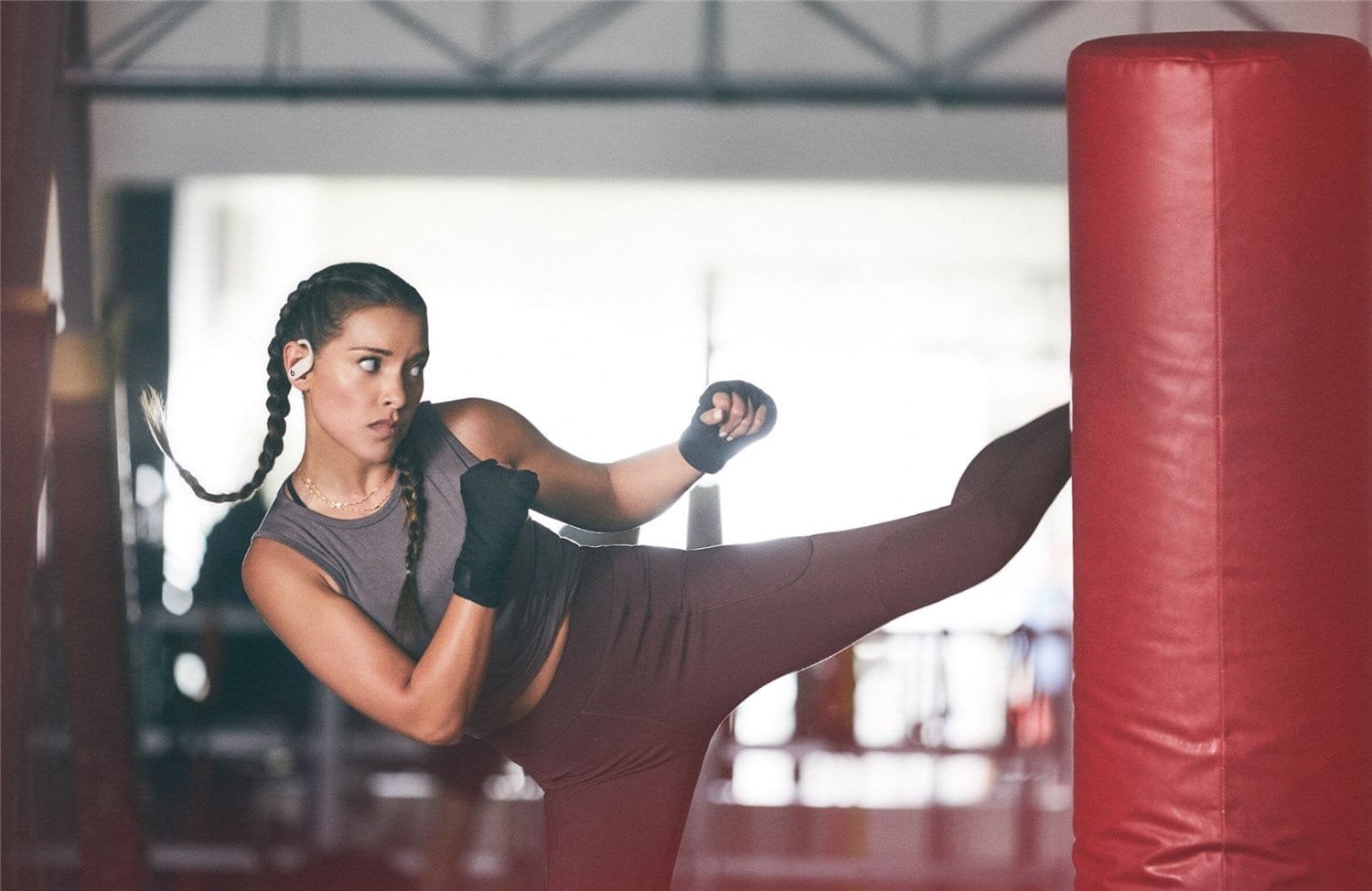 Powerbeats Pro comes with a hard case to store the ear buds when you are not using them but at the same, also recharges their batteries. My first impression when I see the case and hold them in my hand was how big and heavy it is (especially comparing it to the PaMu Slide and Apple AirPods/AirPods 2 charging case).
It's probably larger in size because of the ear hooks design and heavier due to the amount of battery it stores within. As a result, you get much more out of charging from the case. According to Beats, the earbuds have around 9 hours of listening time and more than 24 hours if you keep on charging them with the case.
It's not bad and 9 hours is quite long – definitely longer than your music listening session in a day. If you are exercising, you can simply keep the charging case at home and just go out with the Powerbeats Pro earbuds hooked around your ears.
With magnetic design, the earphones will snap into places – though it will take you some time to find the right way to place them in the case.
The case only has one LED indicator to indicate whether you should start charging it (i.e when it turns red from white) using a Lightning cable (included in the packaging). You can't charge your phone using the case like PaMu Slide and the case can't also be charged wirelessly like Apple's AirPods 2 wireless charging case.
Powerbeats Pro Review – Listening Experience
I've been using Powerbeats Pro in my daily commute listening to music, playing games on my mobile, and watching Netflix series.
For music listening, Powerbeats Pro has a fun and punchy sound signature. As you know from Beats' other products, the Bass usually gets a boost and it's the same with Powerbeats Pro. It's not bad, especially since you'll most likely be wearing them to boost your exercises or when you are out and about.
While the Bose QuietComfort 35 II headphones can do the job much better, I found that I wouldn't mind using my Powerbeats Pro for the past couple of weeks. They are not as big and bulky as headphones, and I can fit the case inside my jacket's pocket.
It's just easier to carry and the case always keeps the earphones charged at all times.
Powerbeats Pro Review – Conclusion
Apple Powerbeats Pro does not disappoint. It sets up very easy if you are using an iPhone, and has a compact, stylish design that keeps the earphones in place and takes the pressure off your ears.
It sounds great for music listening, has a bass boost that will amp up your exercise routines, yet has quite a rich sound as well if you are listening to acoustic music for relaxing. It's a great, all around earphones to wear for all sorts of things daily.
The only thing you should think of is the price. Powerbeats Pro is priced at A$349.95 RRP which is quite a premium price. However, if you are a fan of Apple and Beats products, you shouldn't have any doubts grabbing the Powerbeats Pro at the price. But with many other wireless earbuds & earphones in the market, there are definitely other options if your budget is quite tight.
Powerbeats Pro is available at major retailers around Australia and also at Amazon U.S.
Disclosure: Beats Powerbeats Pro review sample was supplied for reviewing but all opinions are mine and not paid
Apple Powerbeats Pro Review