Jabra Elite Active 65t Review – Jabra Elite Active 65t has become the new benchmark for Bluetooth earphones aimed for active users. Designed and engineered in Copenhagen, it is a product that gets a well-thought design from the company that serves the consumers well.
The level of detail and its features packed product is definitely a threat to its competitors.
Jabra Elite Active 65t Review – Packaging and Build Quality
Jabra Elite Active 65t comes with the charging case, micro USB charging cable, and earbuds replacement with a smaller and bigger size (S & L). In total, there are 3 earbuds sizes to fit according to your ear size.
Next, let's talk about build quality. With a price of AU$329 RRP, the build quality is sophisticating. Although most of the component built from plastic and rubber, it doesn't feel cheap at all. With the only metal material on the side buttons of the earphones, it feels fairly premium to me. The weight is not plasticky and has a good weight for a premium earphone.
Jabra Elite Active 65t Review – Design and Features
There are a lot of things to be covered here. First, we are going to talk about the design that makes up this earphone as one of the best in the current market. THE FIT.
I, personally, haven't tried an earphone that fits perfectly in my ear as this one. I ran a small 2.5k run to test out the earphones fittings. I'm surprised by how it went as I didn't need to readjust the earphone for the whole run at all. This might be considered a small thing, but it is important for people who workout intensely with their earphones on. Bad design and fit could be a big turn off for active users.
Connectivity of this device is insanely quick. Pairing the earphones to my phone for the first time took only 3 seconds. Afterwards, you don't need to worry to connect it again every time you want to use it. Just take it out from the charging case, put it on your ears and you're ready to go. After using it, just put it right back into the charging case and it's gonna recharge for the next use.
It has a certified IP56 rating and 2-year warranty for sweat and dust by registering it via the Jabra Sound+ app. Next, the earphones are equipped with Bluetooth 5.0 that claimed to have more stable connections than the previous generations. After a week of using it, I'm happy to say that I have no interruption when either calling or listening to music with the earphones. The microphone that these earphones have is also good. Without the "AirPods" design, it still has a clear sound when I made a phone call.
Jabra claimed that it can last until 5 hours of usage, plus 10 hours with a fully-charged charging case. This is quite tricky to test out in real life because I always put the earphone back to the charging case right after I use it. I commute on my weekdays for 2 hours return and run occasionally any time of the week. I can safely say that as long as you charge the charging case every 3 days, you won't have the battery died in the middle of using the earphones. Fairly speaking, the battery is more than enough for people who are commuting every day and working out the same day.
Jabra Elite Active 65t is compatible with both Android and iOS. Alexa, Siri and Google Assistant are supported by the earphones as well. With these compatibilities, you can activate your voice command with a single press without taking your phone out. However, I think the feature HearThrough is more exciting than just activating a voice command. This is a feature where the user can press a button to let the sound from their surroundings get into the earphones. Without taking out the earphones from your ears, you can talk to your mates easily.
On top of everything, you can connect the earphones to multiple devices that make it so versatile. This is quite a handful of people who are using their laptop and making a call at the same time.
Jabra Elite Active 65t Review – Sound Quality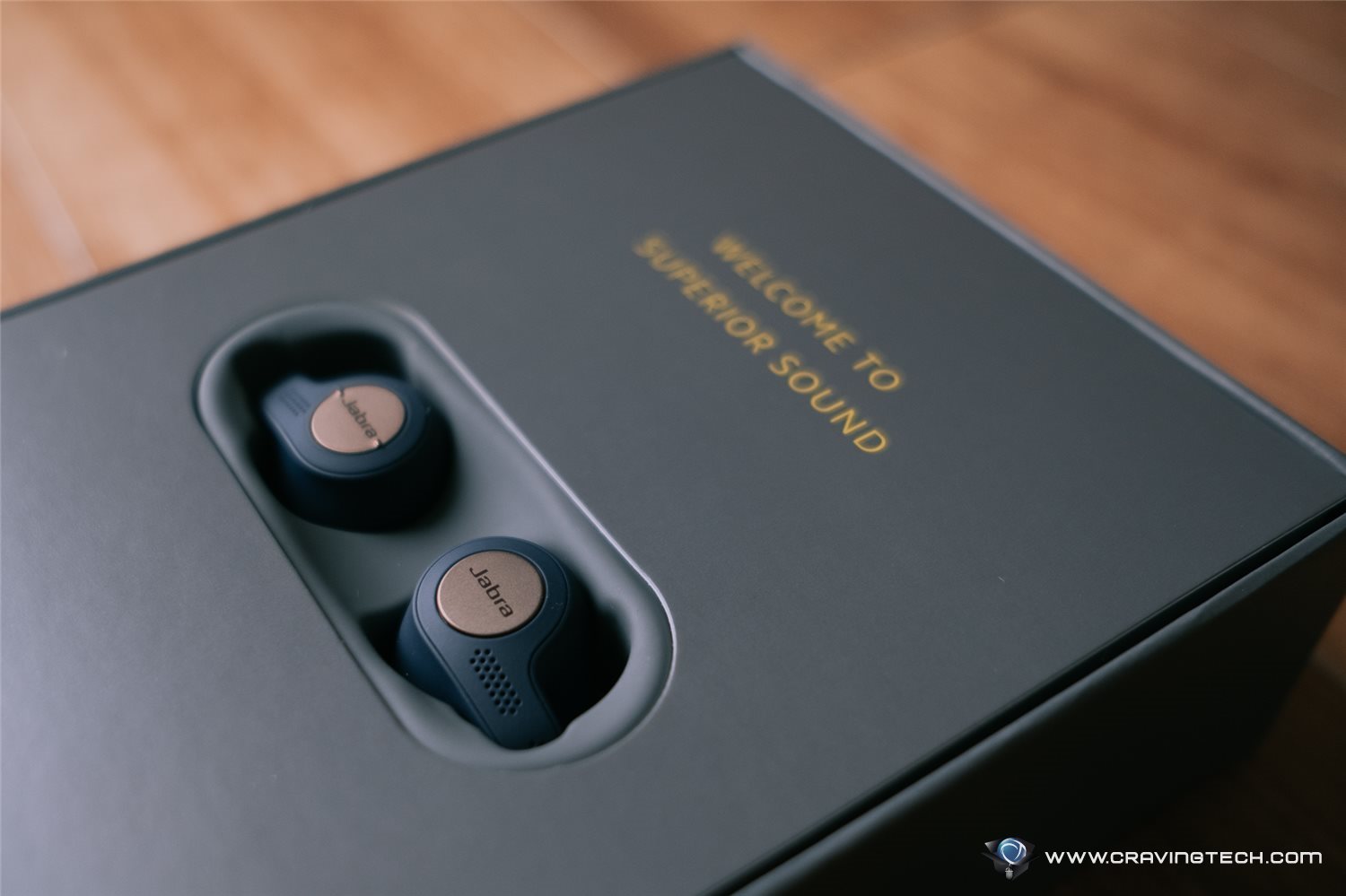 Let's talk about this 'superior sound'. The minimalist design earphones are made for people on the move and have an active lifestyle. With its small form factor, it is not an easy task to fit in a high-quality sound into this product.
Out of the box, I'm pretty impressed by how this thing sounds. It has an okay bass and good treble sound. Yet, it can produce a punchy midrange that most pop songs are filled with. For a device this small, I am confident to say that this is one of the best sounding Bluetooth earphones on the market. If you are looking for better sound quality, you might as well go for a hi-res wired headphone or audiophile headphones like the Blue Ella or Mobius Audeze.
But this is for people who are actively working out and commuting on a daily basis. All in all, this little thing can produce the 'superior sound' they are talking about.
Jabra Elite Active 65t Review- The Bad
It is hard for me to find the flaws in these earphones. There are only a few minor things that I picked up for the first week using it.
a. Small volume buttons
Changing volumes with those tiny buttons can be tricky. Using only one hand, you need to press it that it sometimes pushes the earphone a little bit too deep inside my ears.
b. Micro USB charging port
Though it was launched last year, USB-C connection is preferred by gadget enthusiasts. It could open up a new possibility of fast charging and make these earphones even better compared to its competitor.
c. No magnets within the charging case and the earphones
This one is more of a thing to know about the device. When opening the charging case upside down, there is a good chance you will drop the earphones. Putting a magnet on the device could be a trade-off in weight like the PaMu Slide. So, this is quite a controversial point compared to the other two. It is just a good thing to keep in mind as you don't want to lose the earphones on the streets.
Jabra Elite Active 65t Review – Conclusion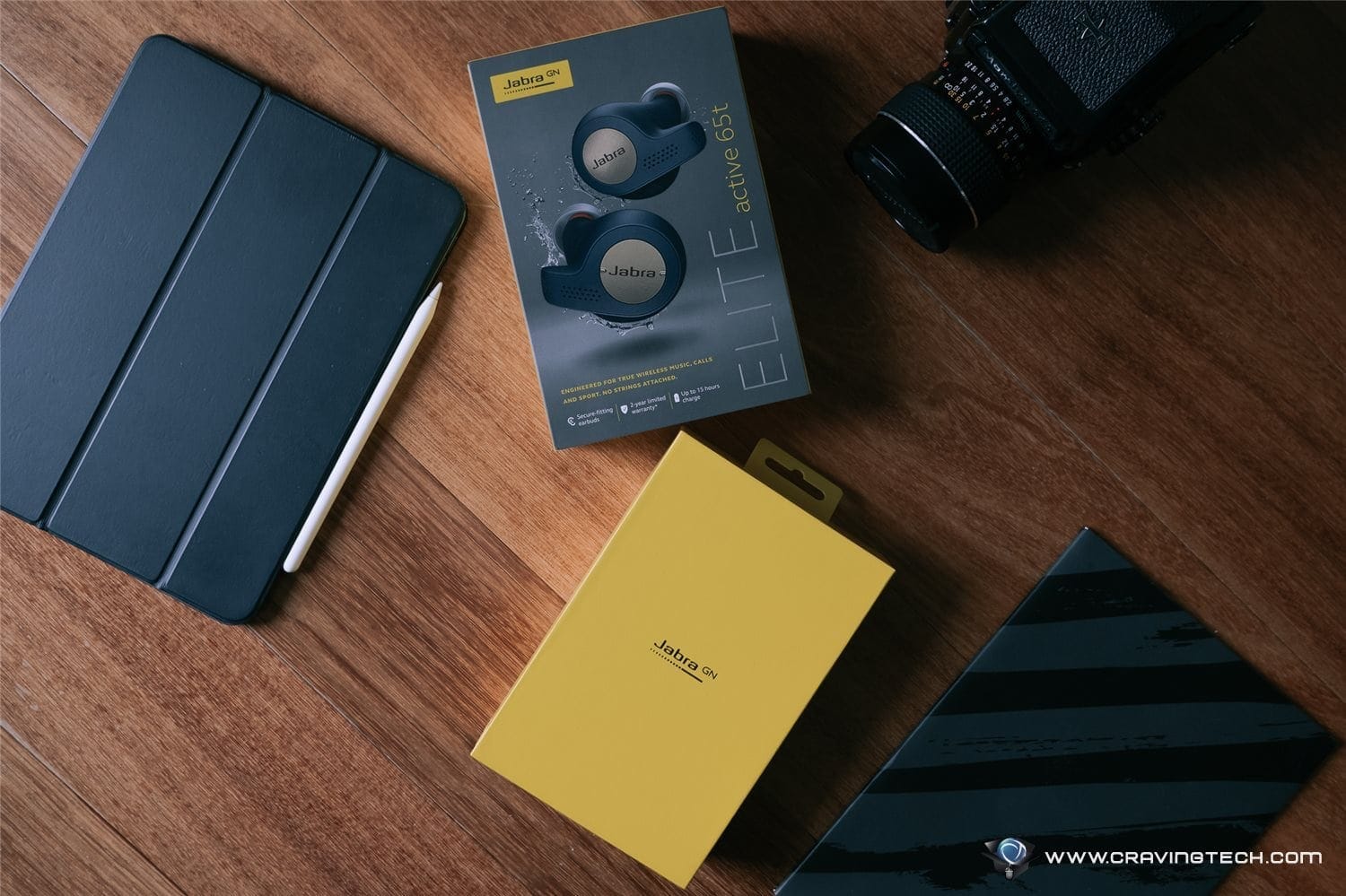 The design and packed features that the Jabra Elite Active 65t offers just outweighs the bad things about it. If you're a person who likes to go to the gym or running and commuting, then this is a perfect Bluetooth earphone for you.
With 15 hours of battery (includes the charging case), fast connectivity and other great features, I think it will be a tough time for its competitor on the market to beat Jabra Elite Active 65t.
Jabra Elite Active 65t can be purchased online or at many retailers around Australia for AU$329 RRP. It's also available at Amazon.
Disclosure: Jabra Elite Active 65t review sample was supplied for reviewing but all opinions are mine and not paid
Jabra Elite Active 65t Review