Mobius Audeze Review – Mobius Audeze can truly be called as the gaming headset for audiophiles. It is the first gaming headset in the market with planar magnetic drivers, featuring the best audio quality a headphone can offer. Check out our review and experience with the Blue Ella, a AU$1,300 audiophile headphone with planar magnetic drivers. Then, there's the SteelSeries Arctis Pro with GameDac's Hi-Res Audio but it doesn't have planar magnetic drivers.
Thankfully, the Mobius Audeze only costs half of that (around AU$599) and still sound really, really good. If you can appreciate sound and you are going to use it for listening to music and watching movies as well, your ears will thank you.
Mobius Audeze Review – Packaging
There is a soft case for carrying the Mobius Audeze around, and all the additional cables are included as well (USB, AUX, etc).
Mobius Audeze Review – Design & Features
Mobius Audeze is packed with high-end, premium internal components like the 100mm planar magnetic drivers, internal amplifier/DAC which supports 24-bit/96KHz High-Res Audio, 3D Audio/full 3D emulation (with fully integrated 3D head-tracking system), and Bluetooth connectivity (AAC/LDAC).
It is designed so that you can use it as a headset to play games (plugged via USB & attach the microphone), but also can be used for wireless music listening while you are relaxing or commuting (Bluetooth, with the microphone unit detached). The detachable microphone design is clever, because who'd want to wear a headset with microphone while walking around outside and look funny? But it cannot be stored out-of-view like pull-out microphones if you place it on a stand or desk.
The headset is not heavy and bulky compared to the Blue Ella, but the materials are mostly hard plastic which is lightweight (though not as durable as metal or aluminium). Overall the headset looks very pleasing and elegant. It's not your-ordinary-looking-gaming-headset, but more like a premium quality headphone.
With fully replaceable ear pads and an adjustable, padded headband, comfort is great. The overall feeling is a tight fit to the head.
The controls are on the headset itself and they control everything you can think of: playback volume, microphone input volume, cycling between different settings, and turning certain features on and off. For example, a 3-second press on the volume control will cycle through the 7.1 Channel, 2.1 Channel, and Hi-Res. But if you do this on the 3D Audio button, it will cycle between different 3D Audio settings. Clicking and spinning the Microphone Volume Control will cycle through the EQ presets. So yeah, certainly keep that manual handy for a while (or the help page sections at Audeze's website).
Mobius Audeze Review – 3D, Gaming, Music Listening Experience
The 3D audio is definitely both impressive and immersive. It feels as if you are listening to a set of speakers around you rather than coming directly from the headphone. Often I have to check whether the sound is really coming from the headset, and not from my Razer Nommo Chroma PC Speakers. 3D Audio felt weird at first, but it's pretty cool.
When listening to songs with plenty of instruments and good recording, I can clearly feel the instruments' separation to one another with the Audeze Mobius. I personally like the 3D Auto mode as it offers 3D audio experience but not in an extreme way (with Manual mode, the audio will shift dramatically as you turn your head away). The 3D Manual mode is more interesting as the sound tracks and follows your head movement but because I walk a lot, it feels funny because the sound is shifted each time I make a turn.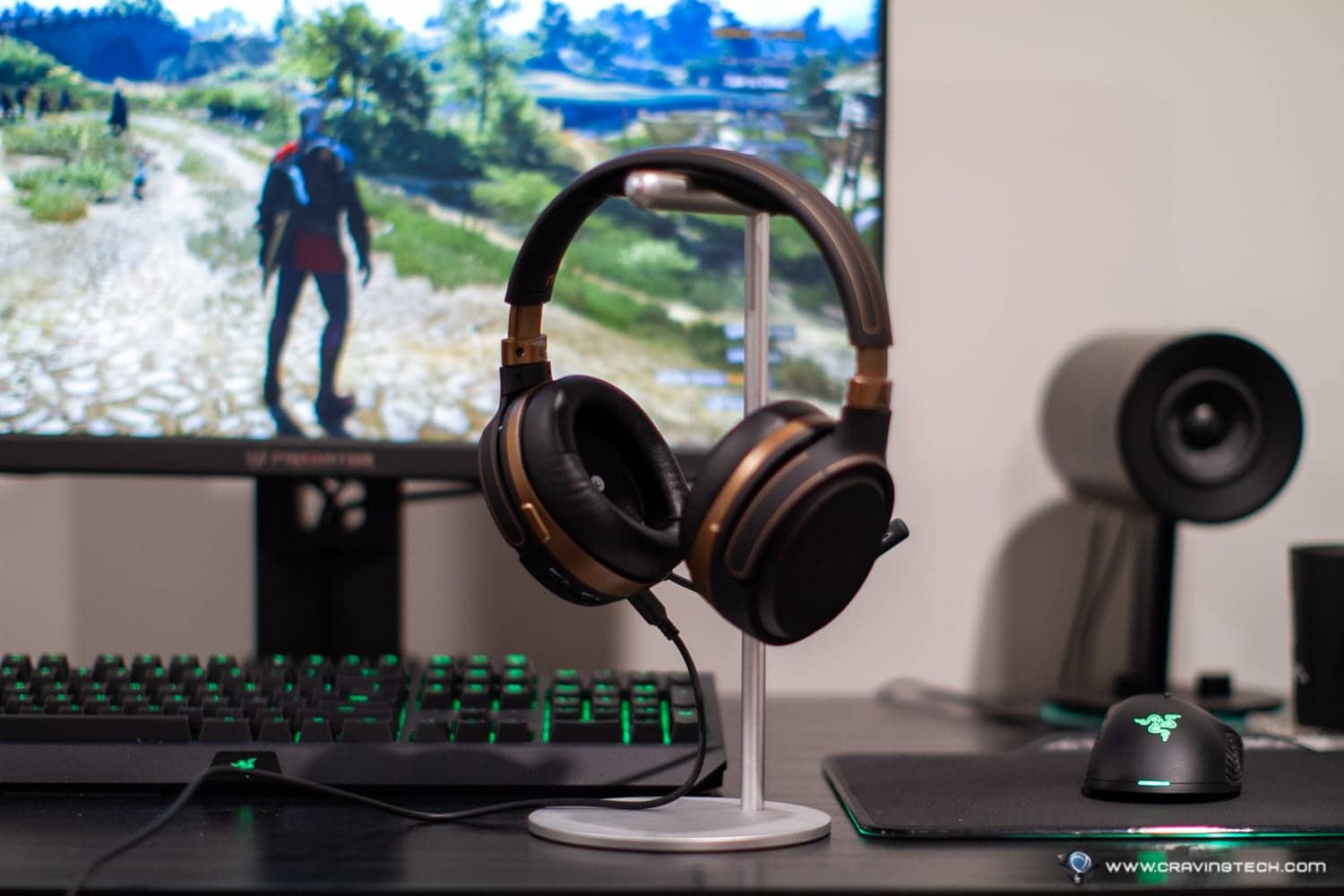 So in experience, you may find that you want to switch between one mode to another if you change your listening behaviour. For example, when you are playing games like Overwatch (with its own Dolby Atmos), turn the 3D Audio off or the audio positioning will get messed up. Alternatively, you can turn Atmos off and enable the 5.1 in Overwatch audio settings to use Mobius' 3D Audio. Then when you are listening to music via Bluetooth, you may want to turn the 3D back on with a Music preset. Or, you can always keep the same settings and be done with it if you want to keep it simplistic.
Thanks to the impressive specs and drivers, gaming with Mobius Audeze is a blast, especially games like The Witcher 3 which has amazing ambient sounds. In most first person shooter games however, it doesn't really shine as much as I'd love it to be. I mean, it's still good: sounds are clear with plenty of good separation and audio positioning. And if you don't like overpowering bass, then the Audeze will make you smile. But you can only truly appreciate the Audeze when you have the time to truly immerse in a scene and listen to the game's soundtrack.
When gaming, note that you'll have to plug the USB cable in, i.e wired connection (the High Res option is also only supported in this mode). There is no wireless option for gaming unless you go Bluetooth but it's not really recommended due to signal delays. Using it wired also charges the headset at the same time and according to Audeze, it'll take around 3 hours to fully charge the headset from zero to full (assuming the headset is not being turned on). The headset itself has around 10 hours of battery life as the built-in amp needs to be powered.
I find that I have to speak a bit louder than I used to with the microphone, but the voice comes up really clear.
Mobius Audeze Review – Conclusion
Mobius Audeze is not just a gaming headset with good sound. It's powered by Planar Magnetic drivers, built-in amp/DAC, Bluetooth, 7.1 surround, 3D Audio with Waves Nx technology, detachable microphone with built-in noise attenuation, USB-C, and the list goes on and on.
Mobius Audeze is truly a headset for audiophile gamers. Most audiophile would have their favourite planar magnetic drivers headphones for listening to music but then have to compromise using a standard, ordinary headset for gaming. But thanks for Audeze, you now can have an upgrade in both departments (i.e music listening and gaming) without having to compromise one over the other.
Sure, it doesn't have LEDs and other gaming "gimmicks" , but you won't miss them here really – especially if you value sound above all others on a headset. 3D Tracking is cool but if you only have one monitor, it may not make much sense since you'll most likely be looking at one direction anyway.
Mobius is definitely changing the gaming and audio industry with the Mobius Audeze! Mobius Audeze is available for purchase exclusively through JB Hi-Fi online and Addicted To Audio in Australia for AU$599 RRP. Also available at Amazon U.S.
Disclosure: Mobius Audeze review sample was supplied for reviewing but all opinions are mine and not paid